I'm a sucker for sweets. I don't try to deny it. I own it. And just about everyone else in my life already knows it.
Me and sugar are besties and have been for years. It's a love/hate relationship, but somehow the sugar always wins…go figure.
I usually don't discriminate against different types of sugar, but if you add multiple chocolatey layers, soft marshmallow, and gooey caramel together, you'll have these dipped marshmallows pops and one happy camper.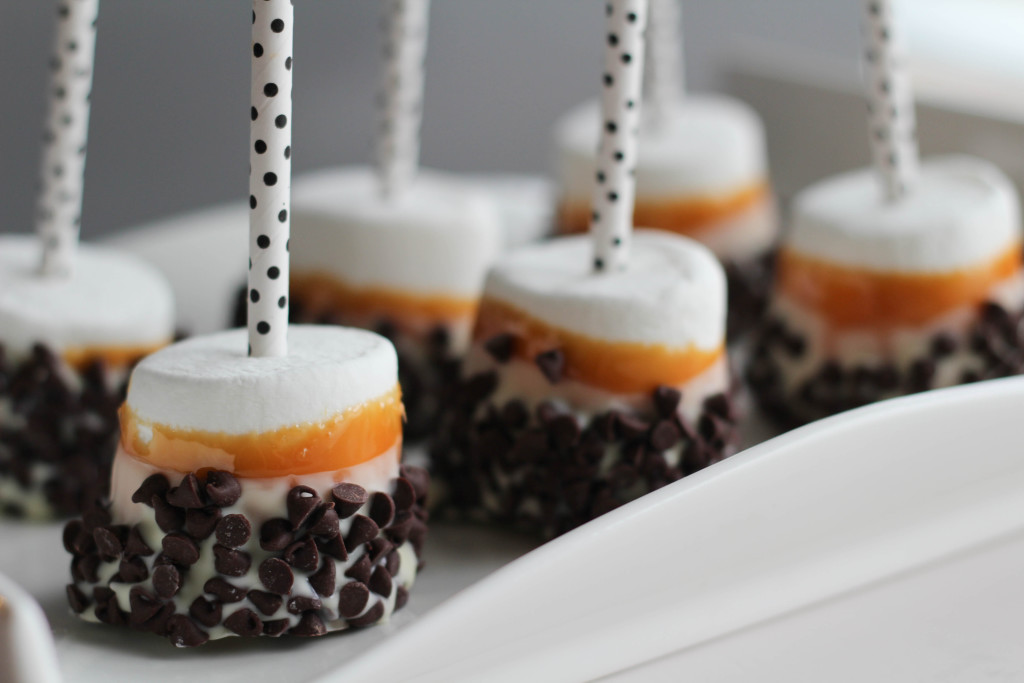 Not only are these triple dipped marshmallow pops delicious, but they're also the perfect treat to give out as party favors too!
Here's what you'll need to make your own:
Campfire Marshmallows (the big ones)
White Chocolate bark or chips
Caramel
Mini Milk Chocolate Chips
Sticks
Bags/ribbon (if desired)
(The amount needed will depend on how many marshmallows you will want to make)
First, you'll need to unwrap all of those delicious caramels. I dare you not to eat one.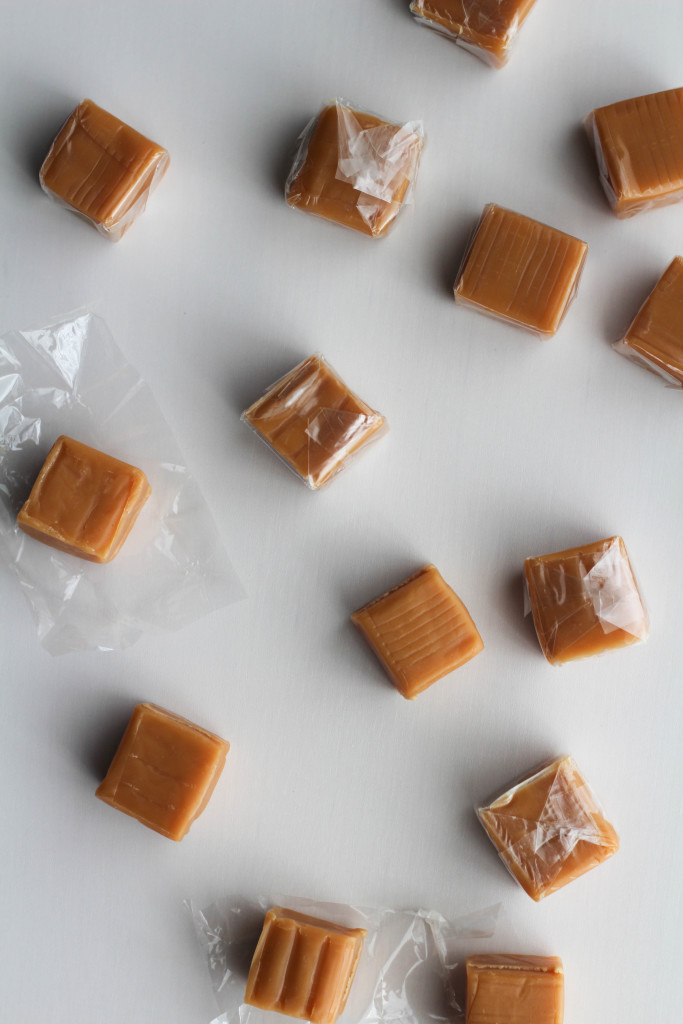 Melt them down on the stovetop. The directions for melting the caramels depends on the variety you're using, but you can find the directions on the back of the bag.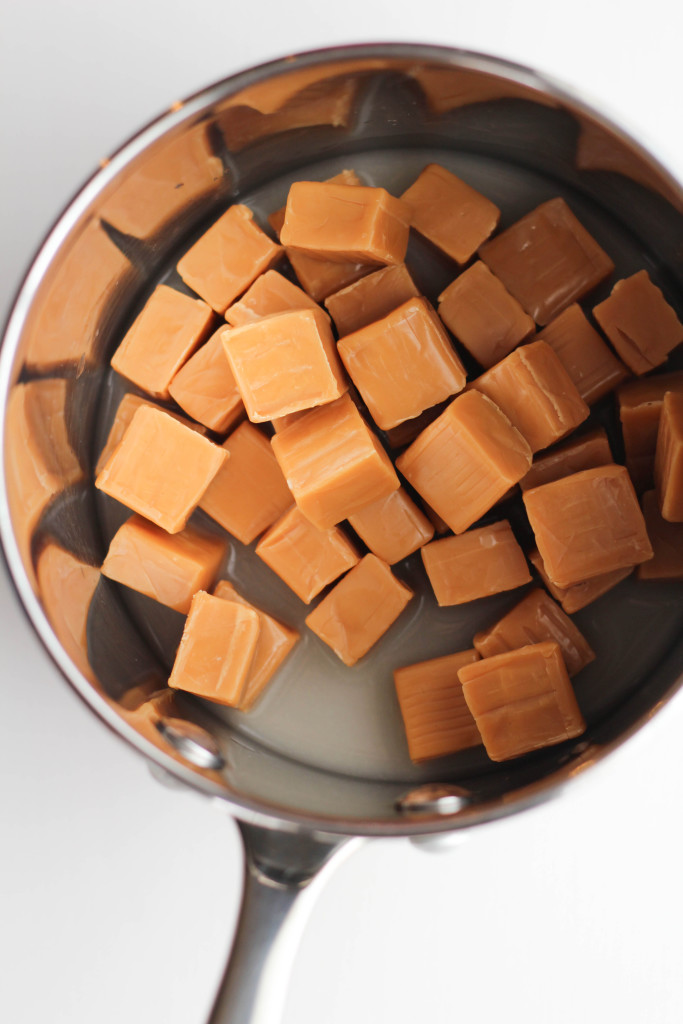 Once the caramel is ooey gooey and ready for dipping, prep your marshmallows by inserting a stick into the top and center of each marshmallow. This will make them pops and so much more fun to eat! (And less messy too!)
Dip the marshmallows into the caramel, leaving some of the marshmallow exposed on top. (I like to do this so people get a peek about what they're going to be eating before diving in).
Shake of the excess caramel and place on a cookie sheet lined with parchment paper.
Once all of your pops have been dipped, place the cookie sheet into the fridge to cool until the caramel is firm. (about 20-30 minutes)
Next up, melt the white chocolate.
I melted mine using a water bath method. You can find instructions to do that here.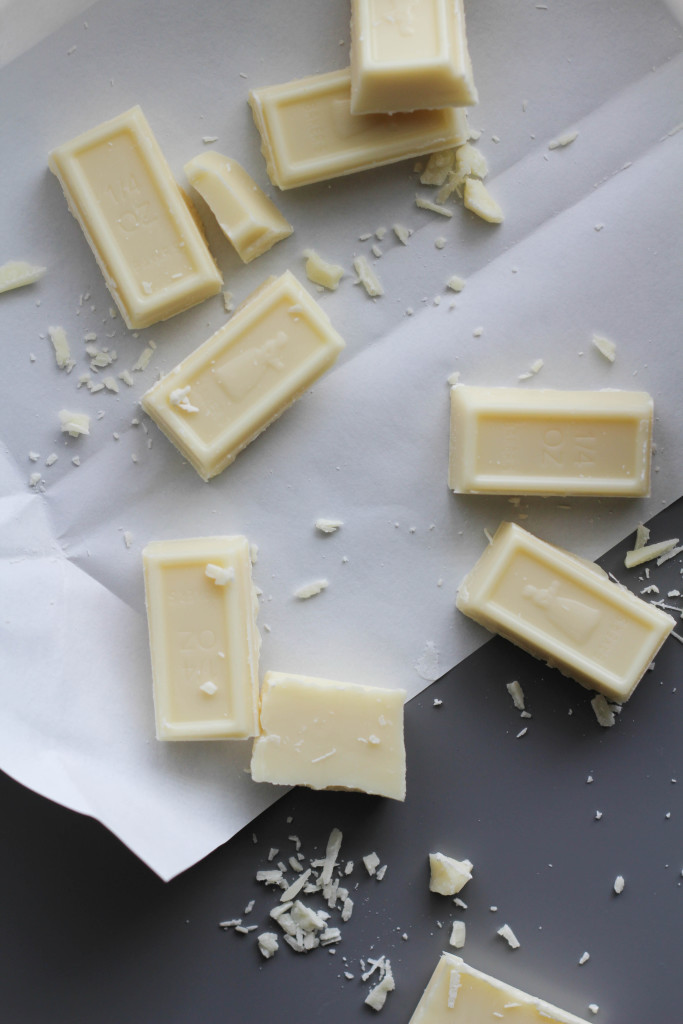 Once your chocolate is melted, repeat the dipping step again, but this time leaving a portion of the caramel layer exposed.
Before placing the dipped pops on your parchment paper lined cookie sheet, and while the chocolate is still warm, roll the white chocolate layer into your mini chocolate chips. I like to do this on a plate, because it gives me the most room and allows me to maximize the amount of chocolate chips I can get onto each pop…the more the merrier.
Doing this while the white chocolate is still warm will ensure that the mini chips stick to your pops and don't fall off!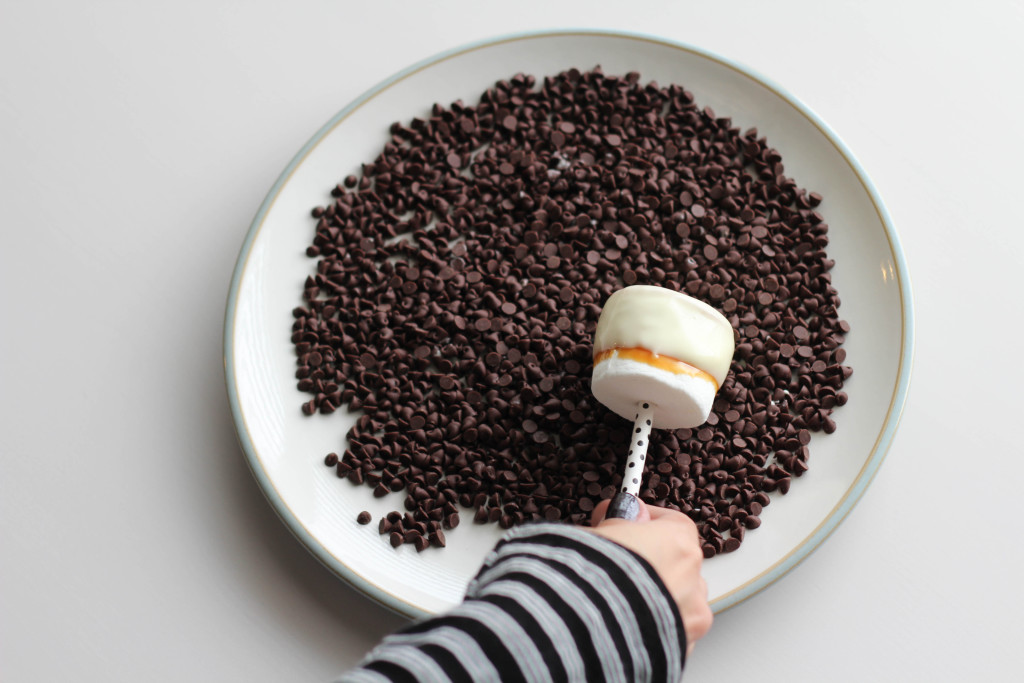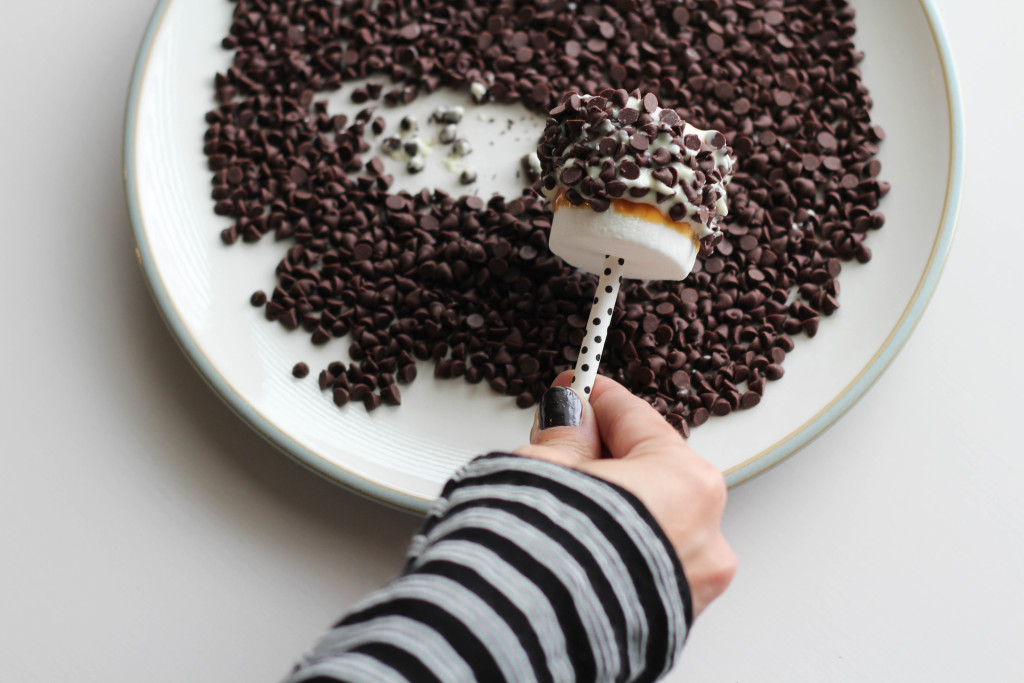 Pop them back into the fridge for about 20 minutes and you're all set!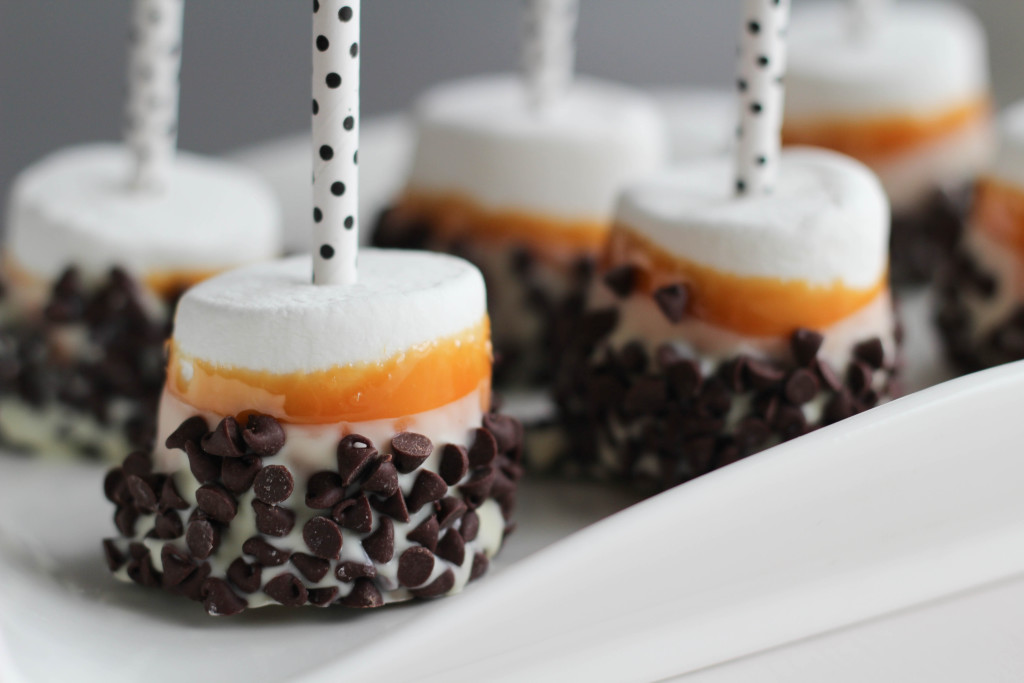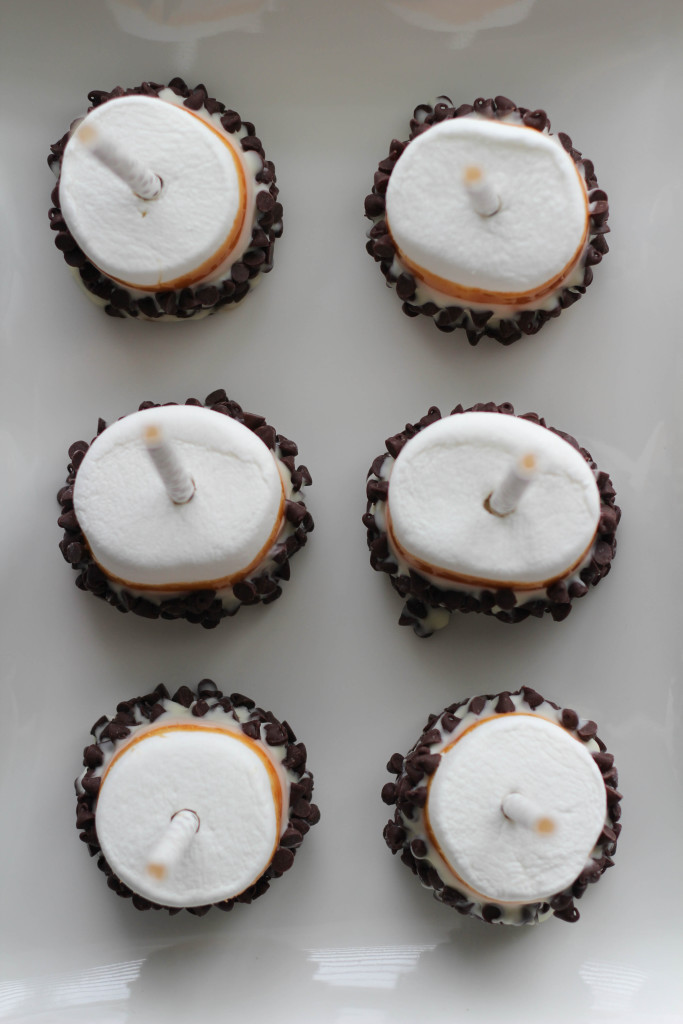 Dipped marshmallow pops also happen to make really cute favors if you want to share the wealth. (If you don't want to share, I won't judge).
Wrap them up in clear candy bags, tie with a ribbon, and add a cute tag.
Easy, peasy, super adorable, and not to mention delish!

Disclosure
Sponsored posts or gifted items will be fully disclosed, and any thoughts and opinions shared are always honest and my own. Some posts contain contextual affiliate links, from which I may receive a commission on sales should you use them to make a purchase. No matter what, everything you see on Let's Mingle is something I genuinely like and recommend.