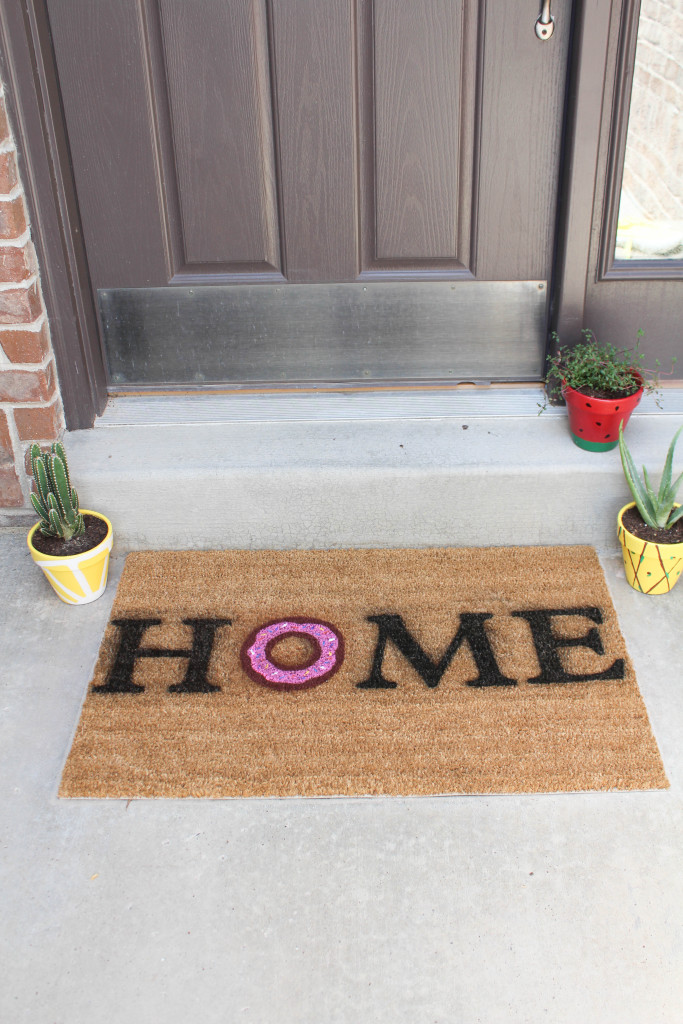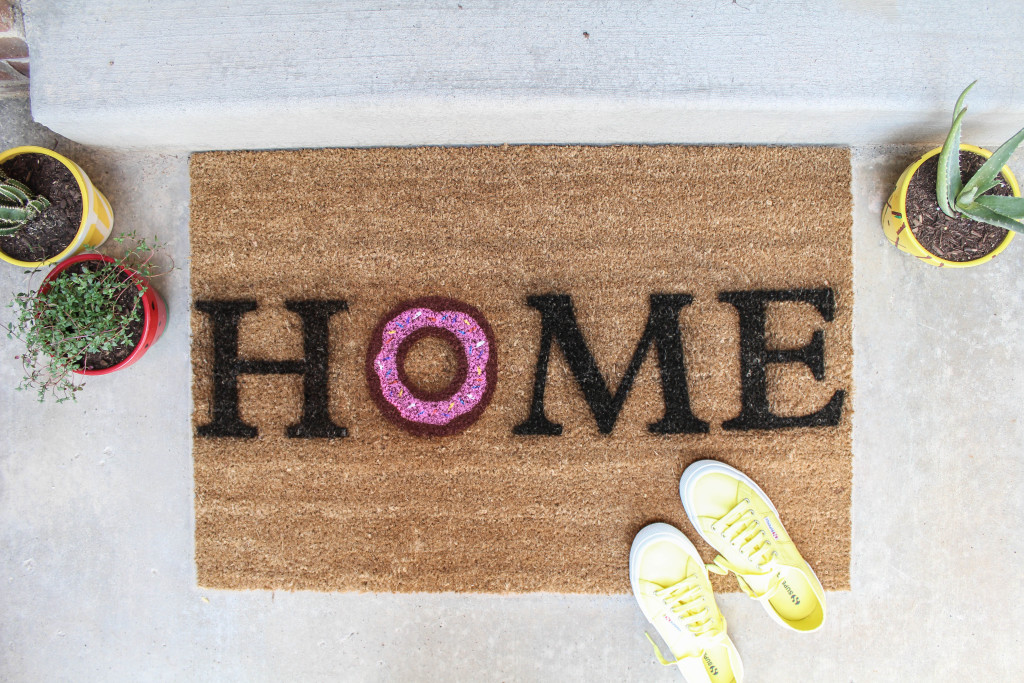 (DIY fruit planters. Cute runners). 
I'll use any excuse I can to get a donut into a DIY project. Donuts might just be my favorite thing ever and if they are covered in sprinkles to boot, I'm a goner. No really…ask my sister how many donut runs we tend to make on the regular. Probably more than I'd like to admit…
I've been on the look out for a new door mat, pretty much all winter, since our weather was so mild this year. Usually, the snow tends to hide my lack of curb appeal in the colder months but not this year. Our old mat has been staring me in the face for months! It's falling apart and I'm just slightly embarrassed to say that it might be rocking christmas colors at this very moment. (How did May get here already?!).
Turns out, the cutest mats that I'd seen were all DIY ones. So, of course, I committed to making my own and I can't say that I'm mad about the results. I even heard the hubs say it was "cute". That's a total win in my book.
This DIY donut door mat was soooo easy to make and you could easily do it in an afternoon too.
Here's what you'll need to make your own:
Door Mat (I got this one from Ikea. It was only $9.99!)
Letter Stencils
Black and Brown Spray Paint
Tape
Pink Acrylic Paint
Various Acrylic Paint Colors for the "Sprinkles"
You can choose to buy a stencil or create one yourself. (I used my Cricut to create mine with cardstock). Either works!
I used uppercase letters for the H, M, and E, but used a lowercase O for the donut because it was more round and gave me a better donut shape. I also cut out my own center circle for the donut, instead of using the one cut by the machine. It gave me more control over how much room I had for the frosting!
First up, place your mat on a surface that is ok to get covered in paint. I use the same (extremely hideous) vinyl tablecloth for my projects. It's been used about a million times and I'm not even sure I could tell you what the original color of it was before. What can I say…it does the job.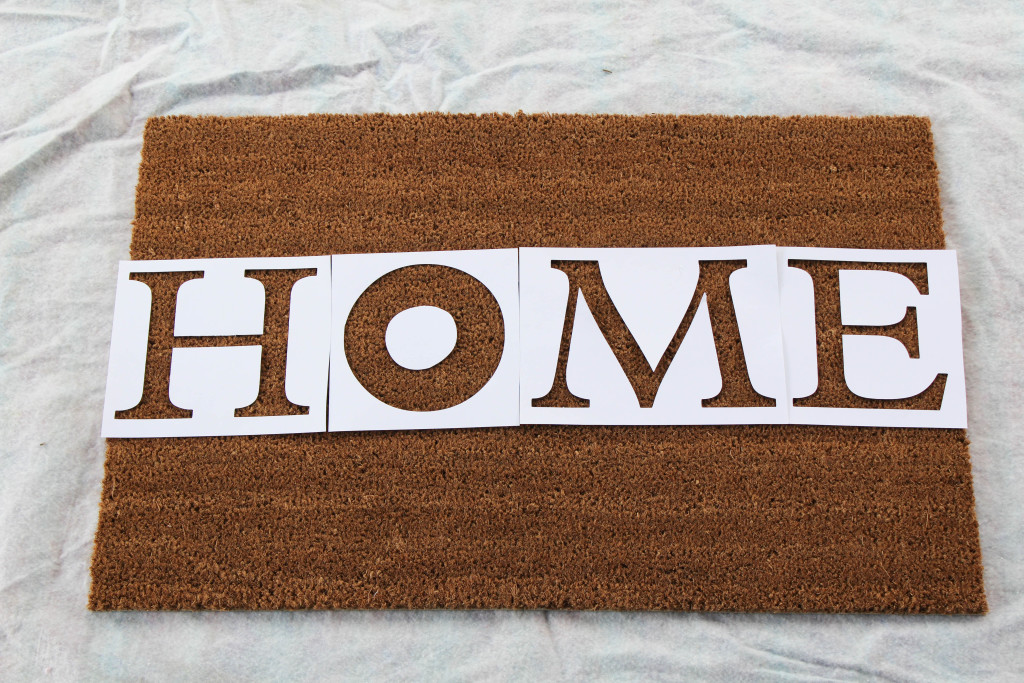 Lay out your stencils on your mat.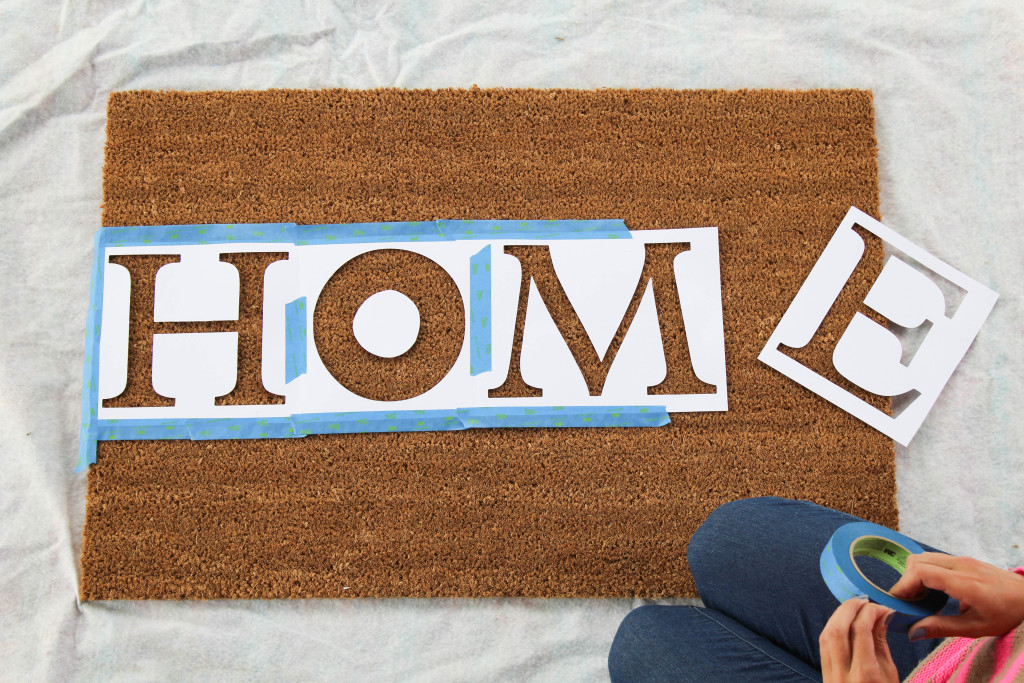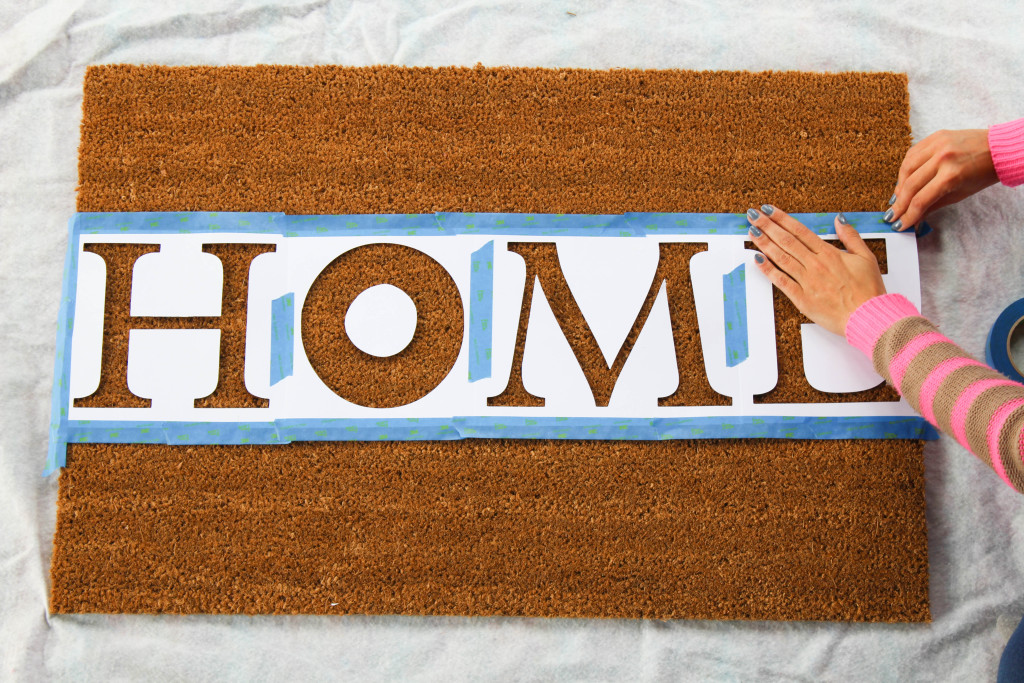 When you have them where you want them, tape them down securely. Make sure to tape down the tiny corners and areas that tend to pop up a bit (like the pointy edges of the letters).
Once your letters are completely taped down, cover up the top and bottom of your mat (above and below where your letters are). This will prevent paint from drifting into areas you don't want painted.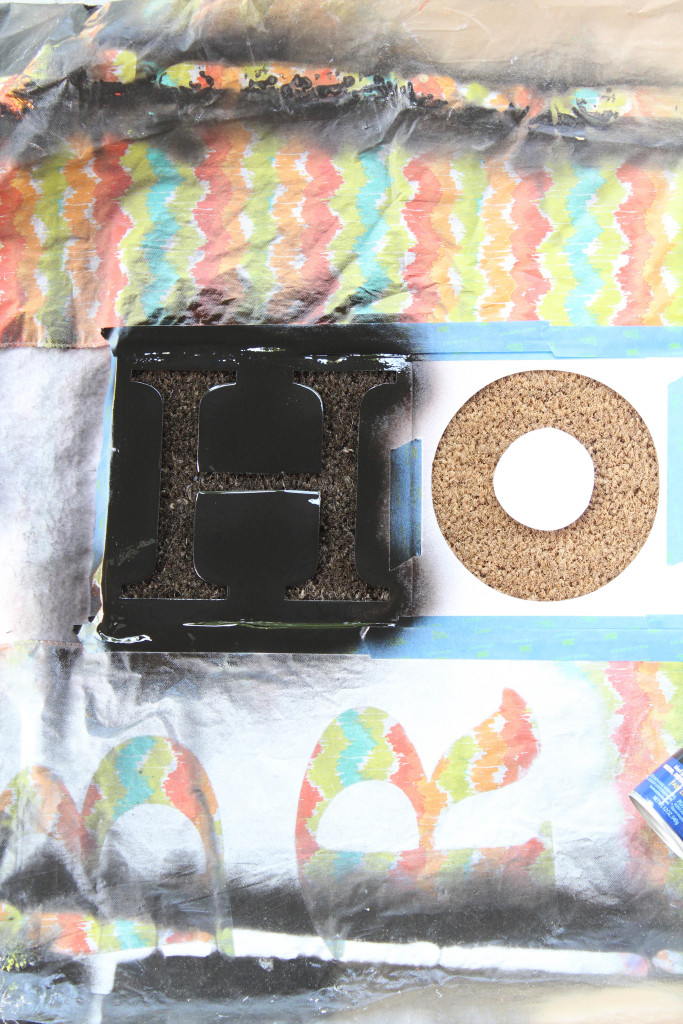 Using your spray paint, spray each letter from overhead, not on a diagonal. This just helps to ensure your paint stay in your stencil and doesn't creep underneath it!
I used black spray paint for each of the letters, but brown spray paint for the donut. The letter show up a lot better on a brown mat if you use black paint. Trust me on this one.
I sprayed one coat, let it dry completely and then repeated another coat a second time around, just to really get good and even coverage.
Once your letters are dry, peel off your stencil.
Using the pink paint, paint pink "frosting" around the donut. Keep in mind that you will use quite a bit of paint for this! The mat really likes to soak it up and you'll need quite a bit to get it really covered. It might take a few coats.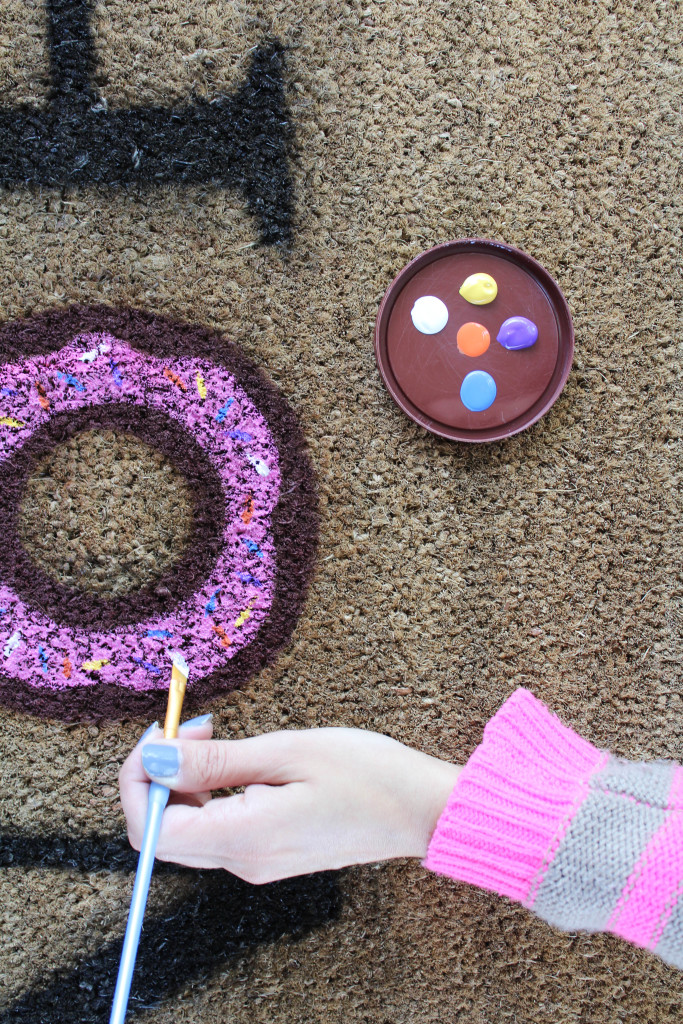 Once dry, paint "sprinkles" onto the donut using whatever colors you want or have on hand. I used orange, blue, white, yellow and purple.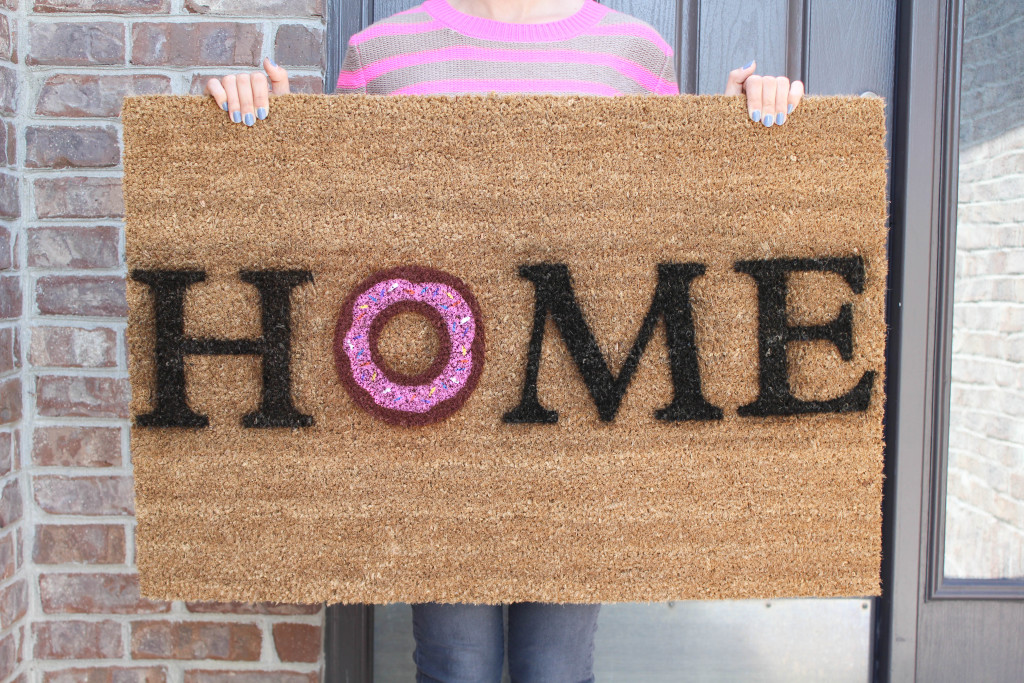 Let your mat dry overnight and then place on your front door step!
Who could resist a donut door mat…? Not me. My front porch is already looking so much cuter thanks to this little guy!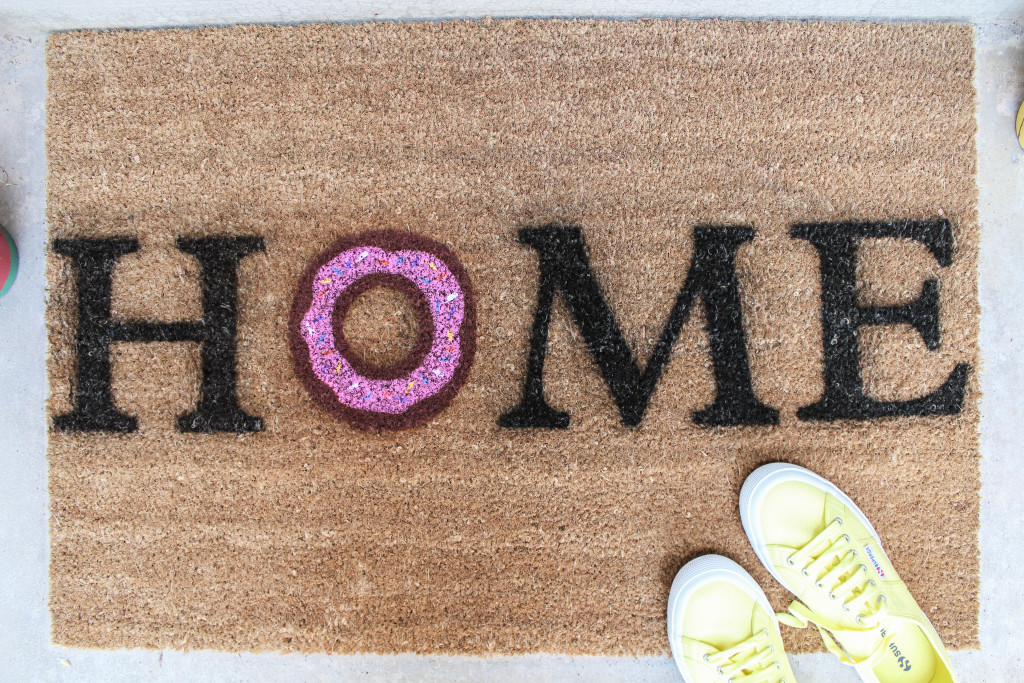 This DIY donut door mat will win you the "cutest mat" award on your block for sure!

Disclosure
Sponsored posts or gifted items will be fully disclosed, and any thoughts and opinions shared are always honest and my own. Some posts contain contextual affiliate links, from which I may receive a commission on sales should you use them to make a purchase. No matter what, everything you see on Let's Mingle is something I genuinely like and recommend.