Chocolate Chip Cookie Place Cards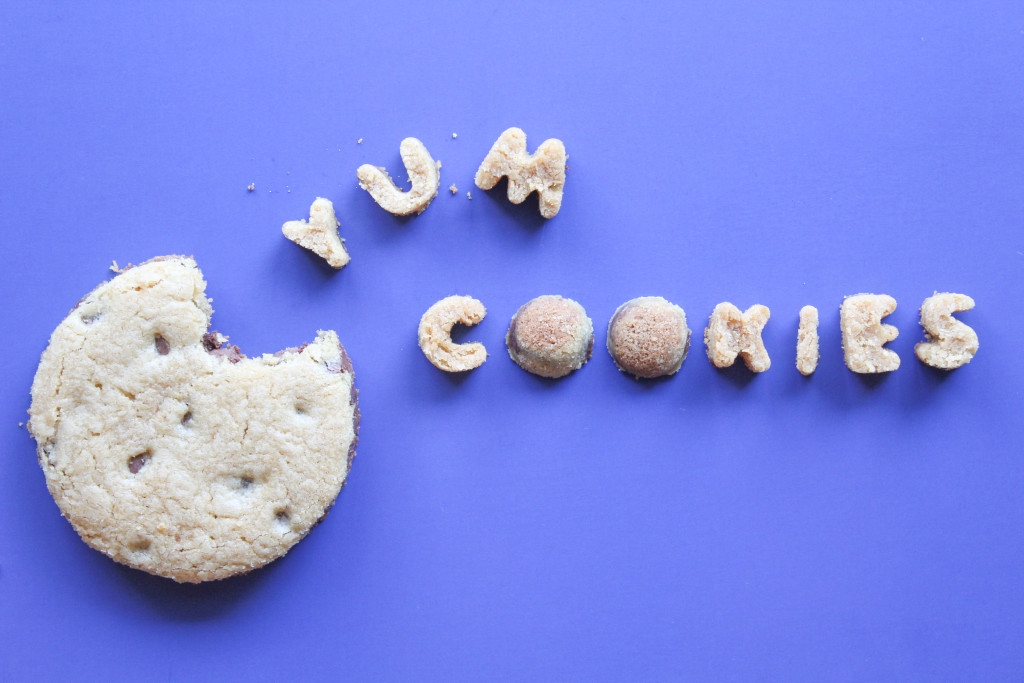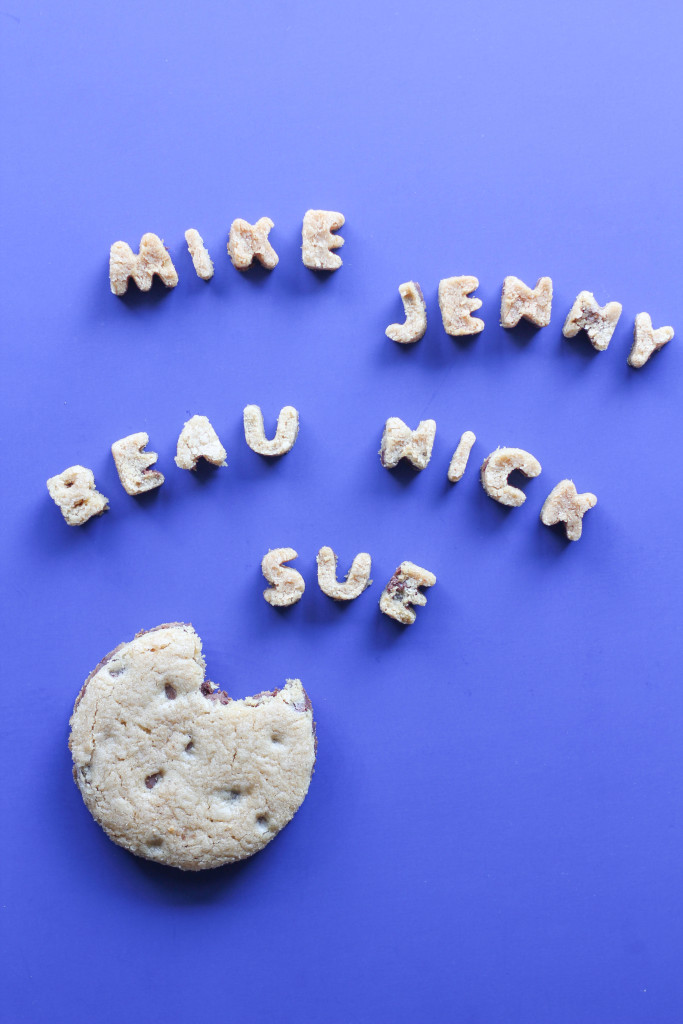 Who told us not to play with our food?
What a dumb idea. Good thing I didn't listen or I wouldn't have had this much fun creating today's post!
And did you know that today is National Chocolate Chip day?! Ummm, hello….yum!
Yeah, nothing beats a great homemade chocolate chip cookie, but I am still kinda partial to those chewy chips ahoy cookies in the red bag. Know which one I'm talking about?
Why do they taste so good and stay so perfectly soft?! I'm sure they are loaded up with a million terrible things for me, but they are pretty delicious and irresistible at the same time. It's a catch 22.
Either way, you should be ok with the homemade version and that's what I happen to be sharing with you guys today! Well…sort of homemade. We'll run with it.
I'm always on the lookout for new and fun place card ideas, so when I got my hands on mini alphabet fondant cutters, the wheels were spinning!
Pair them up with national chocolate chip day and these awesome chocolate chip cookie place cards were born!
(It doesn't hurt that you can snack on these bite sized mini's while sitting at your seat either!)
Ready to make your own? (How could you not be with all of this cuteness…!)
Here's what you'll need:
These Fondant Alphabet Cutters
Chocolate Chip Pan Cookie
I made a batch of chocolate chip cookies based on the Tollhouse cookie recipe (you can find it on the back of the bag of chocolate chips). See, there's where the "semi-homemade" part comes in.
But, instead of making individual cookies, you're going to bake one big pan cookie instead. (The directions for the pan cookie are on the back of the bag too).
By cooking the pan cookie first, it prevents your letters from being un-readable because chocolate chip cookies tend to spread when they bake and we don't want that.
It also helps to give you the most cookie for your buck and cut out the maximum number of letters needed, without having to make multiple batches.
First, make your chocolate chip pan cookie.
Once your cookie is baked, let it cool for about 15 minutes to get a bit firm.
Using your fondant cutters, press each letter firmly into your cookie. Jiggle it around a little bit (very gently) to loosen it up from the rest of the bigger cookie.
CAREFULLY release the cookie from your cutter. They are super delicate and can break pretty easily when you are cutting them out, so be patient and don't rush.
The letters with "cut-outs" in them (A, O, B, etc.) are a bit harder to loosen up. Lightly spray your cutter to make it a little bit easier. If all else fails, trace the outline of your cutter and use a sharp knife to create the "cut-outs" in the letter.
Once cut, let your letters firm up a little bit more before using.
Place the letters on each of your place settings for an adorable (and yummy!) place card!
These are soooooo much fun to play with and would be so cute on a kid's table for a birthday party! You could also use them on top of a cake or cupcakes too!
Now, don't blame me if you waste an entire afternoon spelling things out with these chocolate chip cookie place cards!

Disclosure
Sponsored posts or gifted items will be fully disclosed, and any thoughts and opinions shared are always honest and my own. Some posts contain contextual affiliate links, from which I may receive a commission on sales should you use them to make a purchase. No matter what, everything you see on Let's Mingle is something I genuinely like and recommend.