DIY Graphic Print Tablecloth
Sure, there's always a time and a place for cute, or romantic, or rustic, but I hold a special place in my heart for modern.
There is just something about clean lines, bold elements, and in your face design, that speaks to me, and it also happens to be exactly what I'm bringing you guys today!
One thing that I've found is that tablecloths, and good ones at that, tend to be SUPER expensive! We're talking over $200 for ONE linen. (It's ok to splurge once in awhile, but not for every time you want to have a dinner party!)
And a table linen really is the starting point for your table design. It can make or break a good tablescape and something that I'm not always willing to go broke over either. So what do I do instead….?
I create my own, of course! (Did you really think anything otherwise?)
This DIY graphic print tablecloth combines my love for graphic elements and the awesome feeling of saving a lot of moolah on a fancy looking table linen!
Here's what you'll need to make yours:
White tablecloth – any size, any shape
Black fabric paint
Round bowl or similar object to create the "pattern"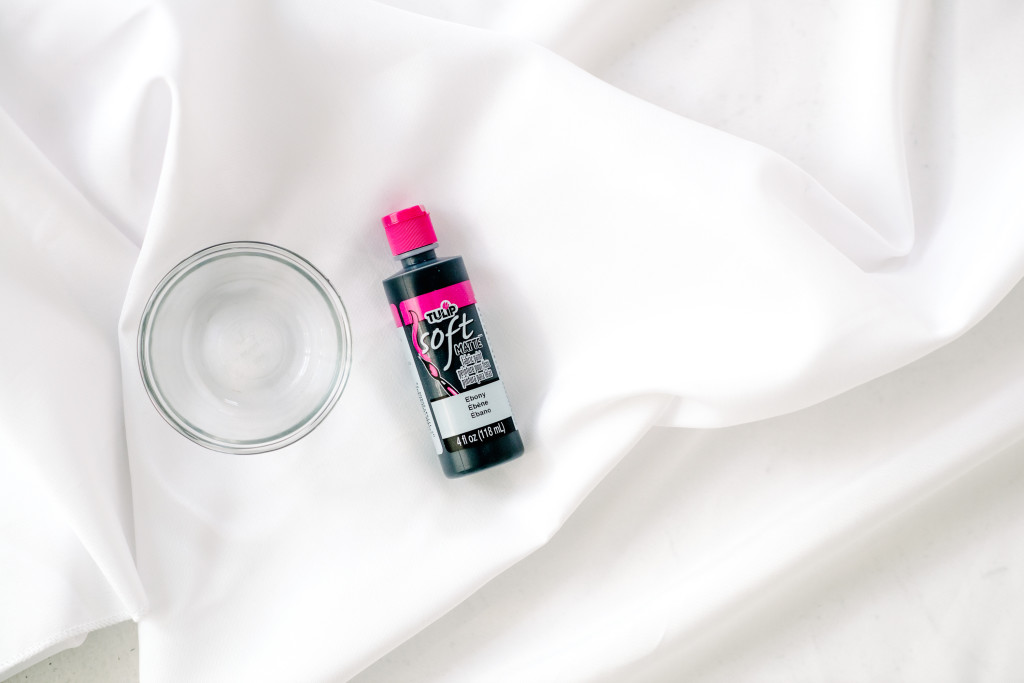 (Read the directions on the bottle of your fabric paint before starting. Some require you to wash your linens first before applying the paint!)
First, decide on the width you want for your graphic "runner". 
Tape off the area to help you maintain a straight line. (If you choose to eyeball it and do find that you've started to go a little crooked, you can fix it fairly easily by spacing out each circle a bit farther apart or pushing them closer together when overlapping them).
Dip the rim of your bowl into the fabric paint. Don't focus too much on the amount of paint. The variations of the paint thickness are what give the pattern some definition and texture to the overall design.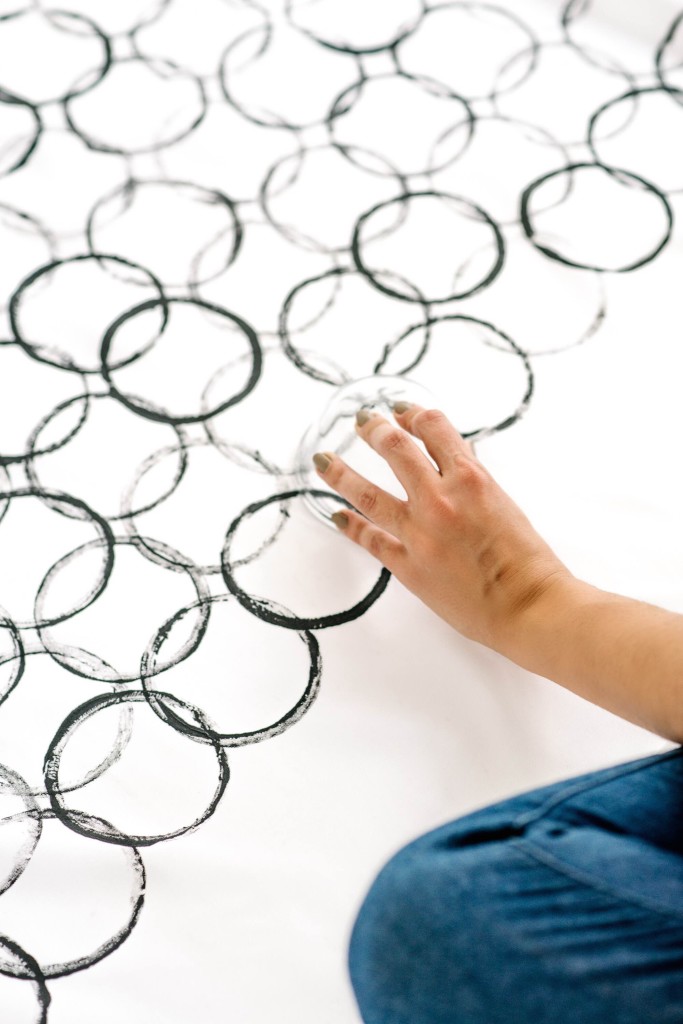 Starting from one side of your taped edge, and working towards the other, "stamp" overlapping circles onto your tablecloth. You can space them as close or as far apart as you want, but you do want them overlapping at some point.
"Stamp" a couple of circles each time you dip the bowl into the paint to create the different shades of black on the tablecloth. The pattern will resemble a "coffee cup stain" type of look with the different variations of paint density with each circle. Maybe I should have dubbed this project my coffee cup stain tablecloth….no?
Continue moving from side to side on your tablecloth until the entire middle section of your cloth is painted, creating a faux "runner" down the center.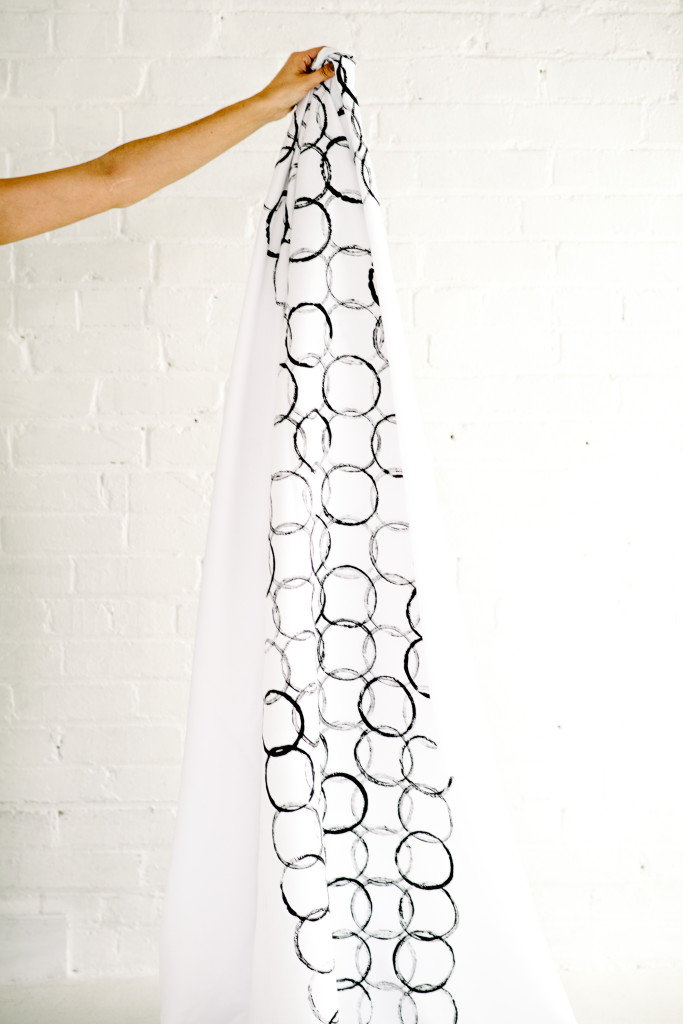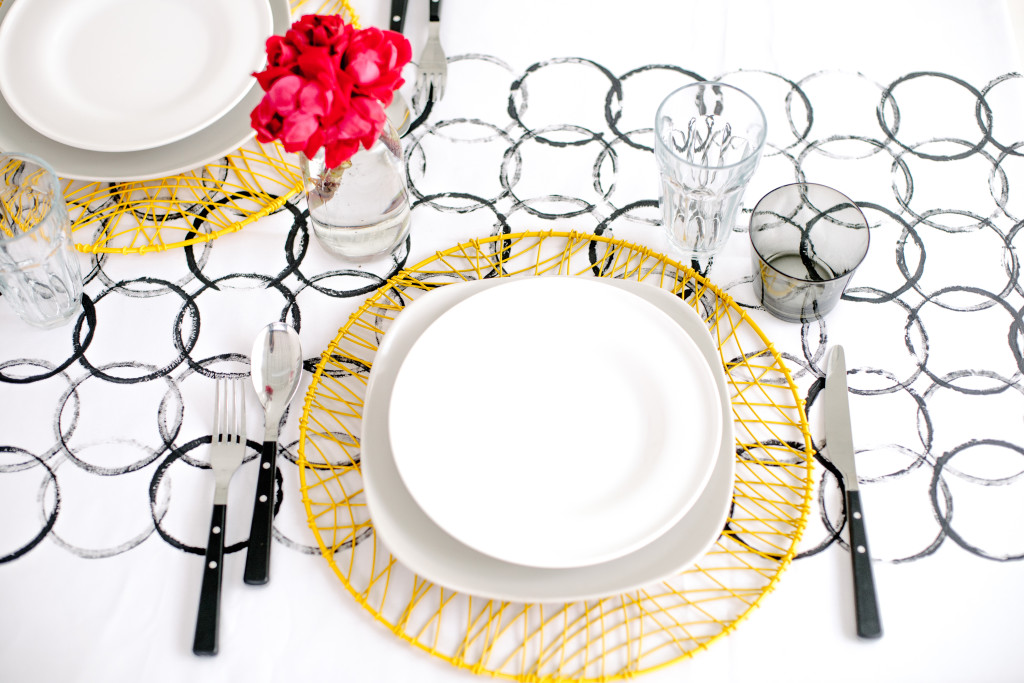 Let dry and use!
I absolutely love the pop this DIY graphic print tablecloth creates just from the pattern alone. You can add in other bright pops of color to make your table more playful or pair it with soft pastels to dress it down a bit. Either way, this table is going to get some attention!
Photography by Haley Nord Photography 
Disclosure
Sponsored posts or gifted items will be fully disclosed, and any thoughts and opinions shared are always honest and my own. Some posts contain contextual affiliate links, from which I may receive a commission on sales should you use them to make a purchase. No matter what, everything you see on Let's Mingle is something I genuinely like and recommend.