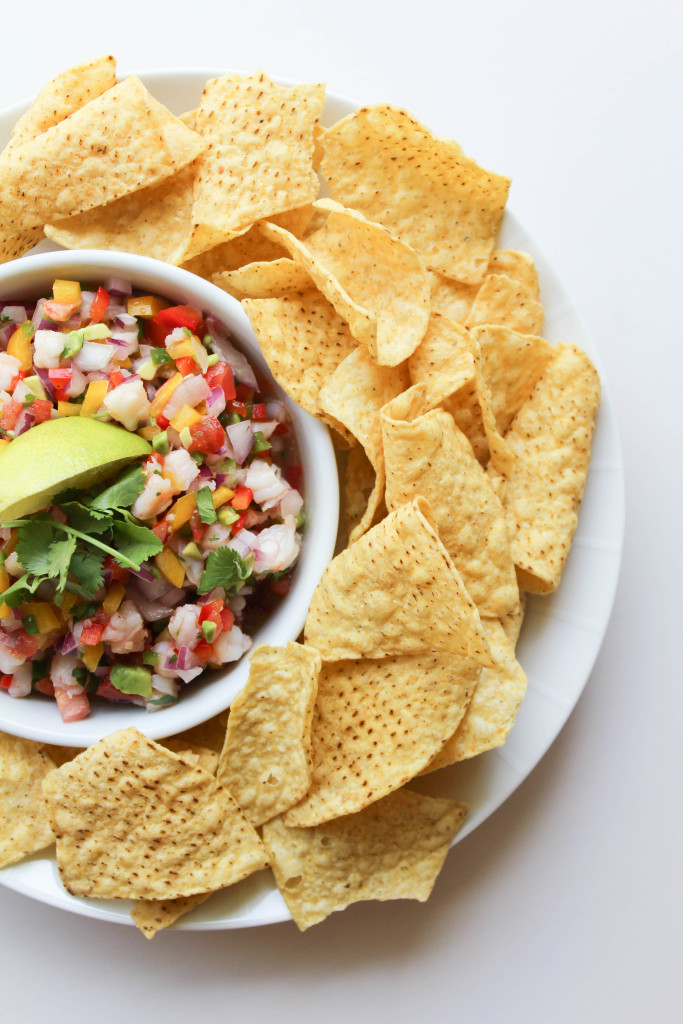 I don't like fresh seafood.
Don't get me wrong. I like shellfish (crab, lobster, shrimp,  oysters) and I'll take tuna in the can any day, but fresh fish and me don't mix.
Unless it's sushi. (Yep, I'm totally weird. But, then again, I also hate onions and love onion rings…go figure).
Last summer, I reluctantly tried a new dish that I'd never had before.
Seafood ceviche.
And I was surprised. It was sooo good!
Fresh and simple ingredients, a light flavor, and oh, so yummy.
It really is the perfect dish to serve during these warmer months, paired with chips and maybe a few summer cocktails too.
Since I seem to be on a pool party kick lately, I am sharing the perfect recipe to upgrade an otherwise kid oriented pool party menu to be a bit more adult friendly…Shrimp Ceviche! (But the kids can eat it too!)
It's also a perfect dish to serve to all of those friends who may be on their summer diets too! 😉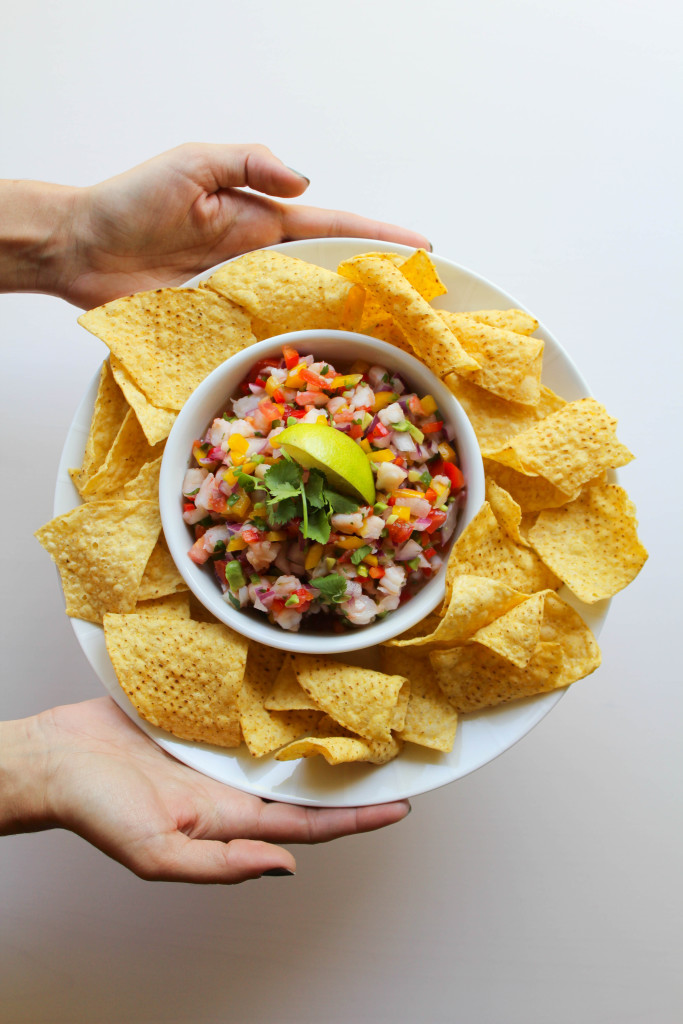 Here's what you'll need to make your own batch:
1 lb. of fresh shrimp, peeled and deveined
1/2 red onion, diced
2 cloves of garlic, minced
1 small tomato, diced
1/2 cup red pepper, diced
1/2 cup yellow pepper, diced
1 jalapeno pepper, diced (seeds and stem removed)
4 tbsp. olive oil
Half of an avocado, chopped
1/4 cup fresh lemon juice, plus a lemon wedge for garnish
fresh cilantro (to taste), chopped
salt and pepper (to taste)
pinch of cumin
pinch of cayenne pepper
First, roast your shrimp.
Preheat your oven to 425 degrees.
Toss the shrimp with a bit of olive oil and some salt and pepper. Place on a baking sheet and cook for 3-5 minutes, just until the shrimp starts to turn pink.
Remove them from the oven and place them into a bowl filled with ice water to stop the cooking process. Remove from the ice bath and chop the shrimp into large, bite sized pieces.
Combine all ingredients (wait to add your avocado and cilantro) and chill well (I let mine chill for about an hour).
Once chilled, top with your fresh cilantro, avocado, and a lime or lemon wedge.
Serve with tortilla chips!
Disclosure
Sponsored posts or gifted items will be fully disclosed, and any thoughts and opinions shared are always honest and my own. Some posts contain contextual affiliate links, from which I may receive a commission on sales should you use them to make a purchase. No matter what, everything you see on Let's Mingle is something I genuinely like and recommend.