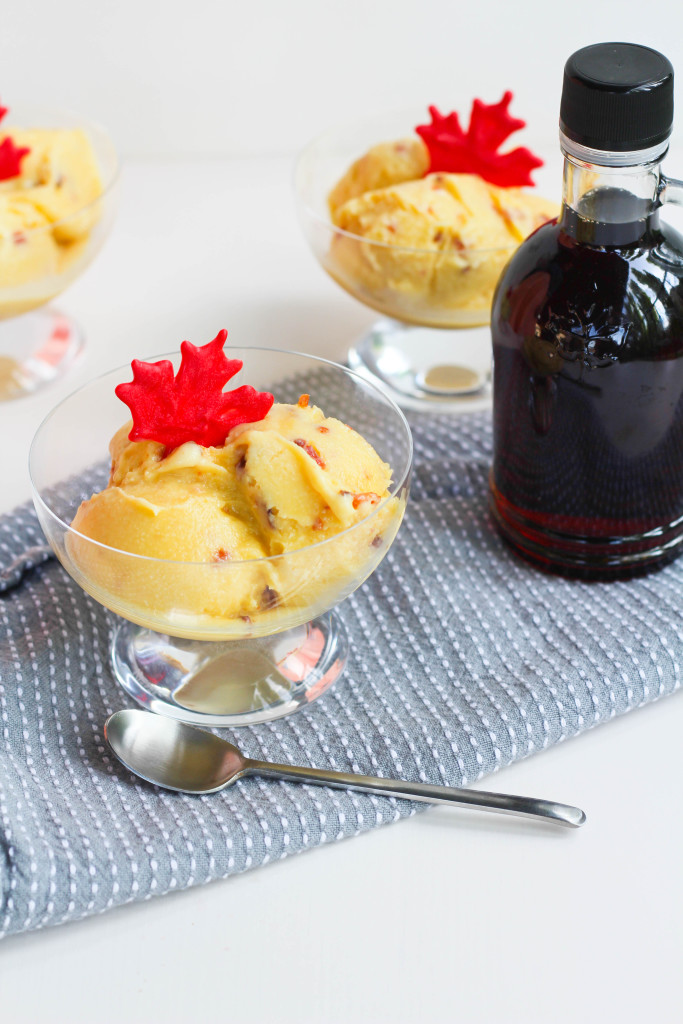 It's fun fact time.
I've been living in Salt Lake City, Utah for the past 20 years (typing that makes me feel really old), but before moving here, I was born and raised in Toronto, Ontario, Canada.
I am still a Canadian citizen and still have a Canadian passport. (Shoutout to all of my fellow Canuks!)
Independence Day for the US might be on Saturday, but I couldn't leave my fellow Canadian's out of all of the fun, now could I?!
Canada Day is TODAY!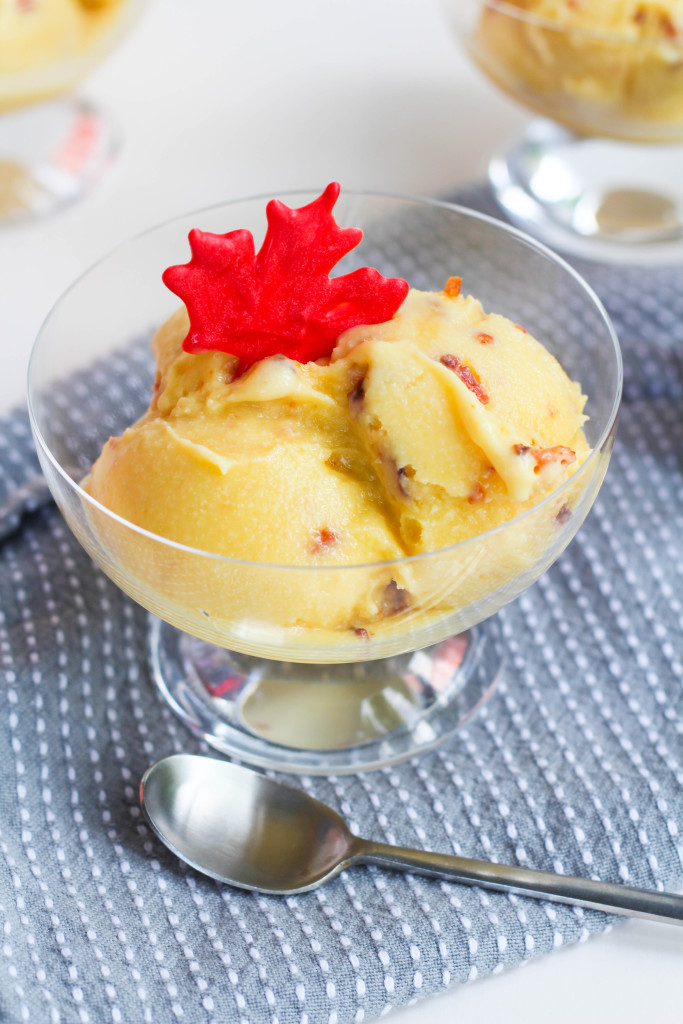 Happy Canada Day to all of my friends (and lots of family!) that are living north of the border.
For my June (a day late) ice cream flavor post, I paid homage to my homeland and centered around flavors that remind me of home…and breakfast. 😉
Maple Bacon Ice Cream!

A little bit salty and a whole lot of sweet, this bowl of deliciousness tastes like pancakes at brunch, and really, what's better than that?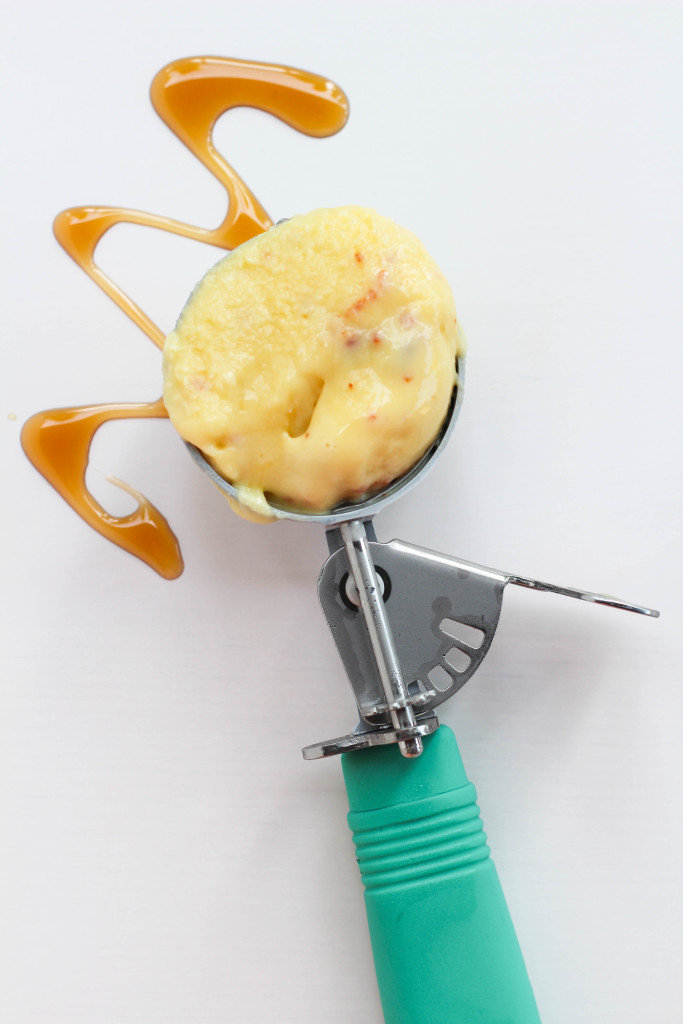 Here's what you'll need to make your own:
1 1/2 cups heavy cream
1 cup whole milk
3/4 cup of sugar
1 1/4 cups of real maple syrup
1/8 teaspoon salt
6 large egg yolks
4 slices of maple bacon
red candy melts
parchment paper
maple leaf shape print out
Bring the cream, milk, sugar, and salt to a boil in a heavy saucepan. Stir until all of the sugar is dissolved.
Whisk the egg yolks and maple syrup in a bowl until blended. Add the cream mixture slowly, whisking constantly.
Transfer the mixture back to your saucepan and cook over low heat, stirring constantly, until it's thick enough to coat the back of a spoon (about 3-5 minutes). Don't let it boil!
Once thick enough, remove the cream mixture from the heat and pour it into a clean bowl.
Cool the mixture to room temperature, stirring occasionally.Once it has reached room temperature, move the mixture into the fridge and chill until cold (about 2 hours).
While your cream mixture is chilling in the fridge, cook the bacon strips in a pan. Get them all nice and crispy!
Allow them to cool and dice into small pieces. (You want to make sure there is enough for each spoonful!)
Once your mixture has chilled in the fridge, place it into your ice cream maker and process the ice cream according to the manufacturer's instructions. (Each machine is different!)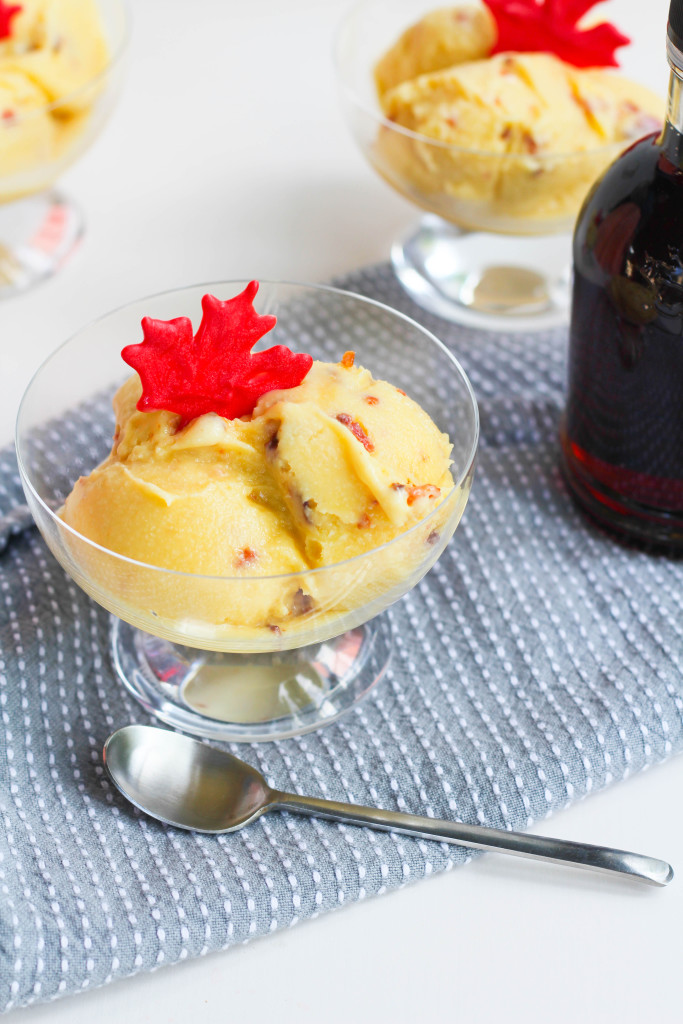 Add the diced bacon pieces into the ice cream mixture during the last 5 minutes of churning in your ice cream machine.
Once done, place back in the freezer to harden up just a little bit.
To make the red maple leaf toppers, melt your red candy melts according to the instructions on the back of the package.
Place a piece of parchment paper over a printed out image of a maple leaf, so that you can see your image below the parchment paper.
Place your melted candy melts into a pastry bag or use a ziplock bag and cut a very small hole into the corner of your bag.
Outline the shape of your leaf with the melted chocolate and then fill in, smoothing the surface.
Allow to dry. (It only takes about 5-10 minutes total).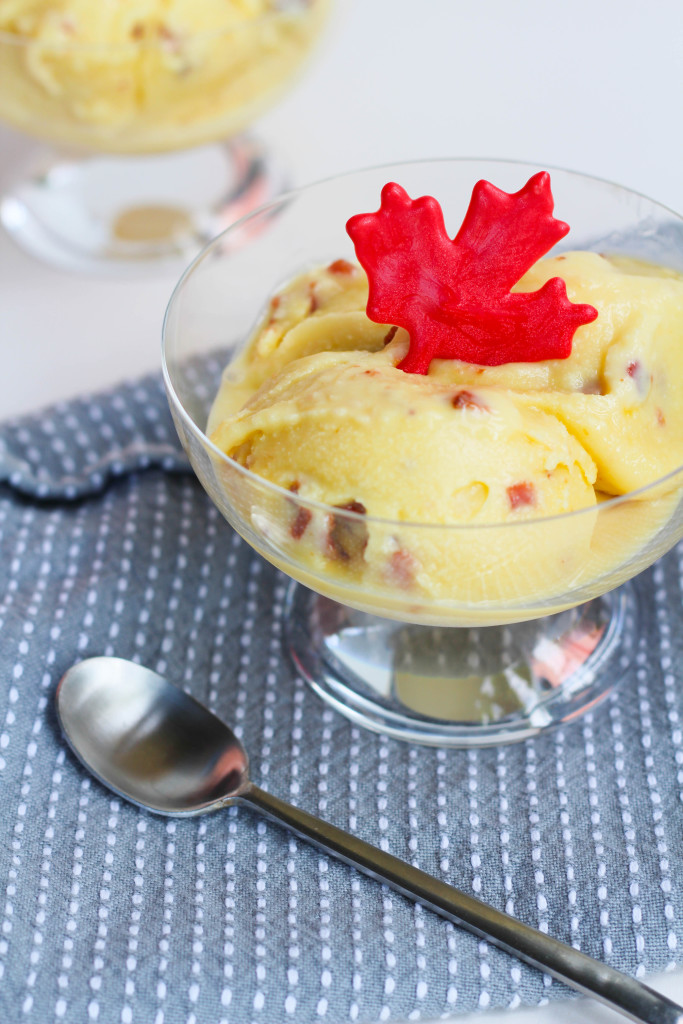 Peel off of the parchment paper and place into your ice cream.
If you choose to swap a bowl full of this maple bacon ice cream for your normal Sunday morning pancakes, your secret is safe with me. I won't tell.
Enjoy!
Disclosure
Sponsored posts or gifted items will be fully disclosed, and any thoughts and opinions shared are always honest and my own. Some posts contain contextual affiliate links, from which I may receive a commission on sales should you use them to make a purchase. No matter what, everything you see on Let's Mingle is something I genuinely like and recommend.