No, I don't want the hubs getting me flowers each week, but I love to have fresh flowers on my table when I have company over or put together a dinner party.
It's a simple way to bring the outdoors in and make things seem fresh. And not to mention they're gorgeous. That doesn't hurt either!
But, there's only one problem. They're expensive! They can really put a serious dent in your bank account if you order flowers from the pros for every get-together you have.
So, how do I fix that little problem…?
I make my own arrangements with grocery store flowers!
They are super cheap, easy to find, and you can make arrangements that are a cinch to put together too.
These mini floral arrangements cost me about $5 total to make and they are so cute!
They took me hardly any time to put together and who can resist the mini size of these little guys?!
And don't be intimidated! There is no wrong way to create your arrangements. Putting them together, moving pieces around, and playing with the shape and style is all part of the fun!
Here's what you'll need to make your own:
Flowers: one main filler flower & a few varieties of accent florals and greenery
Green Floral Foam
Floral Shears or Scissors
Water
Small Containers, Teacups, or Bowls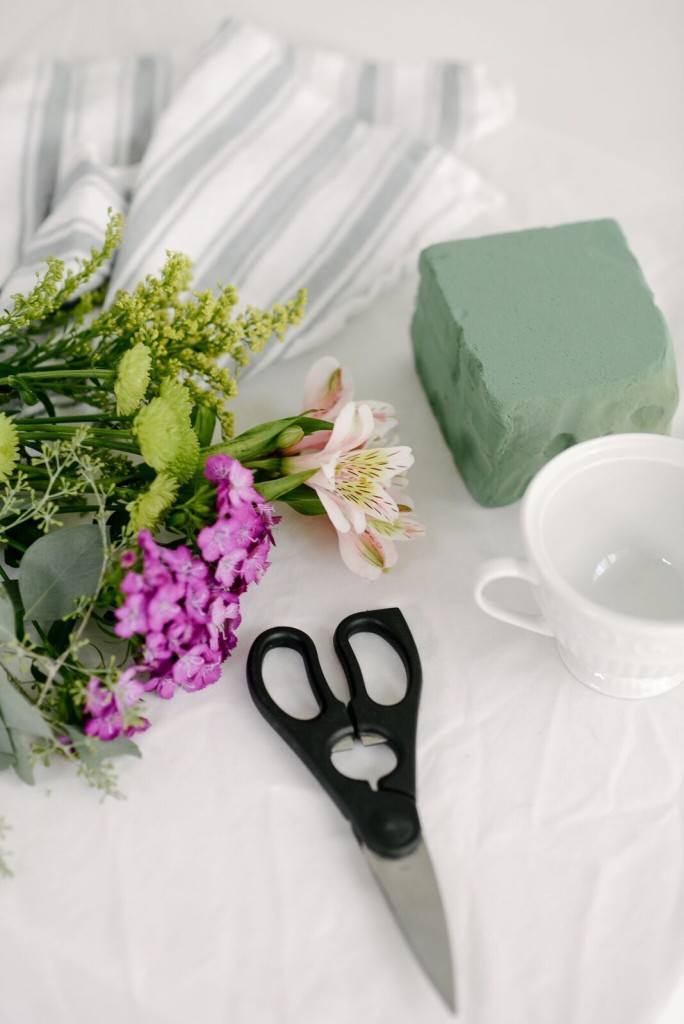 My local grocery store has the option to pick pre-arranged bouquets or pick bunches of individual flowers too.
Either option works, just try to pick one flower variety that is wider and bigger to take up the most space in your container. Then choose a few filler flowers and greenery options to add a little pop! (You'll need less of these ones).
First, cut your foam to fit into your container. You want a tight fit! 
(I just used a regular kitchen knife to cut the foam).
Once you have the right shape to fit into your container, soak the foam in water for a few minutes until soaked through, then place back into your container.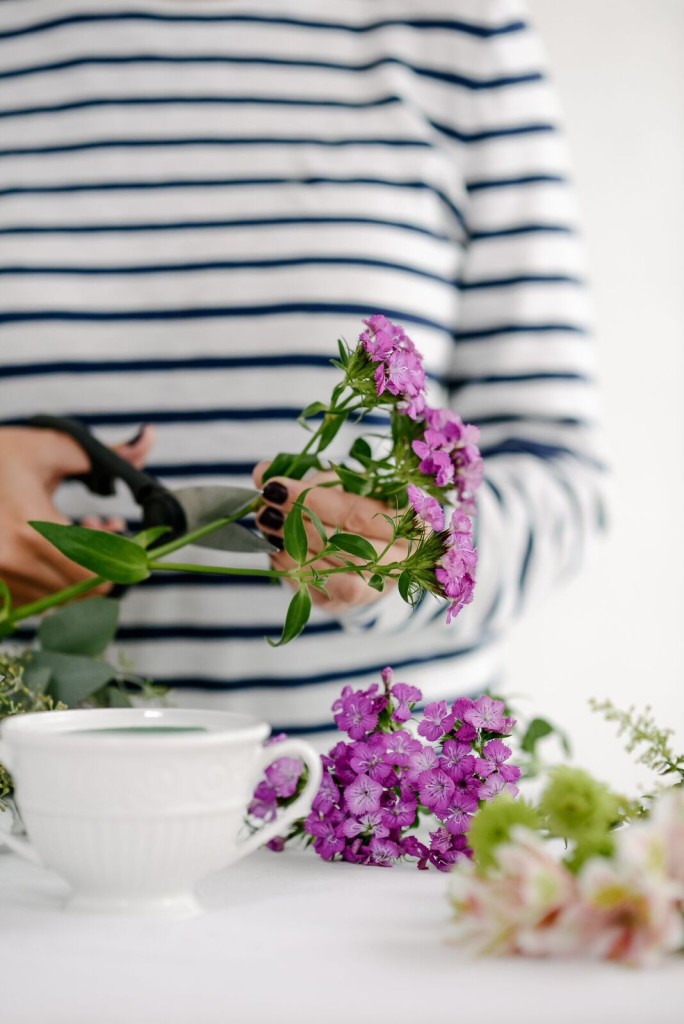 We're going to start filling the arrangement with the largest and/or widest floral variety first. This will give your container a fuller look and allows you to use less accent flowers to fill the empty spaces.
Cut your flowers on an angle, so that the tips are shark enough to pierce through the foam.
I chose to cut my flowers low, to keep the arrangement small, but full.
Also, don't cut all of your flowers at the same height. Add a little bit of variety to give the arrangement a bit of dimension with lower and higher spots in the container.
Starting in the center, place your fuller flowers into the floral foam and set them at the height that you want.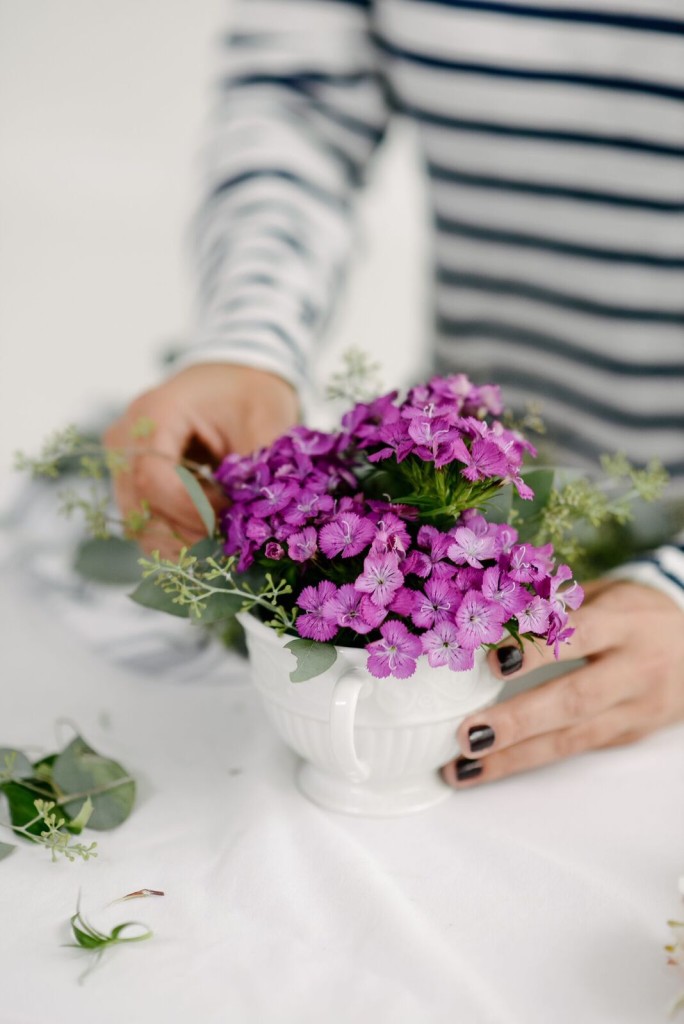 Arrange other stems around the first, until you have a basic shape.
(Notice how my stems are placed at different heights).
Place some greenery around the edge of your floral foam to line your center flowers.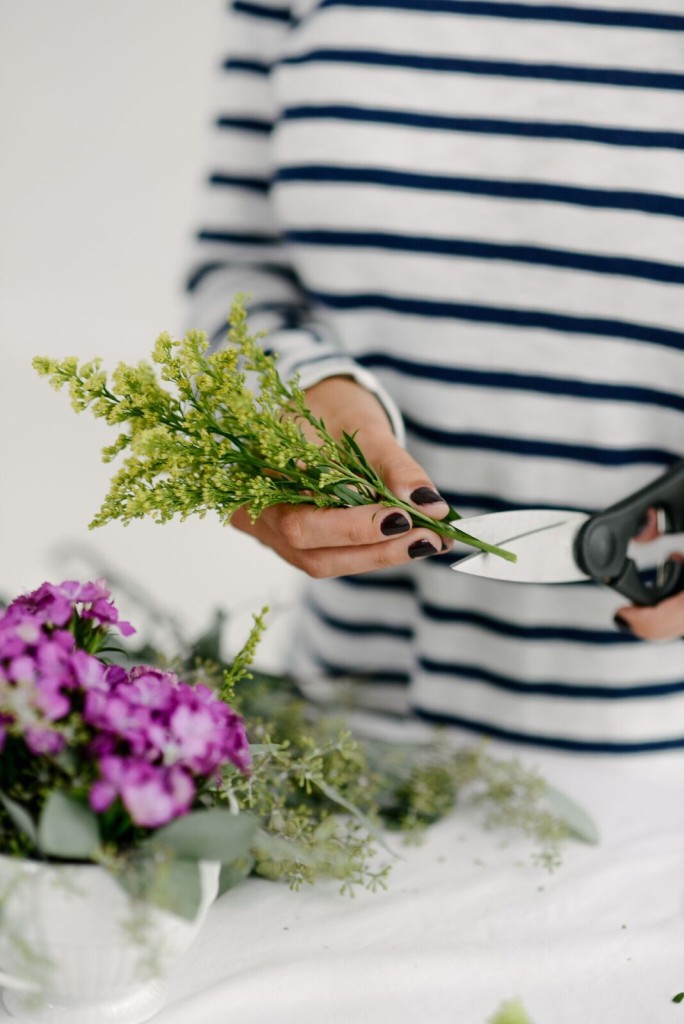 Next, use your accent flowers to fill in any gaps and holes you have in the arrangement.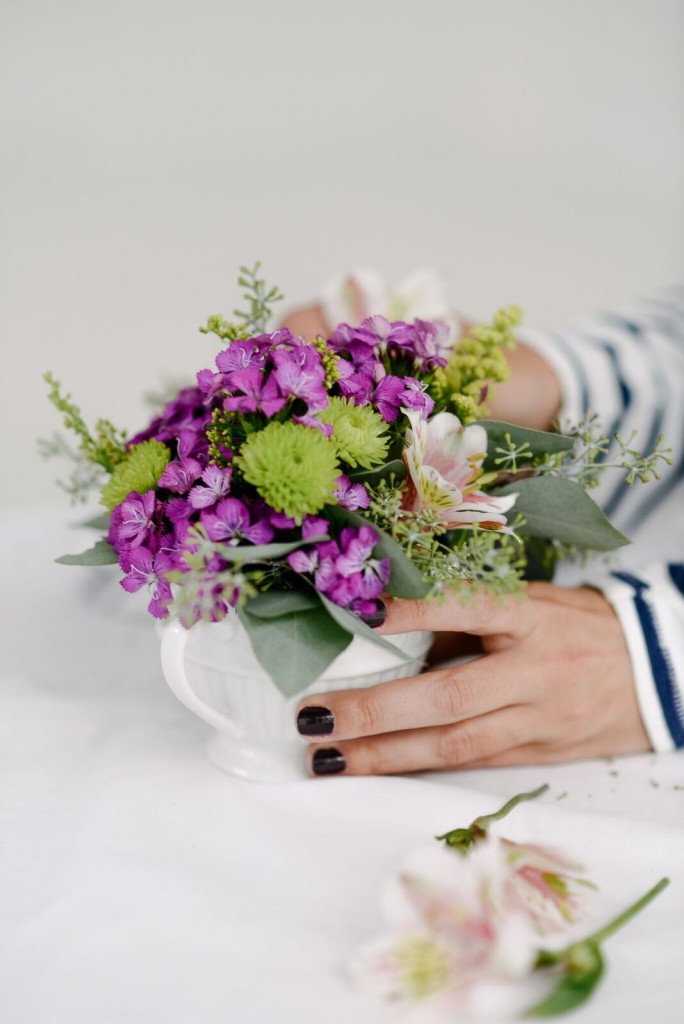 Keep bigger blooms reserved for larger holes. I also prefer to keep them in singles, but I like to pair up smaller varieties in clusters of two or three.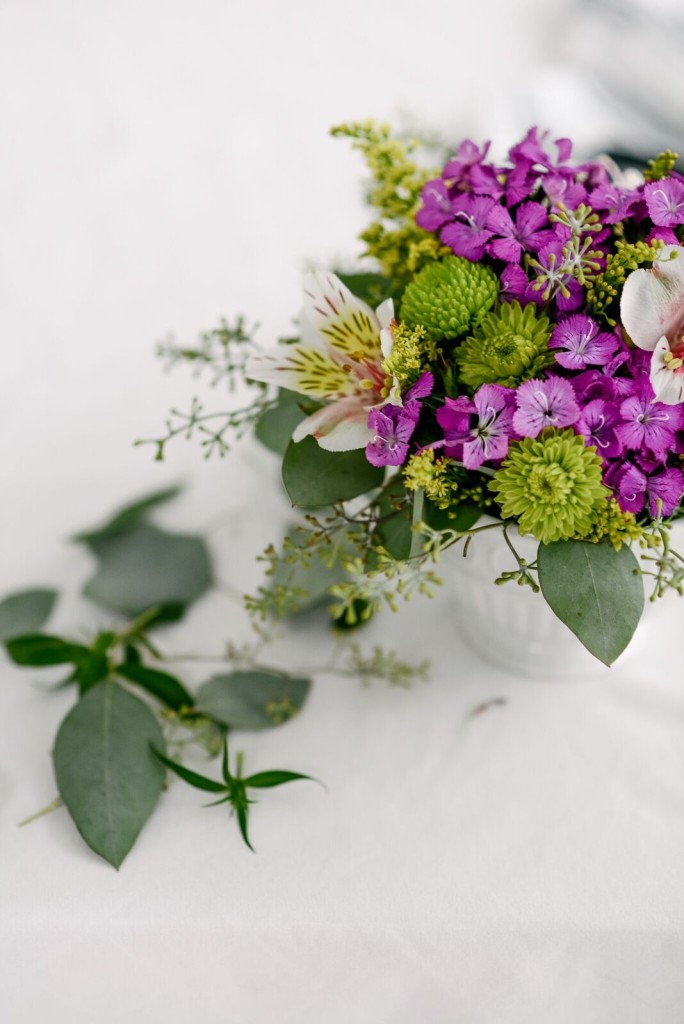 If you still have a few holes left in your arrangement or just need to add a little bit of height, you can stick some more greenery around the edges or throughout the arrangement.
Add a bit of water into the bottom of your container and you're all done!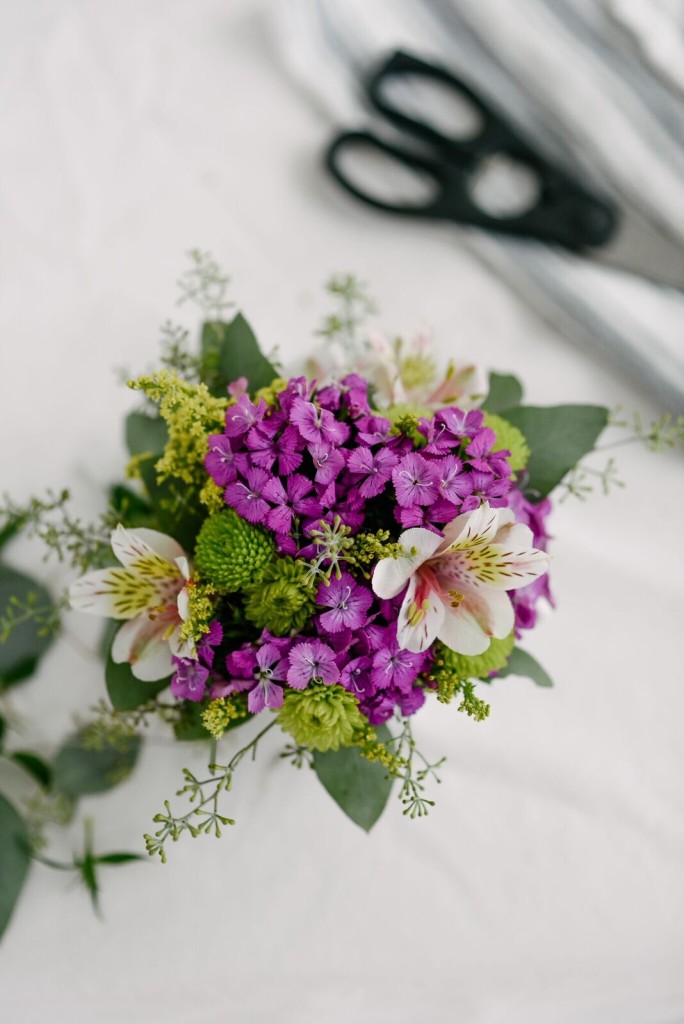 Place these mini floral arrangements down the center of your table to create a "runner", place a single arrangement at each guests seat, or give them as gifts, but either way, no one is going to know that you transformed a basic grocery store arrangement into these little beauties!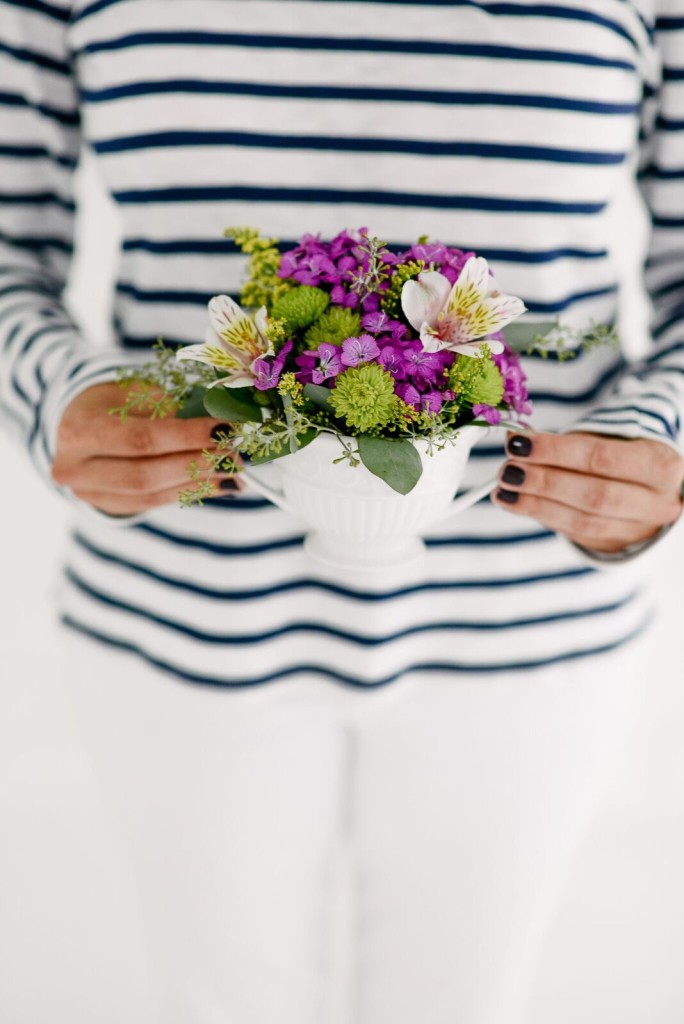 Disclosure
Sponsored posts or gifted items will be fully disclosed, and any thoughts and opinions shared are always honest and my own. Some posts contain contextual affiliate links, from which I may receive a commission on sales should you use them to make a purchase. No matter what, everything you see on Let's Mingle is something I genuinely like and recommend.