Salt and Vinegar French Fries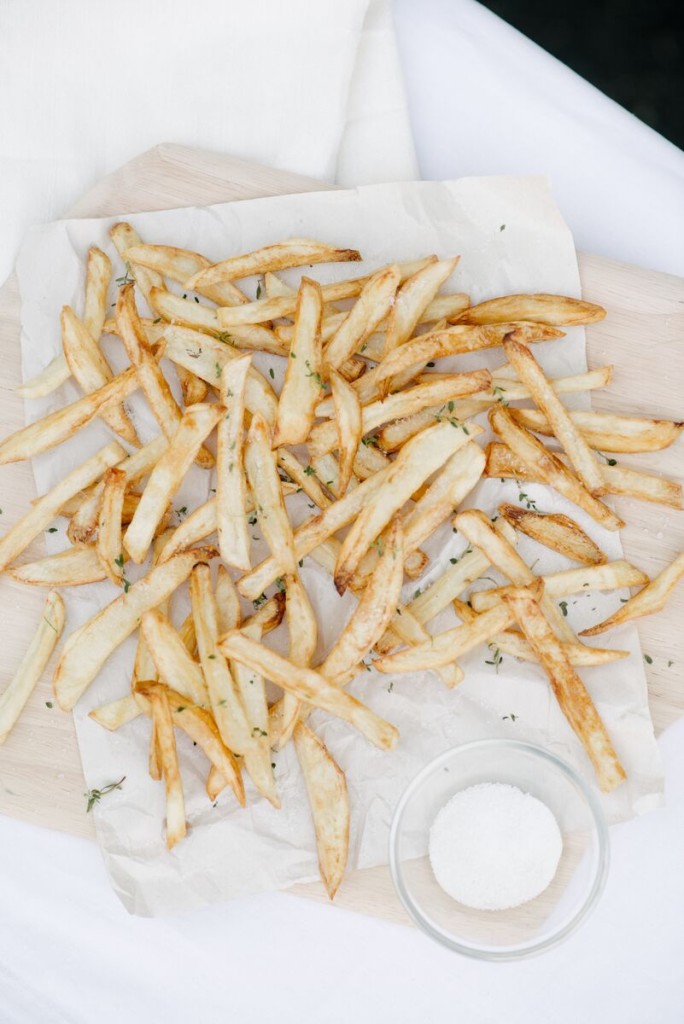 I'm definitely a sugar girl through and through, but there is one kind of salt that I can get down with. French fries.
There's just something about deep fried potato wedges that speak to my inner food obsessed self.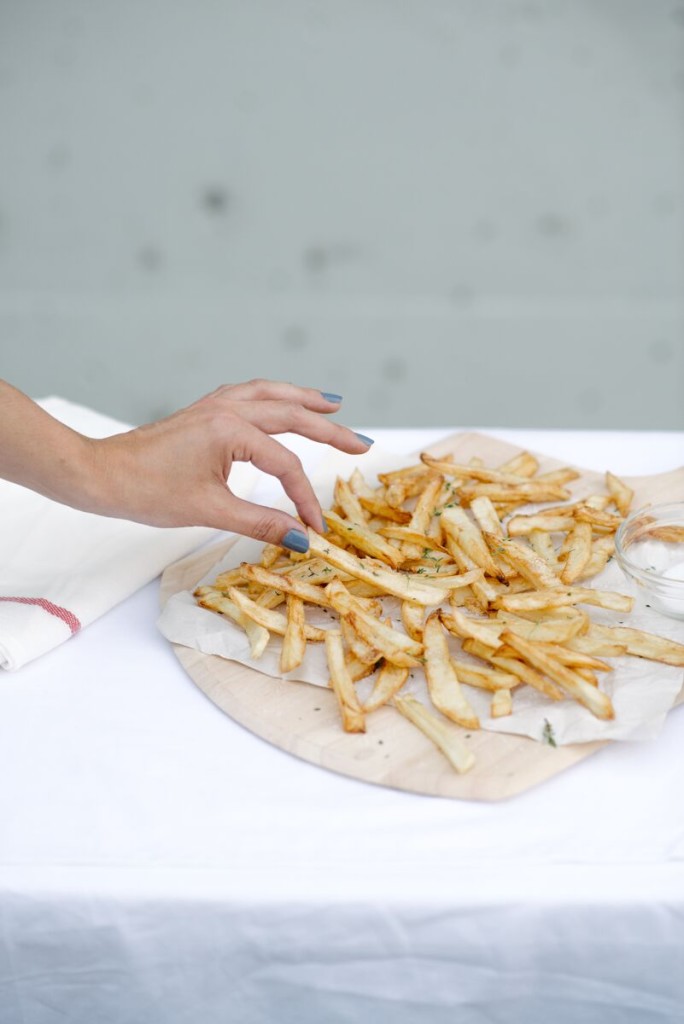 And potatoes are a vegetable, so that's good, right? They're pretty much one of the 5 food groups. So, yep, I approve.
But I couldn't just leave my fries plain. I'm from Canada, so you know I had to get a little crazy and add some vinegar with mine.
Fries without vinegar in Canada are like a sin. We have ketchup (and fry sauce in Utah). In Canada, they serve your fries with little packets of vinegar. So funny, but delish nonetheless.
These salt and vinegar french fries are the perfect mix of crispy, vinegary, salty goodness. Perfect to serve for game day, with burgers on the grill, or just for a snack.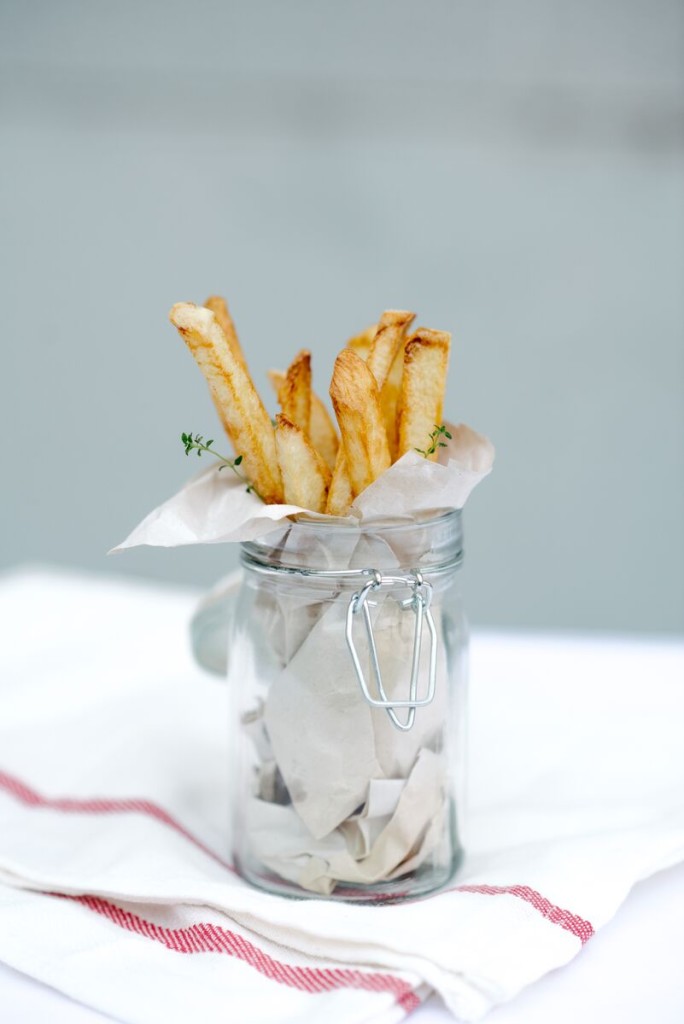 Serve them in cute little containers (like these mini bale jars) at a party or for an appetizer at an event, and you'll be the hit of the party.
Here's what you'll need to make your own:
6-7 Medium Sized Potatoes
Kosher Salt
Distilled White Vinegar
Vegetable Oil (for frying)
Thyme (for garnish, if desired)
Being by peeling your potatoes and cutting them into 1 inch wedges. Once cut, place them in ice water to sit. This will prevent them from going brown before frying!
Add about 3 inches of vegetable oil to a large and deep skillet. (A wok or a dutch oven works great too). If you are using a larger pan, add enough to completely cover your potato strips.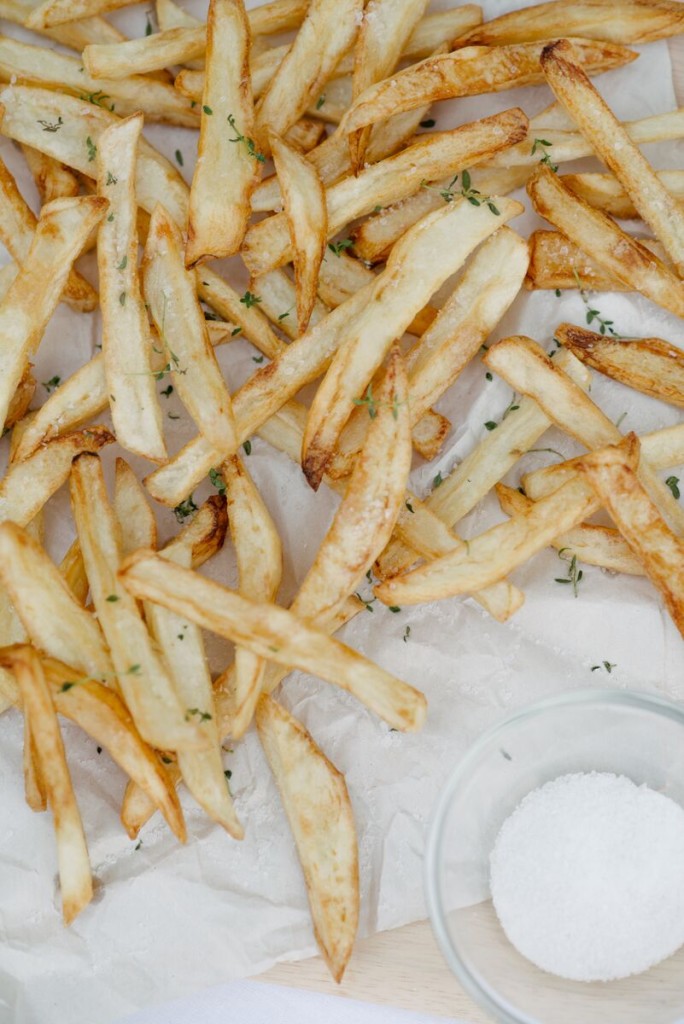 Heat until your oil reaches about 250 degrees. I like to keep my oil at this temp because it cooks the fries slow enough to get them crispy but prevents a lot of splattering and a huge mess. Because who wants to clean that up…? Not me.
Once your oil has reached the right temperature, remove your fries from the water bath, dry them, and then place them into your skillet. Only add small batches of the sliced fries at a time. Adding too many fries to your oil will prevent them from cooking all the way through, will cook them slower, and they'll end up soggy too. No bueno.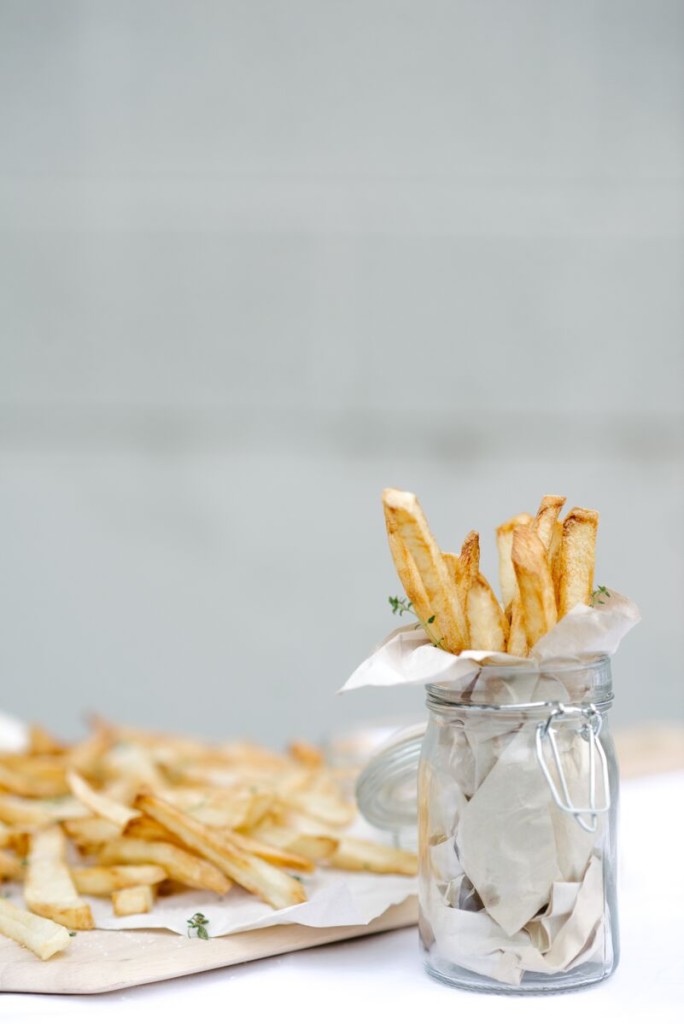 Move your fries while cooking to prevent them from sticking. Continue cooking until they are lightly browned.
Remove from the oil and place on a paper towel lined dish. Blot excess oil from the fries with a paper towel and allow to cool.
Repeat the process with your next batch of raw potato strips until all are cooked.
Once cooked, toss the fries with 2-4 tablespoons of vinegar, depending on your desired flavor.
Season with kosher salt and top with thyme.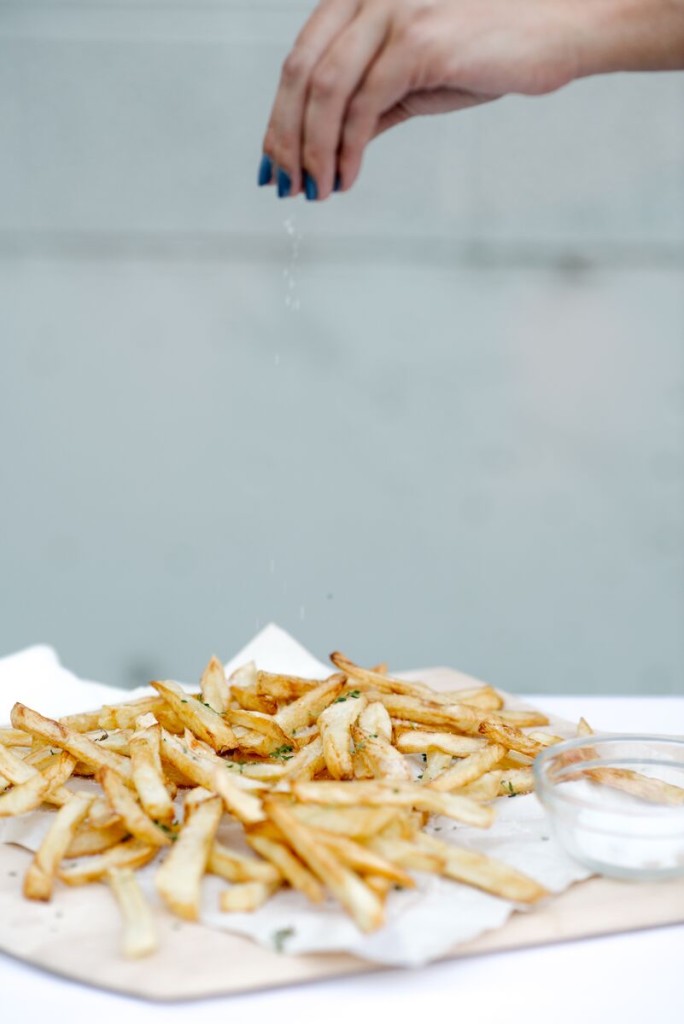 Photography by Haley Nord Photography 
Disclosure
Sponsored posts or gifted items will be fully disclosed, and any thoughts and opinions shared are always honest and my own. Some posts contain contextual affiliate links, from which I may receive a commission on sales should you use them to make a purchase. No matter what, everything you see on Let's Mingle is something I genuinely like and recommend.