Caramel Ice Cream Baked Apples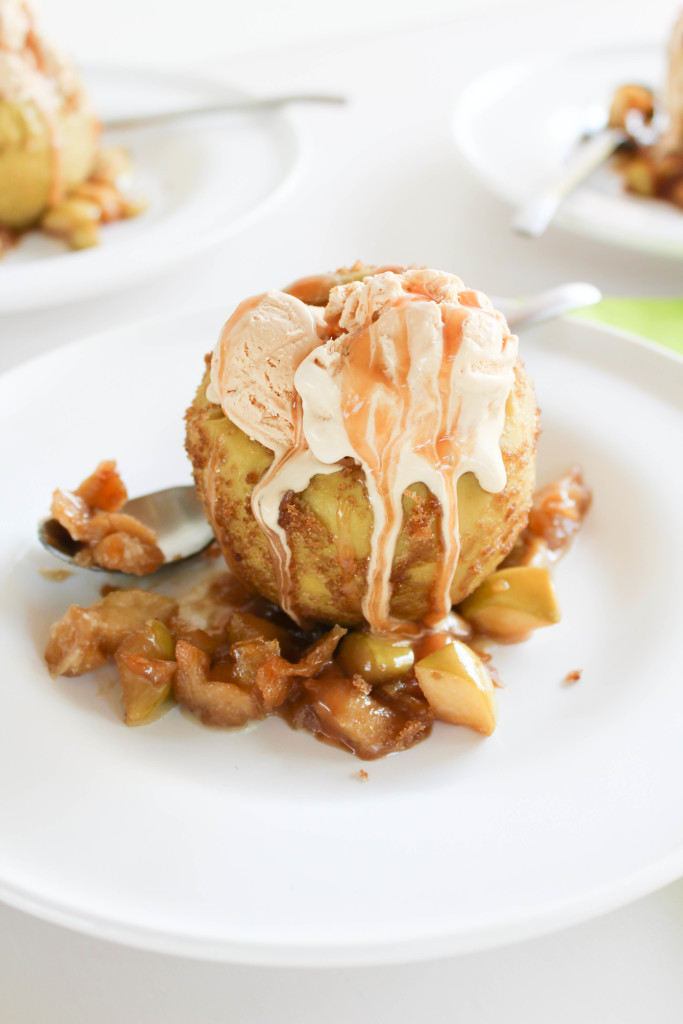 I know I've mentioned it many times already, but this week officially kicks off my favorite month of the year by far. OCTOBER!
Time to usher in the ghosts, ghouls, pumpkins, candy corn, and caramel apples.
Let's take a moment to talk about caramel. First off, I realize that I might have a different view on this, but I pronounce it care-a-mel. What about you guys? I think it's an east coast thing. But, come on, there's an "a" in there, right?!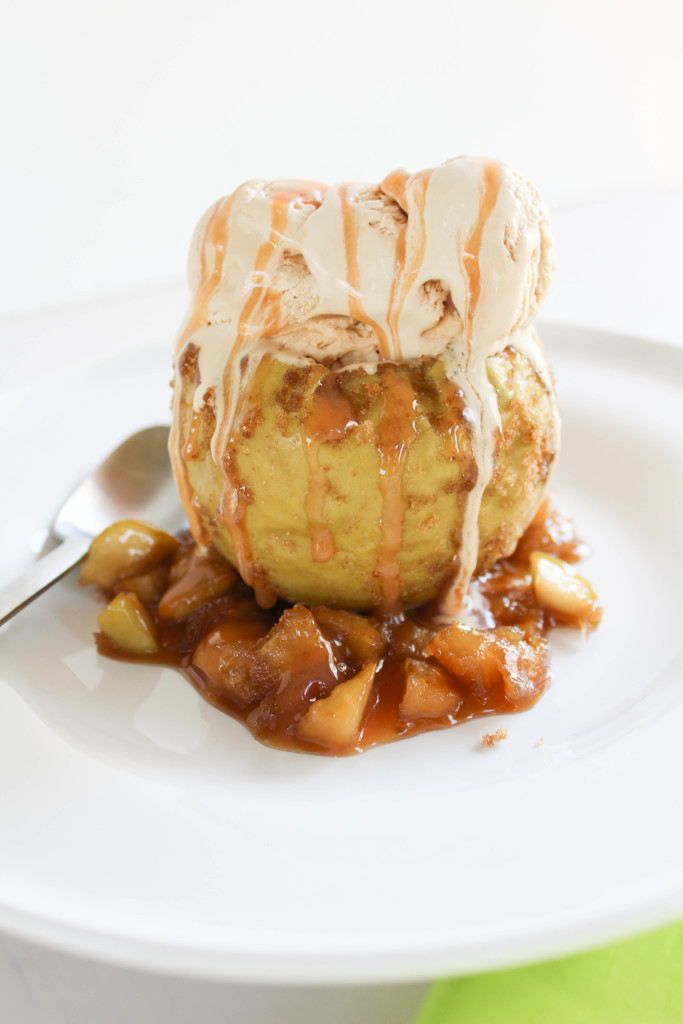 Ok, back to caramel apples…the perfect combination that just screams fall. I make a batch every single year before halloween and plan to do the same thing again this year. (Watch out for a future blog post 😉
I've been sharing a new ice cream recipe once a month for the last little while and continue to keep this trend going until I have a full year under my belt. So how could I make a twist on a classic halloween dessert with ice cream?
By making caramel ice cream baked apples, of course!
Served warm, these babies are ooey gooey, delicious, and actually pretty easy to make too.
You can impress your dinner guests and fill the house with baked apple goodness while they're cooking too.
Ready to whip up a batch?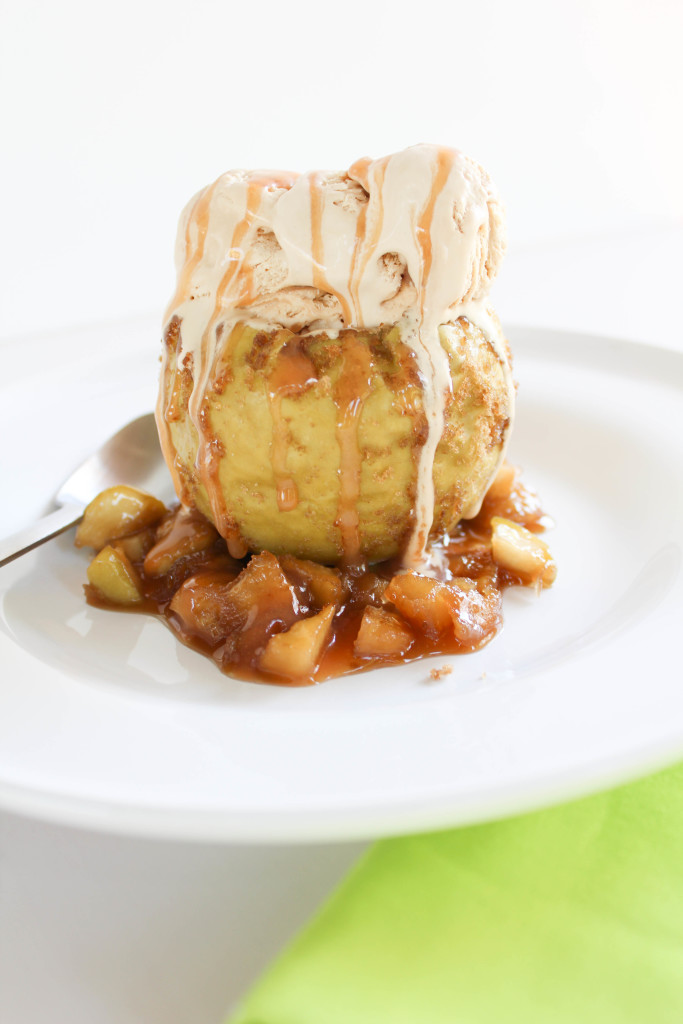 Here's what you'll need to make your own:
For the Ice Cream
1 (14 oz.) Can of Caramel Flavored Evaporated Milk
1 Pint of Heavy Whipping Cream
Homemade Caramel or Store Bought Topping
1 Cup of Caramel Baking Bits (found in the baking isle)
For the Baked Apples
4 Granny Smith Apples
10 Tbsp. Butter – cut into cubes
1/2 Cup Brown Sugar
1 Tsp. Cinnamon
First up, make your ice cream and allow to freeze for about 6-12 hours or overnight, before use.
Pour your heavy whipping cream into a bowl. Using a hand mixer, whip until thick and heavy peaks have formed.
Pour the can of condensed milk into the whipping cream mixture and add your caramel morsels.
Using your mixer again, mix until the combination is completely combined and thick.
Pour into an ice cream container, loaf pan, or tupperware container. Top with a drizzle of caramel.
Cover and freeze.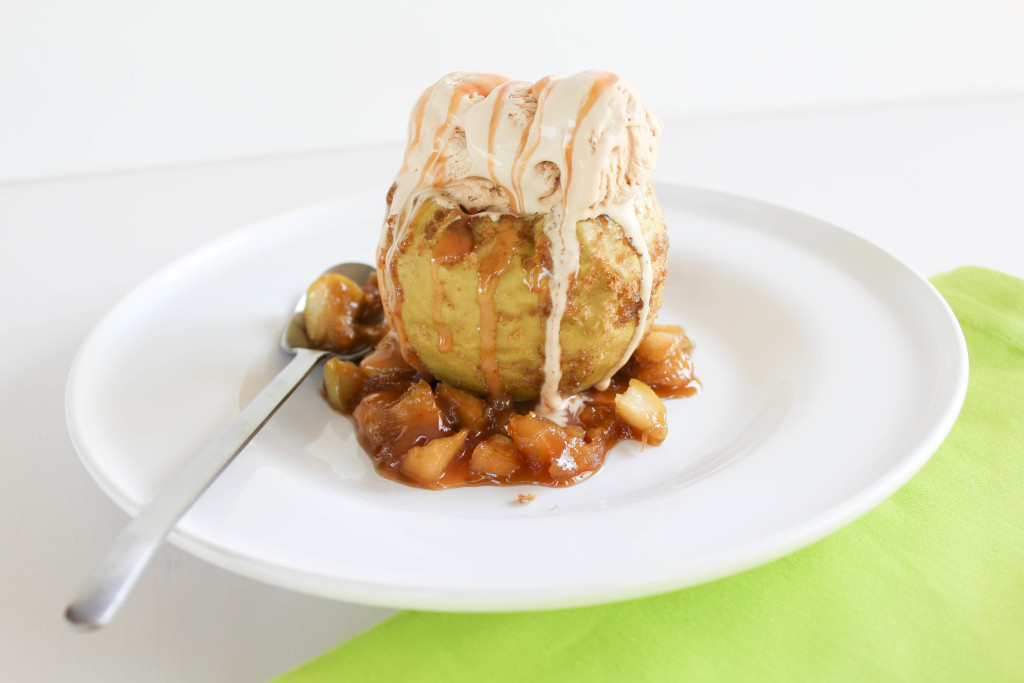 Once your ice cream has hardened, you can move onto the next yummy step. The baked apples!
Preheat the over to 350 degrees.
Begin by hollowing out the center of your apples. (Keep your apple insides to use for later). I use granny smith apples because they are the best apples to use when making caramel apples. The tart flavor of the apples off-sets the super sweetness of the caramel and the combination if pure perfection. Trust me on this one. 😉
Once your apple is hollow, rub the inside and outside of the apple with butter. Then coat the inside and outside with brown sugar. The sugar will stick to the butter.
Set the buttery, brown-sugary apples on a baking tray and bake for 20 minutes, until soft.
While the apples are baking, cut your apple insides up into small pieces, and get rid of the cores and seeds.
Melt remaining butter in a medium skillet over medium heat. Add the remaining brown sugar and cinammon, mixing until combined. Add the apples and cook until the apples are soft. Remove from heat.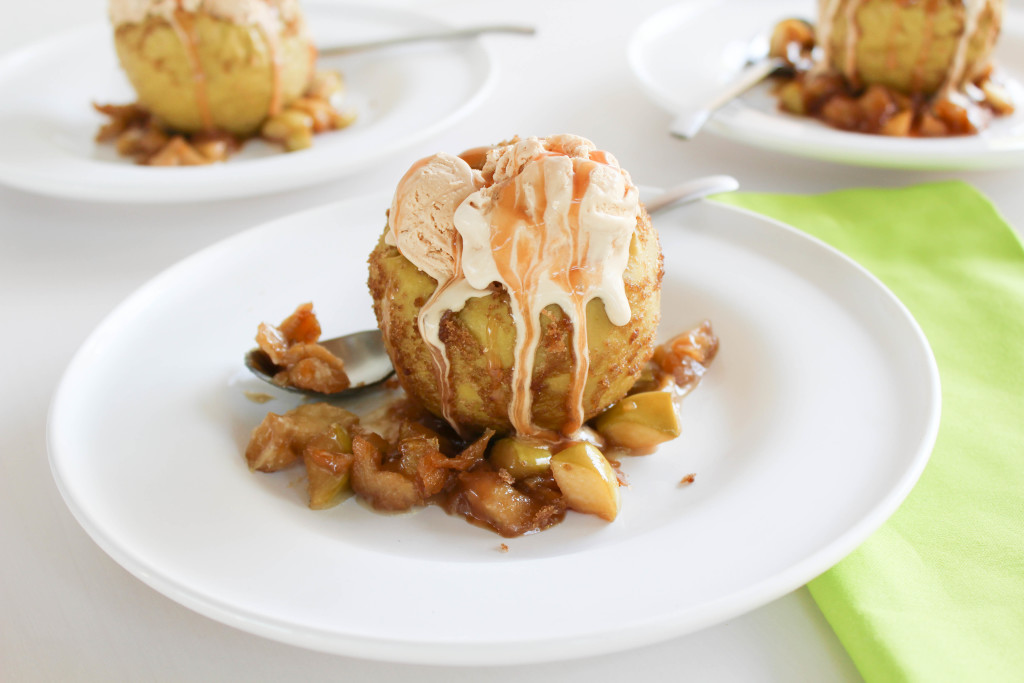 On a plate, add a circle of cooked apples to the center. Place a warm baked apple on top of your cinnamon apple mixture. Fill the baked apple with caramel ice cream, and drizzle with more caramel topping.
Eat with a spoon and enjoy!
And don't just limit these caramel ice cream baked apples for the month of October, they'd be awesome to serve for thanksgiving too!
Disclosure
Sponsored posts or gifted items will be fully disclosed, and any thoughts and opinions shared are always honest and my own. Some posts contain contextual affiliate links, from which I may receive a commission on sales should you use them to make a purchase. No matter what, everything you see on Let's Mingle is something I genuinely like and recommend.