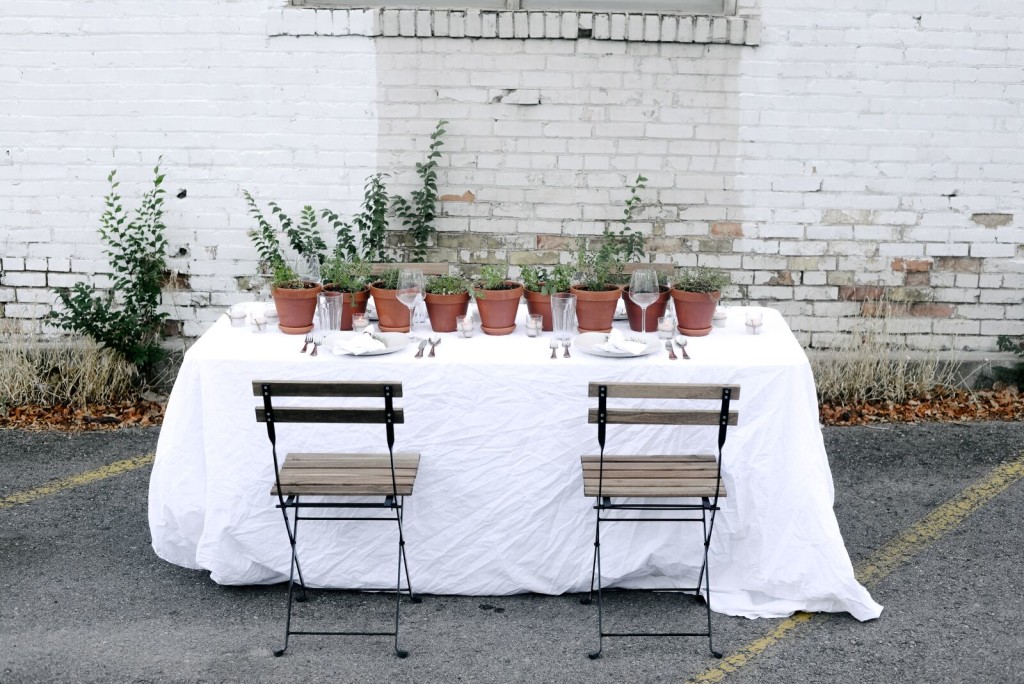 Now that warmer weather is behind us (or soon to be!), I'm going to miss having my outdoor herb garden so readily available when I need it for cocktails or other recipes.
This year was the first year that I started an herb garden and it was so nice having fresh herbs when I needed them, or when I didn't realize I needed them until after I had already started cooking 😉
But before I'm ready to say goodbye, I wanted to get a little more use out of them before the snow hits!
Herbs are already so pretty and fragrant and a lot less expensive that traditional flowers, so why not use them as a centerpiece for your next dinner party or gathering?
That's exactly what I did when I created this herb tablescape design that was a cinch to put together and looks elegant and polished too.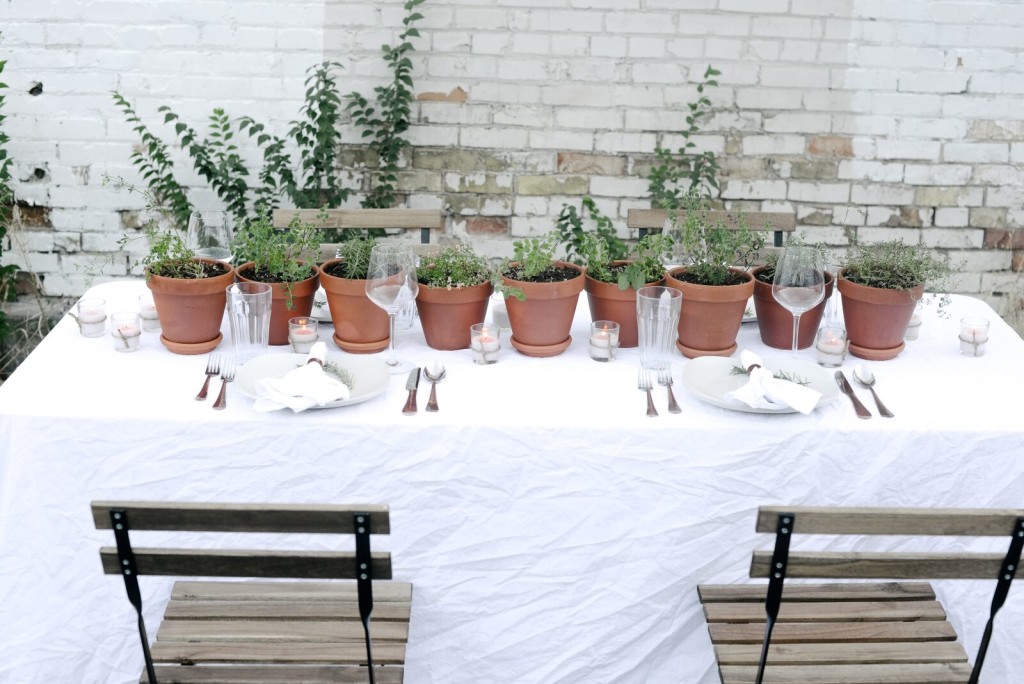 I used a variety of herbs down the length of the table as a fresh "runner". I alternated between having some of the pots on top of saucers and others without, to add a tiny bit of height between the different pots. Herbs work really well as a centerpiece too because they are usually fairly low in height so your guests will still be able to see each other across the table!
I purposely chose a linen that was cotton based and wrinkly (weird, I know!) but I really love how authentic and natural it makes the table look, plus, not having to iron a tablecloth before your party…? Genius.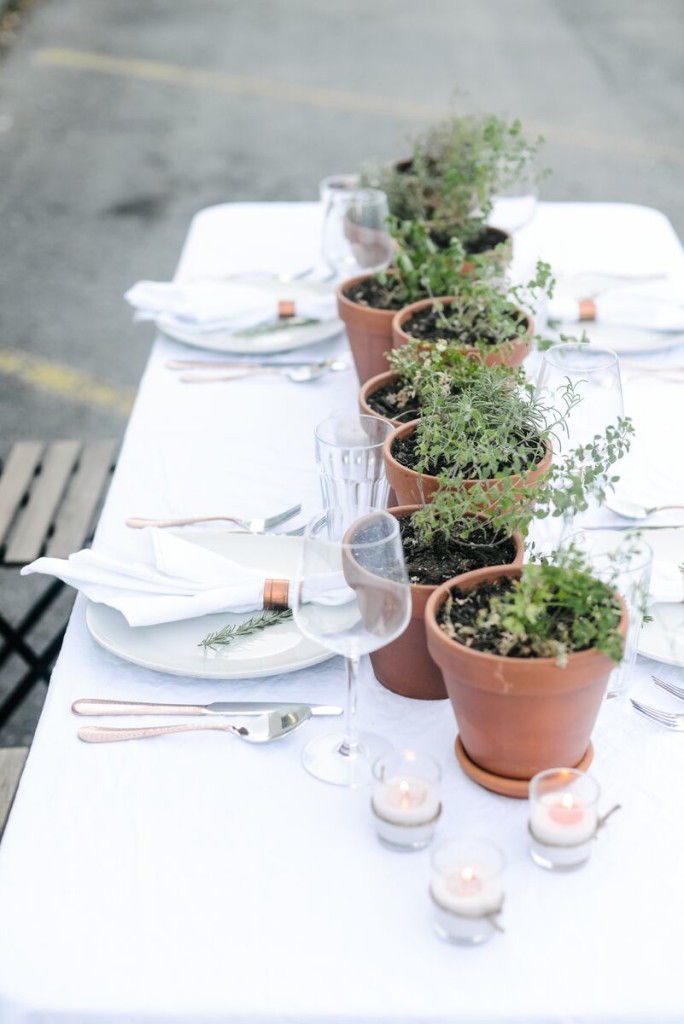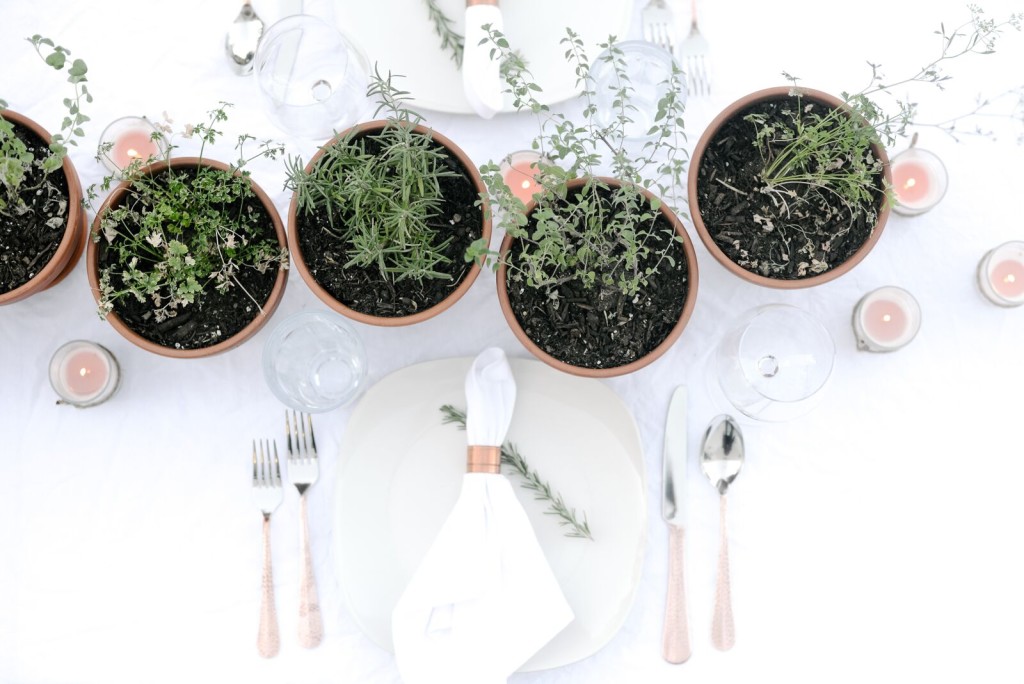 I offset the white tablecloth with some cream colored dishes, and kept the glasses clear so that it didn't detract from the table design at all. I really wanted things to look organic and earthy and a big multi-colored glass wasn't exactly going to help me with that aesthetic.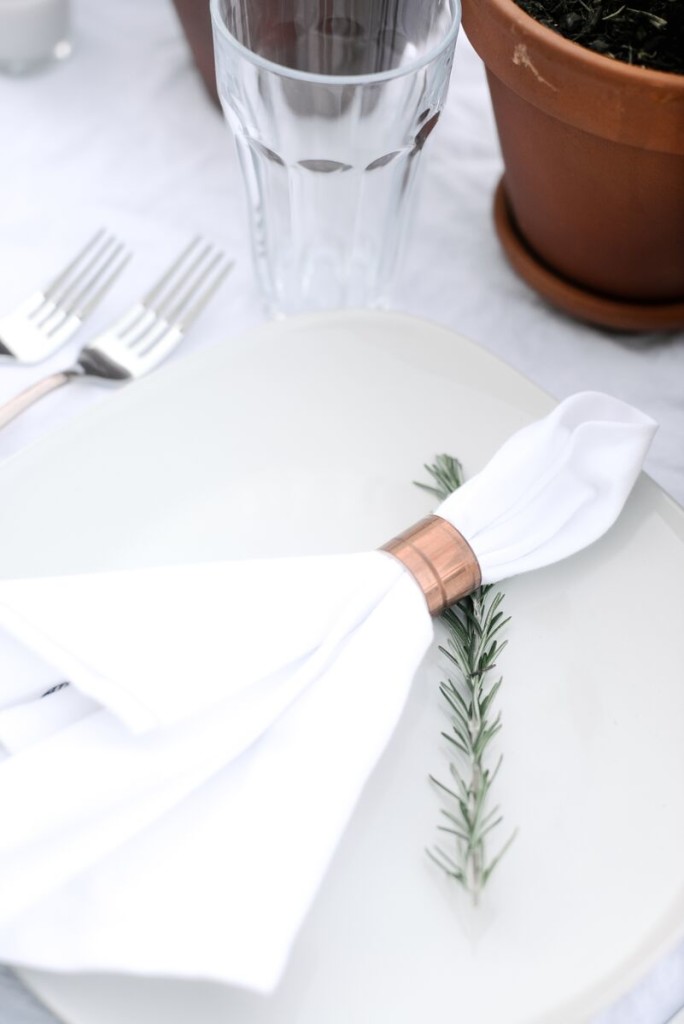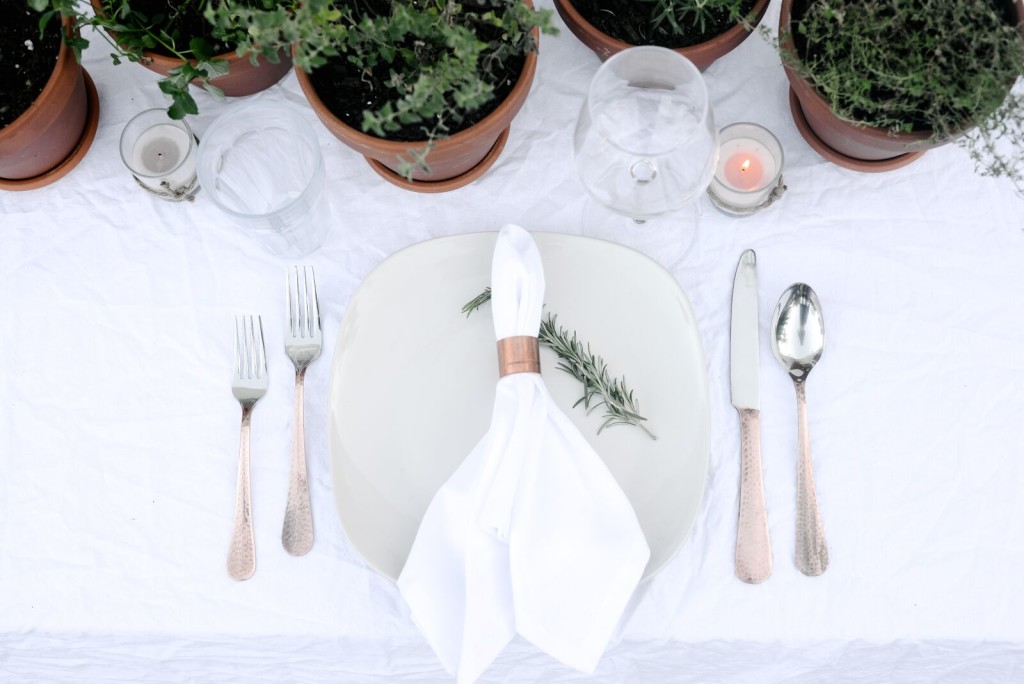 I love metallic accents in a party design and copper was definitely the metal that I wanted to pull into this table.
I created these copper napkin rings from a plumbing pipe at my local hardware store. I cut the pipe into rings and then just slipped them over each napkin. You might need to smooth out the edges, depending on how rough your cut is, before using.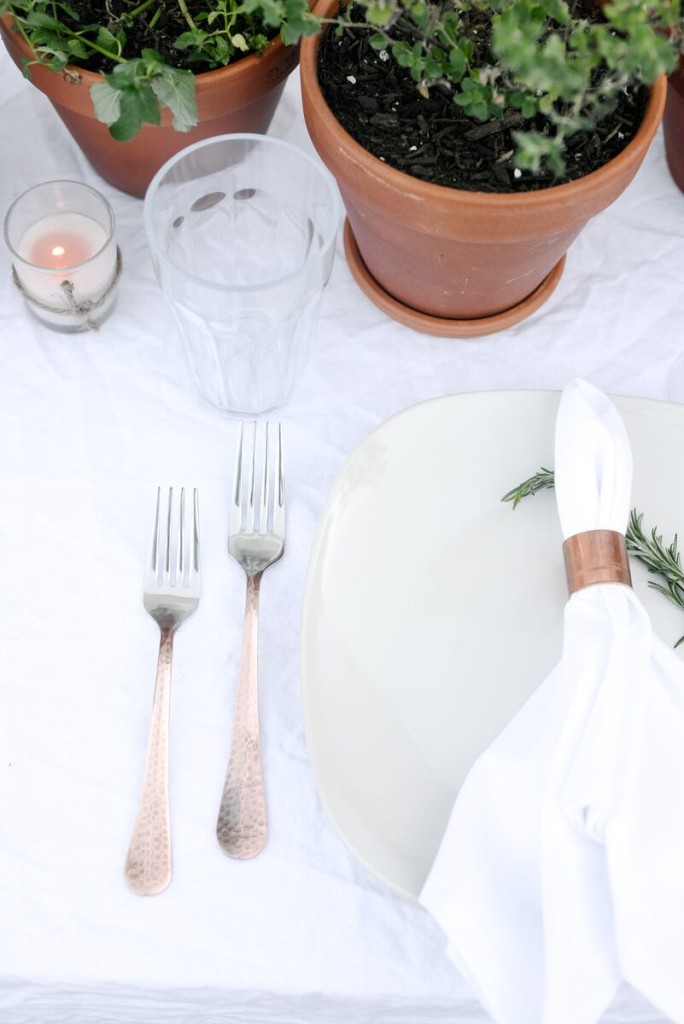 I used this copper flatware to tie the metallic elements together. I especially love that hammered pattern, and it was under $60 for 4 settings, so it didn't break the bank either. I know I'll be using these guys again in the future.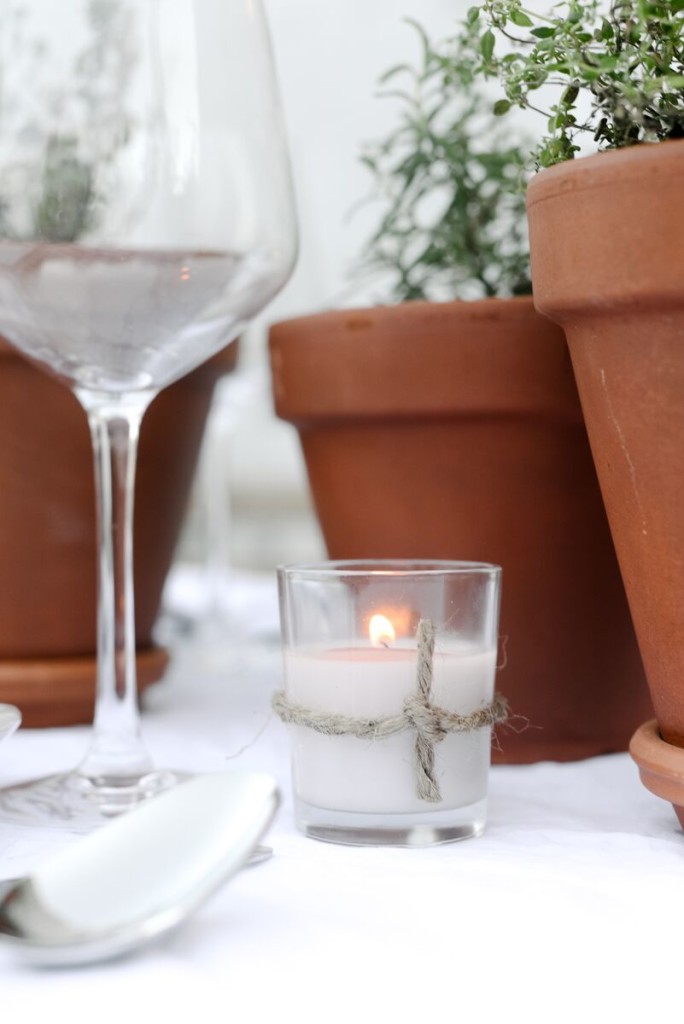 I didn't have to do much in regards to decor for the table, but I did add some glowing candlelight with simple white votives. I picked up a 12 pack at the local craft store and just added some twine that I tied around the outside of each glass to add that rustic touch. So simple, but a fun little detail that your guests will notice.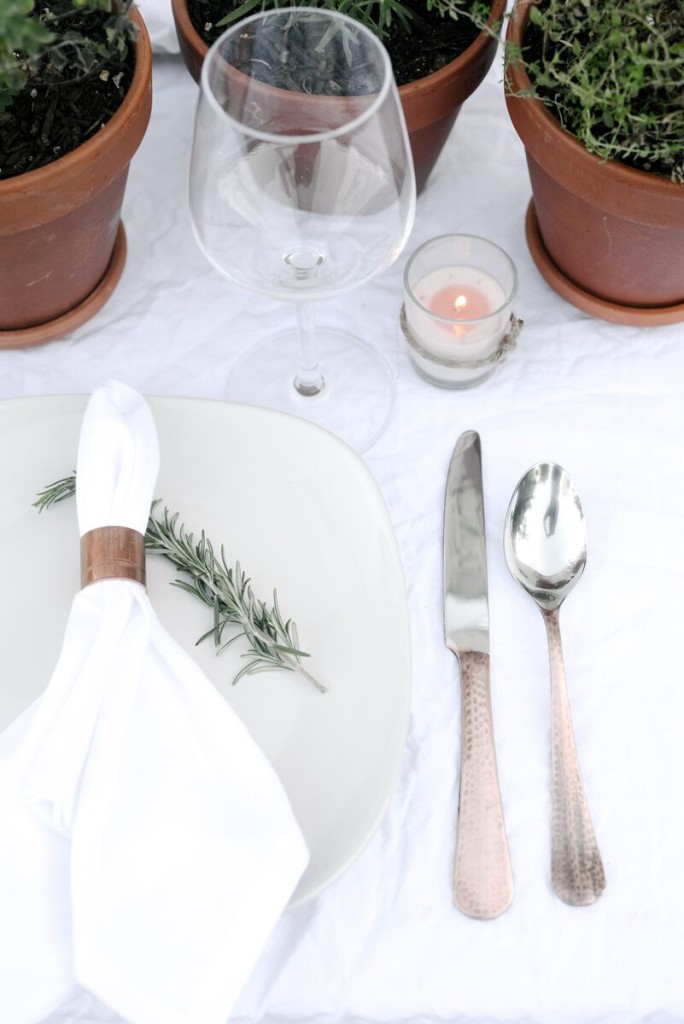 To finish the table off, I added a sprig of fresh rosemary under the napkins at each place setting, again tying in the herbs to the rest of the tablescape.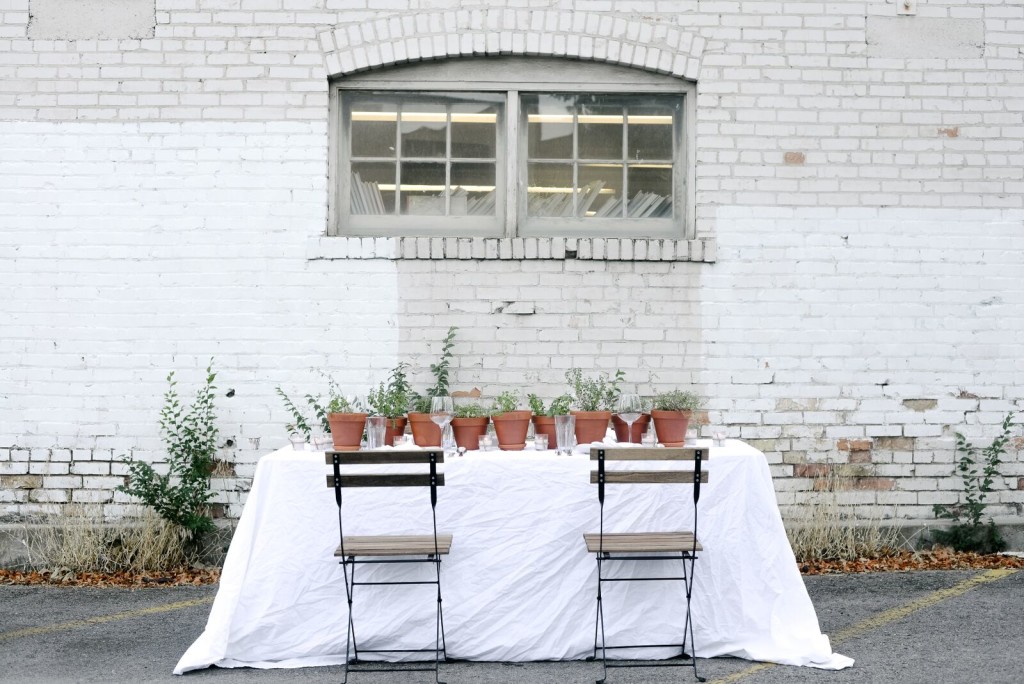 I am ready to make some fresh pasta, serve some great wine, and mingle with friends late into the evening with this herb tablescape.
It's such an easy design to thrown together, inexpensive, and so effortlessly elegant. Plus, getting another use for those fragrant herbs doesn't hurt either!
Photography by Haley Nord Photography
Disclosure
Sponsored posts or gifted items will be fully disclosed, and any thoughts and opinions shared are always honest and my own. Some posts contain contextual affiliate links, from which I may receive a commission on sales should you use them to make a purchase. No matter what, everything you see on Let's Mingle is something I genuinely like and recommend.