Halloween Floral Arrangement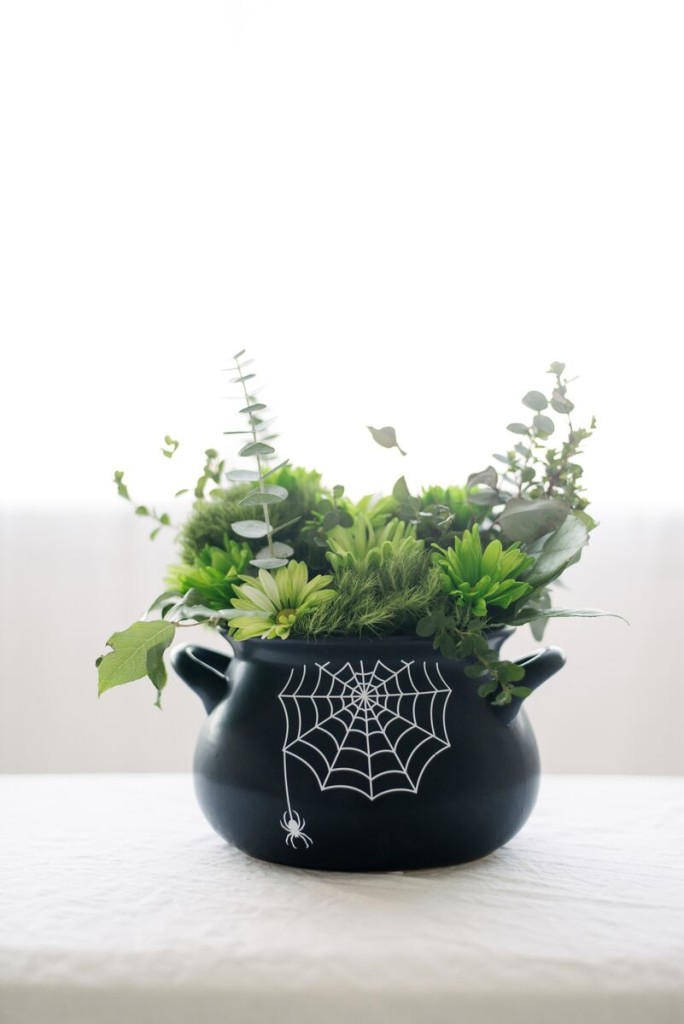 I've been doing a lot of Halloween shopping lately, as I always do around this time, and I recently stumbled upon the CUTEST witches cauldron ceramic container at Michael's Craft Store.
Of course, I snatched it up and began envisioning all of the things I could do with it.
At the top of my list…? A "bubbling" witches brew Halloween floral arrangement!
I wanted to create an arrangement that had movement and looked like a creepy concotion was brewing away inside.
I decided that green was definitely the color to go with for the arrangement and I wanted to keep the same tone throughout.
I choose a variety of different greenery and just one type of flower to use as a pop against the natural elements.
And guess what…? I found all of the flowers at COSTCO! I am a huge believer that you can still create amazing arrangements without having to be a licensed florist. Pretty blooms, buds, and branches go a long way, regardless of where you purchase them from. 😉
Are you ready to make your own pretty little cauldren?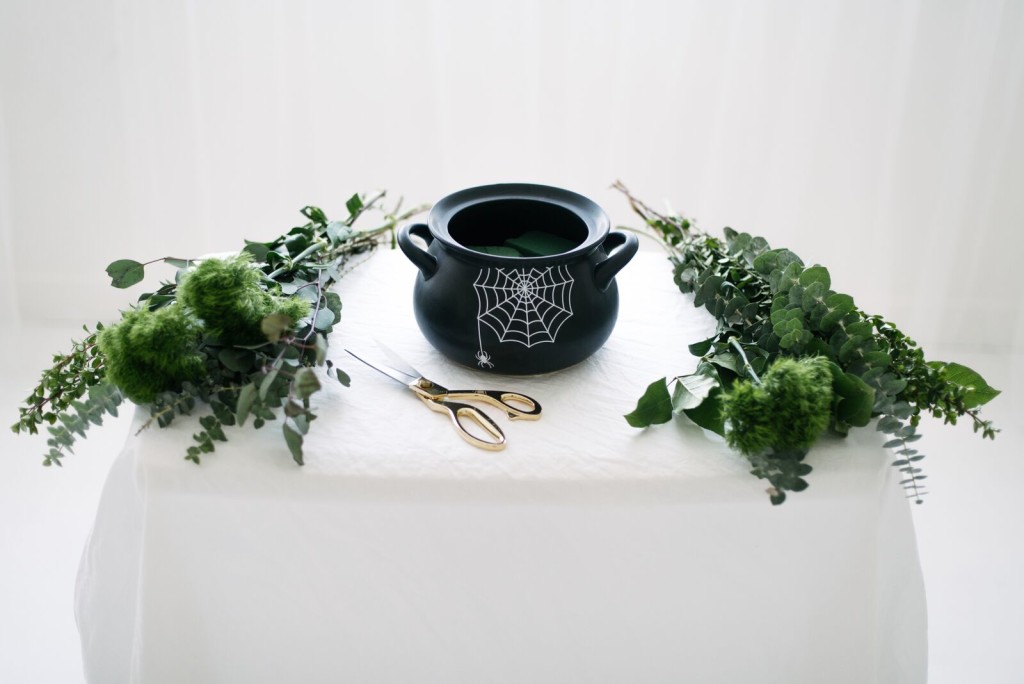 Here's what you'll need to make your own:
A variety of greenery and one main filler flower, all in shades of green
Green floral foam
Floral shears or scissors
Water
Ceramic or plastic cauldren
First, cut your foam to fit into your container (I just used a regular kitchen knife). You want it to be a tight fit.
Once you have the right shape to fit into your cauldron, soak the foam in water for a few minutes until soaked through, then place back into your cauldron.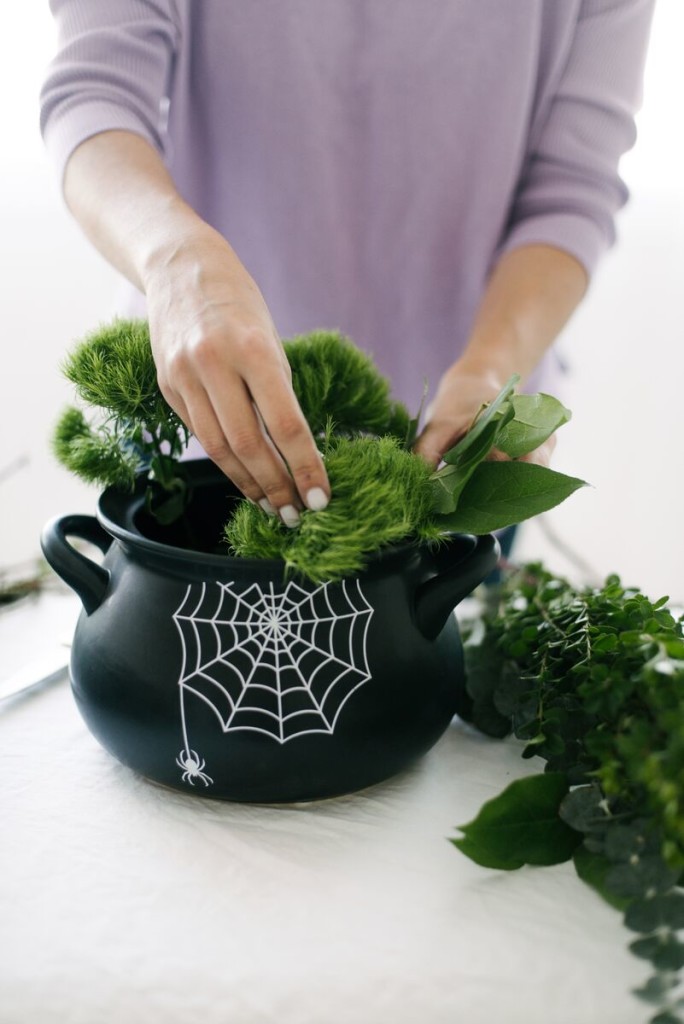 Start filling the arrangement with the largest and/or widest of your greenery varieties. This will give your cauldron a full look and allow you to use less accent flowers to fill the empty spaces.
Cut your greenery on an angle, so that the tips are sharp enough to pierce through the foam. It also allows them to soak up the most amount of water once in the arrangement!
Starting in the center, place your fuller greens into the floral foam and set them at the height that you want. I wanted my cauldren to look like a bubbling witches brew, so I didn't cut all of my greens at the same height. I wanted it to have a really natural and flowing quality to the arrangement. It also helps to give the design more dimension and interest.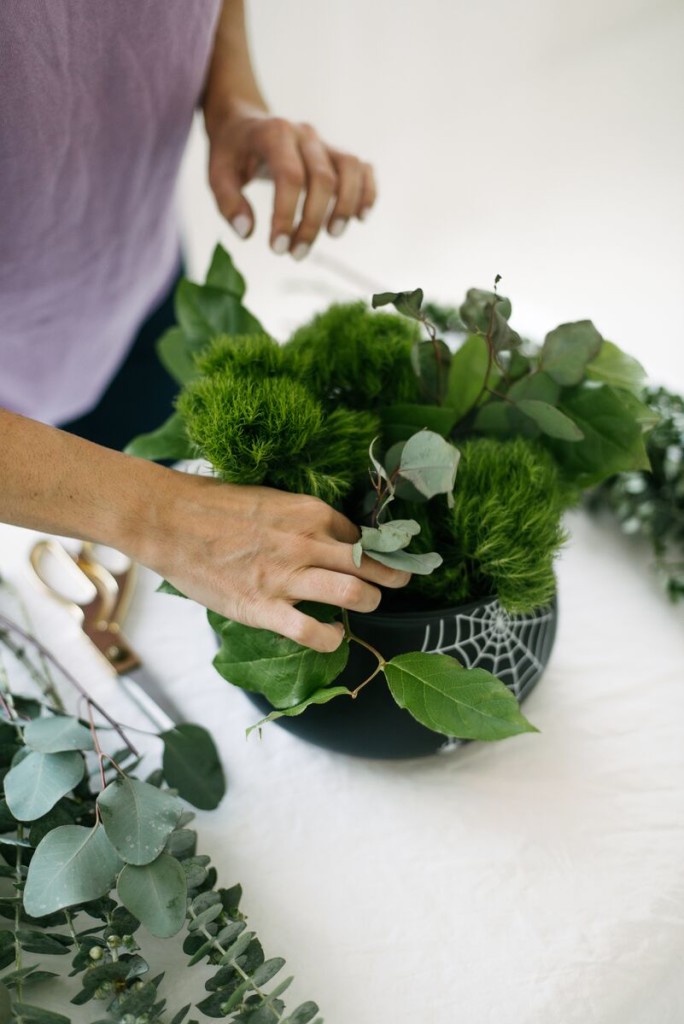 Arrange other stems around the first ones you placed, until you have a basic shape going.
Begin placing more varieties of greenery throughout the foam, making sure to place some greenery around the edges of the cauldron as well. Depending on the greenery that you've chosen, you can even have some hanging out of the cauldron in places as well.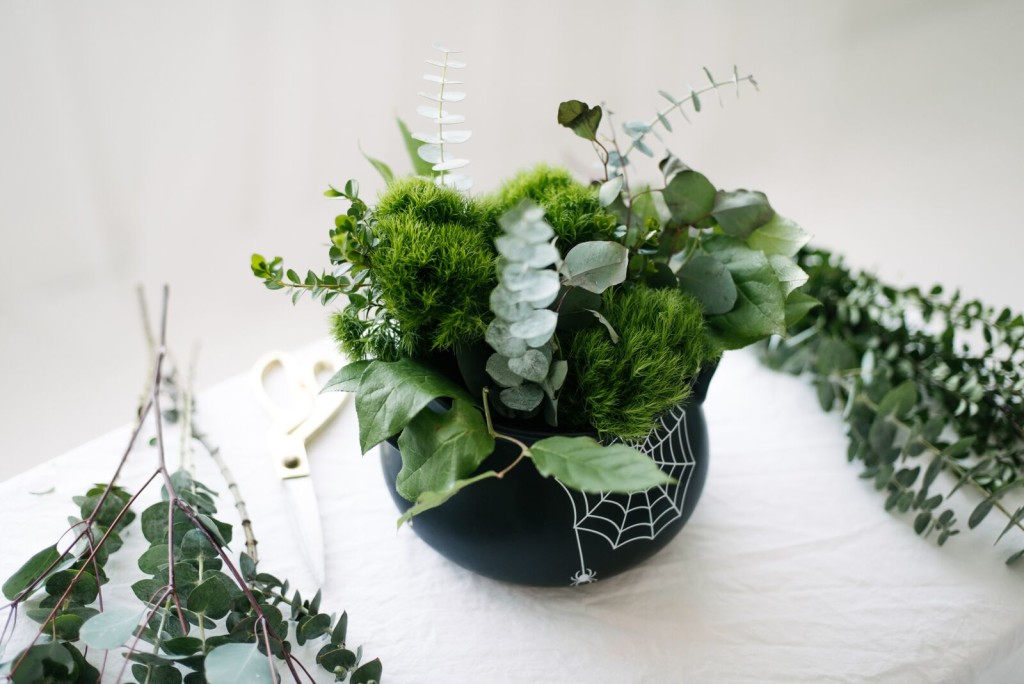 Once you have the majority of your cauldron filled with greenery, begin adding your green accent flowers to fill in any gaps and holes you have.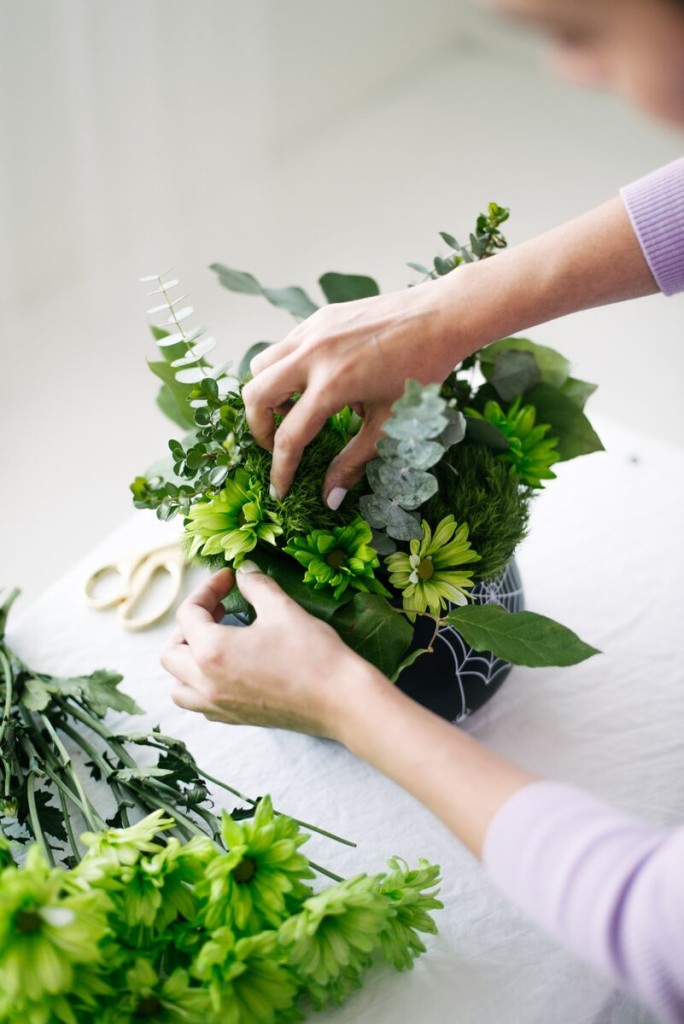 If you still have a few holes left in your arrangement after adding your flowers, or just need to add a little bit of height, you can stick some more greenery around the edges or throughout the arrangement as well. And feel free to move pieces around as you go. Play with the shape and step back from the arrangement and take a look at it from all angles to see what could be added, taken away, or adjusted.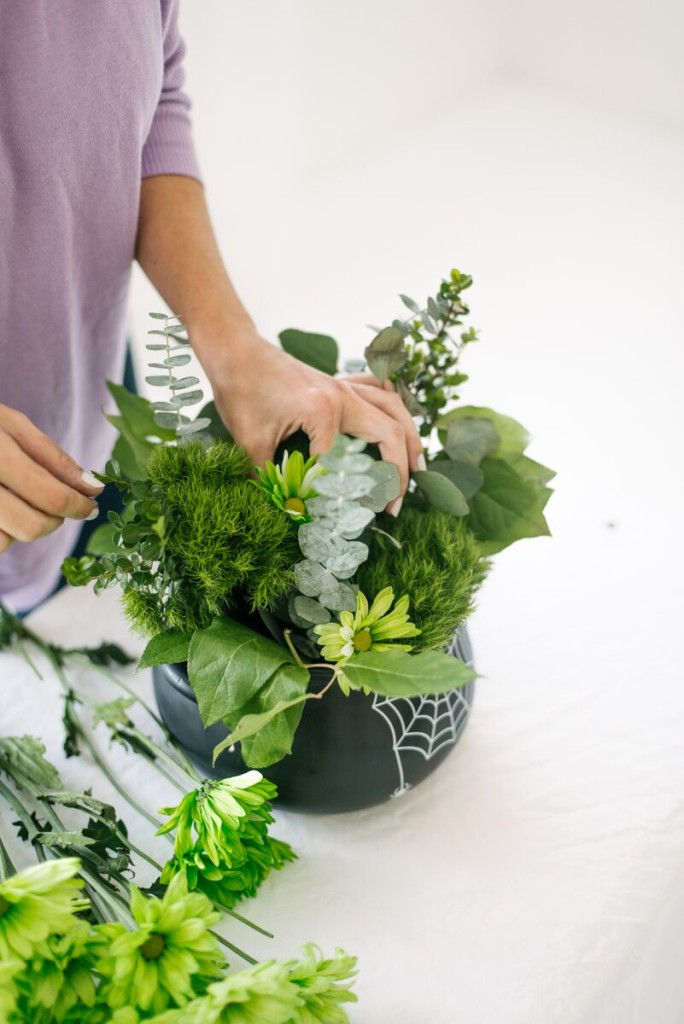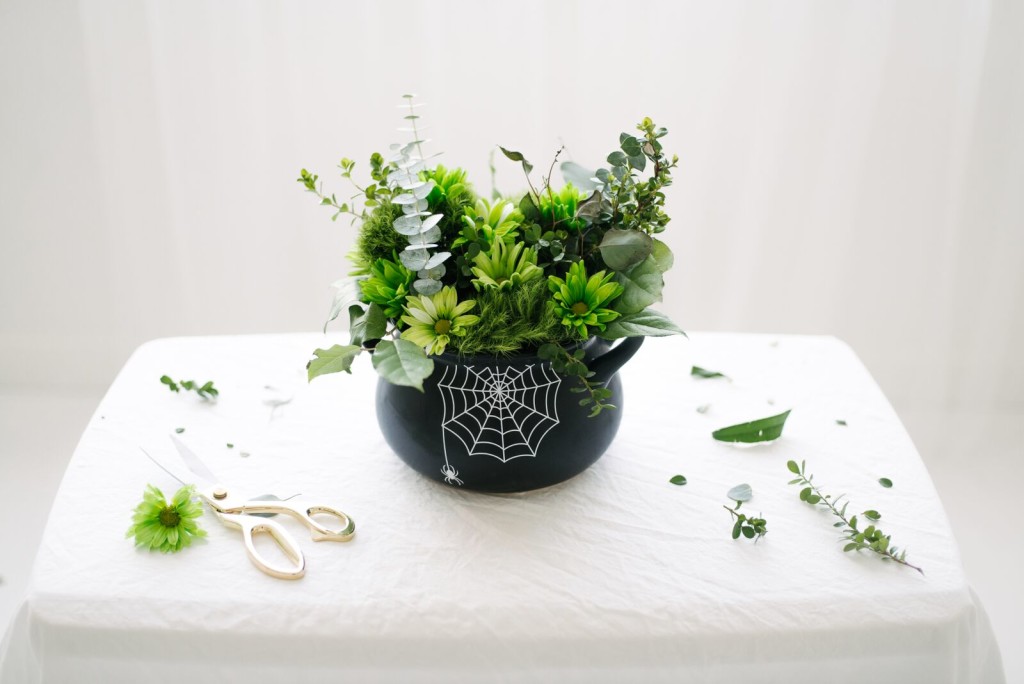 Add a bit of water into the bottom of your container and you're all done!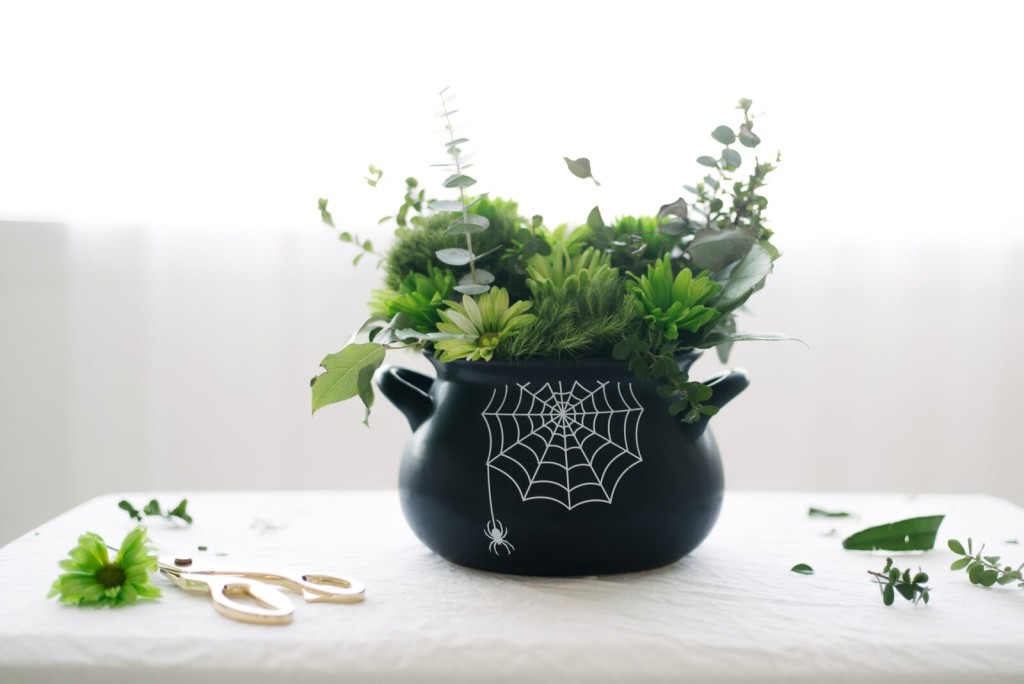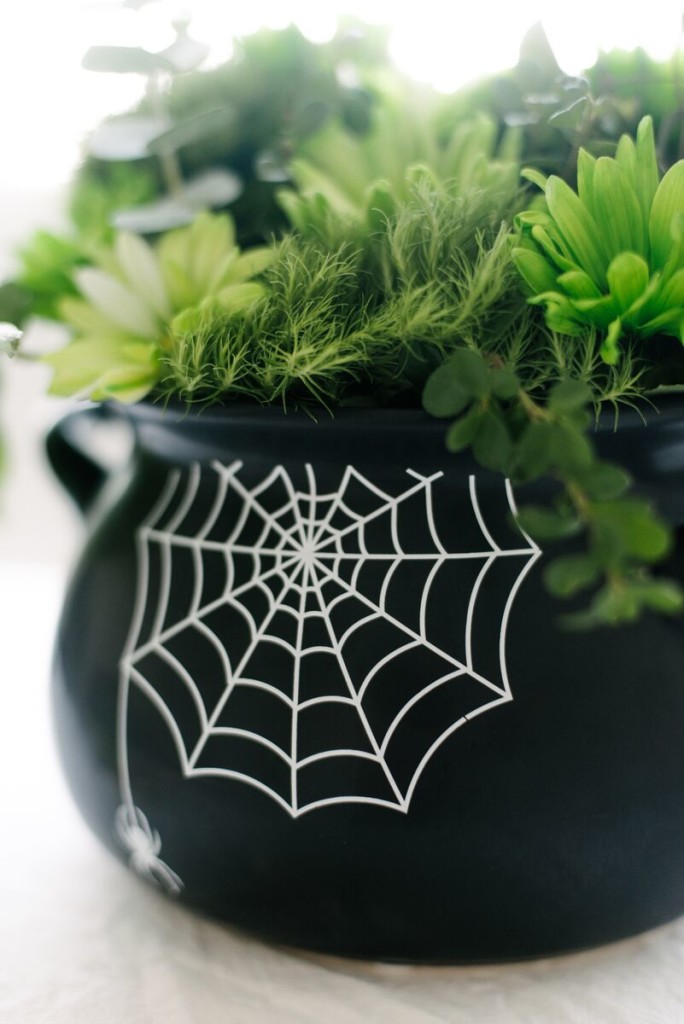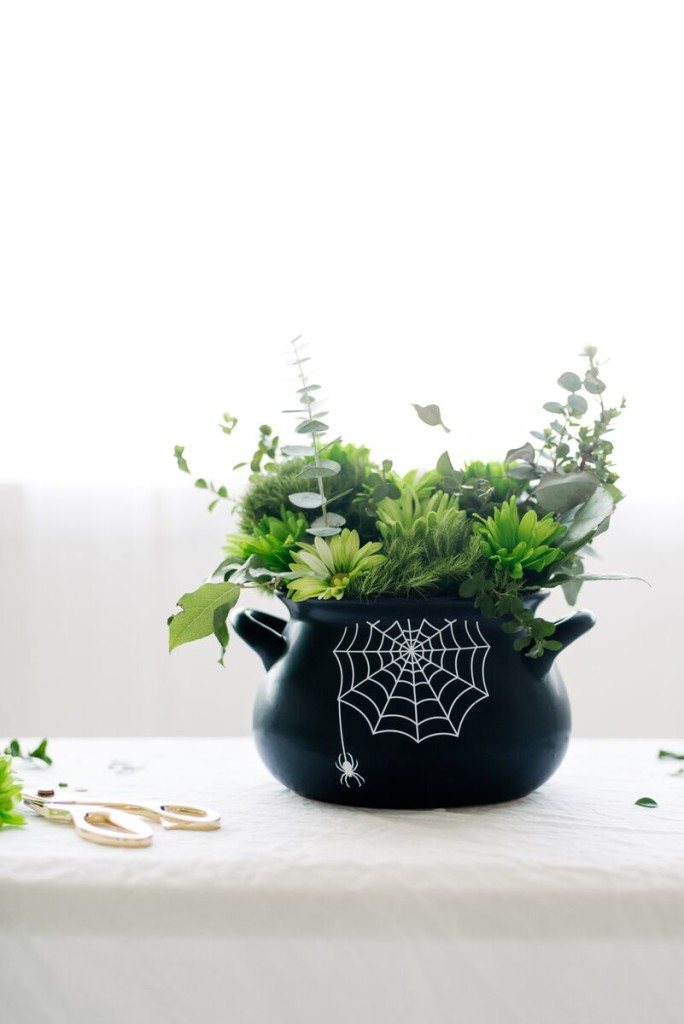 This Halloween floral arrangement is one quirky little bubbling cauldron of Halloween goodness to put on your table until the witching hour arrives!
Photography by Haley Nord Photography
Disclosure
Sponsored posts or gifted items will be fully disclosed, and any thoughts and opinions shared are always honest and my own. Some posts contain contextual affiliate links, from which I may receive a commission on sales should you use them to make a purchase. No matter what, everything you see on Let's Mingle is something I genuinely like and recommend.