Gold Thanksgiving Tablescape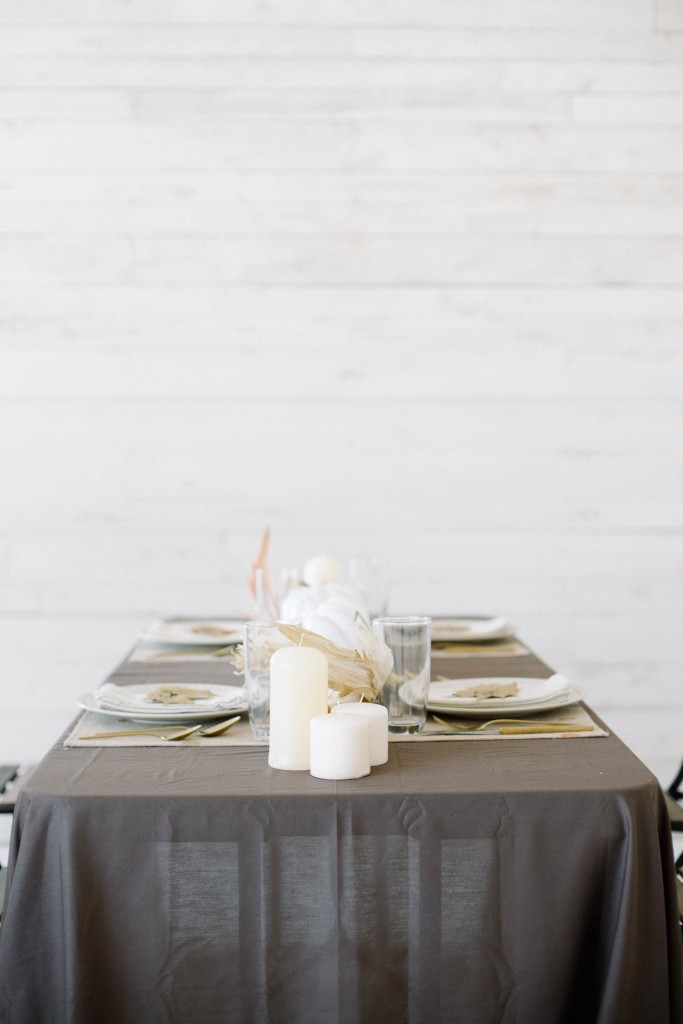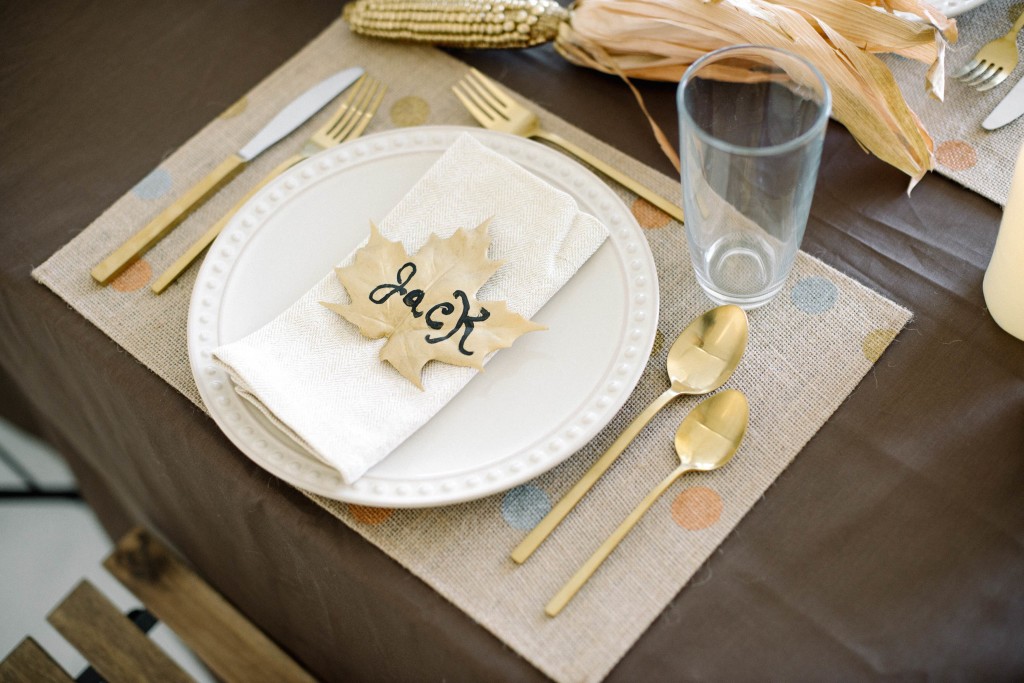 Thanksgiving is two weeks away (crazy!) and I couldn't be more thrilled.
I definitely look forward to all of the lazy traditions we have as a family. We usually head to our family home is St. George, a city father south (and usually a few degrees warmer than Salt Lake!). We spend the long weekend, sleeping in, making Thanksgiving dinner, and Black Friday shopping our little hearts out! Call us crazy, but we even head into Las Vegas on Saturday to find even more deals. We're a shopping family, what can I say. Do you guys join in on the Black Friday craziness at all? I think my husband has the right idea…he stays in bed and does all of his shopping online!
Either way, we always start out our shopping adventures with Thanksgiving dinner around the table as a family. It's one of my husband's favorite parts of the holiday and one that really brings everyone together.
If you happen to be hosting dinner this year, maybe even for the first time, I'm sharing a super easy way to decorate your table using basic items that you can find at your local craft store and grocery store!
This gold thanksgiving tablescape is the perfect combination of rustic and glam and is a cinch to put together!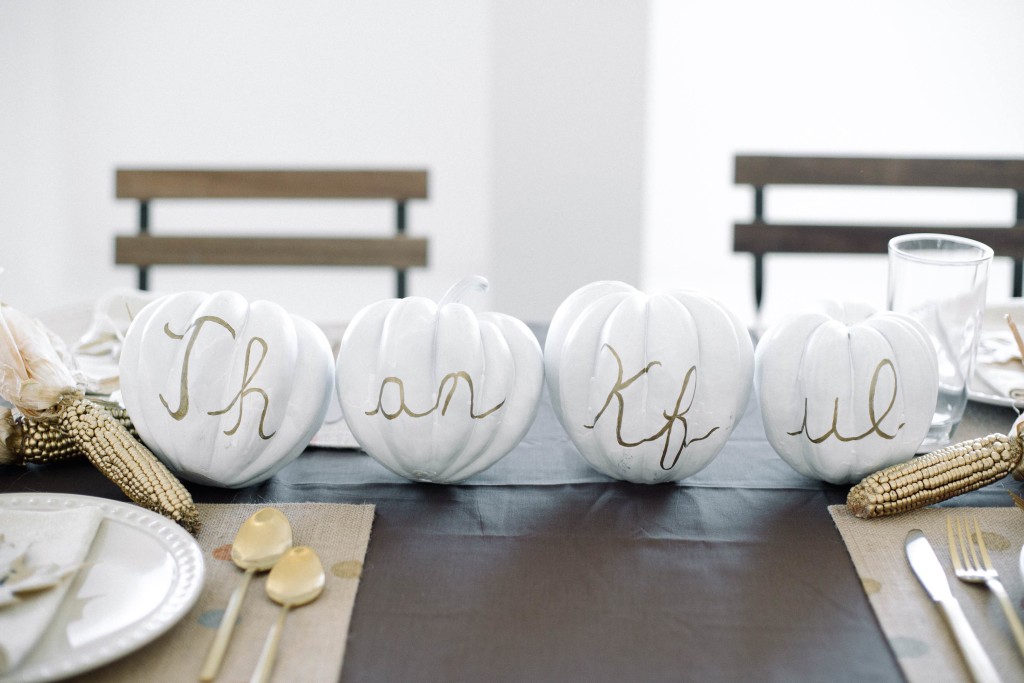 I created the centerpiece using a few basic items from my local grocery store and added my own little glam touch.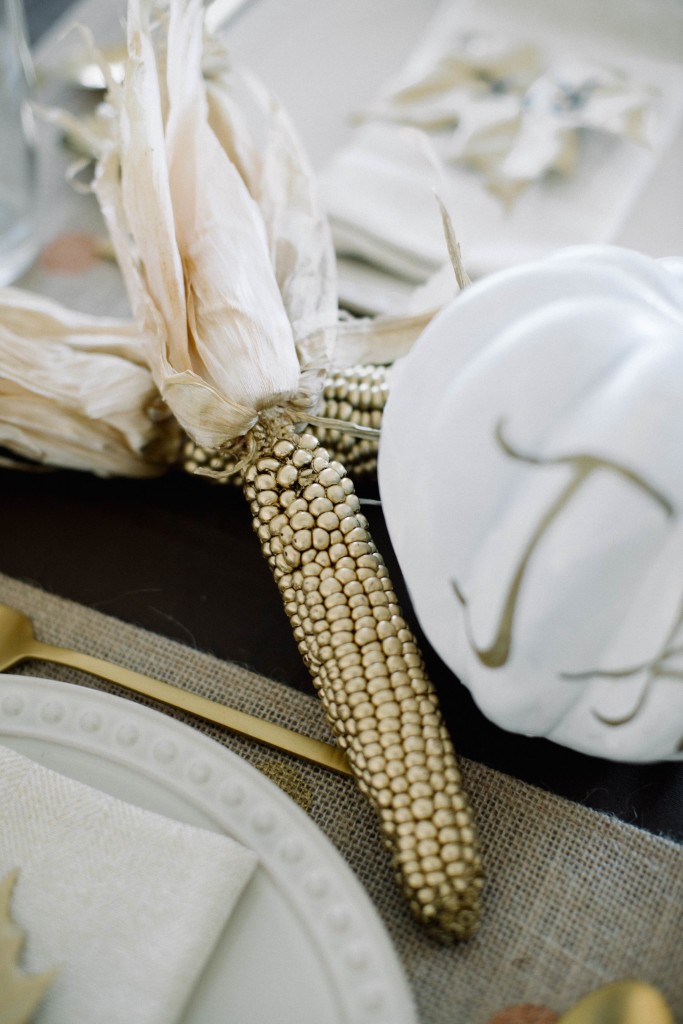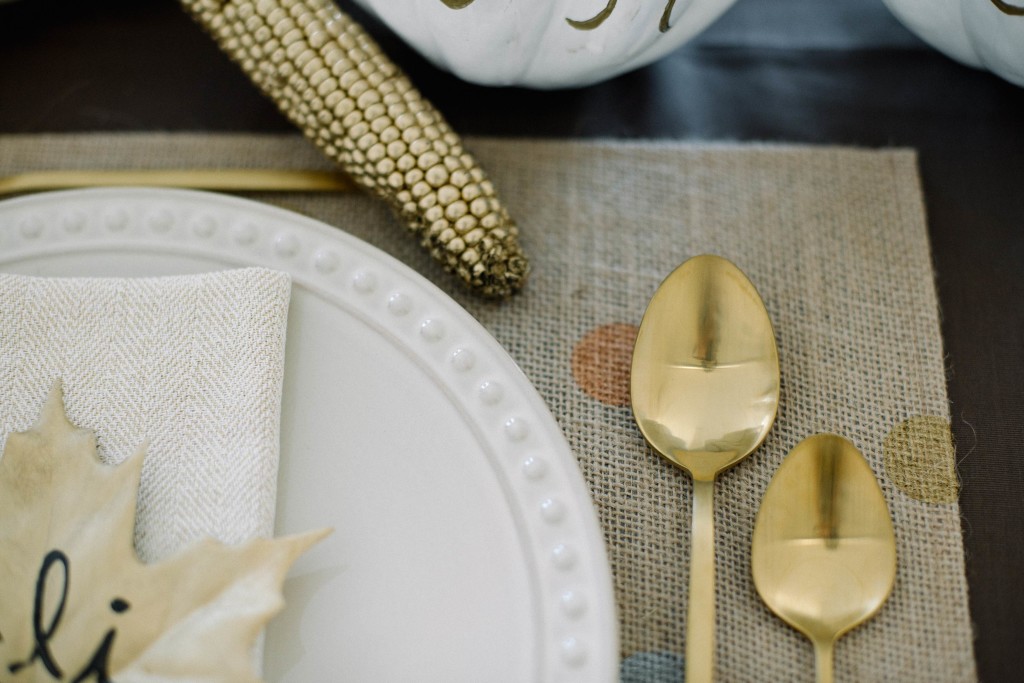 Mixed metallic polka dot place mats add a touch of fun and whimsy, and bring a few more pops of color to the neutral table too! I chose to use gold flatware with my table, but you could easily switch them out with silver or copper flatware as well, whichever you have handy. Just one of the benefits of using mixed metallics for a tablescape!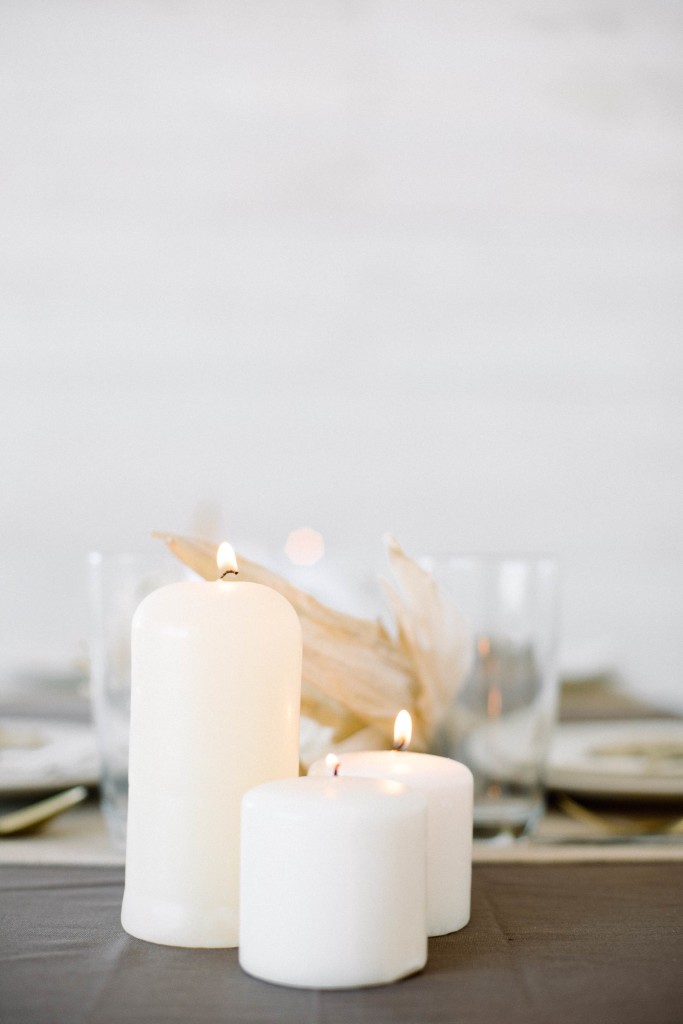 I love adding candles to a table. They add such a warm feeling to a table design and with other lights turned low, the candlelight dances off of other elements in the room.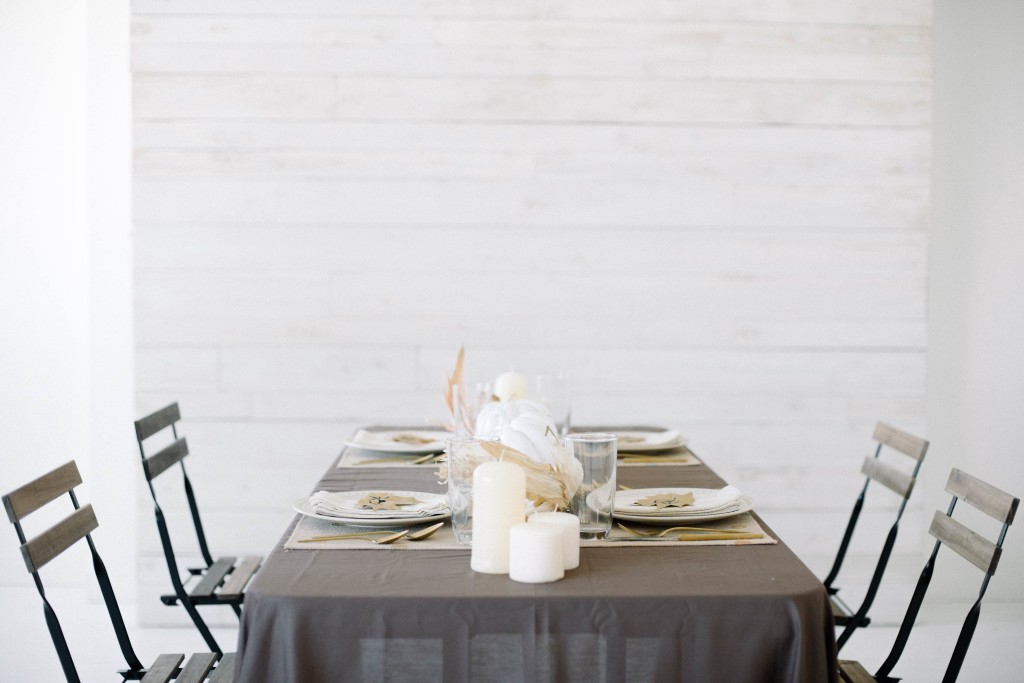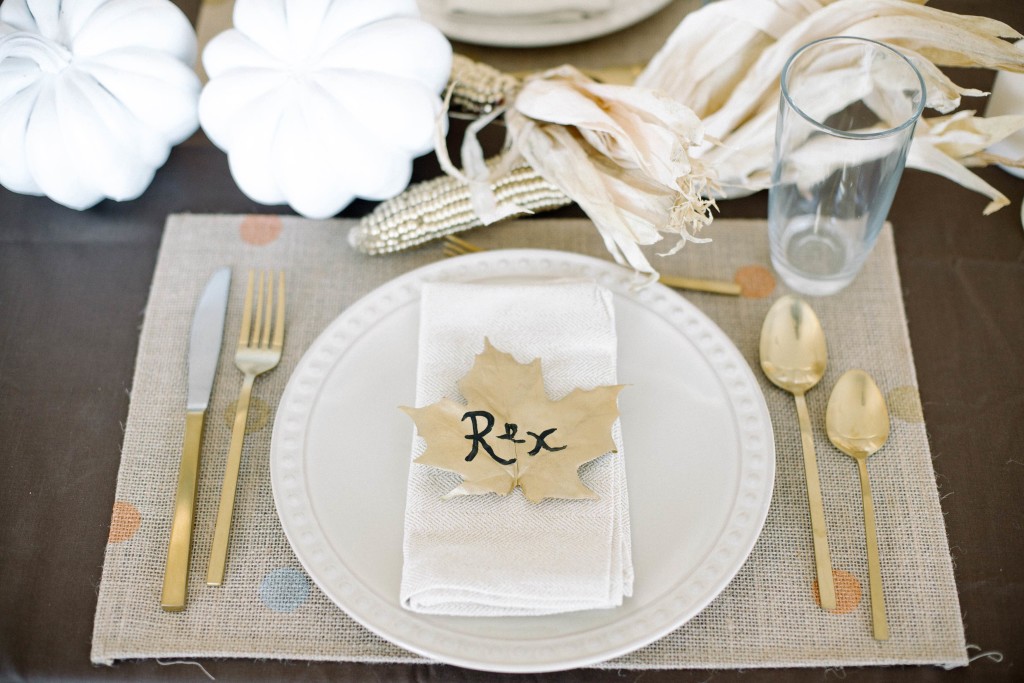 These gold leaf place cards are a breeze to make and you definitely don't need to be artistic or spend hours outside gathering leaves from your neighbors yard either!
Check out the blog later this week when I'll be sharing a few easy DIY's (including those place cards!) for this gold Thanksgiving tablescape.
Your table will be a winner with no stress and a minimal amount of your time putting all of the elements together, although it might look like you spent a lot more time than you actually did! Spend your time with the turkey instead! 😉
Photography by Haley Nord Photography
Disclosure
Sponsored posts or gifted items will be fully disclosed, and any thoughts and opinions shared are always honest and my own. Some posts contain contextual affiliate links, from which I may receive a commission on sales should you use them to make a purchase. No matter what, everything you see on Let's Mingle is something I genuinely like and recommend.