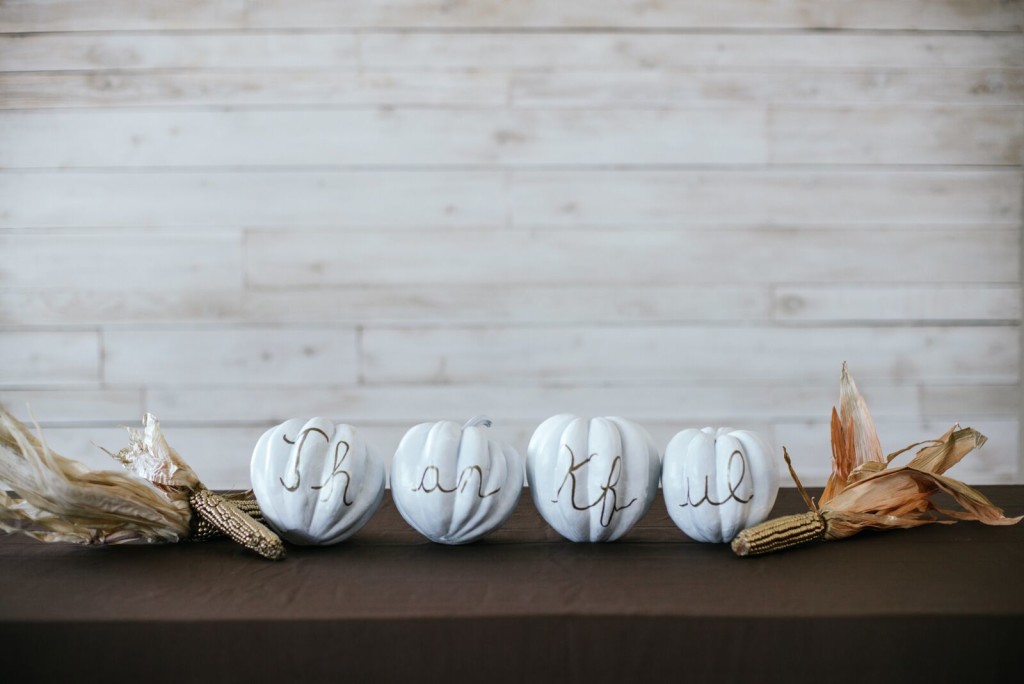 It's finally FRIDAY! I plan to do absolutely nothing this weekend, except for spending the days in my pajamas and waking up with just enough time for brunch. These cold days are really not my cup of tea (why do I live in Utah again?) and just make me want to snuggle up indoors!
If you're anything like me, at least you'll have enough time to do some crafting while hibernating! And I have the perfect project for you to do just that.
It's been a week full of gilded DIY's and I'm rounding out the week with the last project I created for the gold Thanksgiving tablescape that I shared earlier. (Find it here).
This DIY harvest centerpiece was created using a very common item found in the local grocery store….and it's not a pumpkin!
Now that October and Halloween have passed, pumpkins seem to be a little bit harder to find, and a lot more expensive now too!
I still wanted to keep things rustic and natural on my Thanksgiving table, so I turned to the next best thing to highlight as the centerpiece…acorn squash!
I know, I know. Not exactly what you'd think of for a centerpiece, but how pretty do they look after a coat of white?
The DIY harvest centerpiece is easy to make and with a little bit of gold paint, these gourds are all dressed up for the season!
Here's what you'll need to make your own:
4 Acorn Squash
White Spray Paint
Gold Sharpie Paint Pen
A Few Stalks of Indian Corn (also found at my local grocery store)
Gold Spray Paint
When picking out your acorn squash, try to find some that sit upright when placed on a flat surface. They tend to be a little bit traingular in shape, so it might be a little bit tricky. If you're not lucky with flat bottomed squash, you can always cut a small section off of the bottom of the gourd to help flatten it out, before spraying.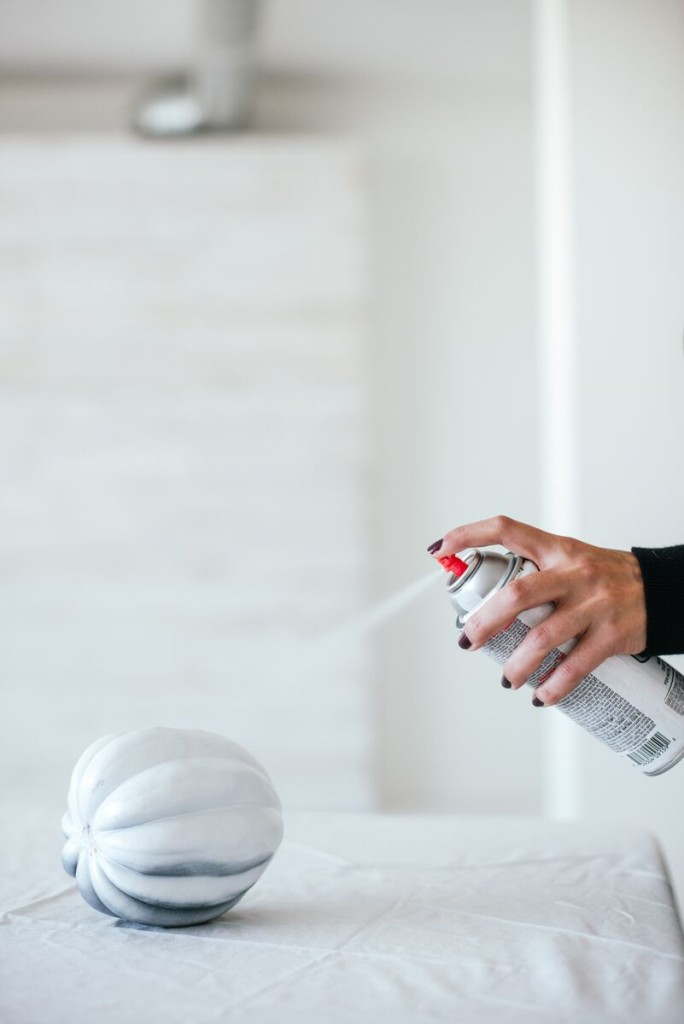 Now, it's time to cover that produce! Acorn squash is naturally green, and I wanted a really clean and neutral palate for the table, so I chose to stick with white. The gold paint shows up really well on it and it doesn't take away from the rest of the table. Spray your squash with white spray paint, ensuring that it is completely covered and no green is showing through. It might take a few coats. Allow to dry completely in between coats.
Once done, use the gold spray paint to cover the indian corn.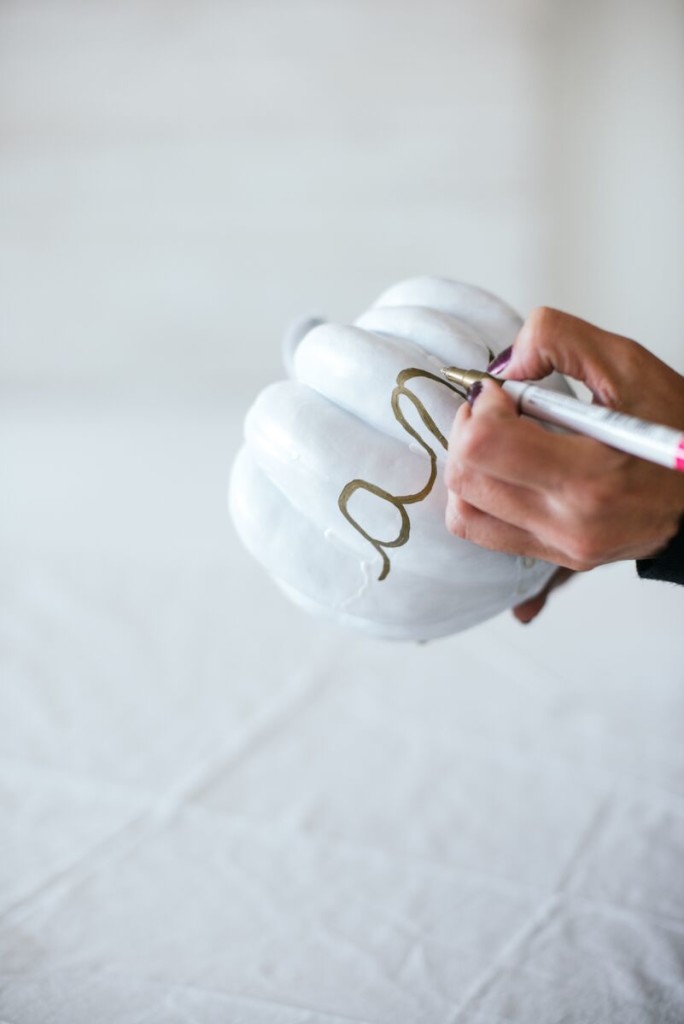 After the acorn squash has dried completely, use the gold paint pen to write the word "Thankful" on the front of your gourds. I split it up with two letters on each squash. I chose to do a script type of lettering, but you could do block letters or other fun letter varieites too.
Allow the pen to dry completely before using.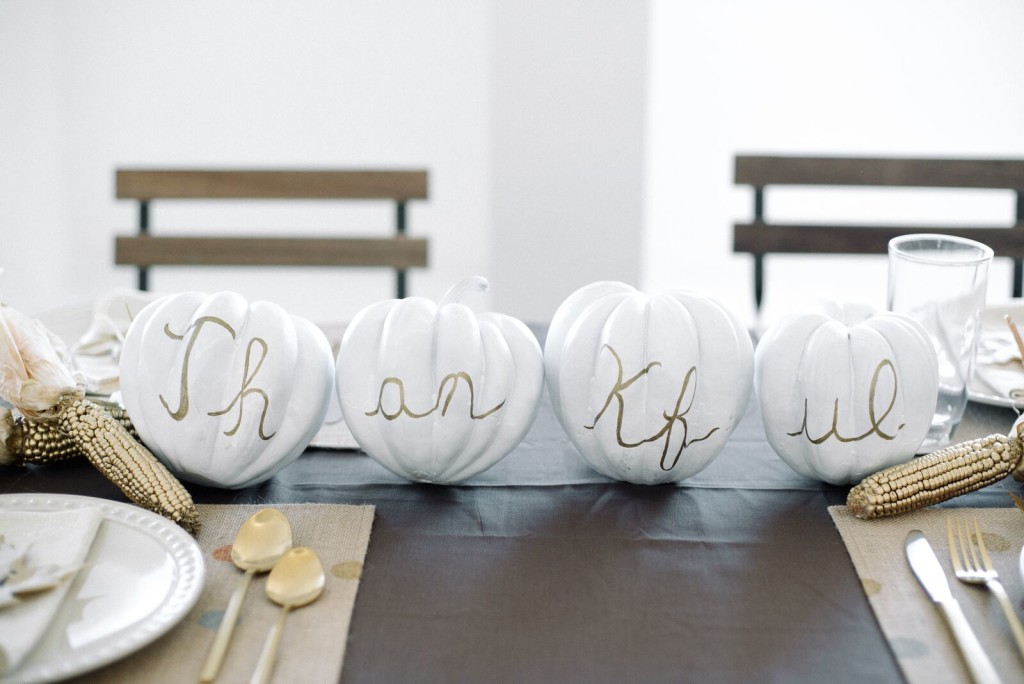 Place the squash together down the center of the table and arrange the corn stalks next to them on either end.
A simple, but elegant DIY harvest centerpiece, totally worthy of the main stage at this year's Thanksgiving gathering!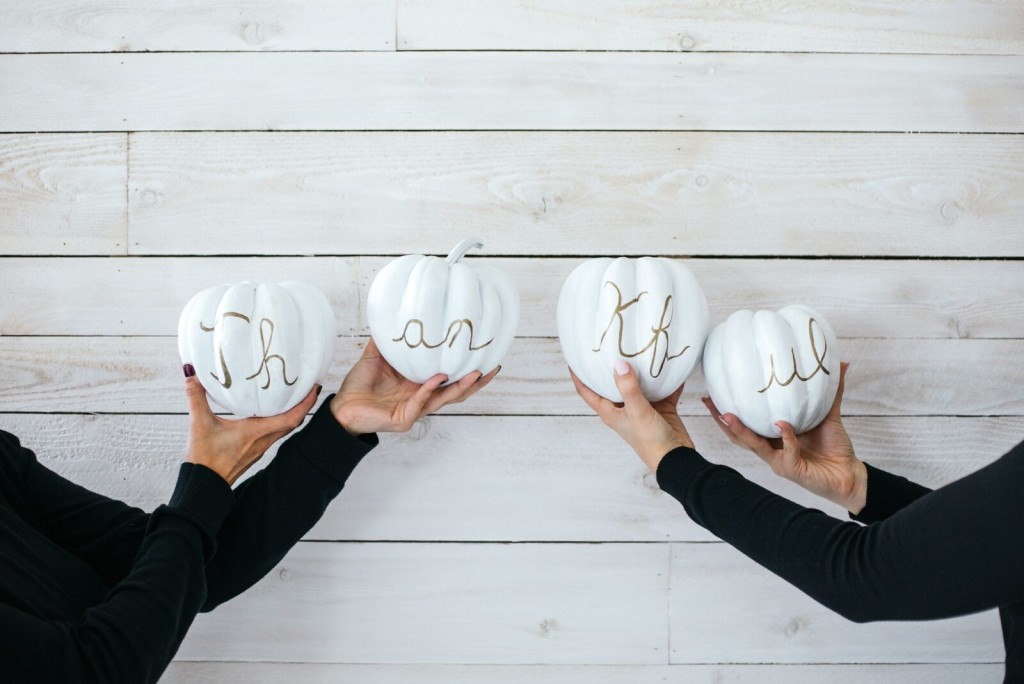 Disclosure
Sponsored posts or gifted items will be fully disclosed, and any thoughts and opinions shared are always honest and my own. Some posts contain contextual affiliate links, from which I may receive a commission on sales should you use them to make a purchase. No matter what, everything you see on Let's Mingle is something I genuinely like and recommend.