Champagne Tasting Party DIY's
Today I'm going to be rounding out the New Years Eve champagne tasting party with part three! We're talking about a super yummy recipe and some awesome (and easy!) champagne tasting party DIY's today too.
Plus, I have a few more fun printables for you as well! You'd think it was Christmas today 😉
(If you missed any of the other posts, you can catch part one here, and part two here. You won't want to skip either one! 😉
One of my favorite elements to this party, other than the champagne and the guests, is the decor! It's playful and fun, but still elegant and simplistic.
Bear with me, because this post is chock full of party projects to scroll down to read them all or scroll to find the highlighted project you're looking for!
Let's jump right into the projects and start it off with this adorable pom pom tablecloth!
Pom Pom Tablecloth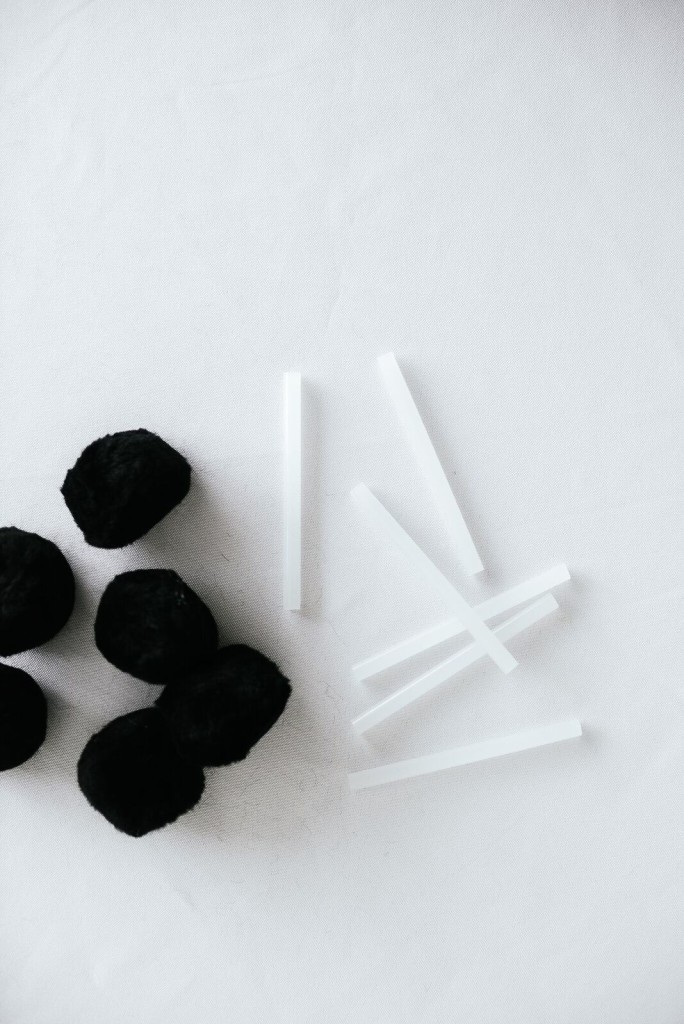 Here's what you'll need to make your own:
Glue Gun & Glue Sticks
Pom Poms – (I used two sizes; 1.5″ and 2″ poms)
Tablecloth
This tablecloth isn't the most practical, since you won't be able to wash it over and over, but for an event, if you purchase an inexpensive tablecloth it's not too bad for only one use. (I purchased this tablecloth for $10.)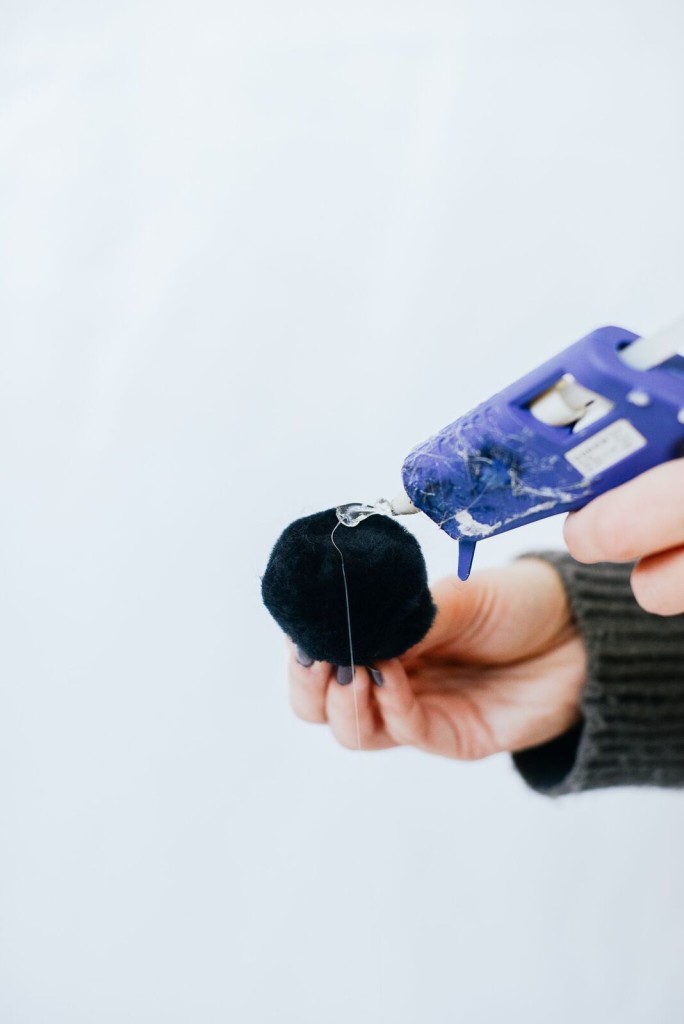 Using your glue gun, add a big lump of hot glue to the backs of your pom pom and stick onto the tablecloth. I find that it's a lot easier to attach the pom pom's to the tablecloth while it's on the table you'll be using. Doing this also makes it really easy to tell where to fill in empty spots as needed!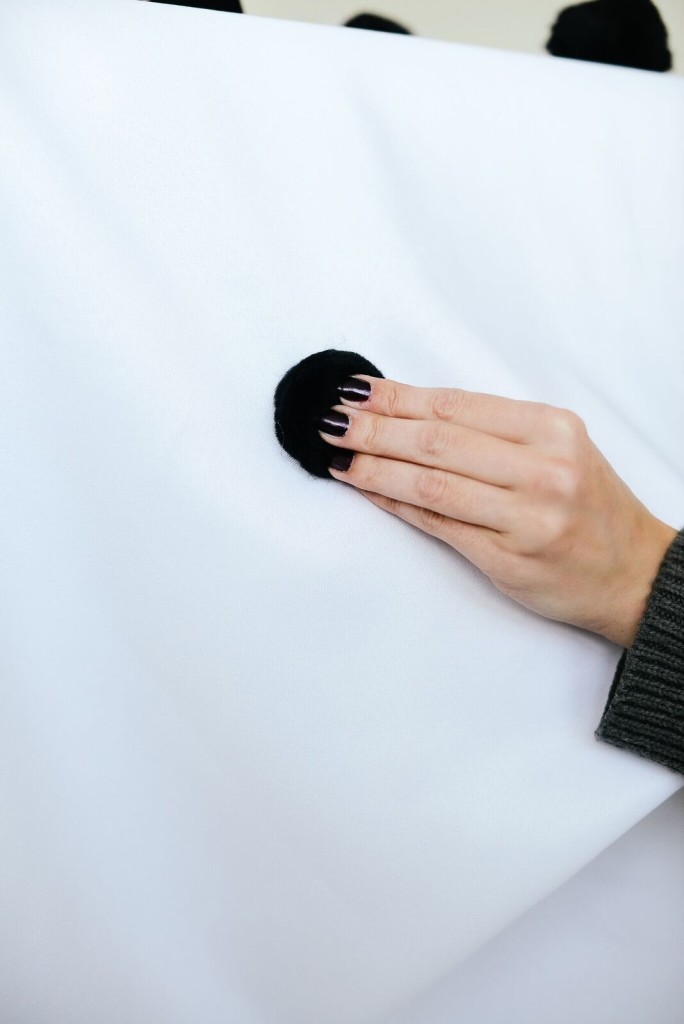 Party blowers are a big deal for New Years and it's easy enough to purchase a big pack of metallic blowers at your local party store, but sometimes you want something a little more cohesive to the theme of your event…am I right?
Printable Party Blowers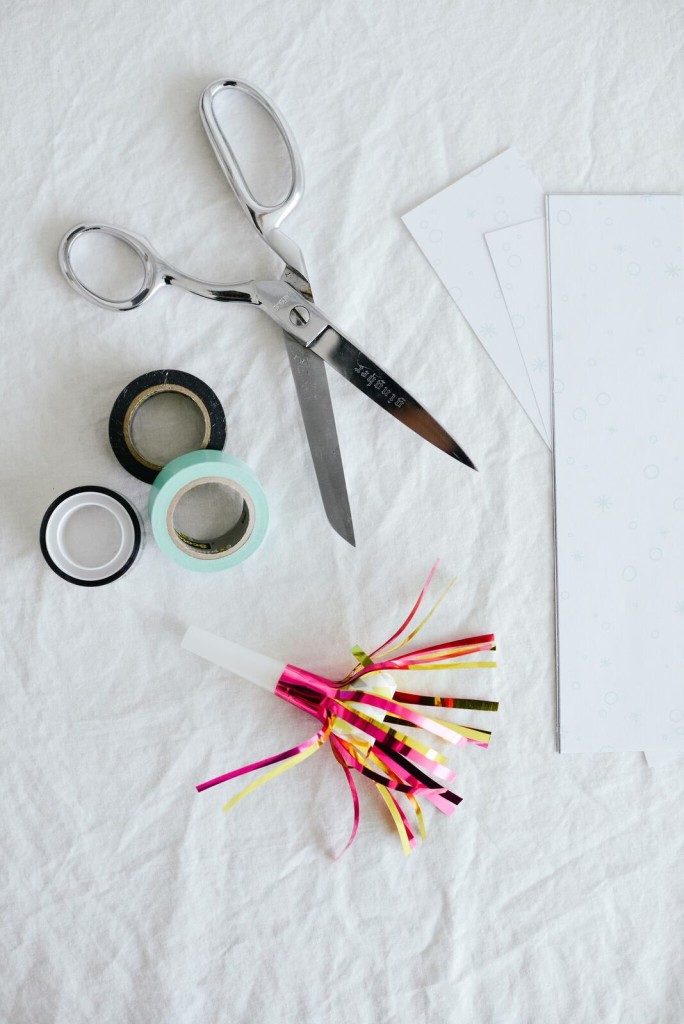 Here's what you'll need to make your own:
Party Blowers
Printable Champagne Blowers File
Washi Tape
Scissors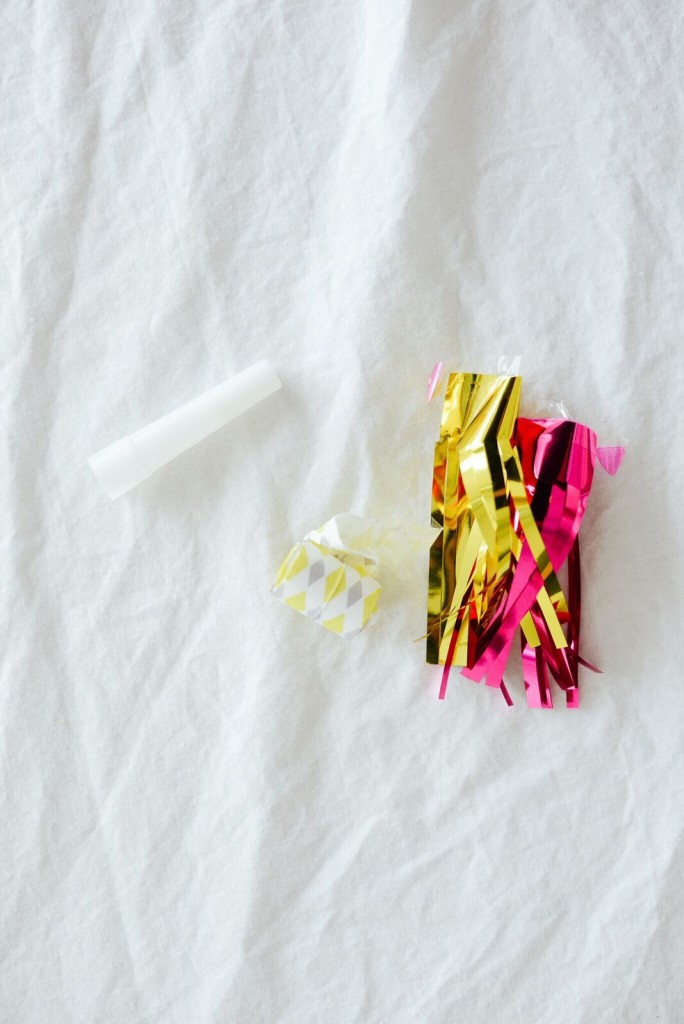 First, remove and discard all of the existing fringe and the paper blower from the plastic blowing tube.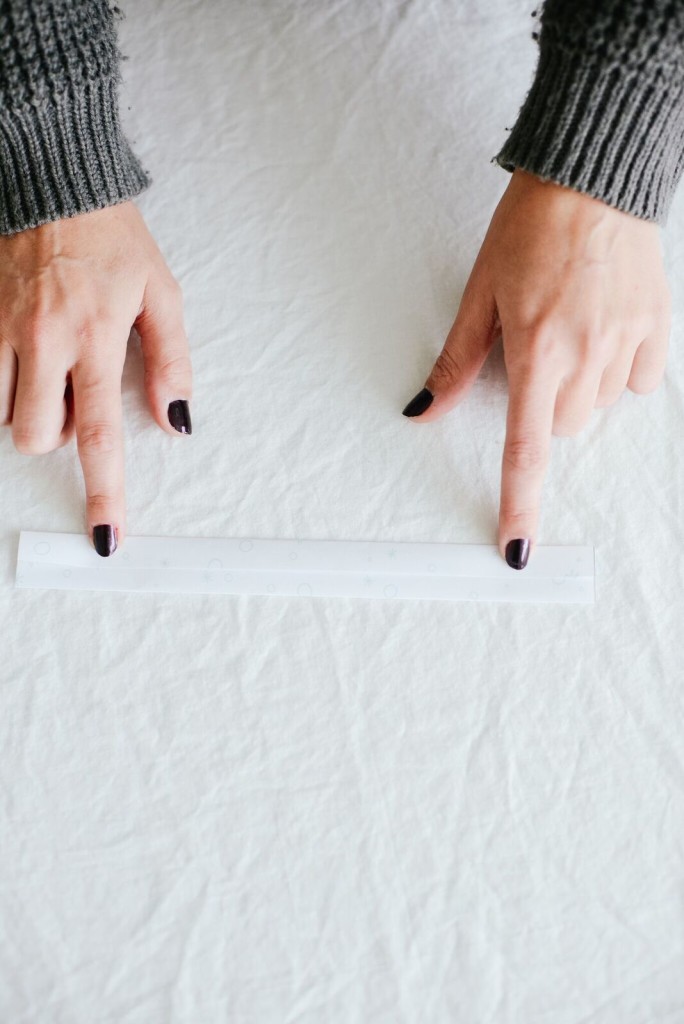 Cut out the printable champagne bubbles file and fold each piece so that the two ends meet in the middle.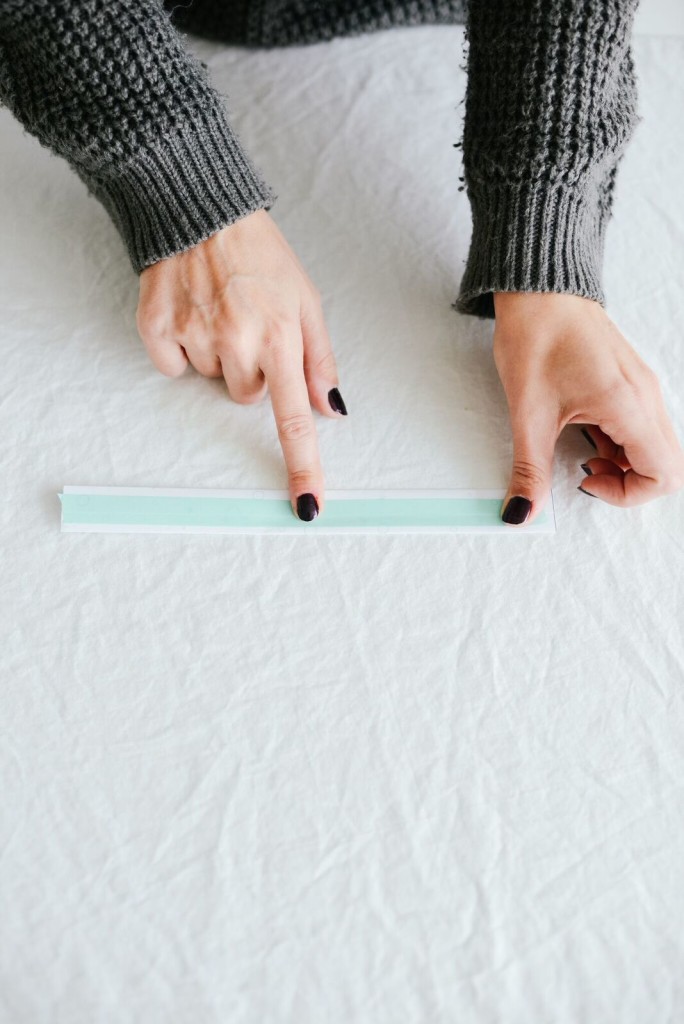 Add a piece of washi tape down the center of the folded piece, taping the two ends together.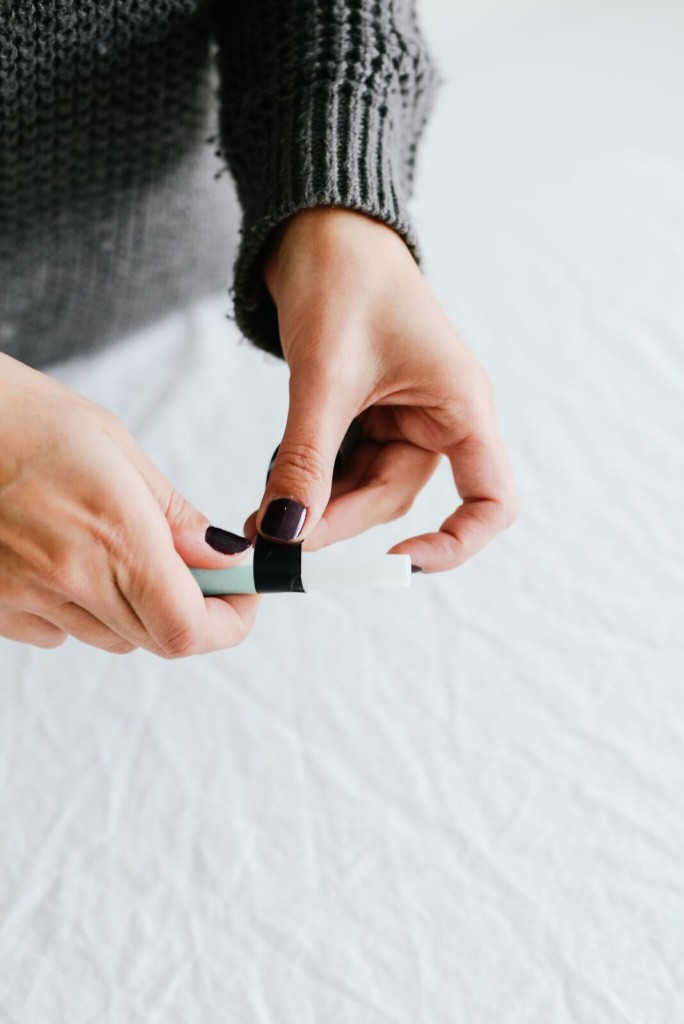 Insert the plastic tube into the end of your folded printable and tape onto the tube using washi tape.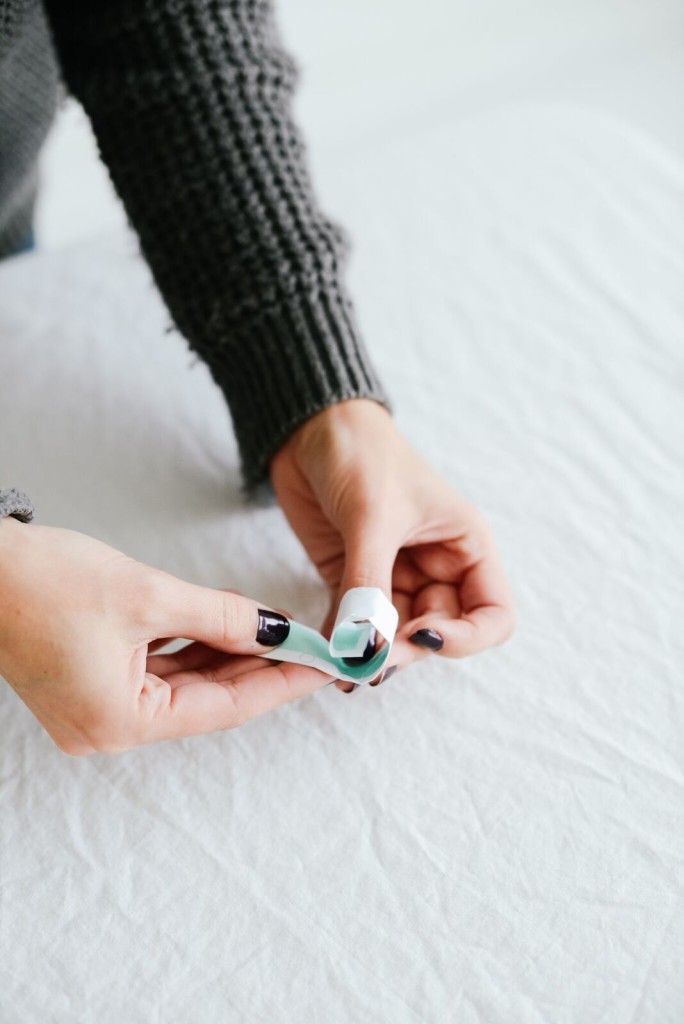 Begin folding the opposite end in towards the center.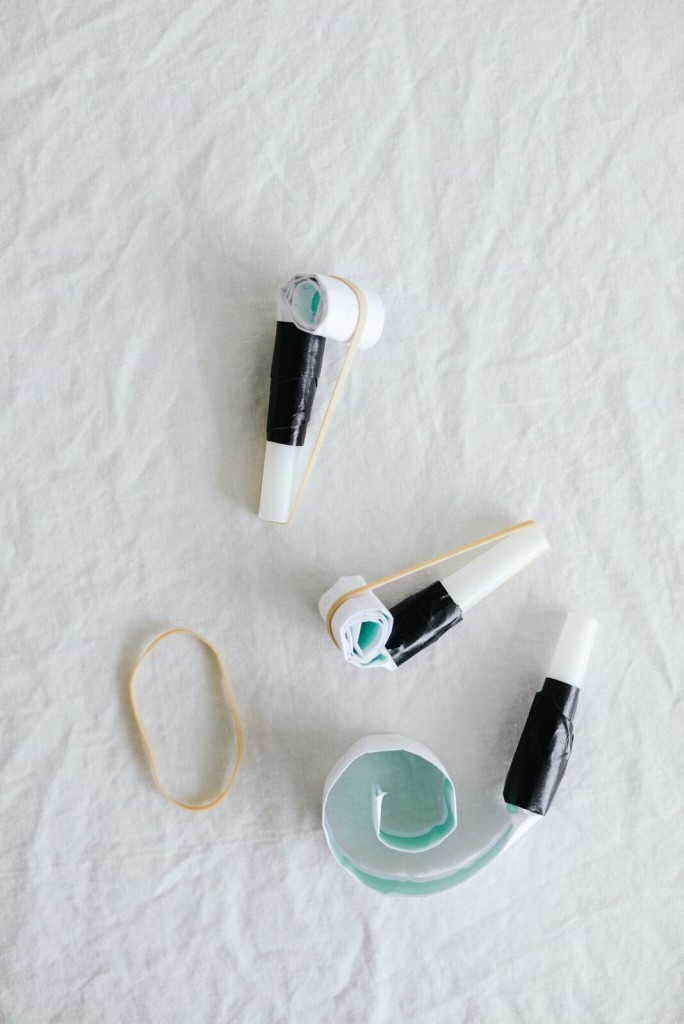 Secure with a rubber band, or washi tape, and allow to sit for a few hours to secure the shape.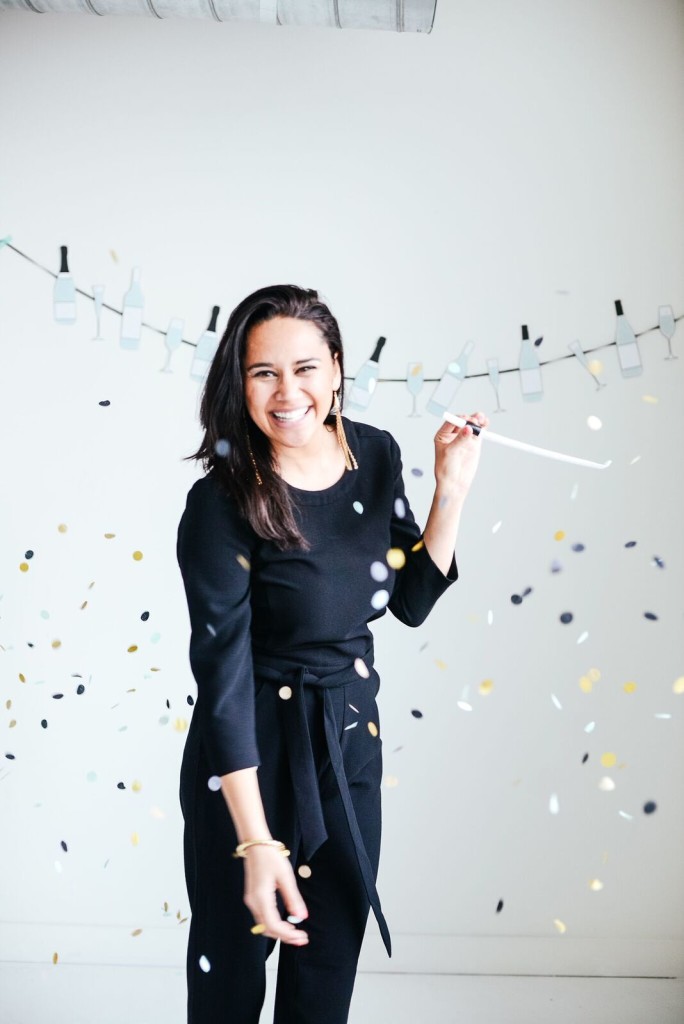 Printable Champagne Bottle Garland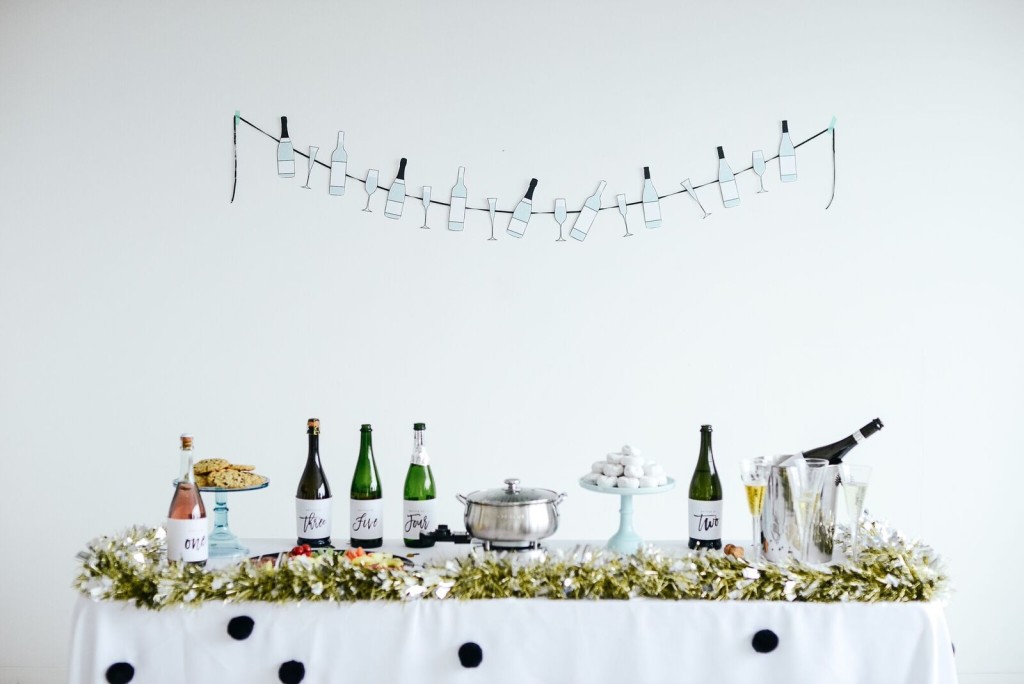 This DIY project is the easiest of the bunch, which is a lot to say since they are all really easy!
Here's what you'll need to make your own:
Printable Champagne Banner File
Scissors
String, Ribbon, or Twine
Tape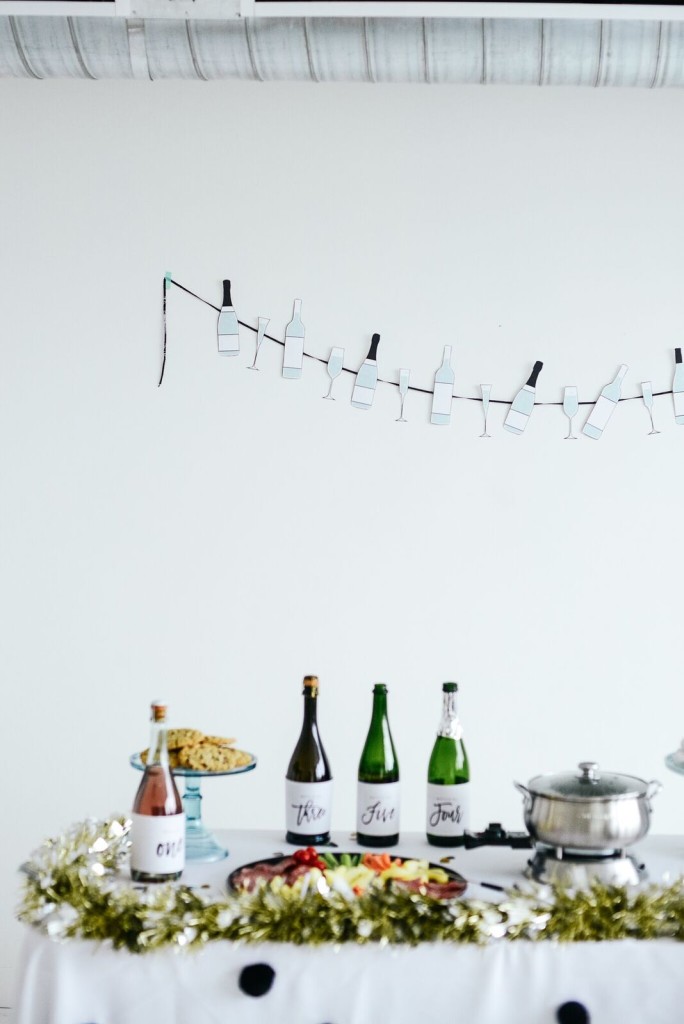 Measure out how much string, twine or ribbon you'll need for the length of your banner.
Cut out the individual champagne bottles and glasses from the file.
Attach to your string, twine, or ribbon with tape and hang!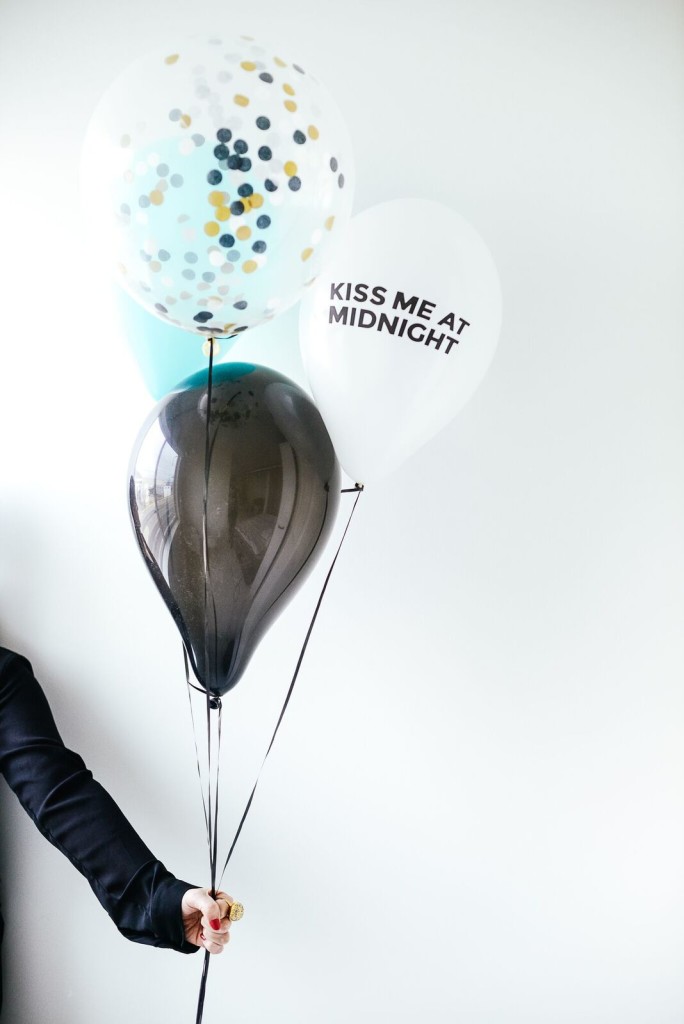 Another element to the decor, that I love are the balloons and confetti! I picked up both from The Flair Exchange. (How cute is that Kiss Me at Midnight balloon?!)
They have a ton of options in regards to colors and options, including those big confetti filled balloons, and customizable confetti, so that you can create your own mix using the colors for your own soiree!
A few bunches of balloons, some tinsel and poms, and a whole lot of confetti can really go a long way for a New Years Eve party and doesn't require a lot of effort on your part. Total win.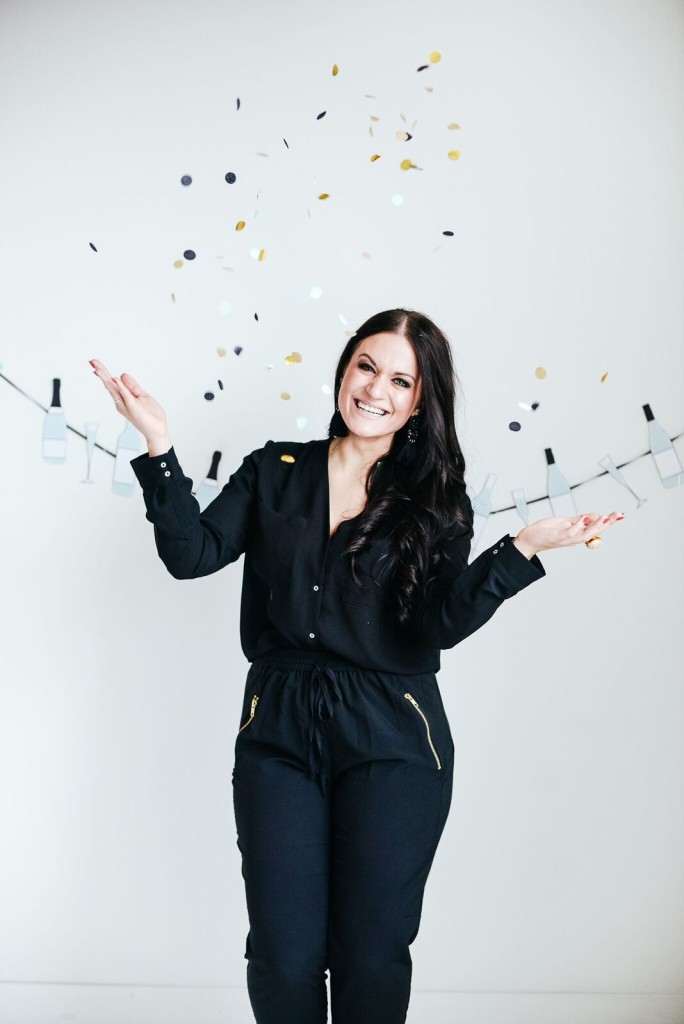 But, let talk about the good stuff….you can't have a party without something to eat, right?
Champagne and Brie Fondue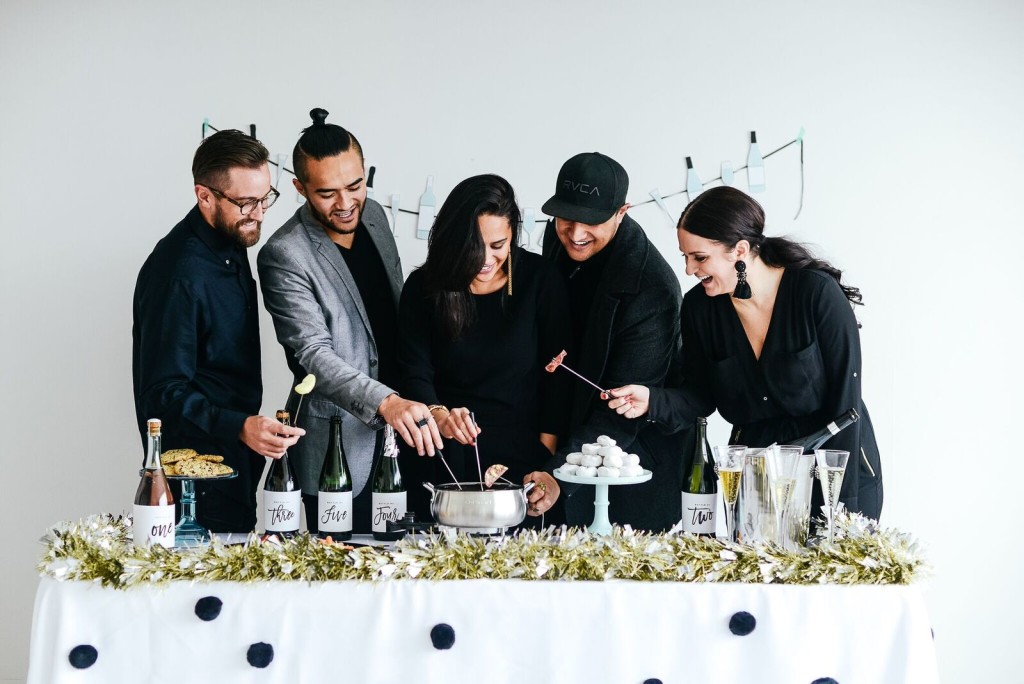 Keeping in line with our champagne themed party, I created a champagne and brie fondue for the party. I love fondue because it's something that does double duty for you, which is always a good thing as a host. Not only is it your food, but it also keeps get entertained and moving throughout the event. Forcing people to move and mingle is a great thing and you don't have to provide as many chairs either, since people will be up and standing around the fondue pot! (I picked up my electric fondue pot at Crate and Barrel, which also came with the dipping sticks too!)
Here's what you'll need to make your own:
1 Clove

 of G

arlic, Minced

1 Cup

 of D

ry Champagne

2 Cups

 of 

Brie Cheese (Crust Removed and Cubed)

1 Tbsp.

 C

ornstarch

2 Tbsp.

 A

pple Juice

1 Tsp.

 L

emon Juice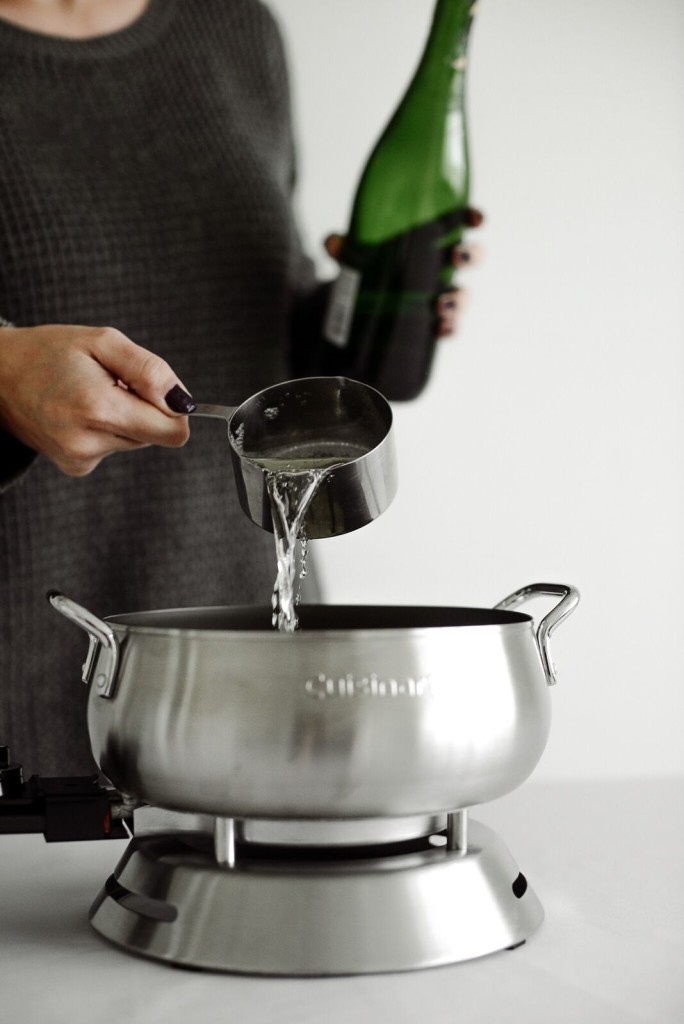 Add Champagne, cornstarch, and garlic to your fondue pot and warm over low heat.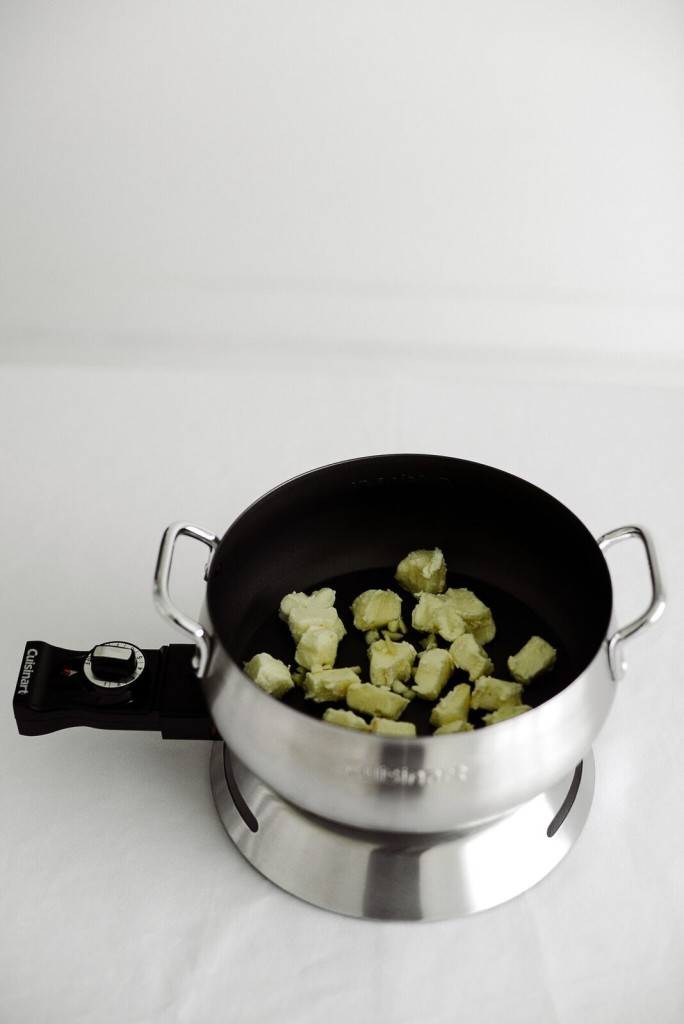 Add cheese into the pot, one handful at a time, while slowly increasing the heat. When all cheese has melted, add in lemon juice.
Turn off heat and add the apple juice.
Serve with cubed french bread, vegetables, apples, and salami.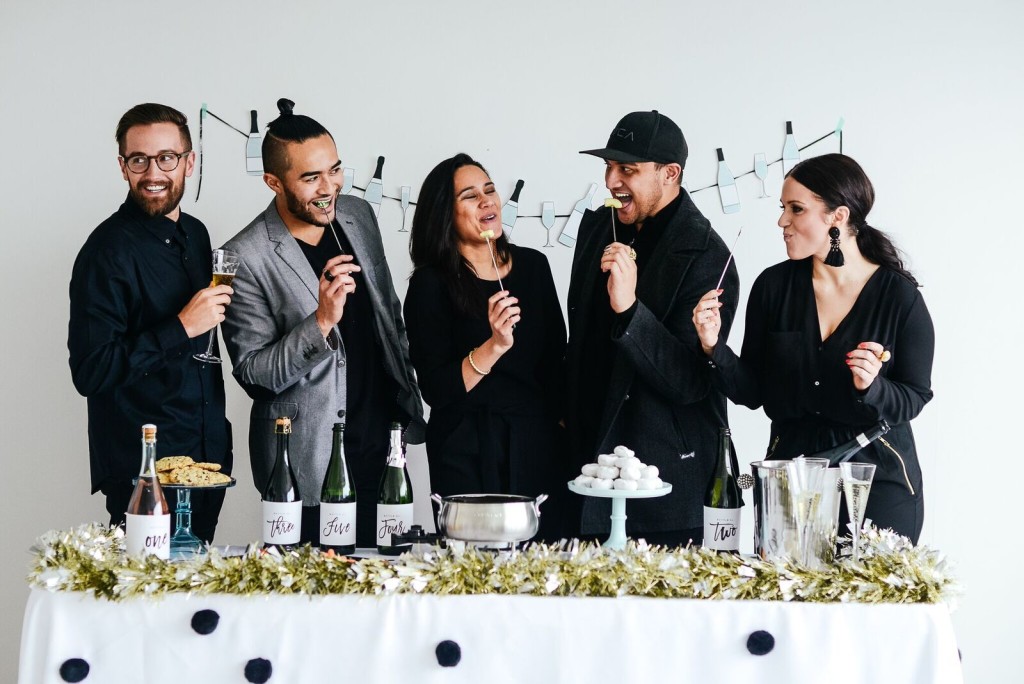 Make sure to check out the other posts for all of my other tips for how to serve champagne, how to taste and rate different bottles, free printable scorecards, bottle wrappers, and tracking sheets. Add them with today's easy champagne tasting party DIY's and the yummy fondue recipe, and you have a festive and fab New Years Eve celebration with friends or family that's sure to be a hit!
Photography by Haley Nord Photography
Disclosure
Sponsored posts or gifted items will be fully disclosed, and any thoughts and opinions shared are always honest and my own. Some posts contain contextual affiliate links, from which I may receive a commission on sales should you use them to make a purchase. No matter what, everything you see on Let's Mingle is something I genuinely like and recommend.