Philly Cheese-Steak Nachos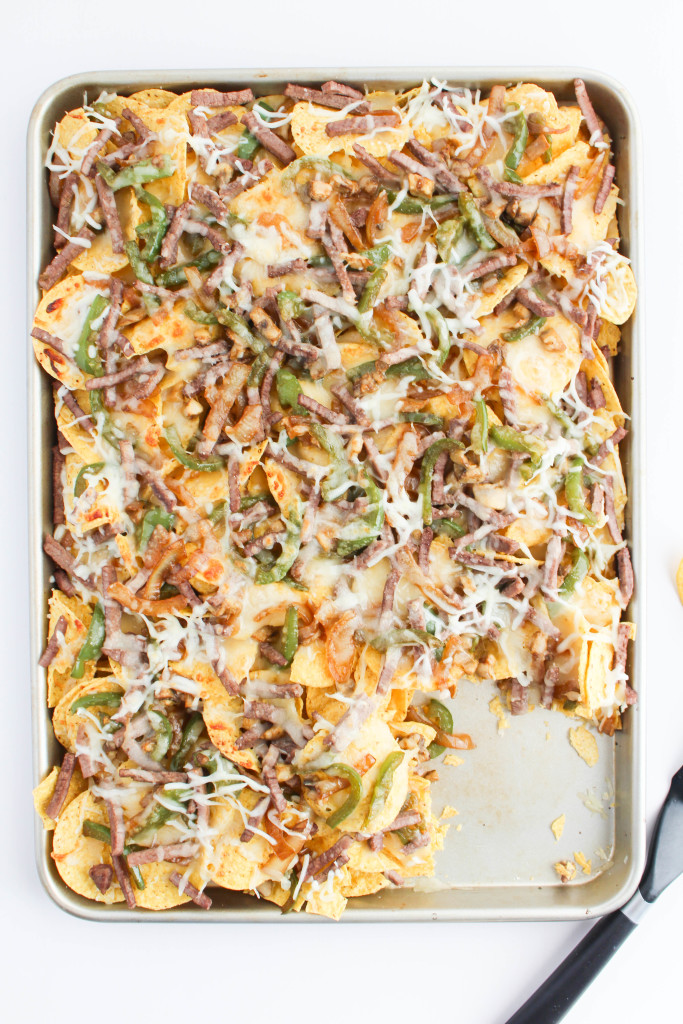 Another playoff weekend is over and we are that much closer to finding out who's headed to the Superbowl this year. The hubs is the only one left with his team still in the running, but with a house full of football fans, I'm already starting to think about what to serve for our game day menu. As much as the Superbowl is known for football and the actual game, it's also known for parties and food!
I like to pick options that are festive and fun, but that won't take too much time to put together either.  It's not fun to spend the entire day in the kitchen and miss out on the game, or commercials. 😉
If you're planning to serve a crowd this year, today's recipe is for you!  I'm stealing some inspiration from a famous Philadelphia sandwich and making some Philly cheese-steak nachos!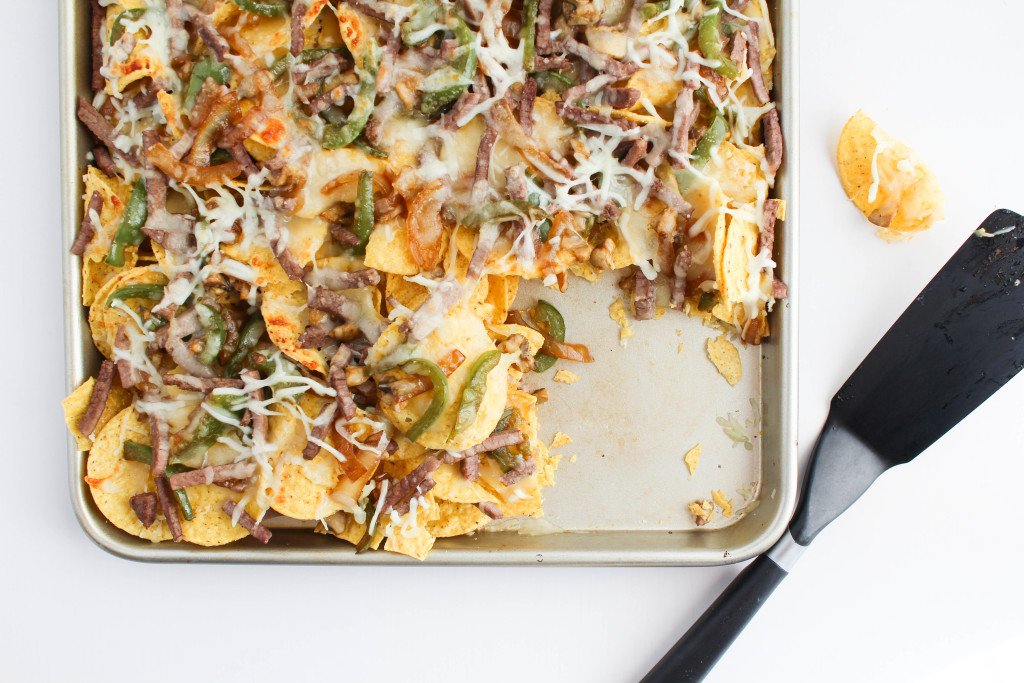 These Philly cheese-steak nachos are pretty easy to throw together and you can make an entire pan  (or two!) at a time, so you won't have hungry fans hanging around the table waiting for food. They are really yummy and are easy to customize if you don't like certain ingredients or want to add a little something extra.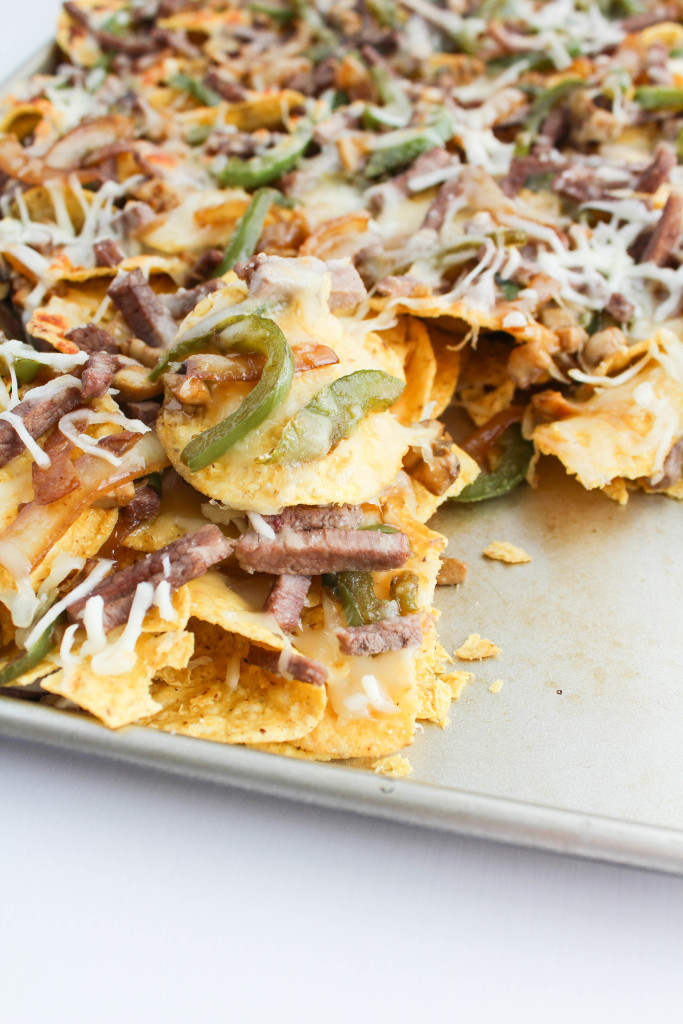 Here's what you'll need to make your own:
5 Skirt Steaks
1 Bag of Tortilla Chips
2-3 Cups of Mozzarella, Provolone or a Combination of the Two Cheeses
1 Green Pepper
1 Small Onion
1 Cup of Mushrooms
Seasoning Salt
Salt
Pepper
2 Tbsp. Vegetable Oil
Cheese Wiz (Optional)
Add the vegetable oil to an iron skillet or pan and heat over medium-high heat. Season your steak using salt and pepper on both sides and then add into the skillet. Cook for about one and a half minutes on each side or until cooked through.
Once cooked, remove from the pan and allow to cool.
Next, slice up the green pepper, onions, and mushrooms into bite sized pieces. You can choose to make them bite sized or cut them into longer slices, to replicate the style of a traditional Philly cheese-steak. Add them to your skillet and season with seasoning salt to taste. Cook through until onions are translucent. Remove from heat and set aside.
Once you steak is cooled, cut into small slices and set aside.
Now, it's time to assemble the best part….the nachos!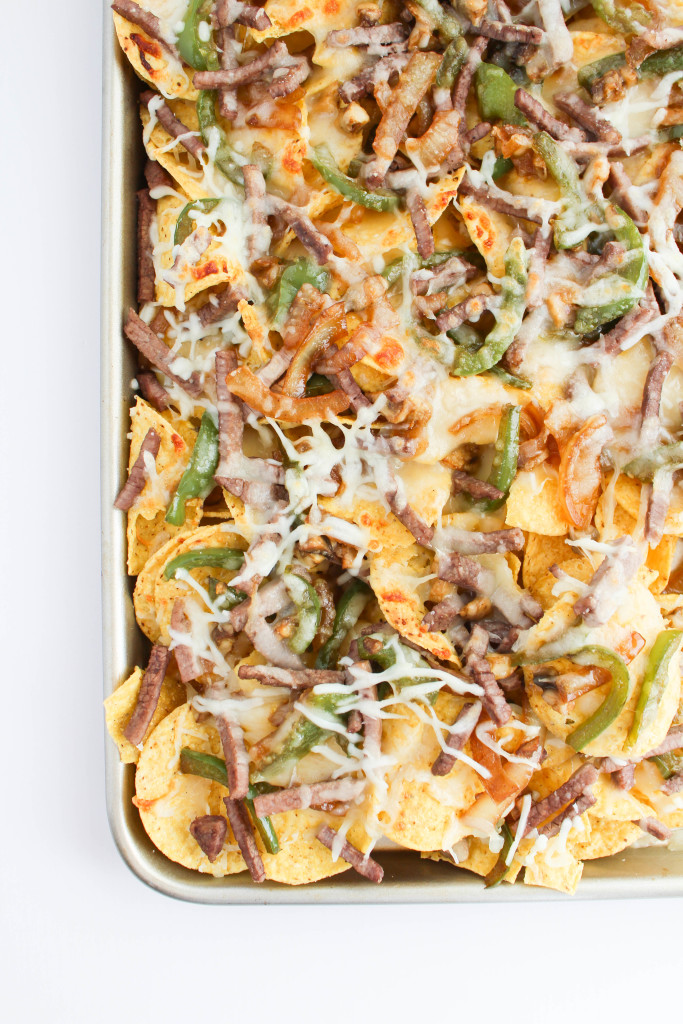 Turn on your oven broiler and set the temperature to 400 degrees. I choose to go with a lower heat setting for the broiler so that the cheese doesn't melt and burn too quickly.
Using a baking sheet, fill with tortilla chips. Fill in any open gaps or holes where the baking sheet shows through.
Cover chips with about half of your cheese.
Top with the grilled vegetables and the sliced steak.
Cover with remaining cheese.
Put your tray into the oven and broil for about 5 minutes or until cheese is bubbly and melted.
If you like your Philly Cheese-steaks topped with cheese wiz, drizzle warmed cheese over the top of your finished nachos after removing them from the oven.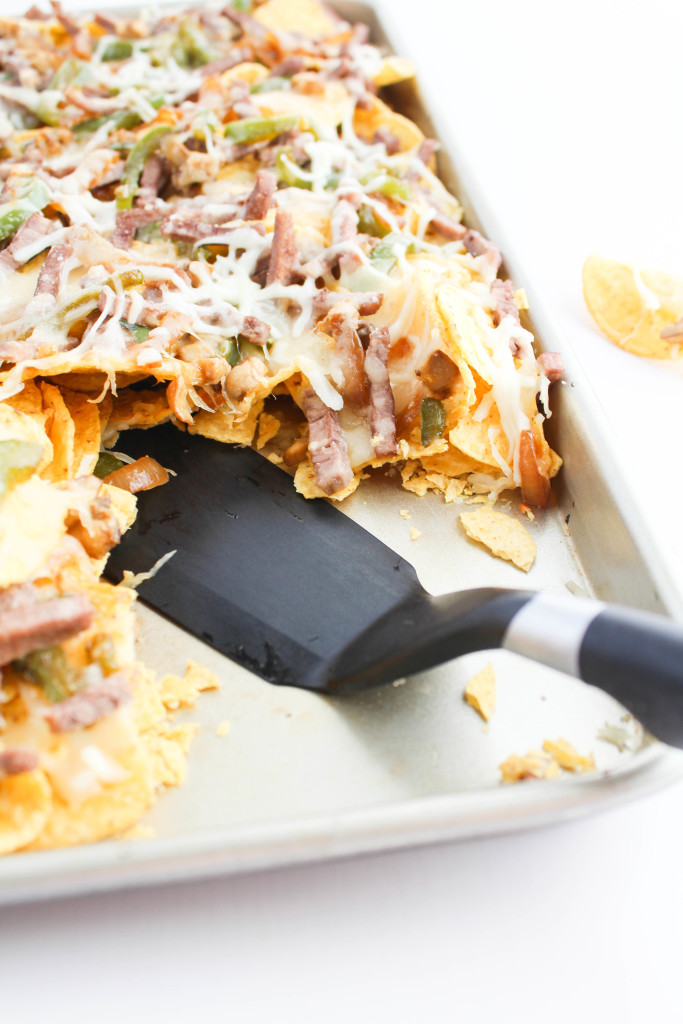 Serve on the baking sheet with a spatula and enjoy!
These Philly cheese-steak nachos are a breeze to put together and making a whole sheet at a time is the perfect way to get your favorite fans fed on game day!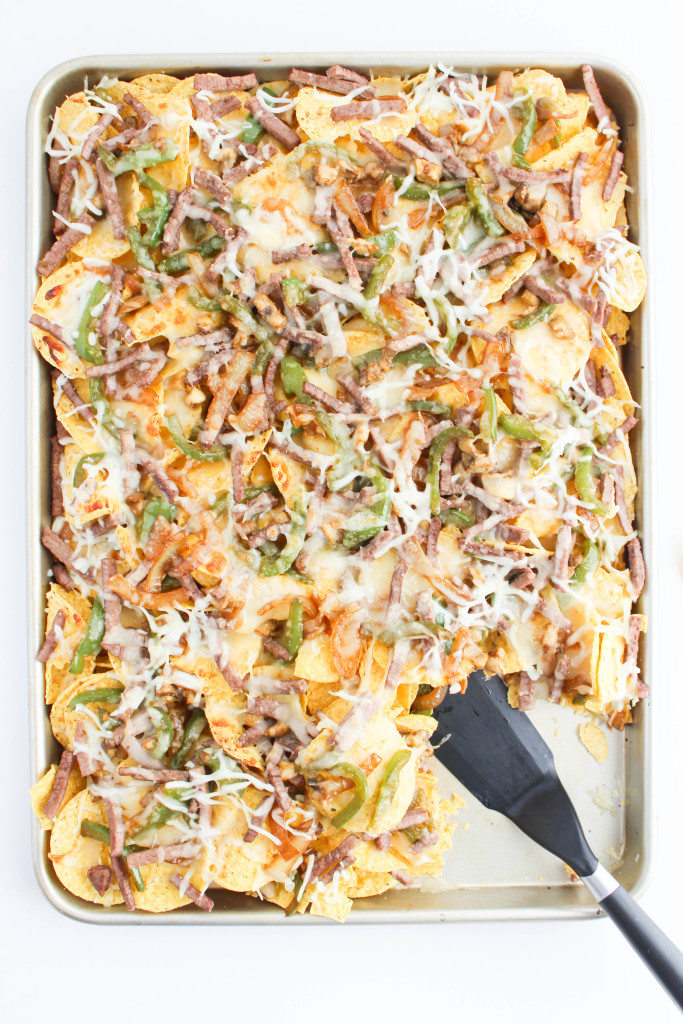 Disclosure
Sponsored posts or gifted items will be fully disclosed, and any thoughts and opinions shared are always honest and my own. Some posts contain contextual affiliate links, from which I may receive a commission on sales should you use them to make a purchase. No matter what, everything you see on Let's Mingle is something I genuinely like and recommend.