2017 Free Printable Snack Calendar
This 2017 free printable snack calendar is a perfect (and delicious) way to ring in the new year and enjoy all of the coming months! There's no shame in my snack game.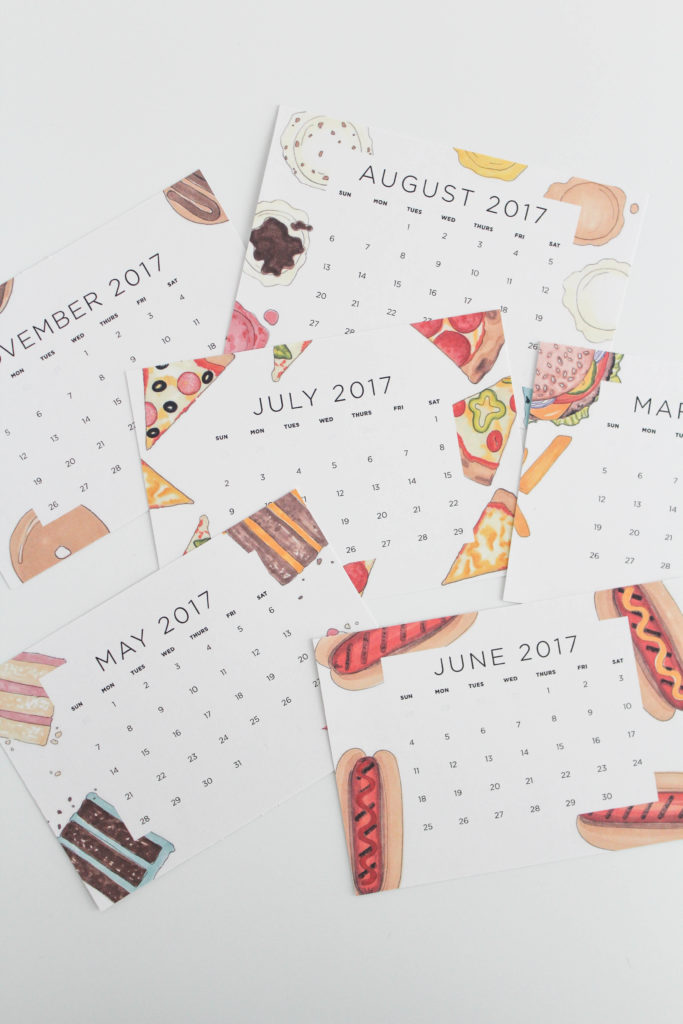 Wow. I can't believe it. After almost a year of taking a break from the blog, I'm officially back (and with an adorable first post, if I might add. This 2017 free printable snack calendar is seriously my life).
The beginning of a new year seems to have a magical effect, doesn't it? Like you can totally transform into a different person. You can put the past year behind you and move forward with an entirely new outlook, regardless of what the last year had in store for you. That's exactly how I feel about this new year. It's a fresh start. Not just for me alone, but for the blog too. It was the perfect time for me to get back into my groove and get me excited again. The blog is my creative outlet where I get to share the things I'm passionate about with all of you guys and I definitely didn't want to force it when I wasn't feeling it!
I'm not sure if you guys followed along on Instagram or Facebook last year at all, but, if so, you know how challenging of a year it was for me. My life was turned upside down at the beginning of 2016 and it took a lot longer than I expected to get myself back into "blog mode". At first, I thought I'd be able to pick myself up after a few months and just get right back into everything, but three months turned into 6 months, 6 months turned into 8 months, and eventually 8 months turned into 11. I'd be lying if I said that the idea of stopping the blog altogether didn't cross my mind once or twice, but when it did, I just knew that I wasn't quite ready to come back yet. (And I'm glad that I didn't throw in the towel either when I felt like it!)
I'm finally back in a good place. A place where I'm happy and excited about what's to come. I'm excited to spend my nights entertaining family and friends and celebrating the little moments in life that don't always feel like they add up to much, but really do mean everything when you look back on them. Thanks for sticking around to see if I was ever going to come back to my little corner of the internet. I really do appreciate your patience and understanding over the last little while. You guys rock!
Also, Andy, thanks for always supporting this crazy little idea of mine. Looking back now, your support meant the world to me (and still does) and I know you shared all of the exciting and "big" moments along the way with me when I first started Let's Mingle, regardless of how much you hated hosting parties and entertaining. Because of that, I know I'm ready to come back and do it like never before. I'll continually be trying to make you proud up there. 😉
Ok, ok. Enough rambling. Let's get onto the good stuff since I know that's what you guys are here for! 🙂
Real talk. I LOVE food. But, of course, I don't love health food. I like sugar and sweets, and basically all of the snack foods that I probably shouldn't indulge in as often as I do. (Oooops). So when I was planning my ideas for the blog in 2017, I knew I wanted to create something revolving around my love of snacks. What better way to share my love of snack foods than in a calendar for the year? That's not just one opportunity for me to spread the wealth, it's 12 months of snack filled goodness!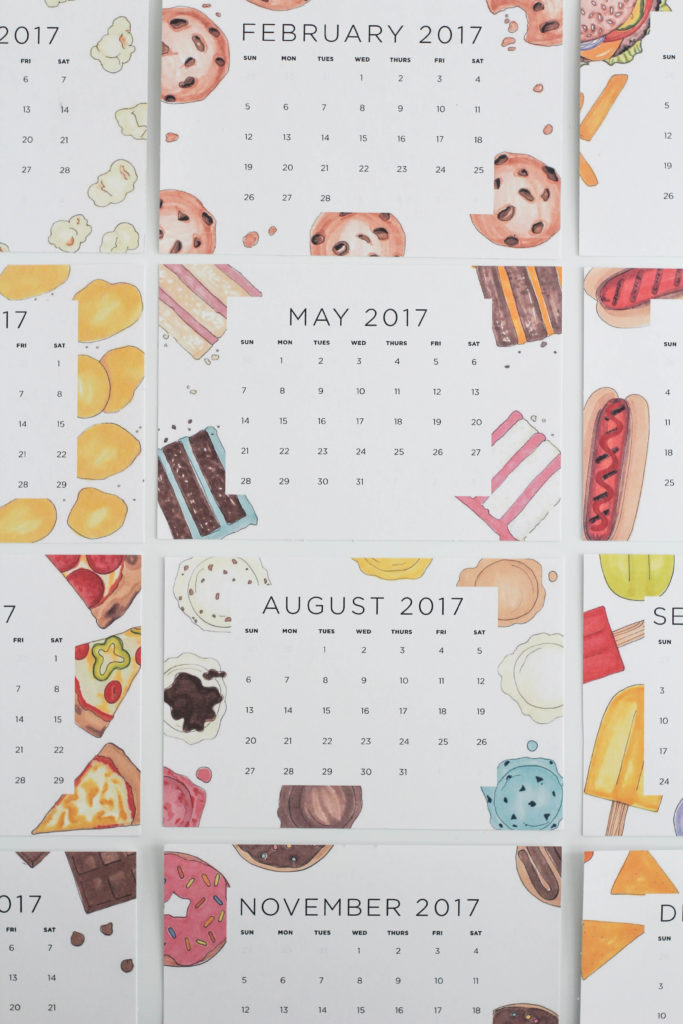 My awesome friend, partner in crime, and art/digital genius Katie HAND ILLUSTRATED each and every one of the snack filled months for you guys and she KILLED it. Each month is cuter than the next. Plus, it's a FREE printable. Awesome, right?
Here's what you'll need to make your own:
2017 Free Printable Snack Calendar file
Scissors or Paper Trimmer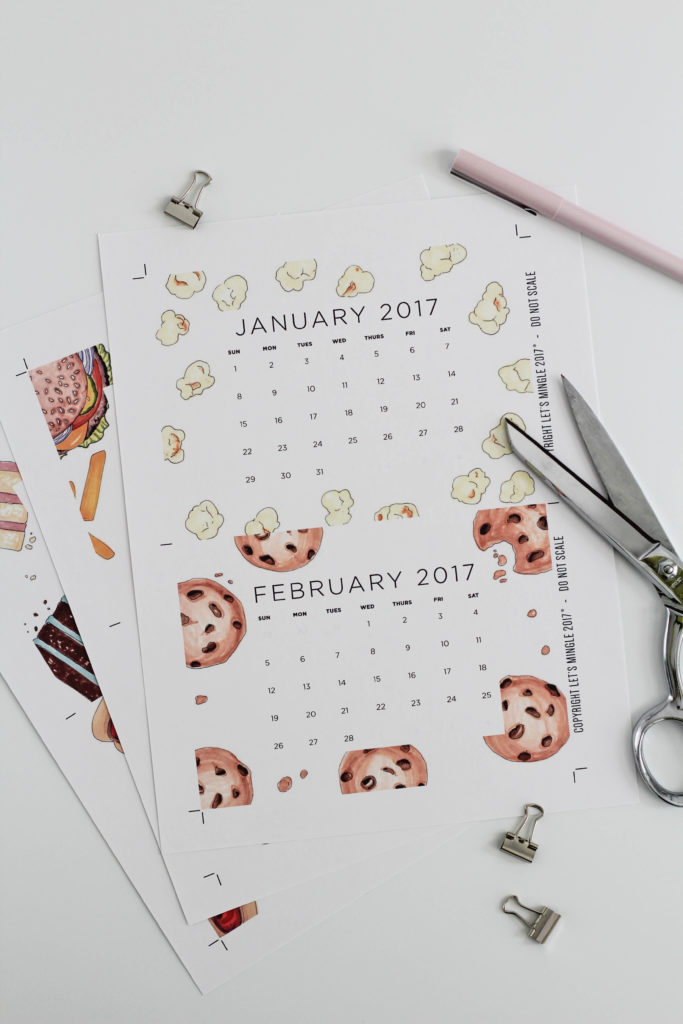 There isn't much to explain for this project. Download the 2017 free printable snack calendar file and print it on your home (or work) printer. I chose to print mine on card stock to make it more sturdy, but regular paper works too. Also, the calendar file is sized and ready for printing. There is no need to scale the image up or down. The months fit two to a page and are about 5×7 in size when cut out.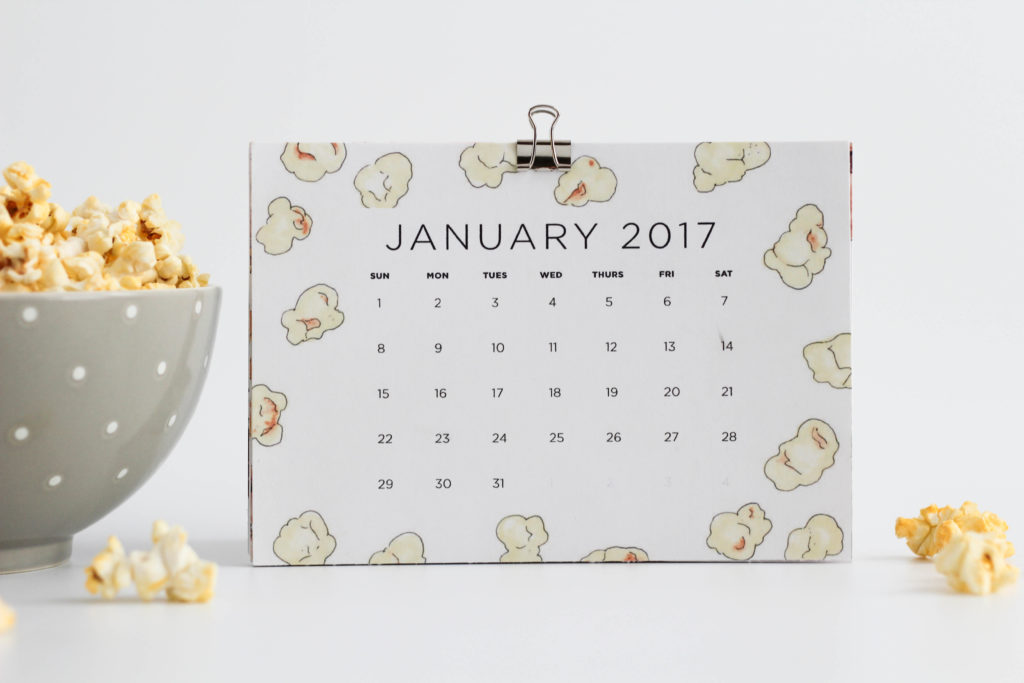 The only hard part is to figure out where to hang it! Paperclip them, post them on a mini clipboard or even print some out and give them to a friend who might enjoy snacks as much as I do!
Either way, 2017 is going to be a delicious year 😉
Disclosure
Sponsored posts or gifted items will be fully disclosed, and any thoughts and opinions shared are always honest and my own. Some posts contain contextual affiliate links, from which I may receive a commission on sales should you use them to make a purchase. No matter what, everything you see on Let's Mingle is something I genuinely like and recommend.