DIY Valentine's Day Message Macarons
I'm all about an edible gift, especially one that tells me I'm a babe when I eat it. These easy DIY Valentine's Day message macarons are a delicious gift idea!
I can't believe I'm already posting about Valentine's Day. Where has January snuck away to? Hell, where did 2016 go?! Am I the only one that feels like time is just flying? I think it's an age thing. A sign of getting older. And wiser. Or that's just what "they" tell us to make aging an easier pill to swallow. It doesn't really help much. But some things do help…like subliminal food messages. And Valentine's day is the perfect holiday to sneak a cheeky little message into the hands of your friends, family, co-workers, or the hot guy or girl you've been eyeing for weeks.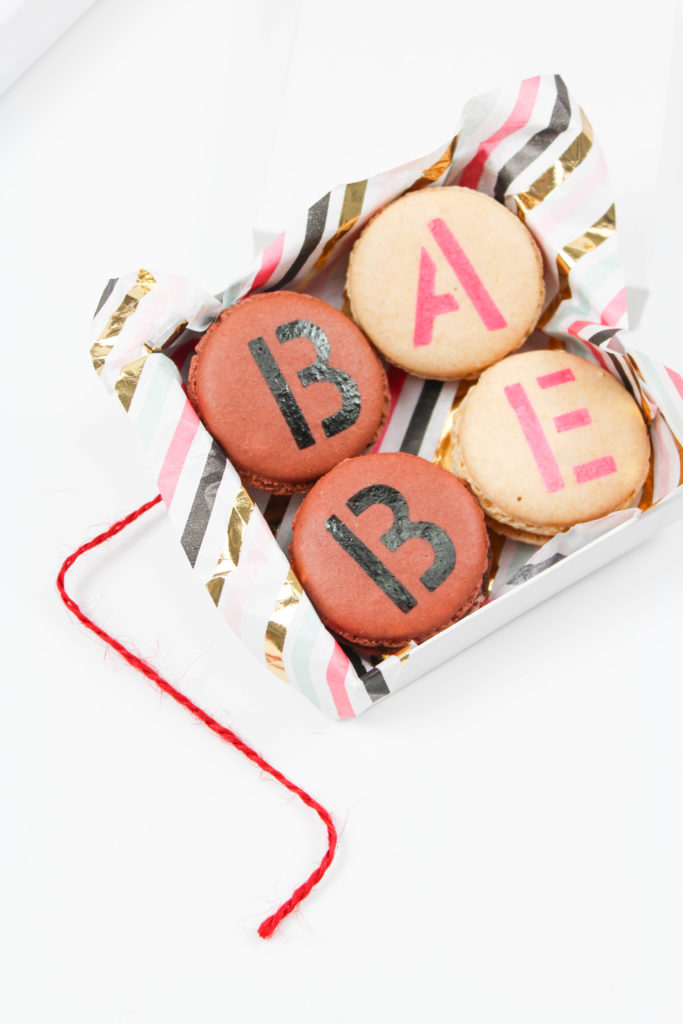 V-day is usually associated with love, gifts, and my favorite part….SUGAR. Today's post has all of that wrapped up in one tasty little package.
I'm all about an edible gift, especially if it's one that reminds me that I'm a babe as I'm eating it. Am I right?
And you're in luck, because I'm sharing a fun tutorial for these DIY Valentine's Day message macarons today. They couldn't be easier to put together and are soooo cute!
Plus, for the single peeps in your life, if you ask me, sugar is a perfect substitution for a date. Dates are overrated. Macarons are not.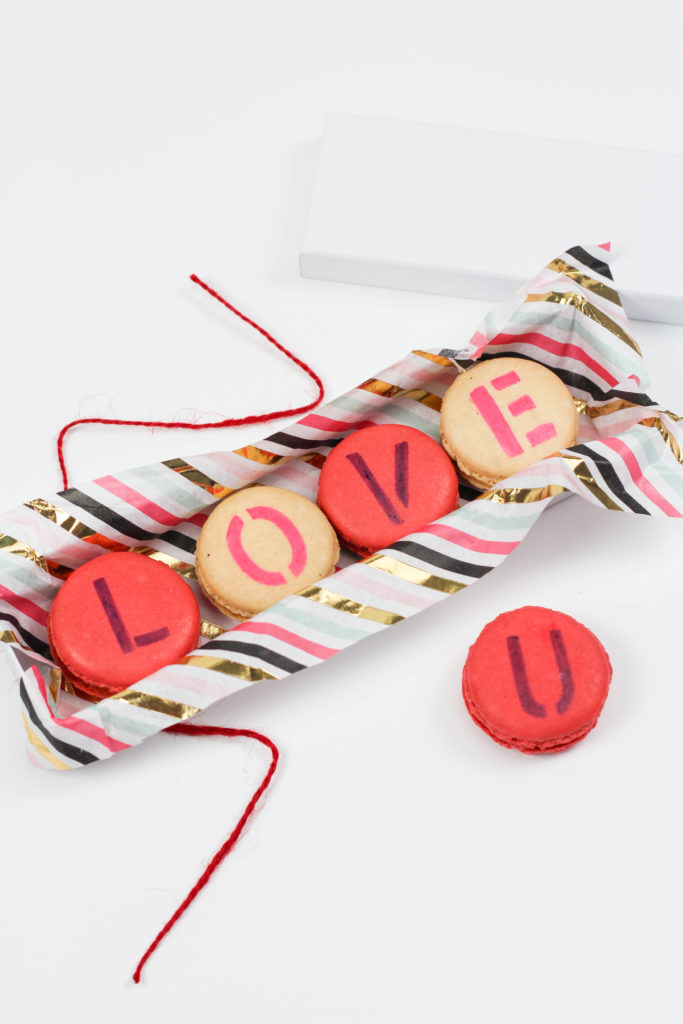 These DIY Valentine's Day message macarons are sooooo easy to personalize for your recipient. You can spell out names, phrases, quotes, songs, and I could go on and on. You can be as cute (or as naughty) as you want! You could also use a pattern stencil and add animal print or polka dots too! They are such an easy way to make someone feel special without spending a ton of time or money on a custom gift. And they are yummy too, so really, how can you go wrong?!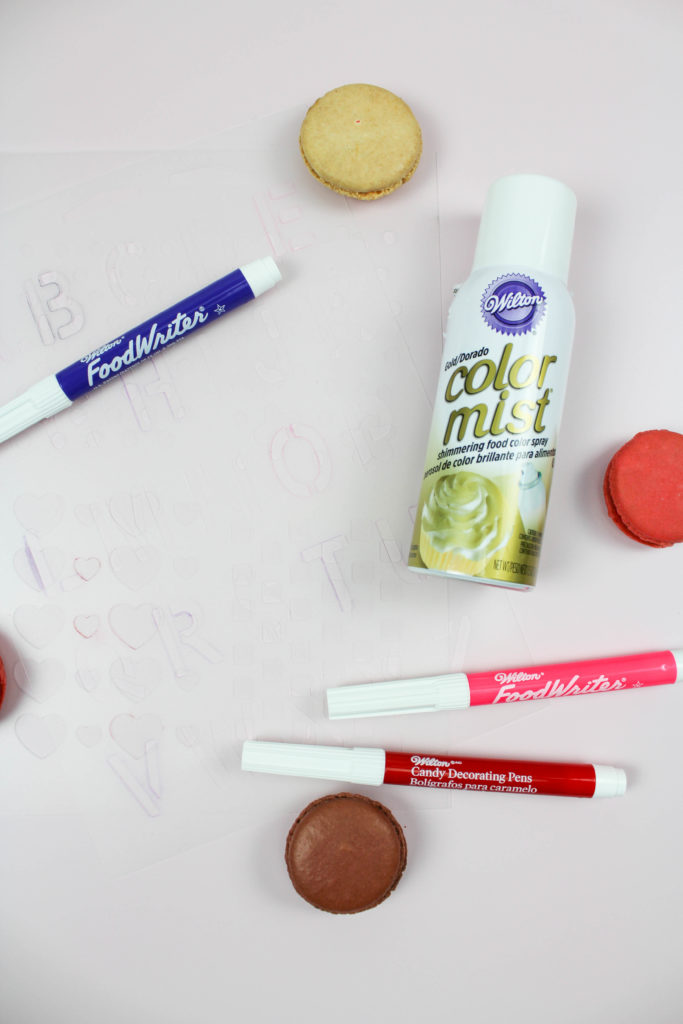 Here's what you'll need to make your own:
Macarons
Stencils
Edible Decorating Pens ( I used these ones)
Food Color Spray (Optional) (I used this color)
If you want to be ambitious, you can make your own macarons, which is fantastic, but I went the lazy route to save time (and my sanity) and used store bought macarons. The choice is yours!
Using your stencil as a guide, outline any shapes, letters, or designs onto the tops of your macarons. I found that it was much easier to trace the outline lightly and then remove the stencil and fill in the shape after the stencil was removed. Be delicate when applying pressure with your pen. Macarons, when fresh, are soft and you can easily punch a hole into the tops if you push down too firmly. (Tip: Buy a few macarons just in case!)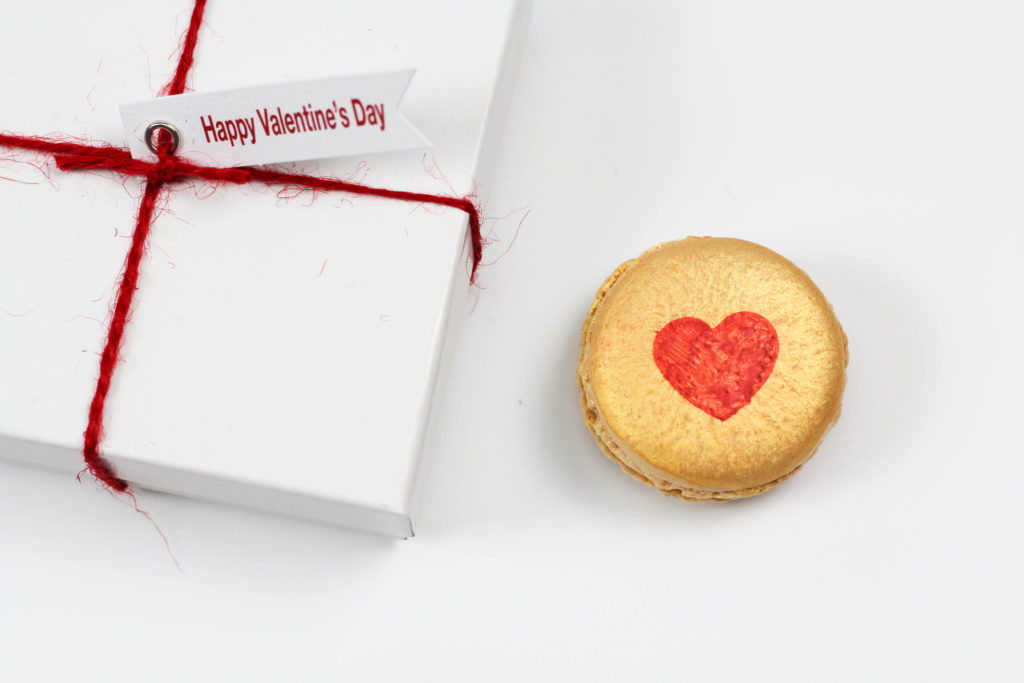 If you want to add a bit of shimmer and metallic color to your macarons, spray the tops with your food color spray and allow to dry completely before using your edible decorating pens. (It doesn't take them too long to dry). I went over the designs on the metallic spray a few times with my pens. Because of the shimmer, it made the ink a little more faint, so I just went over it a few times to achieve the same effect.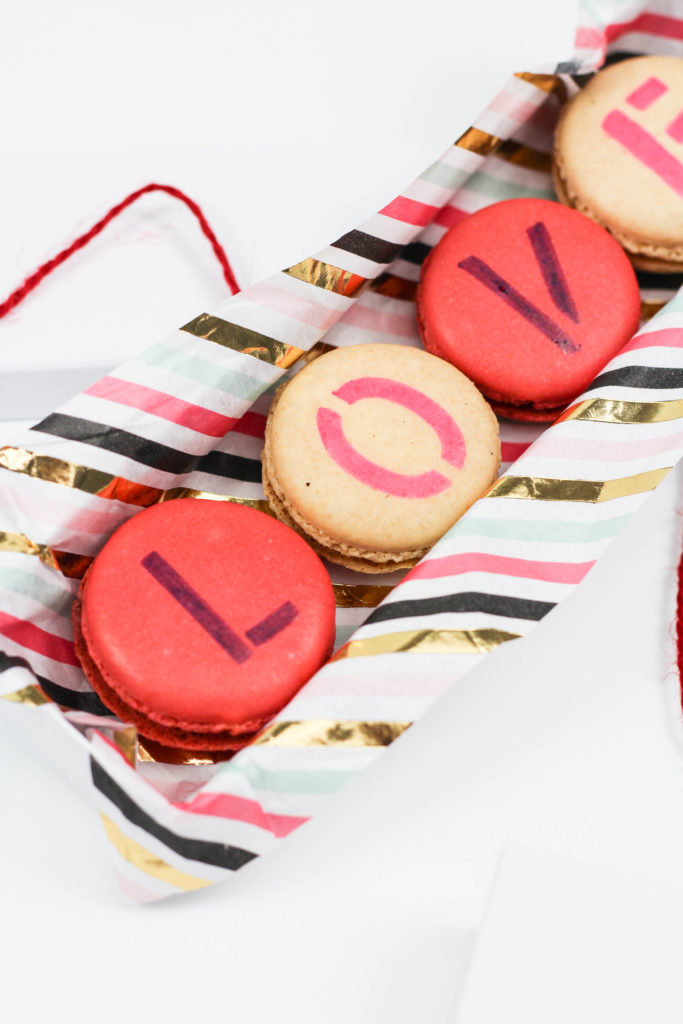 Line some jewelry boxes with cute tissue paper, assemble your word messages, and tie them up with cute string and a Valentine's Day tag. Voila! Super easy, super cute, and super delicious. Did I mention delicious?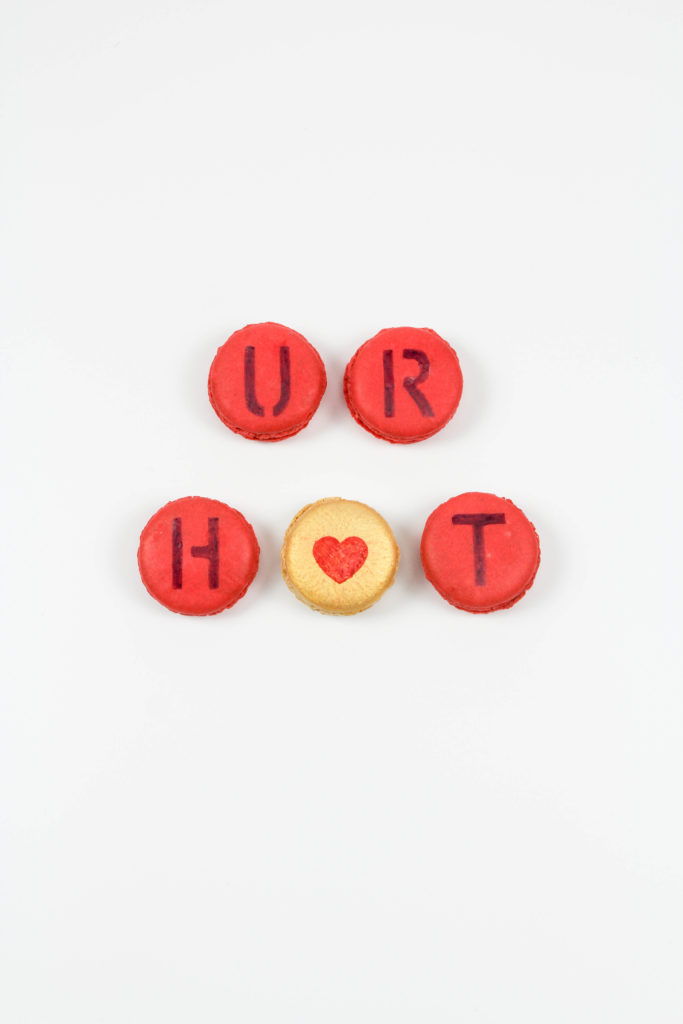 Even though I'm highlighting them for V-Day, these DIY Valentine's Day message macarons would be perfect for a birthday, bachelorette party, or just because. No excuse necessary to spread a little sweetness anytime you want to! I feel like we could all use the reminder that we're hot every once in awhile. 😉
Disclosure
Sponsored posts or gifted items will be fully disclosed, and any thoughts and opinions shared are always honest and my own. Some posts contain contextual affiliate links, from which I may receive a commission on sales should you use them to make a purchase. No matter what, everything you see on Let's Mingle is something I genuinely like and recommend.