Serve something a little different for game day this year. Try one of these delicious Bloody Mary recipes and have some fun with your garnishes!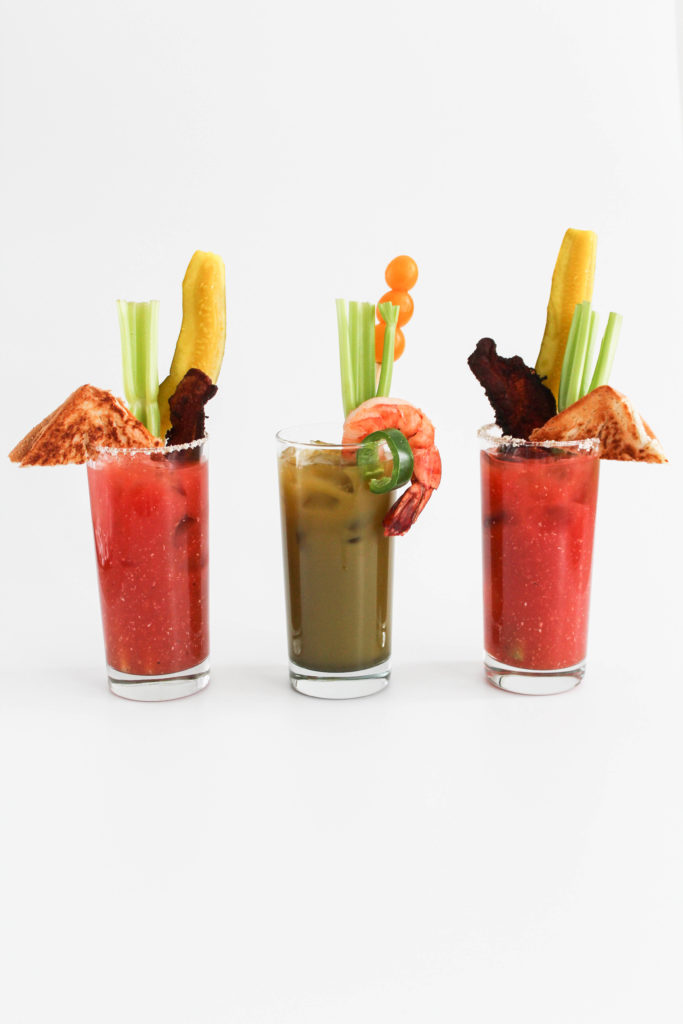 We're less than a week away from game day and I always like to think of ways to switch up the traditional Super Bowl inspired menu. Sure, the classics are great, don't get me wrong, but I like it when I can serve something that's a little bit unexpected. It helps make each and every gathering a little bit different and who doesn't like a surprise every now and then?
Beer is a football staple. I'm a huge football fan, and I don't usually turn one down when I'm at a game, but for the Super Bowl, why not take things up a notch and serve a brunch classic? The ever popular bloody mary! It pairs perfectly with game day snacks and there are sooo many ways to customize them for each one of your guests. (You could even set up a DIY bloody mary bar!) Today I'm sharing two different bloody mary recipes with you, just in case you want to try something a little different than the traditional bloody mary recipe. But, if not, I've got the traditional covered too. 😉
One of my favorite parts of the bloody mary isn't even the drink itself….shameful, I know. It's those delicious garnishes that have grown in popularity and gotten out of control in the absolute best ways possible. There's just no way I can say no to a mini grilled cheese, extra crispy bacon, or mini burgers, when they are sitting on the side of my glass.
But before you nail those amazing garnishes, you've gotta start with the drink first! These bloody mary recipes are yummy and you can adjust the flavors and heat, as needed, based on your preferences. Plus, the green bloody mary is packed full of veggies for those of your friends or family that want to be a bit healthier. (I wish I had that will power).
(Serves 2)
4 oz. Vodka
12 oz. Tomato Juice
2 Tsp. Horseradish
1 Tsp. Worcestershire Sauce
Ground Pepper
Tabasco Sauce, To Taste
Celery Salt
Kosher Salt
Celery Stalks, Crispy Bacon, Large Dill Pickles, and Mini Grilled Cheese Sandwiches for Garnish
In a shallow dish or plate, combine celery salt and kosher salt at equal ratios. This will be used to line the rims of your glasses, so if you are making a bigger batch, plan ahead.
In a separate shallow dish, add water. Tip your glasses upside down and dip the rims into the water, then twist into the salt mixture.
In a pitcher, mix vodka, tomato juice, horseradish, worcestershire sauce, and Tabasco sauce. Add pepper to taste.
Fill glasses with ice and pour in bloody mary mixture. Garnish with celery stalks, crispy bacon, pickles, and mini grilled cheese sandwiches.
(Serves 2)
3 Tomatillos
2 Medium Green or Yellow Tomatoes
1 Stalk of Celery (Plus additional stalks for garnish)
2 Cloves of Garlic
1 Small Cucumber
Pinch of Cumin
Sprig of Fresh Cilantro
Sprig of Parsley
1⁄2 Jalapeño Pepper
1 Tsp. Horseradish
Salt and Pepper to Taste
3 oz. Vodka
Grilled Shrimp, Yellow Tomatoes, and Jalapeño Slices for Garnish
Wash and cut the tomatillos, tomatoes, celery, cucumber, and jalapeño.
Add the veggies to a blender with garlic, cilantro, parsley, cumin, and horseradish. Purée until smooth. Season with salt and pepper.
Fill glasses with ice and pour in tomatillo mixture and vodka. Garnish with a ring of jalapeño, grilled shrimp, celery stalk, and golden tomatoes.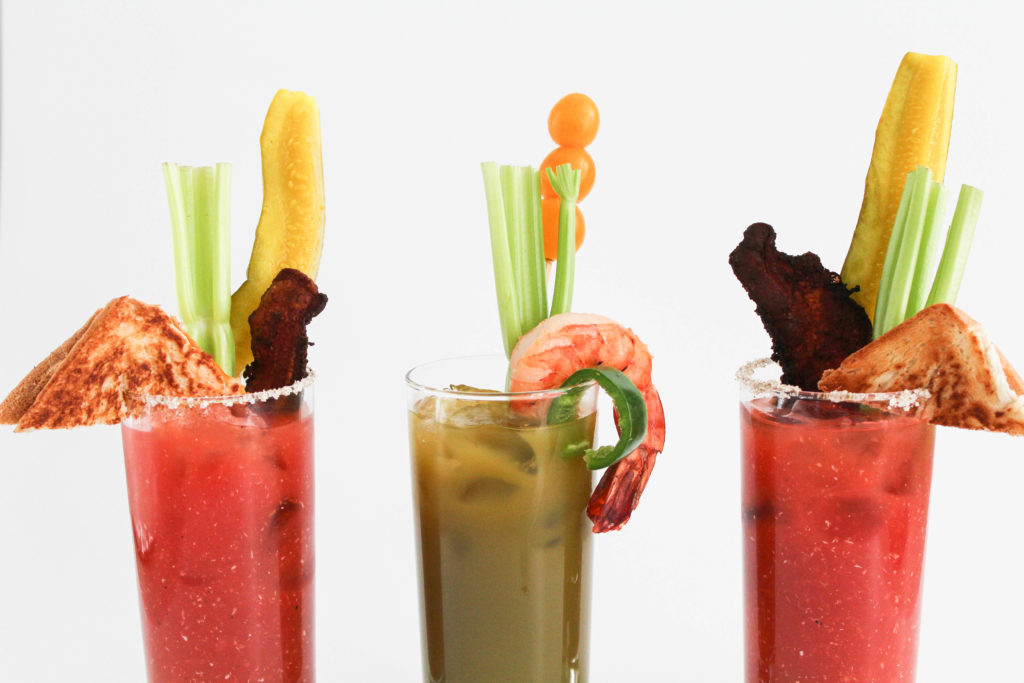 I picked less than healthy garnish choices, like crispy bacon and mini grilled cheese sandwiches, for these bloody mary recipes, but you can add your own touch with your own favorite snacking sides. I don't think anyone would complain about a burger on their glass…especially on game day!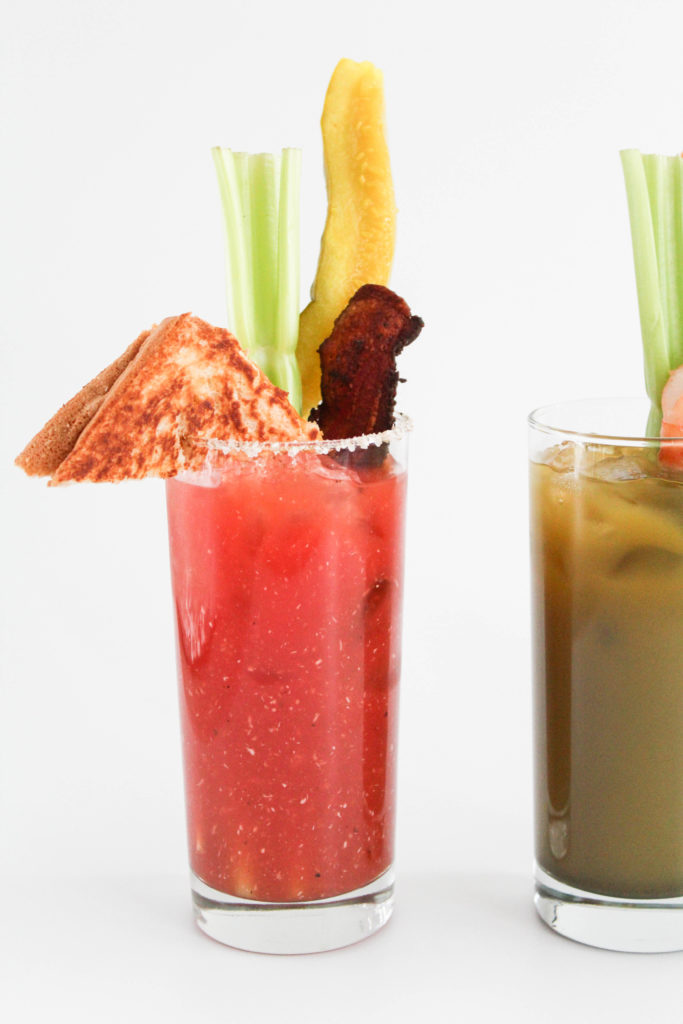 If you do want to stick to a beer themed beverage, this
Michelada
is a great choice too!
Disclosure
Sponsored posts or gifted items will be fully disclosed, and any thoughts and opinions shared are always honest and my own. Some posts contain contextual affiliate links, from which I may receive a commission on sales should you use them to make a purchase. No matter what, everything you see on Let's Mingle is something I genuinely like and recommend.