Tropical Rainbow Smoothie Bowl Recipe
This tropical rainbow smoothie bowl recipe isn't just easy, it's delicious, and how could you not love all of that pretty color! A perfect rainbow breakfast for St. Patrick's Day!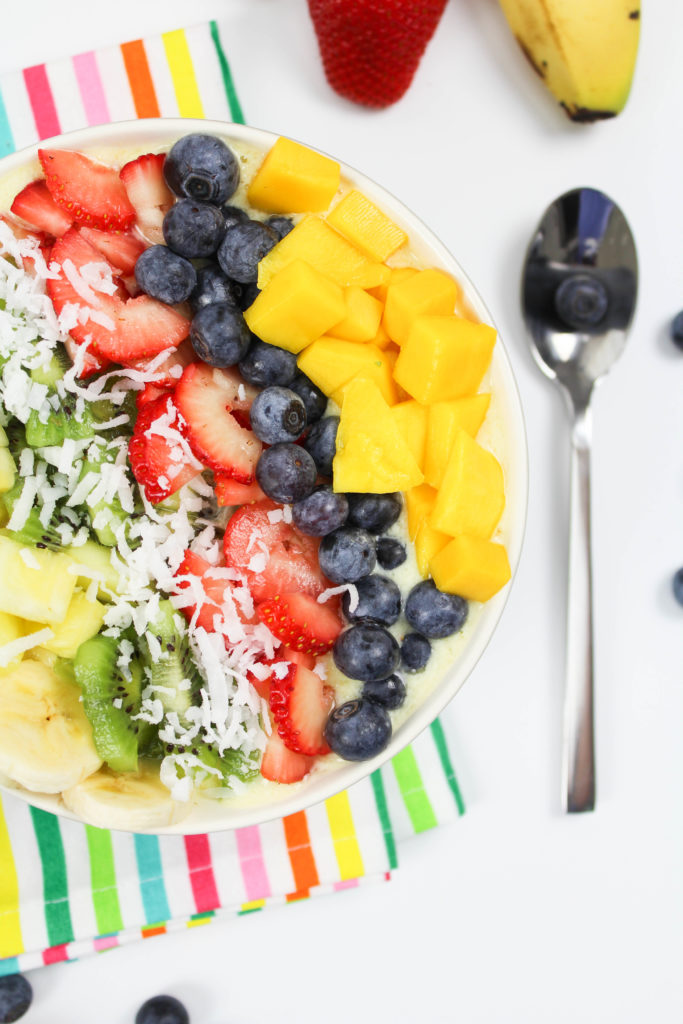 If you guys follow along on social media, you may have noticed that last week was my birthday. I decided to take the whole week off from the blog and new posts (!!!), so that I could ring in the big 3-3 surrounded by friends and family. It was exactly what I needed to really enjoy all of the little moments and people that mean so much.
But, I'm back and just in time to help you guys get prepped and ready to celebrate another (not quite as important 😉 ) holiday…St. Patrick's Day! It's coming up next week and I wanted to share a simple and colorful breakfast idea that's healthy too! This tropical rainbow smoothie bowl recipe isn't just easy, it's delish, and how could you not love all of that color! A rainbow breakfast to help the family start off their search for that missing pot of gold!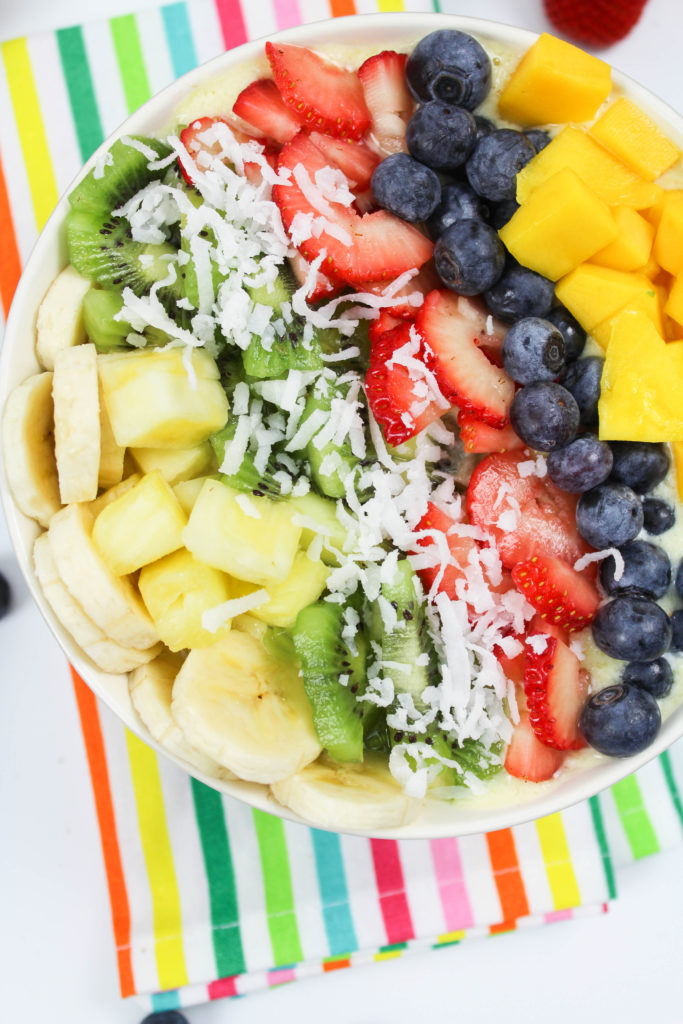 Smoothie bowls may look impressive and hard to make, mostly because they are so darn pretty, but in all honestly, if you have a blender and can chop up some fruit, they a breeze to pull off! It makes you look extra fancy too 😉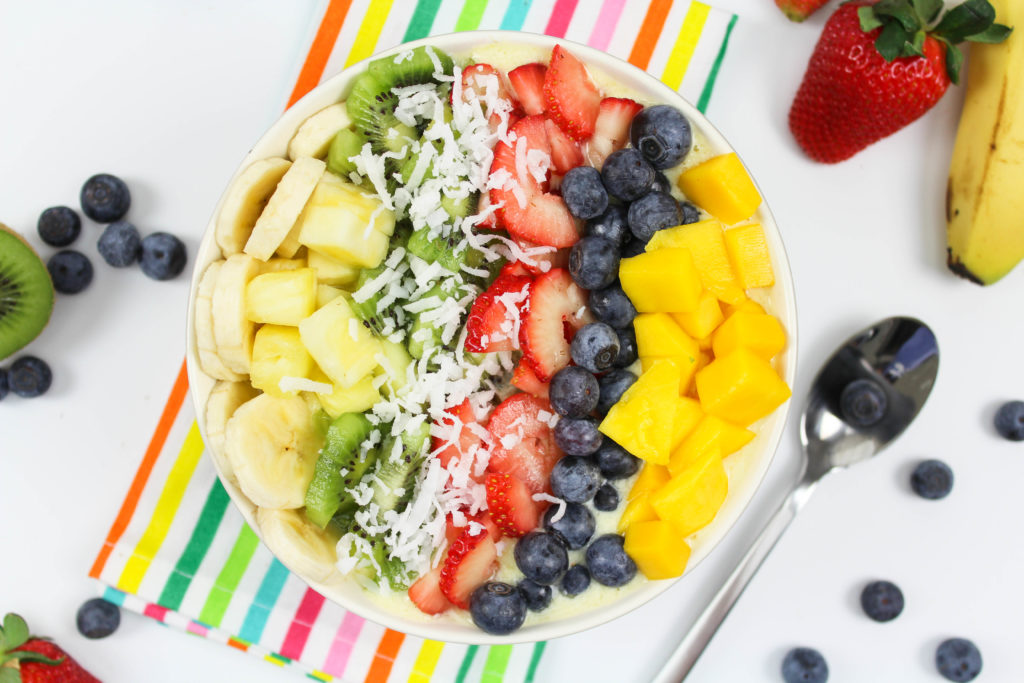 Here's what you'll need to make your own:
1 Cup Coconut Greek Yogurt (2 individual containers) (If you don't like as much sweetness, substitute the coconut yogurt for plain greek yogurt)
1/4 Cup Coconut Water
1/2 Cup Frozen Mango Chunks
1/2 Cup Frozen Pineapple Chunks
1/2 Frozen Banana
Toppings (I used shredded coconut, pineapple, blueberries, kiwi, mango, strawberries, and bananas)
Add your yogurt, coconut water, frozen mango, frozen pineapple, and frozen banana into your blender.
Blend until completely smooth.
Pour into a bowl and top with your favorite toppings.
Enjoy!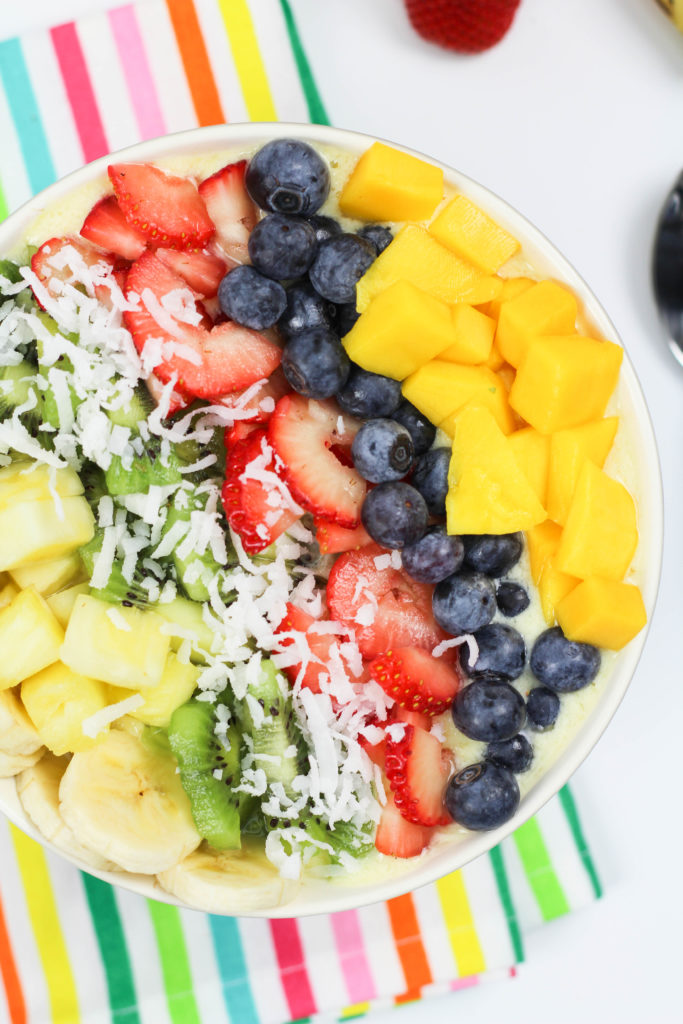 This tropical rainbow smoothie bowl recipe is so easy to make and it makes a really great family breakfast idea too, because you can customize each bowl based on everyone's likes and dislikes. To save on time in the mornings, pre-chop all of your fruit and have them ready to go when you wake up!
You can also plan ahead and freeze your bowls in a freezer-safe container the night before and let them thaw as soon as you get up so that they are ready to eat when you get to work or school.
The toppings and flavor combinations are endless, so have some fun finding your favorites!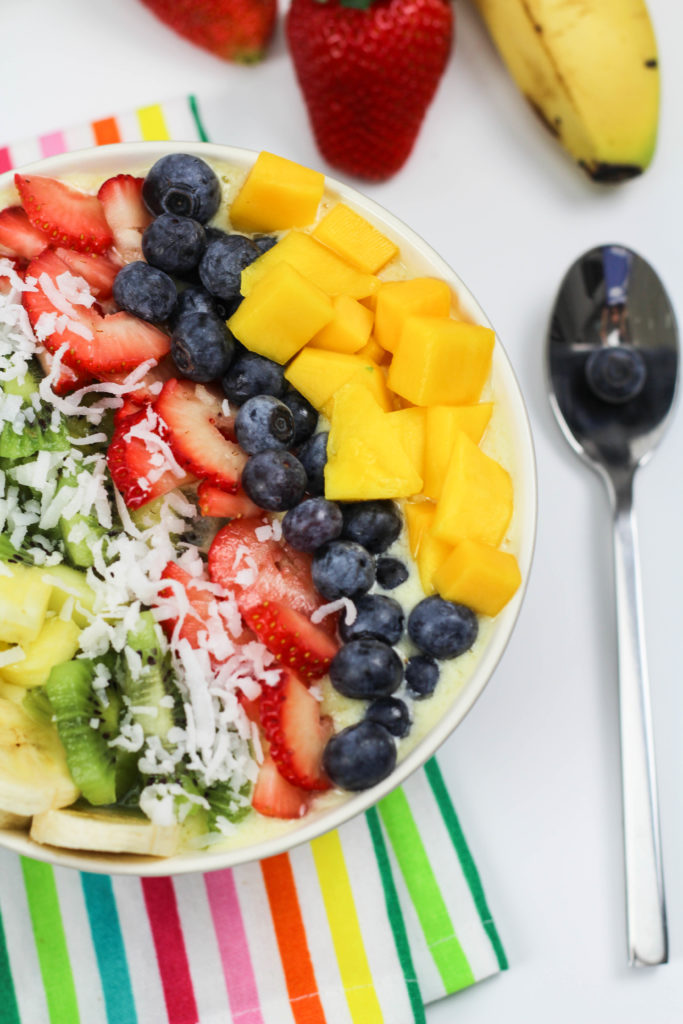 Disclosure
Sponsored posts or gifted items will be fully disclosed, and any thoughts and opinions shared are always honest and my own. Some posts contain contextual affiliate links, from which I may receive a commission on sales should you use them to make a purchase. No matter what, everything you see on Let's Mingle is something I genuinely like and recommend.