These DIY watermelon Easter eggs are a cinch to make and oh, so cute! The perfect addition to your Easter baskets this year. Check them out below!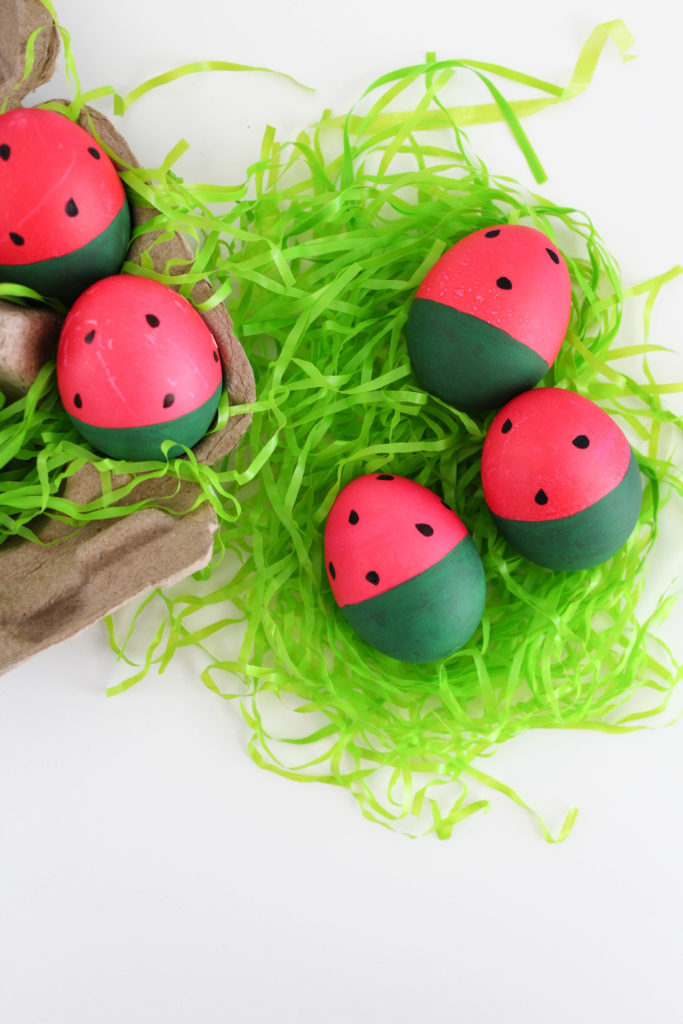 I'm all about a fun Easter egg dying project. With all of the new ideas and projects popping up online, traditional dying methods just seem a little boring now, don't they? But, don't get me wrong…I'm also not about to spend 18 million hours DIY'ing eggs that are going to be eaten or tossed after a few Easter hunting hours. So I definitely try to keep ease and skill levels in mind when I'm thinking up my projects for the blog, so that everyone feels like they can tackle them and they're not overwhelming. Today's DIY is exactly that!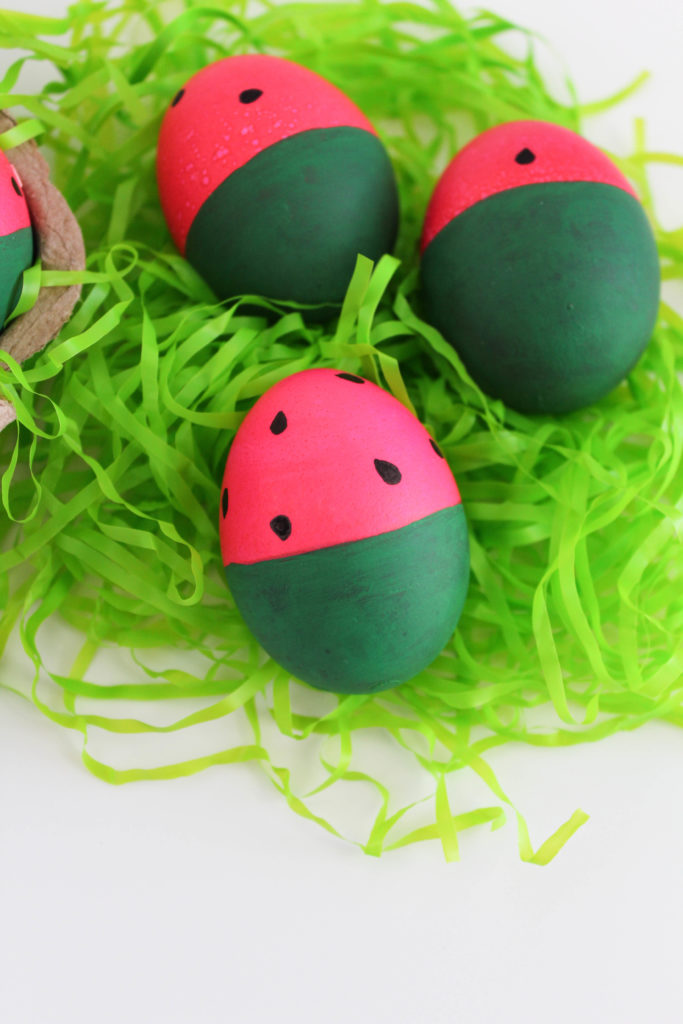 It might not be Summer just yet, but you can still infuse a little warm weather fun into a traditional Spring celebration. Although, these DIY watermelon Easter eggs might taste a little different than the watermelon you are used to, they are a cinch to make and so cute! They'd add a fun and playful touch, hiding in the grass for your Easter egg hunt!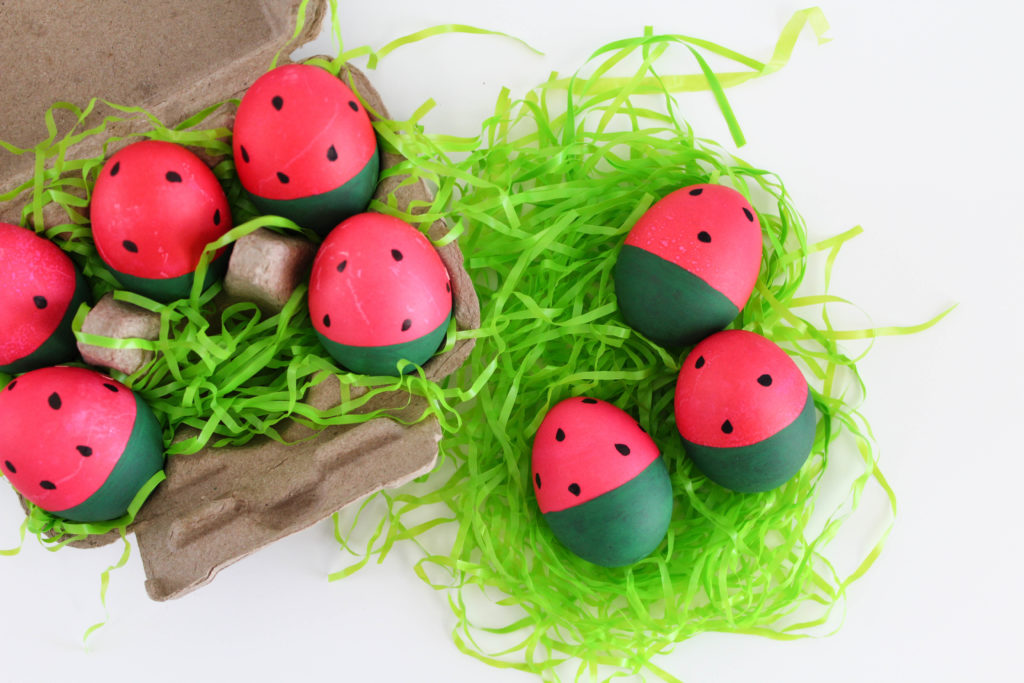 With a few simple supplies, you can make a batch of these watermelon Easter eggs without losing your sanity or a lot of time either. Who's not interested in a cute AND easy project?! You can even get the kids to help with this one too!
Here's what you'll need to make your own:
Hard Boiled Eggs
Red/Pink Egg Dye
Green Craft Paint
Black Sharpie
First, begin by dying each of your eggs in the red or pink egg dye. You can coat the entire egg, so throw it in there and let it do it's thing for about 5 minutes or long enough to get a nice deep color on the egg.
Remove the eggs and allow them to dry completely.
Once they are completely dry, use your green craft paint and paint the green "rind" around the bottom half of your egg. Depending on your paint and the color of the green you picked, you might have to allow the first coat to dry and then follow up with a second coat. (My eggs required two coats to get an even color). Allow the craft paint to dry completely.
Once dry, use your black sharpie to draw little black "seeds" onto the red/pink part of your eggs.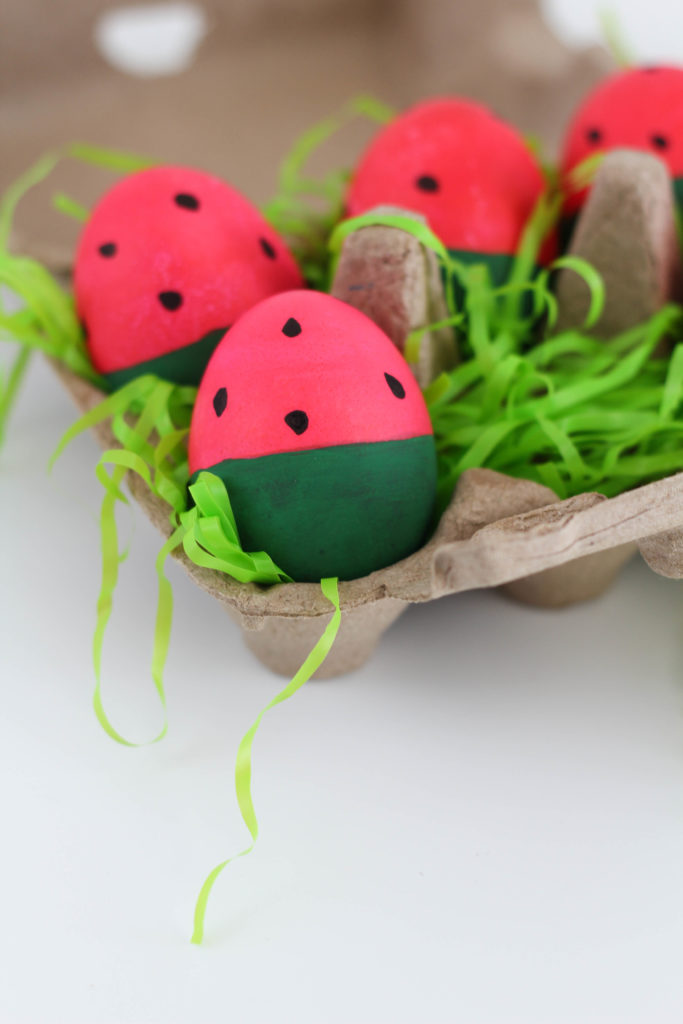 These watermelon Easter eggs are simple to create and are oh, so cute! And now, we're just that much closer to actual watermelon season…my favorite!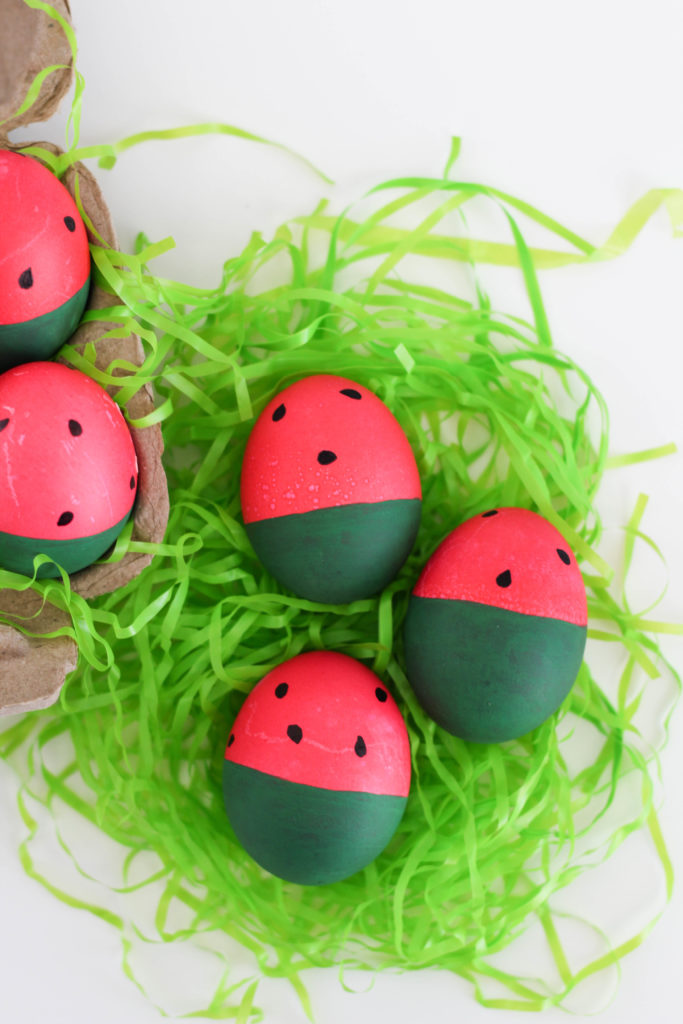 Disclosure
Sponsored posts or gifted items will be fully disclosed, and any thoughts and opinions shared are always honest and my own. Some posts contain contextual affiliate links, from which I may receive a commission on sales should you use them to make a purchase. No matter what, everything you see on Let's Mingle is something I genuinely like and recommend.