Grapefruit and Orange Compote with Mint Whipped Cream
Fresh fruit and sweet syrup come together to create this yummy grapefruit and orange compote with mint whipped cream topping. The perfect treat to serve at Easter brunch this year!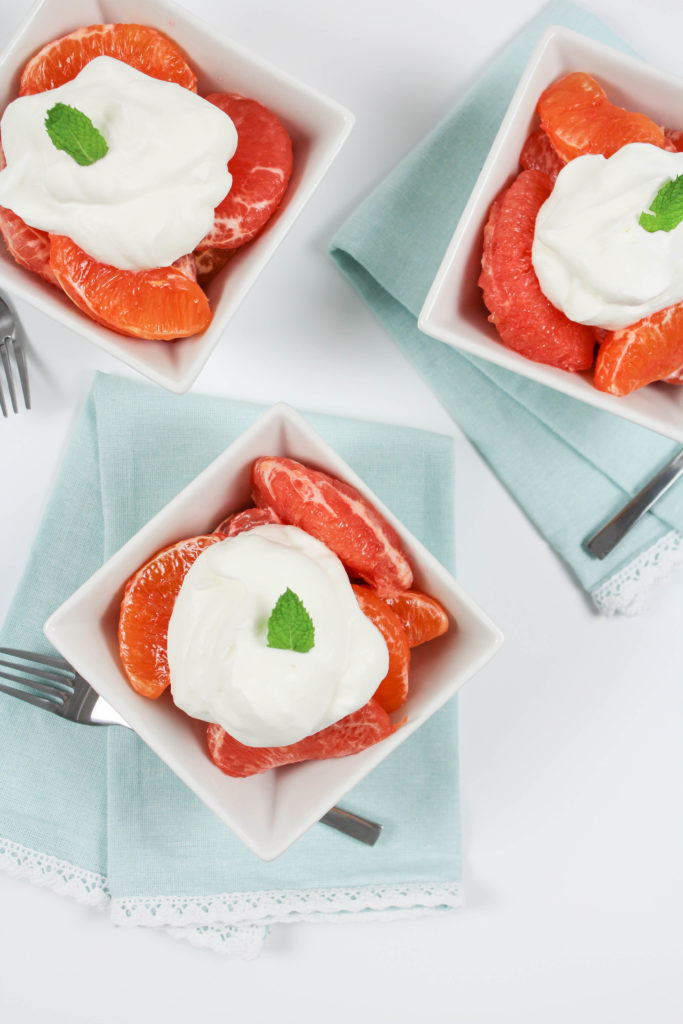 Easter is a week away and if you're planning on hosting a big family gathering or brunch this year, preparing a menu can be a little overwhelming, let alone putting something together that looks effortless, yet chic at the same time. But don't sweat it! Today's recipe is simple to make, looks gorgeous, and it's delicious too, which doesn't hurt either. This grapefruit and orange compote with mint whipped cream is the perfect Spring treat to have your guests craving warmer weather and days outside. And mention the word "compote" and your guests will think you definitely know your way around the kitchen 😉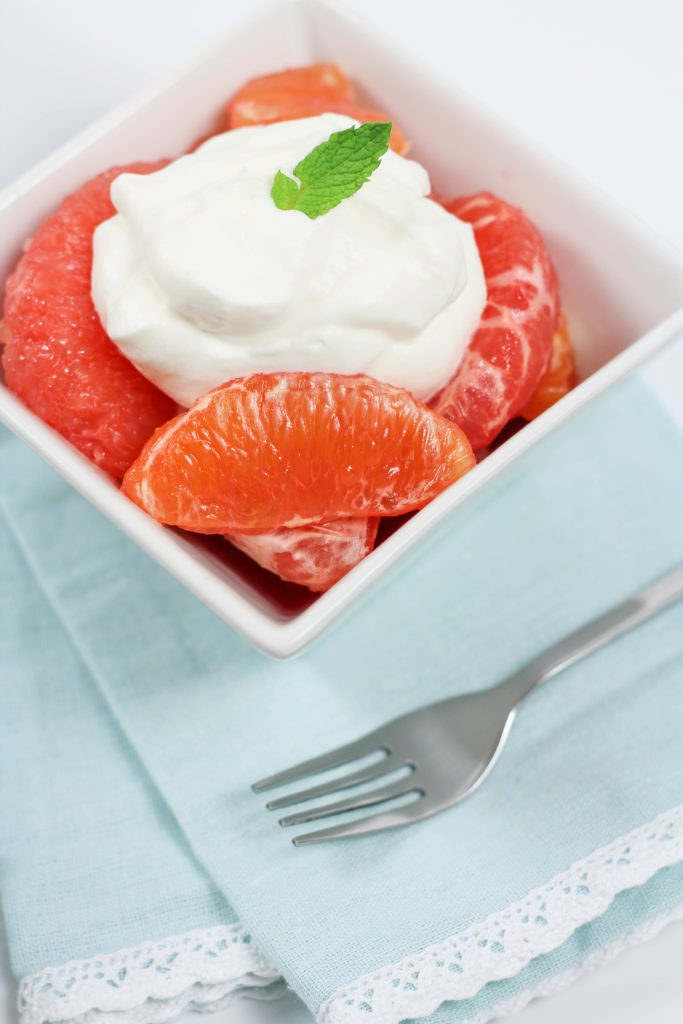 You can serve it pre-brunch, with a bowl on each person's place setting, or serve it as a sweet way to end your meal too. It's light and refreshing and there's fruit involved, so that's technically healthy, right?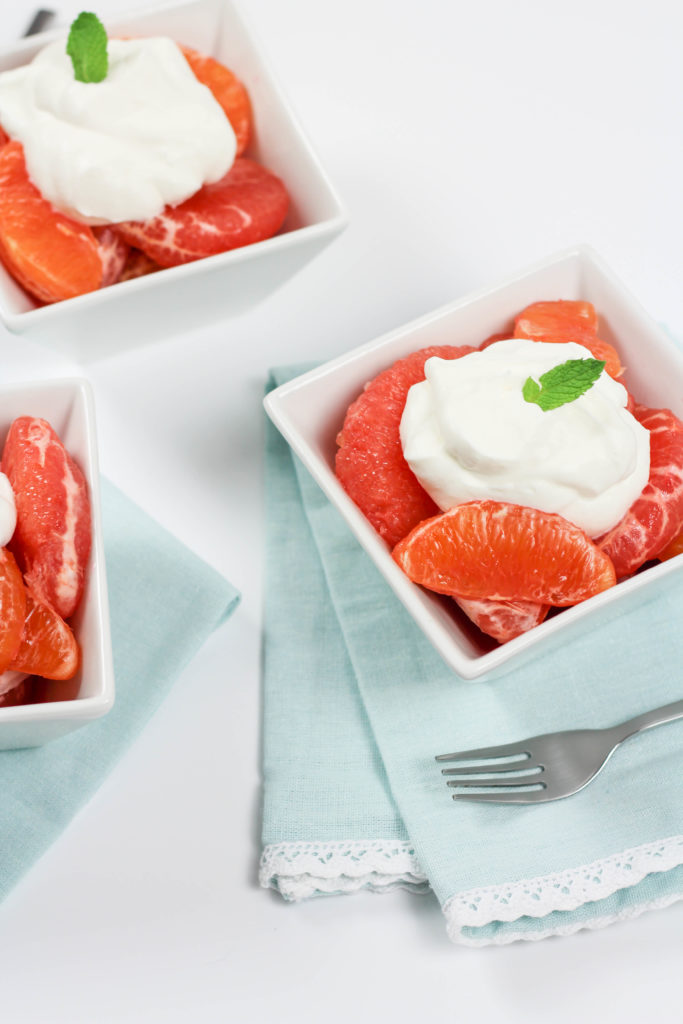 Here's what you'll need to make your own:
Compote:
3 Oranges
3 Grapefruits
1/3 Cup Sugar
1 Vanilla Bean
3/4 Cup Water
1 Tbsp. Grenadine
Whipped Cream:
1/3 Cup Chopped Fresh Mint Leaves
1/4 Cup Sugar
3 Tbsp. Water
1 1/2 Cups Heavy Whipping Cream
In a small saucepan, combine sugar, grenadine, vanilla bean, and water. Heat over medium-low heat and stir until sugar has dissolved. Once dissolved, simmer, stirring occasionally, for 15 minutes. Remove from the heat and allow the mixture to stand for 30 minutes.
While mixture is setting, cut off ends and carefully peel and slice off outer membrane of the oranges and grapefruit. Gently pry the sections of fruit apart and place them into a bowl. You want the fruit segments to be whole and "pretty" so try to be careful when separating them and not using too much force.
Once your syrup has rested, remove the vanilla bean and pour the syrup into the bowl containing the fruit segments. Cover and chill for at least one hour, but up to a full day. The longer you can wait, the better!
While your fruit is chilling, it's time to make that delicious mint infused whipped cream.
Stir mint, sugar, and water together in a small saucepan over low heat until the sugar has dissolved. Continue cooking, just until bubbles appear on the surface of the mixture.
Cover and remove from the heat. Allow the mixture to cool for 30 minutes.
Once cooled, strain the syrup into a bowl, pressing on the mint to extract the most flavor.
Add the heavy whipping cream to the cooled syrup and beat until stiff peaks form.
Spoon the fruit into small bowls or compote glasses. Add additional fruit syrup to the bowls and top with the fresh whipped cream.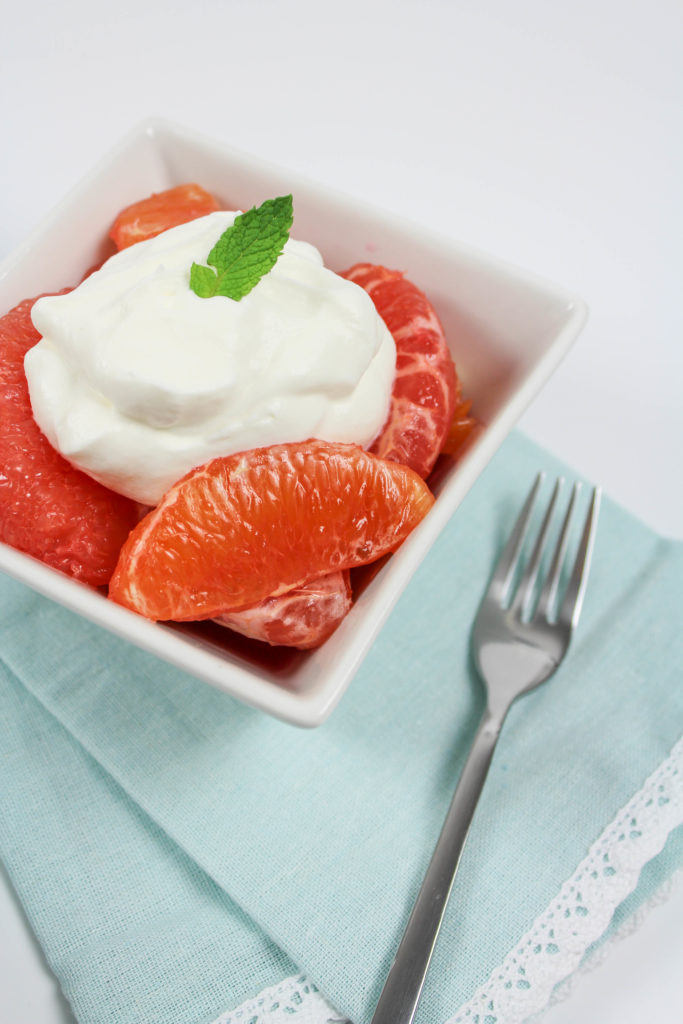 This grapefruit and orange compote with mint whipped cream makes the perfect Easter brunch treat to enjoy before or after your meal. It's an easy dish and looks so pretty on individual place settings! It also looks a little fancy too, which is always a plus! 😉
It would also make a great menu choice for mother's day or even a Summer picnic or tea party!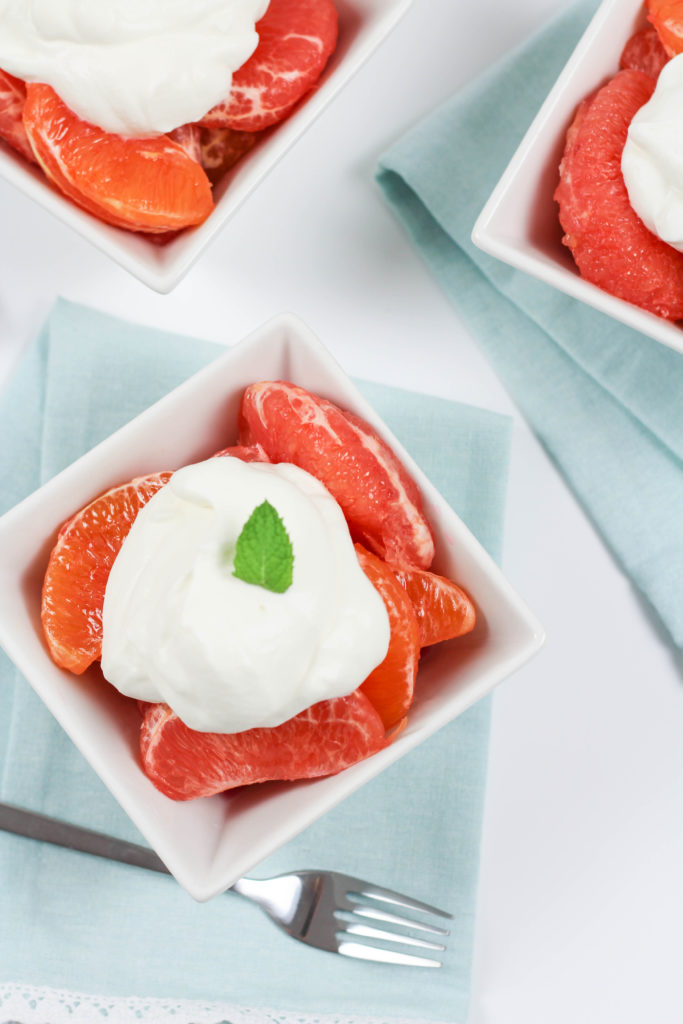 Disclosure
Sponsored posts or gifted items will be fully disclosed, and any thoughts and opinions shared are always honest and my own. Some posts contain contextual affiliate links, from which I may receive a commission on sales should you use them to make a purchase. No matter what, everything you see on Let's Mingle is something I genuinely like and recommend.