With only a few simple ingredients, you can whip up this delicious homemade salsa hummus recipe. Perfect to add to your spread for Cinco de Mayo this year!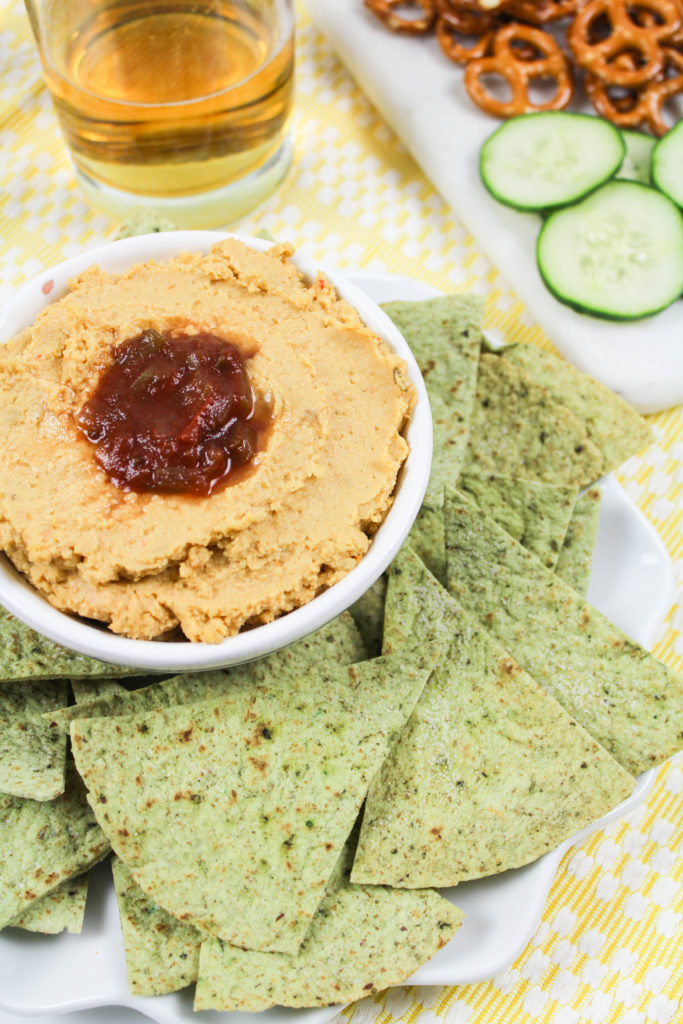 We all know that Cinco de Mayo involves a lot of salsa and a lot of guacamole. (And don't forget the beer!) But, why not serve something a little unexpected this year? I'm sharing this homemade salsa hummus recipe that would fit in perfectly among all of those other Cinco de Mayo legends. And it's healthy too, so that's an even bigger plus!
Homemade hummus is actually really easy to make and only requires a few ingredients. So whip out that food processor and let's do this!
For this recipe I used my own homemade salsa that my family and I canned last year, but you can use any bottled or homemade salsa that you want. You'll also need to use tahini in this recipe. Tahini is toasted, hulled, and ground up sesame seeds. You can make your own or pick up a bottle at the store. I used organic tahini from Trader Joe's.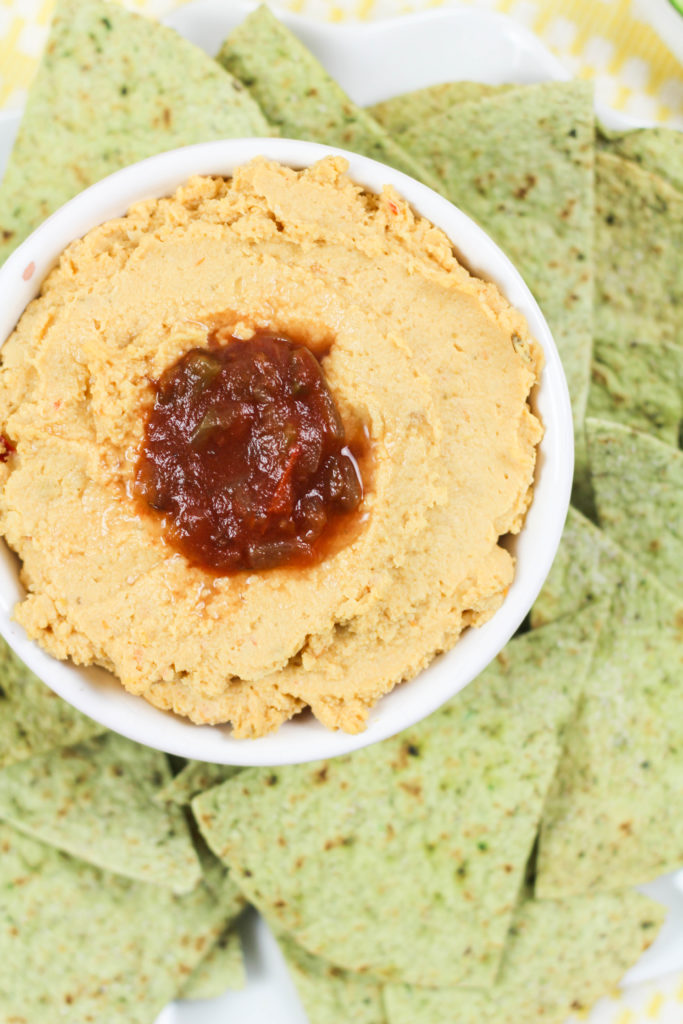 Here's what you'll need to make your own:
1-14 oz. Can of Chick Peas (Drained and Rinsed)
2 Garlic Cloves
1/4 Heaping Cup of Salsa
1/4 Cup Tahini
3 Tbsp. Olive Oil
1/2 Tsp. Salt
Add garlic, salsa, tahini, and oil to your food processor. Blend on high until blended well. Scrape the sides of the food processor as needed until it's all mixed.
Add the chick peas to the food processor and blend. If the mixture ends up being too thick, add an additional tablespoon of olive oil.
Top with a dollop of salsa and serve with pretzels, chips, or veggies!
You can also make your own tortilla chips too! I used spinach and herb tortillas, but any variety will work.
Take your tortillas and cut them into strips or triangles. Brush them with olive oil and sprinkle with salt.
Bake them on a cookie sheet at 350 degrees for 10 minutes.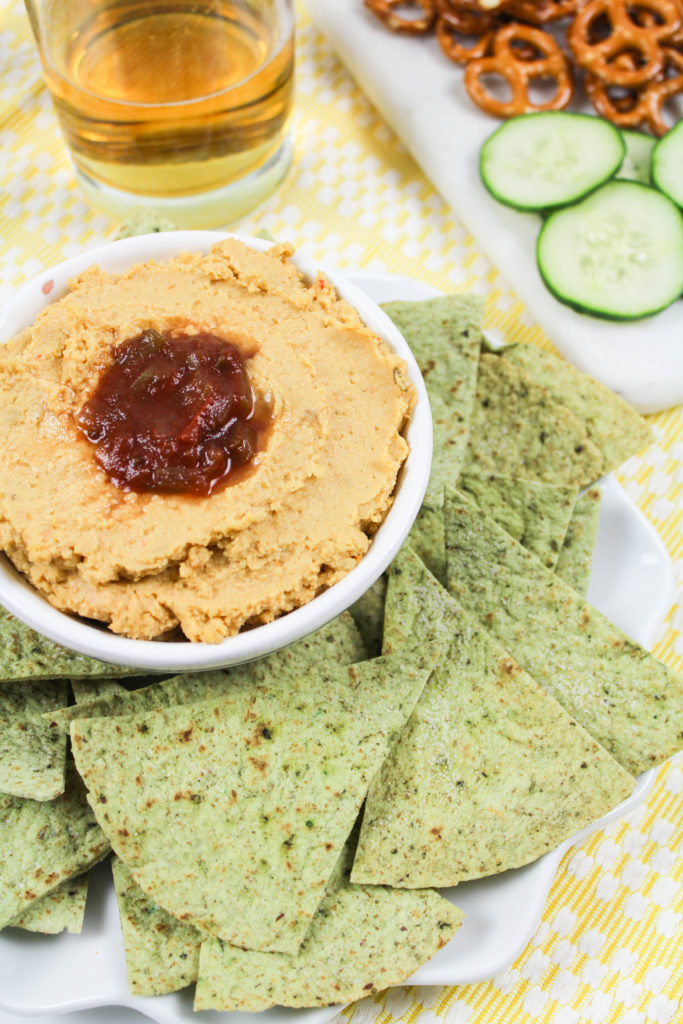 Don't be afraid to experiment a little bit for the holiday this year and incorporate new flavors into your traditional party spreads with this salsa hummus recipe. I have a feeling you just might enjoy the new guy in town!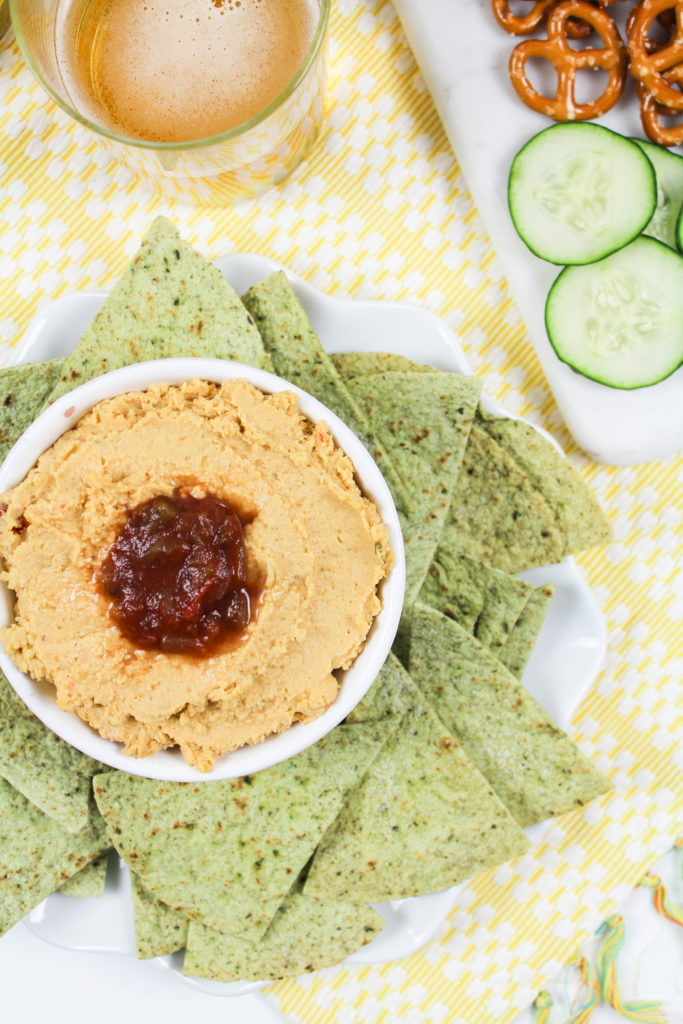 Disclosure
Sponsored posts or gifted items will be fully disclosed, and any thoughts and opinions shared are always honest and my own. Some posts contain contextual affiliate links, from which I may receive a commission on sales should you use them to make a purchase. No matter what, everything you see on Let's Mingle is something I genuinely like and recommend.