This tres leches ice cream is simple to make, doesn't require an ice cream maker, and topped with some additional goodness that takes it to another level!
Cinco de Mayo is next week and if you're looking for the perfect dessert to serve at your upcoming fiesta, look no further. I'm sharing a recipe for tres leches ice cream that will have everyone craving a second bowl! The recipe is a breeze to make and doesn't even require an ice cream maker. Plus, it's getting a bit of an upgrade with some amazing toppings that take it to a whole other level.
The tres leches ice cream is already delicious on it's own, but, of course, I couldn't just leave it alone. I had to add some additional delicious details to take it over the top. Because, why not? I added dripping caramel, and cinnamon sugar toasted pound cake "croutons" to finish it off. Trust me…you don't want to pass up this frozen treat. Add this baby to the recipe list for sure. All of your family and friends will thank you!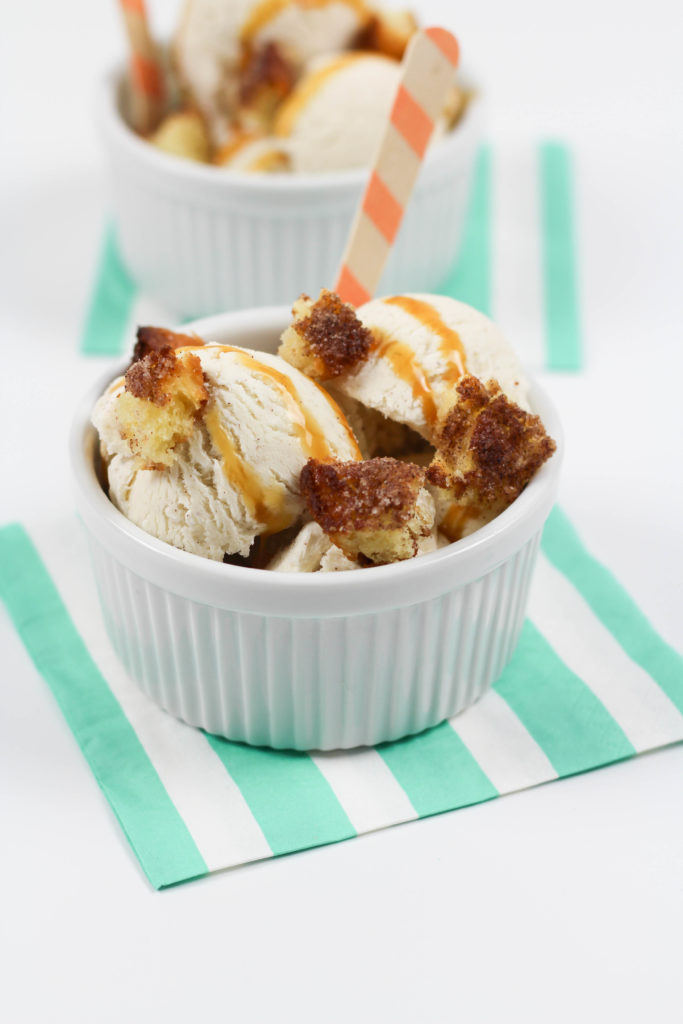 Here's what you'll need to make you own:
Ice Cream
One Pint Heavy Whipping Cream
1 Can (14 oz.) Sweetened Condensed Milk
1/2 Cup Coconut Milk
1/2 Tsp. Cinnamon
Caramel (Homemade or Store Bought)
Pound Cake "Croutons"
Pound Cake (Homemade or Store Bought)
Butter (Room Temperature)
4 Tsp. Sugar
4 Tsp. Cinnamon
Add the whipping cream and cinnamon to a bowl or mixer and whip until stiff peaks form.
In a separate bowl, combine the coconut milk and condensed milk and mix well.
Fold the milk mixture into the whipped cream.
Pour into a freezer safe container and allow to freeze overnight, for best results.
After your ice cream has been frozen well, it's time to add some delicious toppings!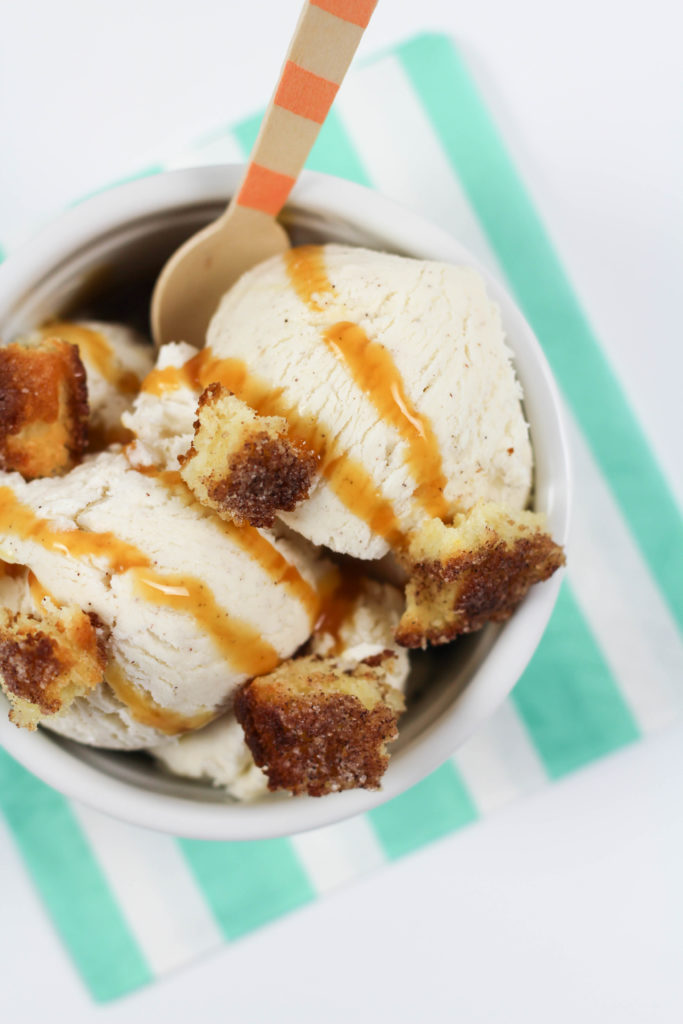 The pound cake croutons are really easy to make! Begin by cutting your pound cake into slices. (Depending on how many bowls of ice cream you'll be serving, you won't need to use the whole loaf).
Using room temperature butter, carefully butter one side of the sliced pound cake.
In a small bowl, mix the cinnamon and sugar together well.
Sprinkle over the top of the buttered pound cake slices, covering it fully.
Place the loaves onto a baking sheet and place under the broiler in your oven on high.
Make sure to watch the pound cake slices like a hawk! It's extremely easy to have the burn if you're not watching them. Let the cinnamon sugar side toast well, until slightly brown and a little crispy and then remove the baking sheet from the oven. Flip the pound cake slices over and put back under the broiler. Remove as soon as they are slightly brown and crispy.
Let them cool slightly and then use a knife to carefully cut them into small "crouton" sized pieces. The insides of the pound cake will still be soft, so be gentle.
After they are cut, return them back to the oven, under the broiler, this time on low heat, to get a little bit more crispy. Remove after about two minutes or they are crispy.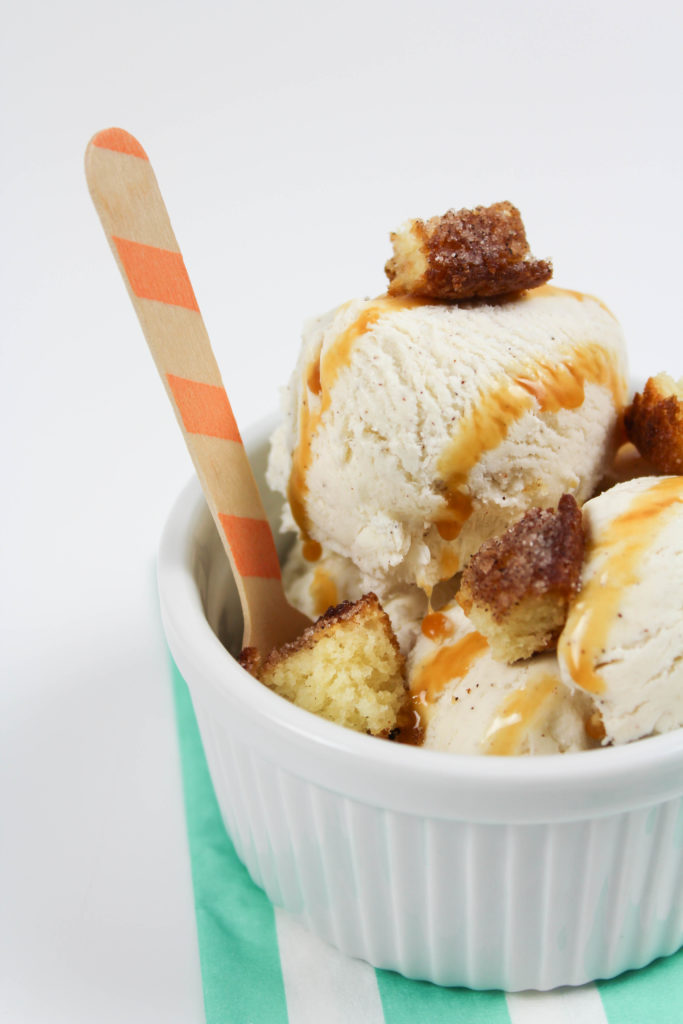 To serve the ice cream, pour a little bit of the caramel into the bottoms of individual bowls. Scoop your ice cream into the bowls and top with another drizzle of caramel. Add some of the toasted pound cake "croutons" and serve!
This tres leches ice cream is delicious and so easy to make! And those pound cake "croutons" add a fun, almost churro-like, crunch to the bowls! You definitely can't pass up this yummy dessert on Cinco de Mayo this year!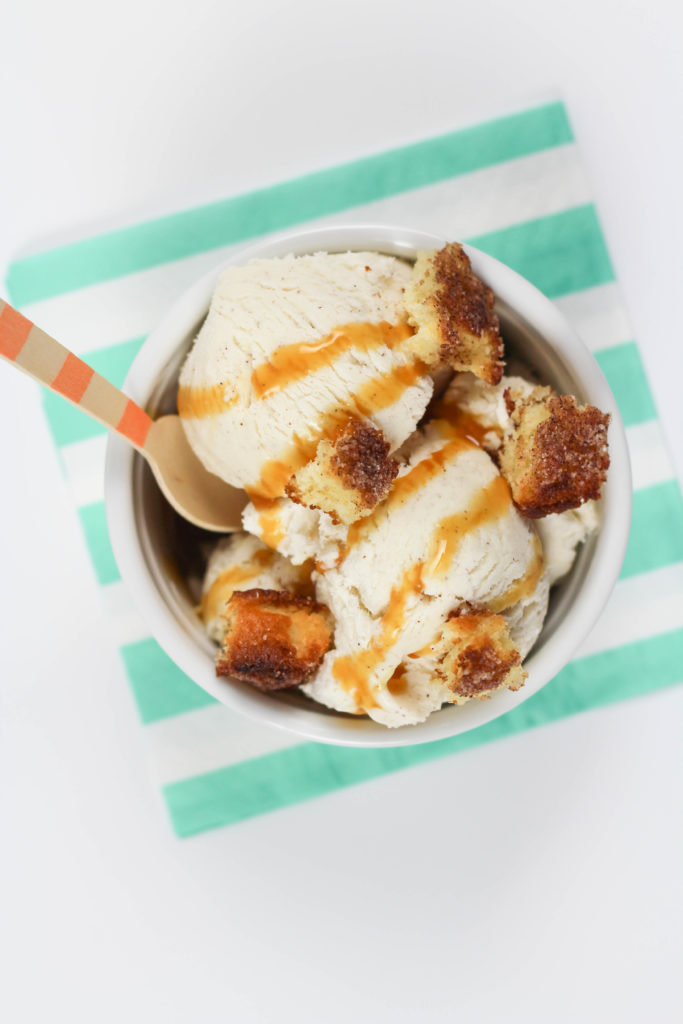 Disclosure
Sponsored posts or gifted items will be fully disclosed, and any thoughts and opinions shared are always honest and my own. Some posts contain contextual affiliate links, from which I may receive a commission on sales should you use them to make a purchase. No matter what, everything you see on Let's Mingle is something I genuinely like and recommend.