Is Fido turning another year older? This dog birthday cake recipe is super easy to make and will get you two paws up from your furry friend!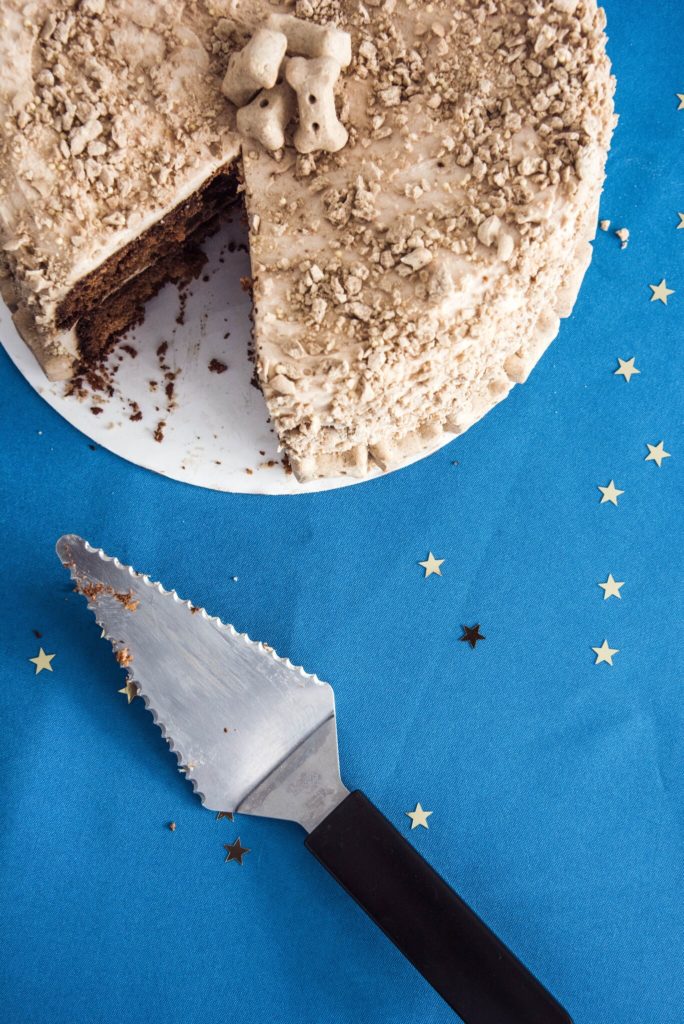 I'm definitely a dog person. I have been my whole life. I'm also a birthday person. Maybe not so much that whole part about turning another year older, but I do love any excuse to get together with friends and family and celebrate over cake, because…CAKE. Enough said there. (And, just for the record, a birthday is not a birthday without cake!) So, as much as my own dogs are a part of my family, you can bet that I'm going to celebrate their yearly milestones too!
Today's dog birthday cake recipe has been given two paws up by my own pugs and is really easy to make. I'm sure the pups in your life will be just as happy to turn another year older too, if they know this cake is on the menu!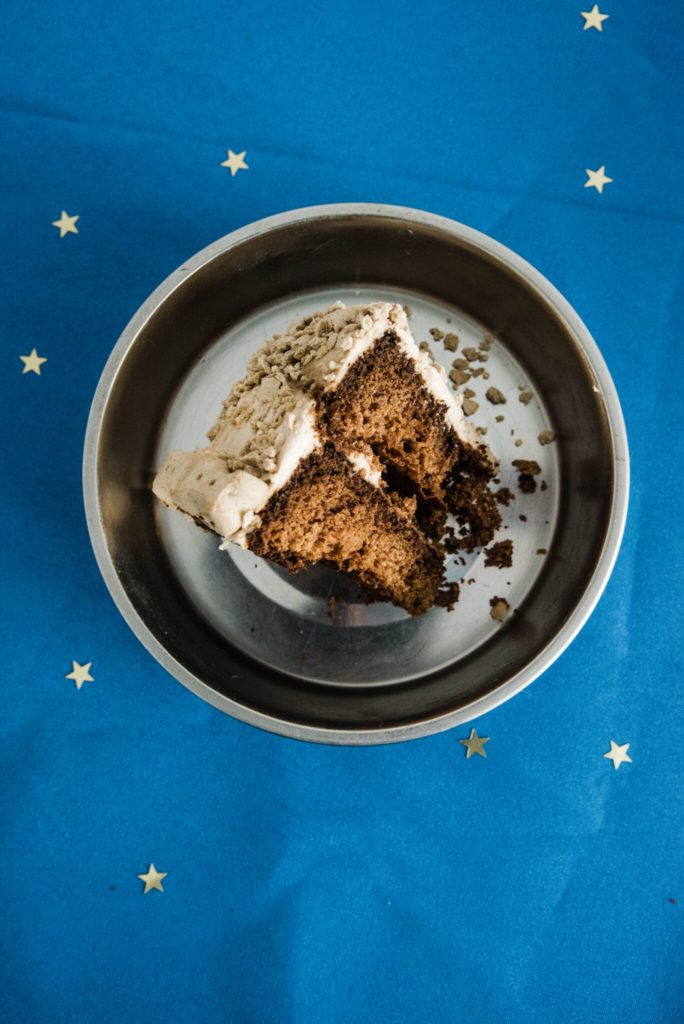 This dog birthday cake recipe uses ingredients that are completely safe for dogs to consume and a great way for them to get some additional fruits and veggies too. (Ha!) But, if you have any concerns, or if your dog requires a special diet, skip the recipe to ensure your dog stays healthy. Fido won't know the difference anyway!
(I made a double layer cake in this post. If you want to recreate the same size, make sure to double the ingredients and make two separate cakes. Doubling the frosting will also give you enough to frost two cake layers instead of one!)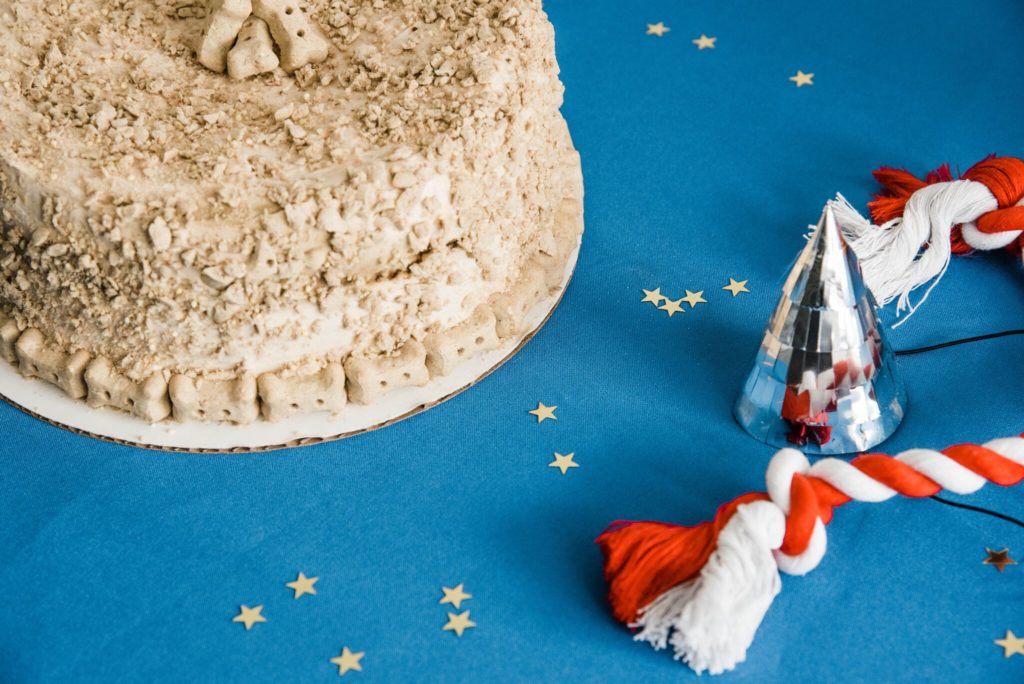 Here's what you'll need to make your own:
Cake –
1 Cup White Flour
1 Cup Baking Soda
1/4 Cup Smooth Peanut Butter
1/4 Cup Applesauce
1/2 Cup Shredded Carrots
1/2 Cup Grated Sweet Potato
1 Tsp. Vanilla
1/3 Cup Honey
1 Egg
Frosting – 
1 (8 oz.) Package Cream Cheese
1 Tbsp. Honey
1 Tbsp. Smooth Peanut Butter
Splash of Water
Bones for Garnish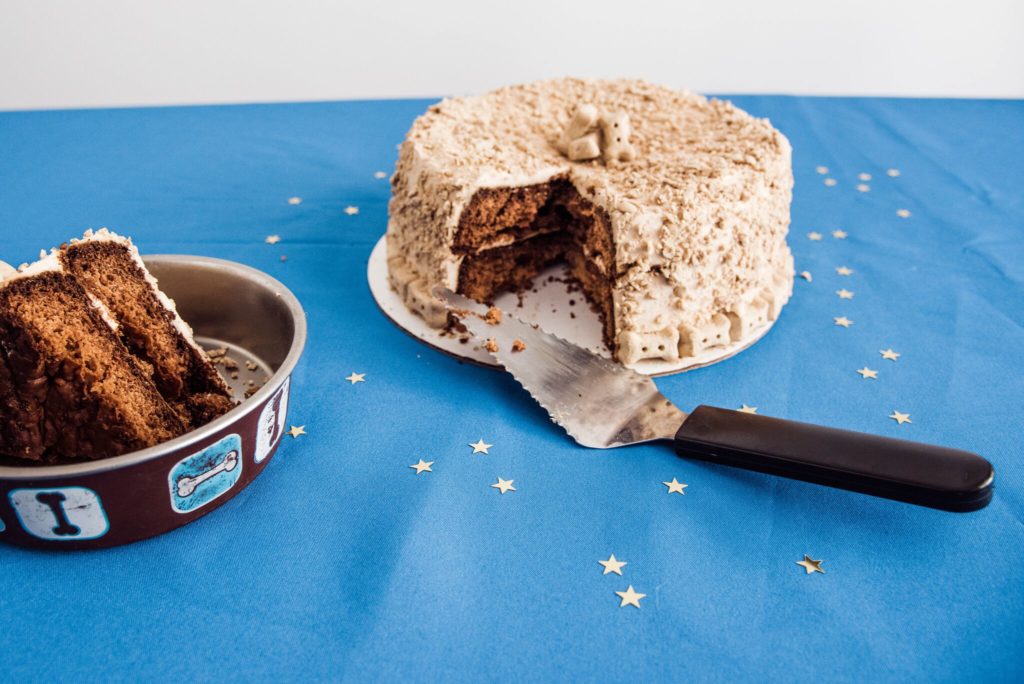 First, preheat your over to 350 degrees.
In a bowl, combine the white flour and baking soda and mix well.
Add all other ingredients and mix by hand.
Place the batter into a greased cake pan and bake for 35 minutes.
Remove from the oven and allow the cake to cool completely on a baking rack before applying the frosting.
To make the frosting, combine all of the ingredients in a bowl and mix.
Add splashes of water, as needed, until the frosting reaches a spreadable consistency.
If you are making a stacked birthday cake, spread a layer of frosting on the top of one cake layer, before placing the second layer on top, so that you'll have a layer of frosting in the middle of your two cakes.
Gently spread the frosting onto the sides and top of your finished cake to cover the baked cake layers.
You can use candles, little dog treats, or even crushed bones (like I did), to coat the outer layer of the frosting or to decorate the top of your finished cake.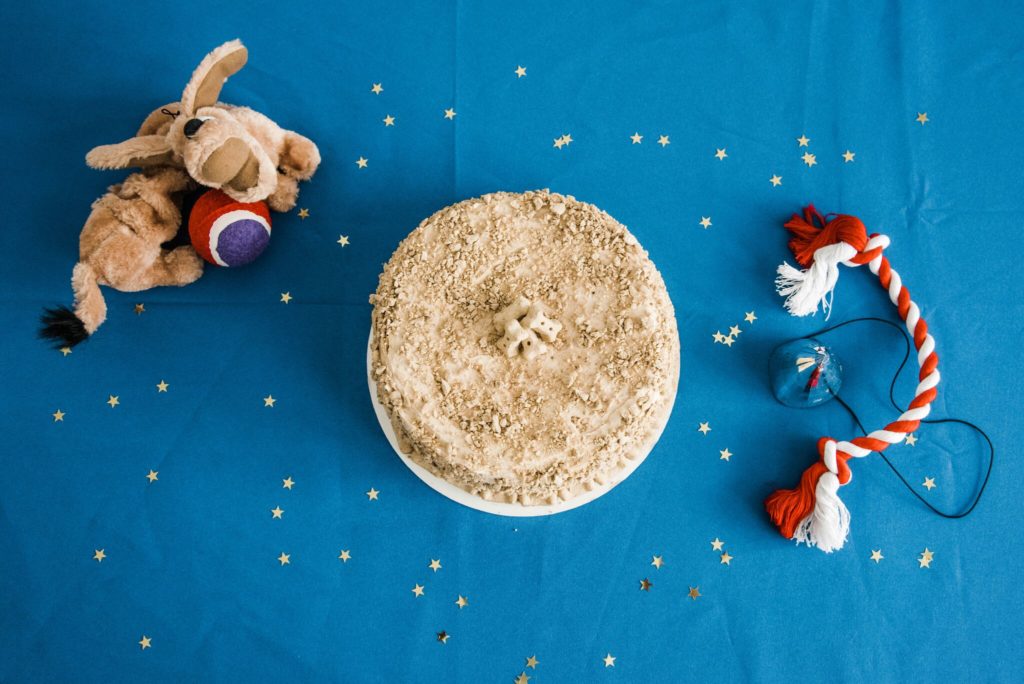 Keep in mind, that this dog birthday cake recipe is definitely dog safe and a yummy treat, but serve small portions to your pet and make sure to watch for any issues your dog may have after consuming the cake. If have any doubts about serving this cake to your dog, double check with your vet first!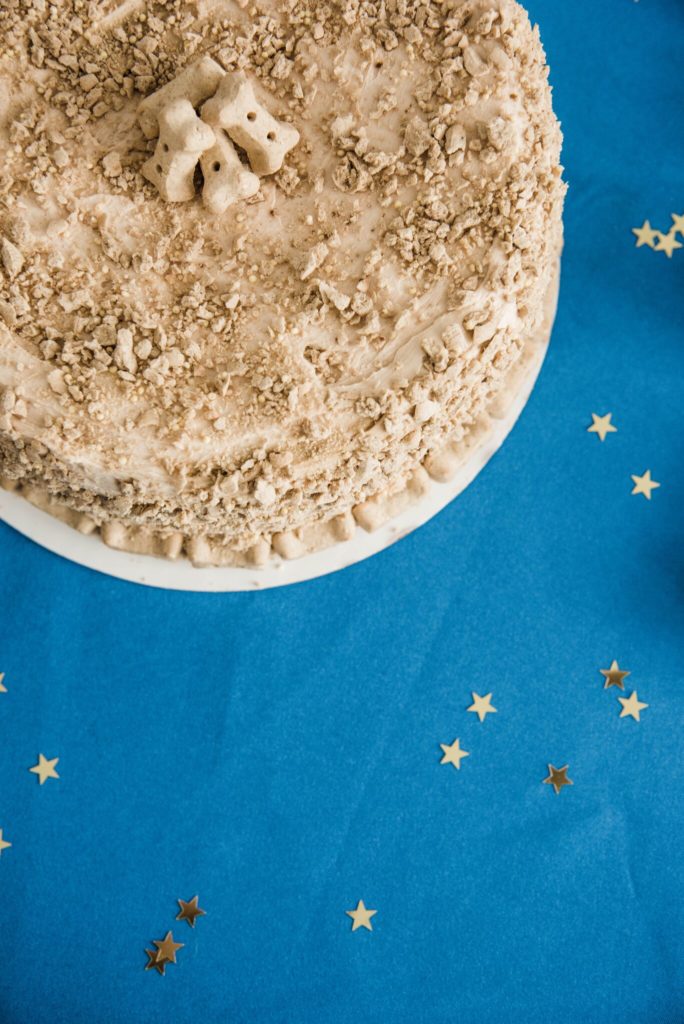 Photography by Taylor Grayson
Disclosure
Sponsored posts or gifted items will be fully disclosed, and any thoughts and opinions shared are always honest and my own. Some posts contain contextual affiliate links, from which I may receive a commission on sales should you use them to make a purchase. No matter what, everything you see on Let's Mingle is something I genuinely like and recommend.