Chocolate Sprinkle Donut Fries
No one will be able to resist these chocolate sprinkle donut fries, complete with a printable donut themed fry container! Just in time for national donut day!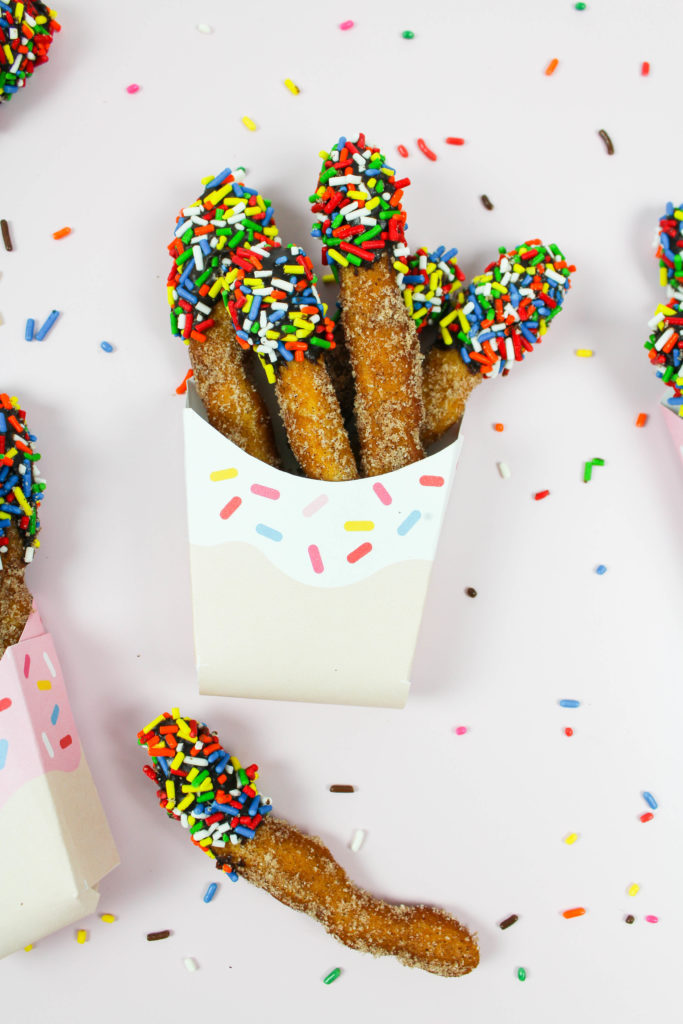 Guys, there aren't many things that top my happy list more often than donuts. They are one of my fave treats and have been for as long as I can remember. There's just something so satisfying about those golden fried (or baked…if you're going for healthy…) round pastries with holes in the middle and sprinkles on top. Don't ask me how a pastry can make me so happy, but it does and I'm not about to question it! With national donut day only two weeks away, I wanted to create something fun and different that will elevate your donuts to a whole other level. May I introduce you to…drum roll please….chocolate sprinkle donut fries!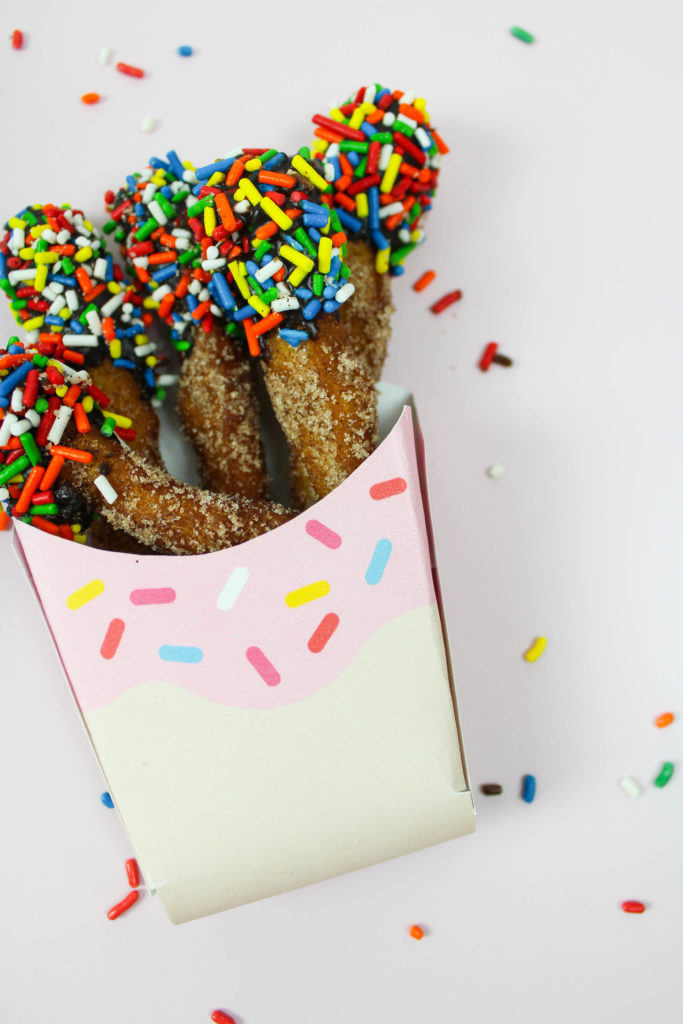 These chocolate sprinkle donut fries are a breeze to make, plus I'm sharing a free printable fry container that is the CUTEST way to serve them! No one will be able to resist these little containers of deliciousness.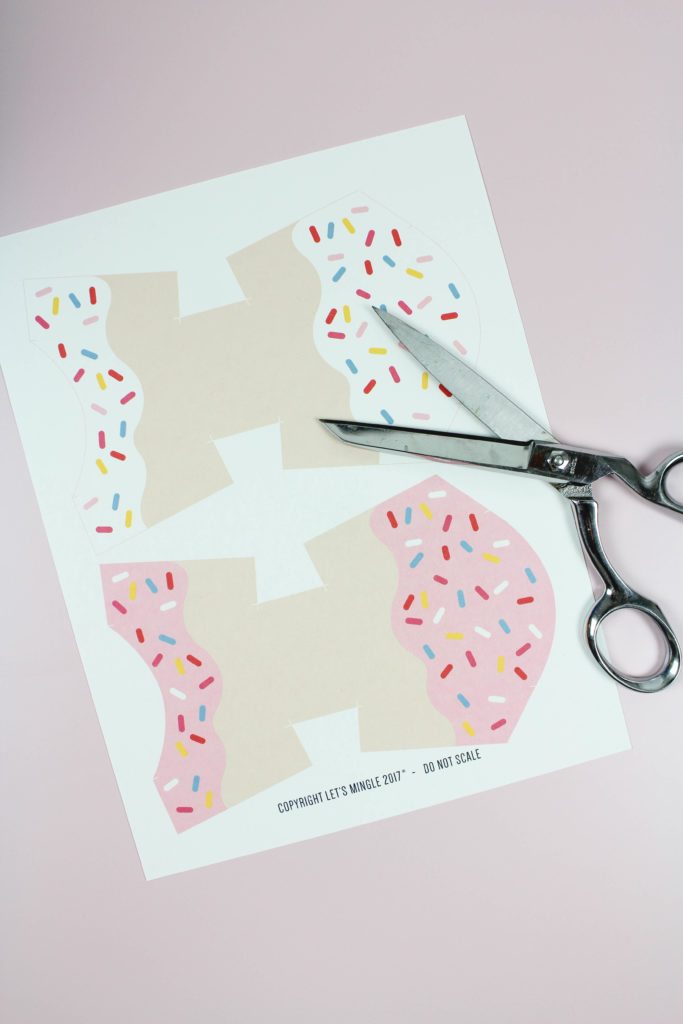 Here's what you'll need to make your own:
1 Can of Biscuit Dough
1 Bottle Vegetable Oil
Cinnamon
Sugar
Bag of Mini Chocolate Chips or Chocolate Candy Candy Coating
Sprinkles
Printable Donut Fry Containers File
Begin by rolling out the biscuit dough into a flat sheet.
Cut 3-inch strips from the sheet.
Roll each individual strip into a cylinder shape. Keep them a bit smaller than you want, because they will increase in size when fried.
In a pot, add vegetable oil until you have about 2 inches worth on the bottom of your pot. Heat the oil until it reaches 350 degrees.
Slowly drop a few strips of dough into the oil at a time and fry until they reach a golden brown color, about 1-2 minutes on each side.
Drain on a paper towel and then coat with a cinnamon sugar mixture. (Just combine equal parts sugar and cinnamon until you have enough to coat all of your finished donut fries!)
Melt your candy melts (or chocolate) according to the instruction on the package or using this method.
Dip the ends of your donut fries into the melted chocolate and then immediately coat the chocolate ends with sprinkles of your choice.
Allow the chocolate to dry completely.
Next, print out the printable donut fry container file and cut them out. Using the "score lines" on the printable, fold those edges and tape the sides together to create the container.
Pop your finished chocolate sprinkle donut fries into the containers and serve!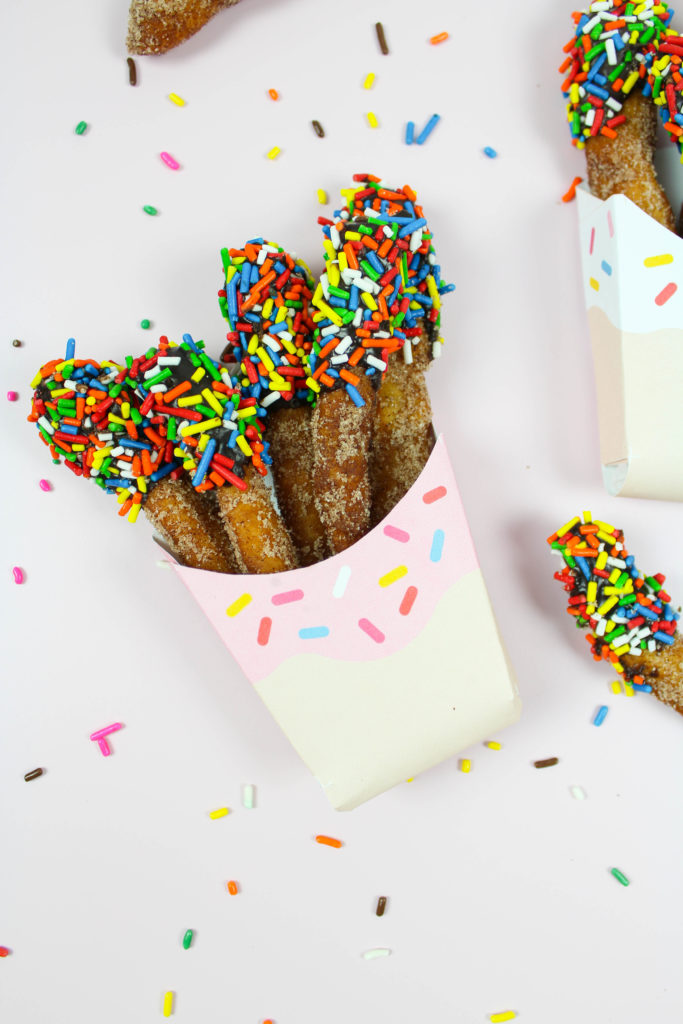 So cute and oh, so easy!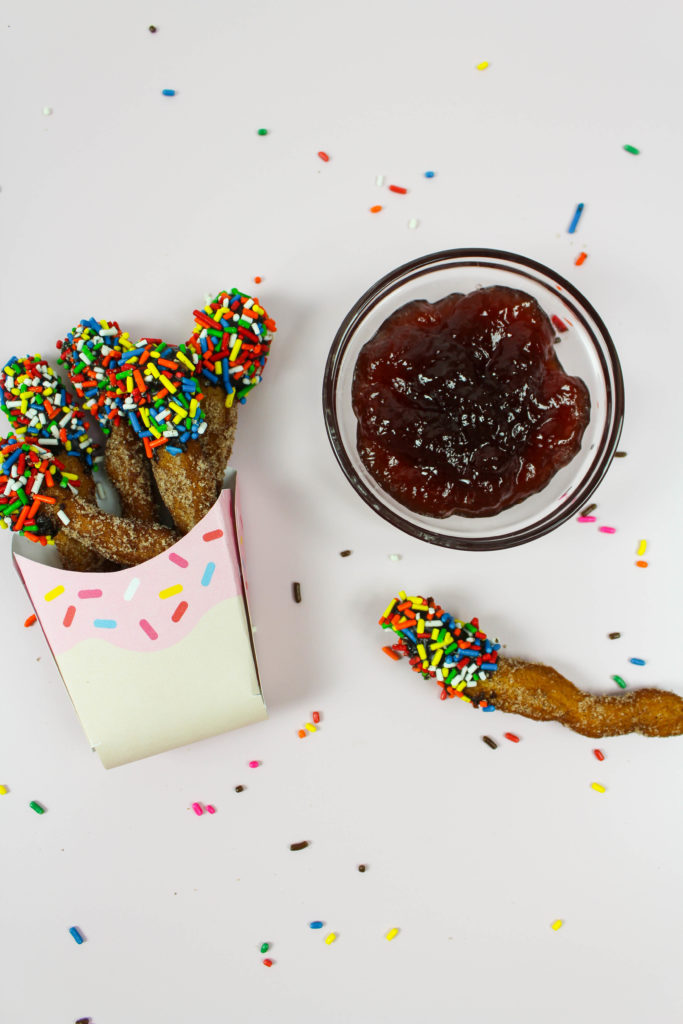 I chose to dip my donut fries in, you guessed it, chocolate, but you can easily switch that out for vanilla, caramel, or even strawberry flavored candy melts. For a fun touch, serve them with a side of "ketchup", aka strawberry jelly to dip them in!
If you are looking for some other fun donut projects to celebrate national donut day, check out this post, this post, and this post!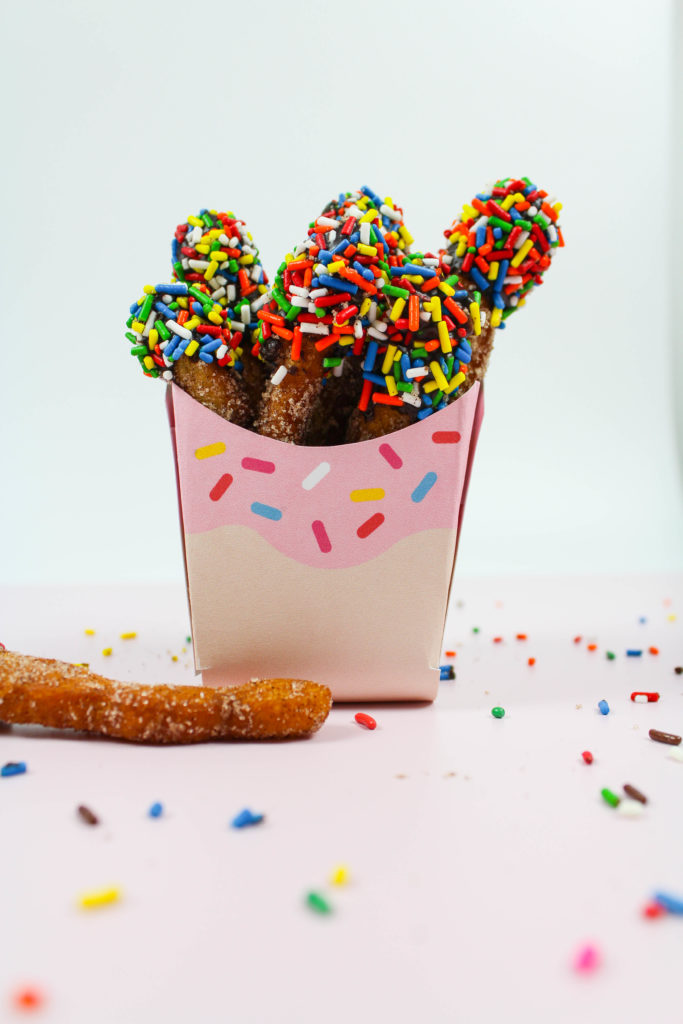 Recipe adapted from Spoon University.
Disclosure
Sponsored posts or gifted items will be fully disclosed, and any thoughts and opinions shared are always honest and my own. Some posts contain contextual affiliate links, from which I may receive a commission on sales should you use them to make a purchase. No matter what, everything you see on Let's Mingle is something I genuinely like and recommend.