Harry Potter Butterbeer Birthday Cake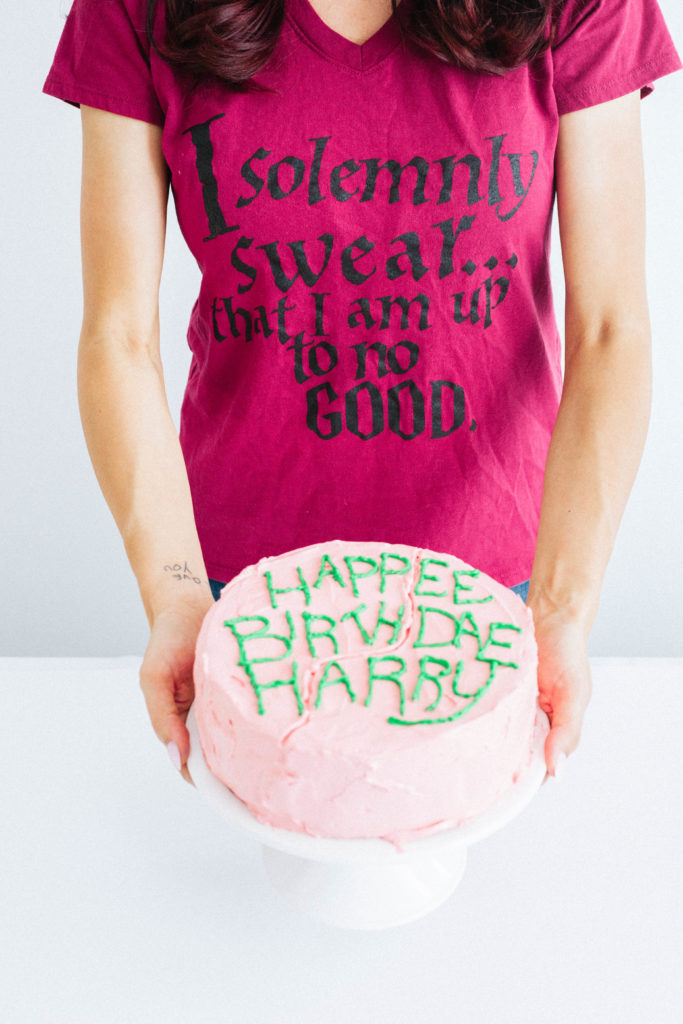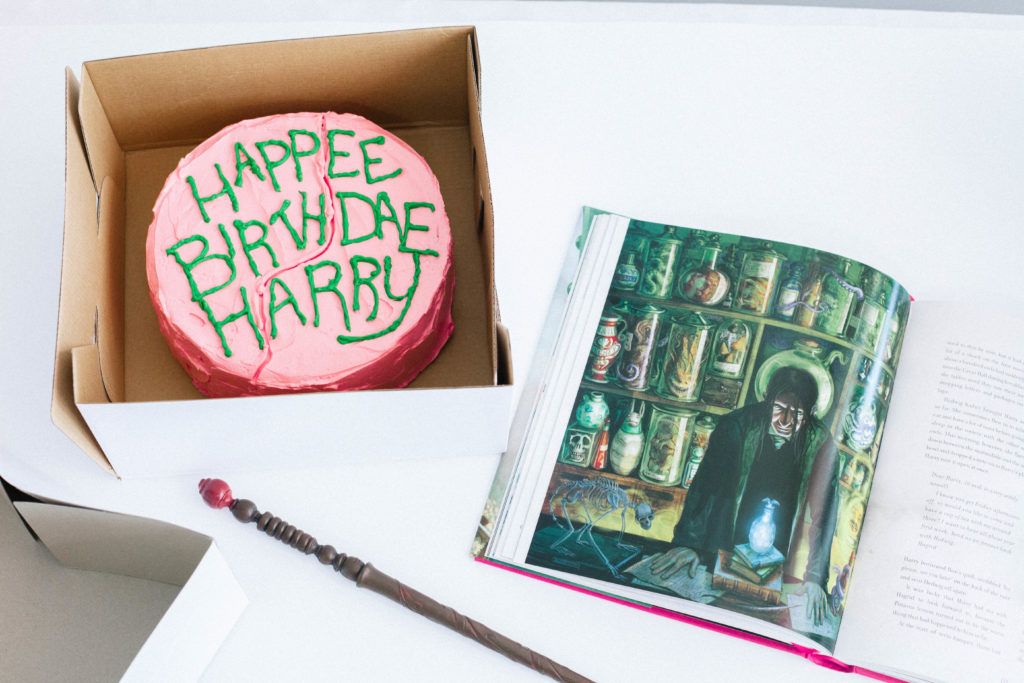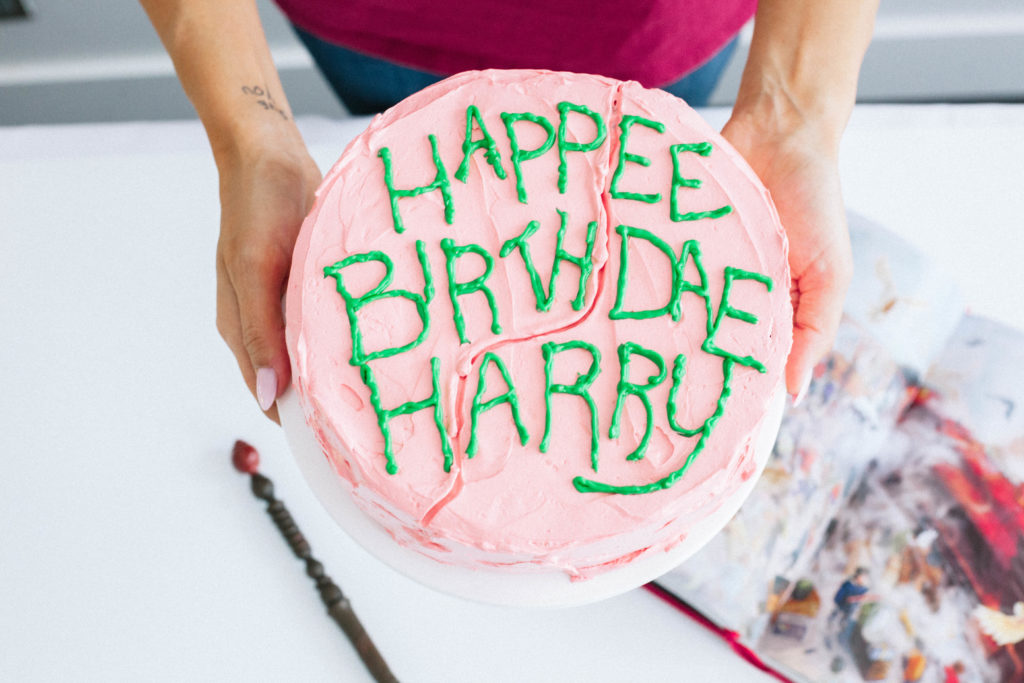 July is full of many important dates, but there is one that remains one of my very faves. It's July 31st and for my fellow Harry Potter fans, you know EXACTLY what this date symbolizes…the one and only birthday of Mr. Harry Potter, himself. It just didn't seem right not to do something festive, so in true Let's Mingle fashion, I whipped up a Harry Potter Butterbeer Birthday Cake to celebrate!
This cake is decorated to be a replica of the birthday cake that Hagrid gives to Harry for his eleventh birthday, but I did switch things up a little bit to up the ante. Instead of the traditional chocolate cake that he's given in the book, I went with a butterbeer cake, because BUTTERBEER. No brainer there.
But enough talking, let's get to the good stuff.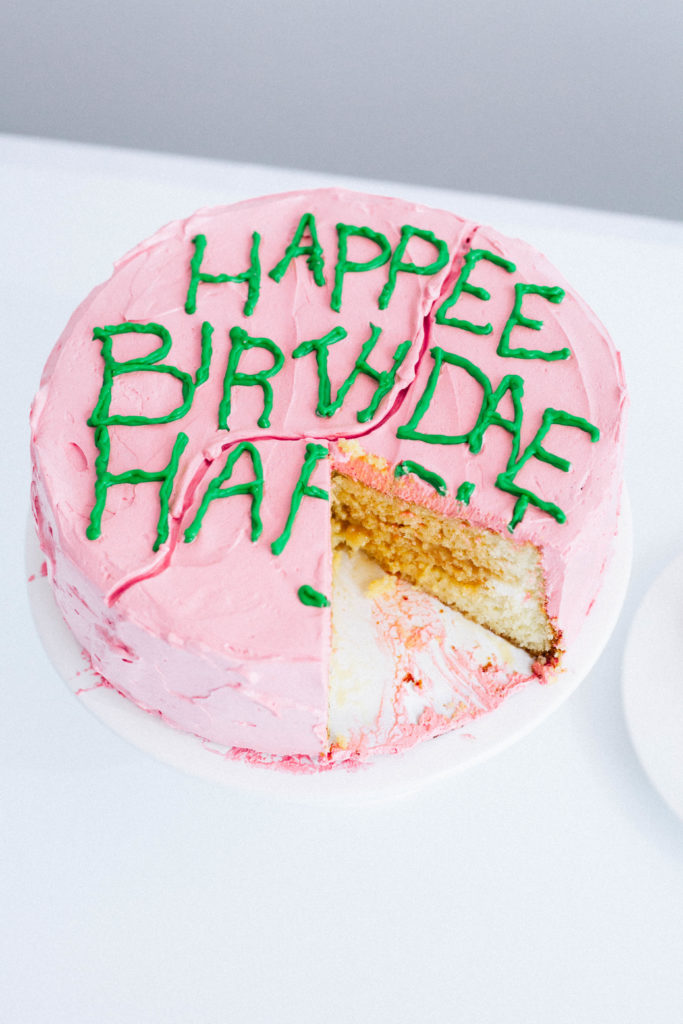 Here's what you'll need to make your own:
Cake – 
1 Box Butter Golden Cake Mix (I used Duncan Hines)
1 Cup of Cream Soda
8 Tbsp. Softened Butter
4 Large Eggs
1 Cup Mayonnaise
Filling – 
1 Cup Butterscotch Chips
1 Can (14 oz.) Sweetened Condensed Milk
4 Tbsp. Butter
Frosting – 
1 Cup Sugar
1/2 Cup Egg Whites
1 Lb. Unsalted Butter, Softened
1 Tsp. Vanilla Extract
Gel Food Coloring (I used Americolor "Deep Pink", "Gold", "Burgundy", and "Leaf Green")
Powdered Sugar (To add to remaining frosting for lettering)
Preheat your oven to 350 degrees.
Line two 8″ or 9″ cake pans with parchment paper and spray with cooking spray.
Combine all cake ingredients and beat at medium speed for 4 minutes in a stand mixer or using a hand mixer.
Pour the batter into the prepared pans and bake for 25-30 minutes, or until a toothpick can be inserted in the middle of the cakes and come out clean.
For the filling, combine butterscotch chips, sweetened condensed milk and butter in a small saucepan. Bring to a gentle boil over medium heat, stirring frequently until smooth.
Allow to cool for about 10 minutes.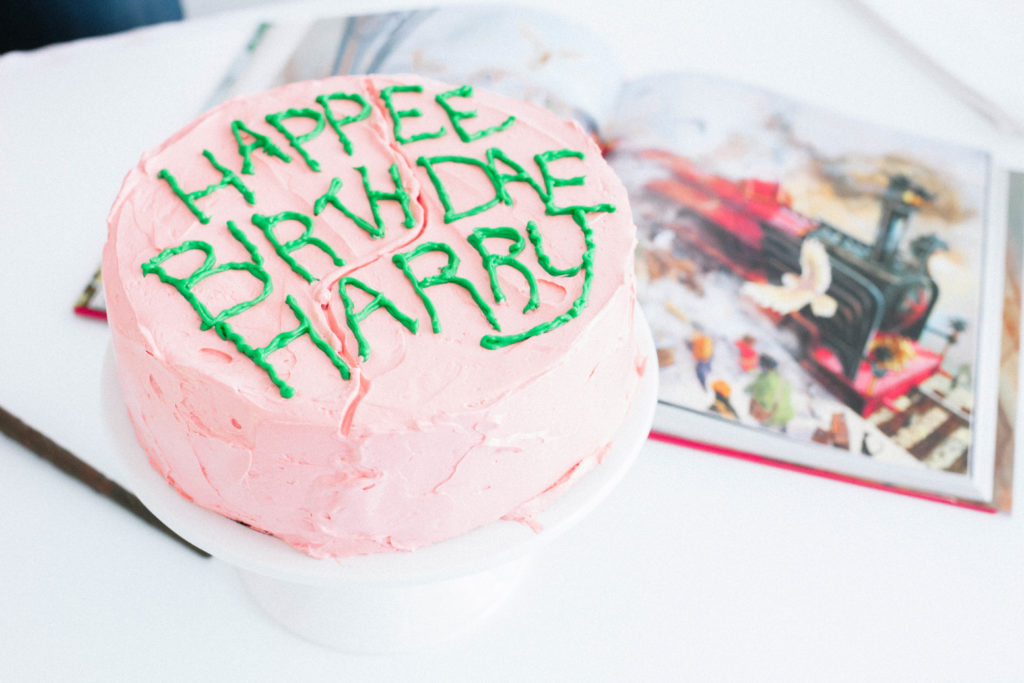 For the frosting, combine sugar and egg whites and heat over a double boiler, whisking constantly until sugar is completely dissolved and hot to the touch.
Transfer to a mixing bowl and beat on high until the meringue is cool and forms stiff peaks.
Slowly add the butter while mixing at medium speed. When all the butter is added, frosting should be smooth and creamy. Add the vanilla and blend.
 Assembling the Harry Potter butterbeer birthday cake is easy and fun.
Torte and fill
the cake. Keep in mind that it doesn't need to be perfect, in fact, uneven and sloppy is better for this one!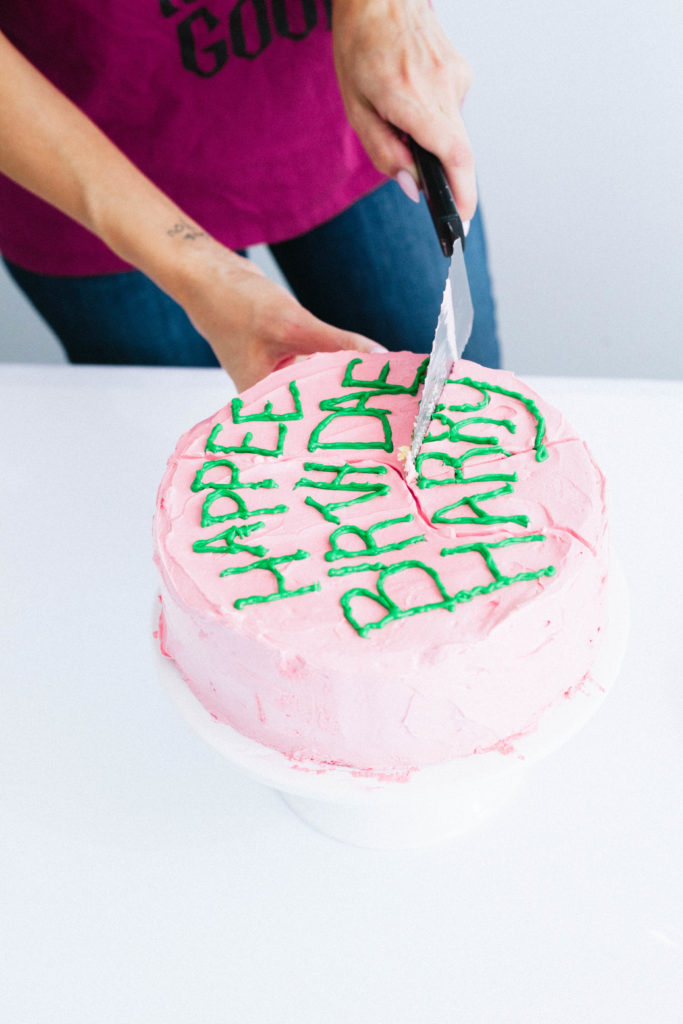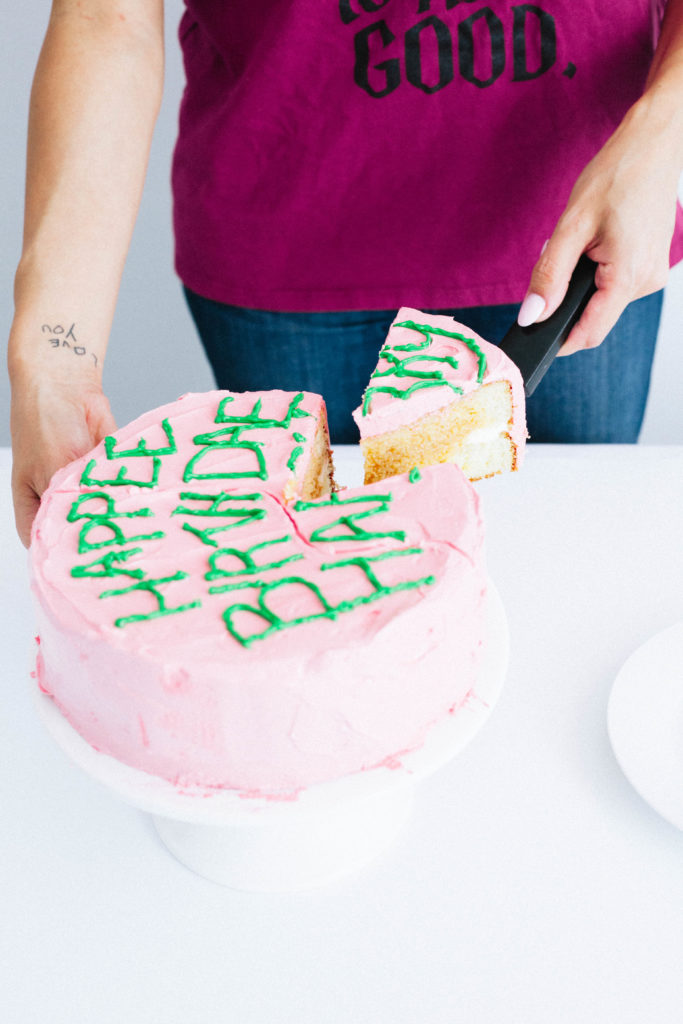 Add gel food coloring to the buttercream frosting (reserve a small amount of your frosting for the lettering). To create this shade of pink, I used Americolor "Deep Pink", "Gold" and "Burgundy", but you can experiment with any pinks, reds, and browns that you have on hand.
Using a spatula or knife, cover the cake in a sloppy fashion (channel your inner Hagrid!)
Tint your remaining buttercream green and add a small amount of powdered sugar so that your letters don't slide off the cake (or you can use royal icing instead).
Using a piping bag with a small round tip, write "HAPEE BIRTHDAE HARRY" in a sloppy, shaky fashion.
Using a butter knife or toothpick, draw a jagged line through the center of the cake and you're done!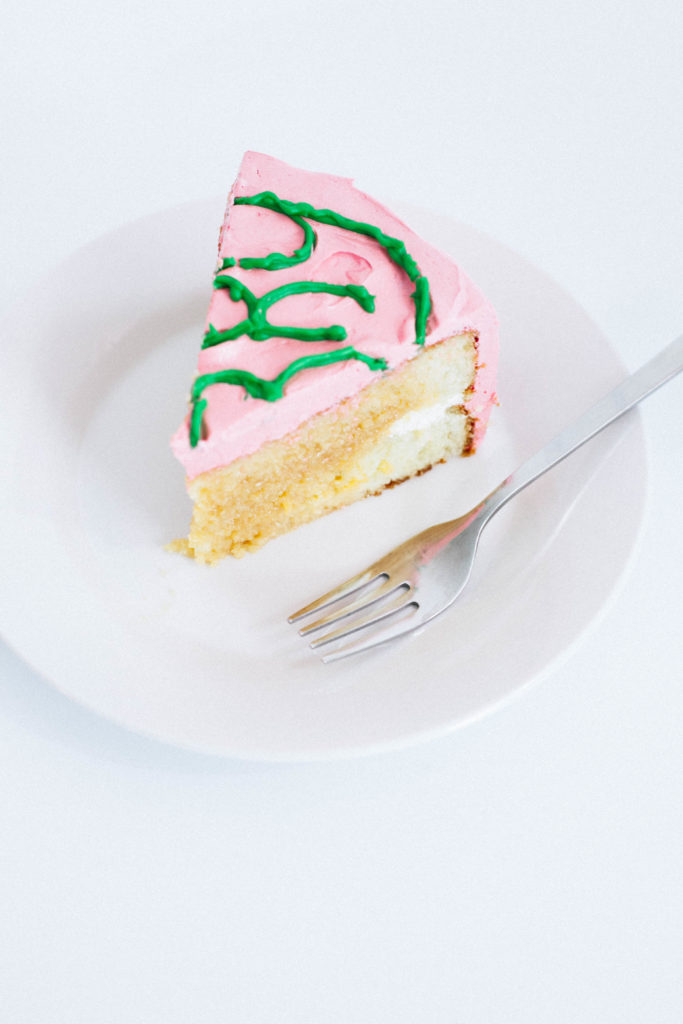 All that's left to do it eat this little baby and celebrate Harry's birthday in style.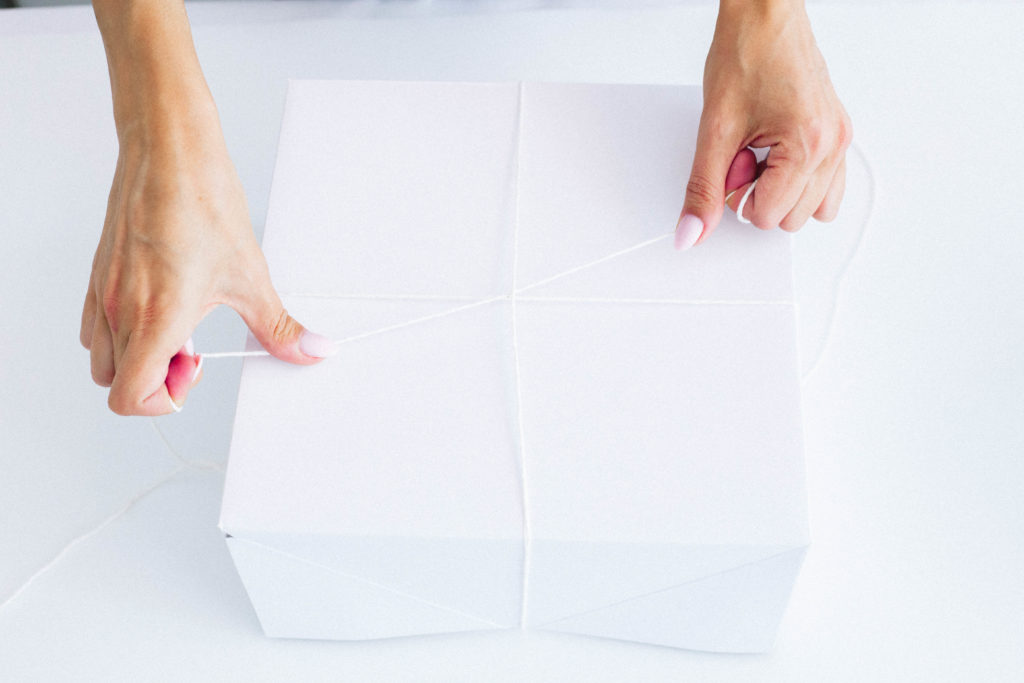 If you want to gift this cake to a Harry Potter fan for a birthday or special occasion, make sure to package it in a bakery box and tie it with twine for the full effect. Bonus point for squishing it into the side of the box a little bit too 😉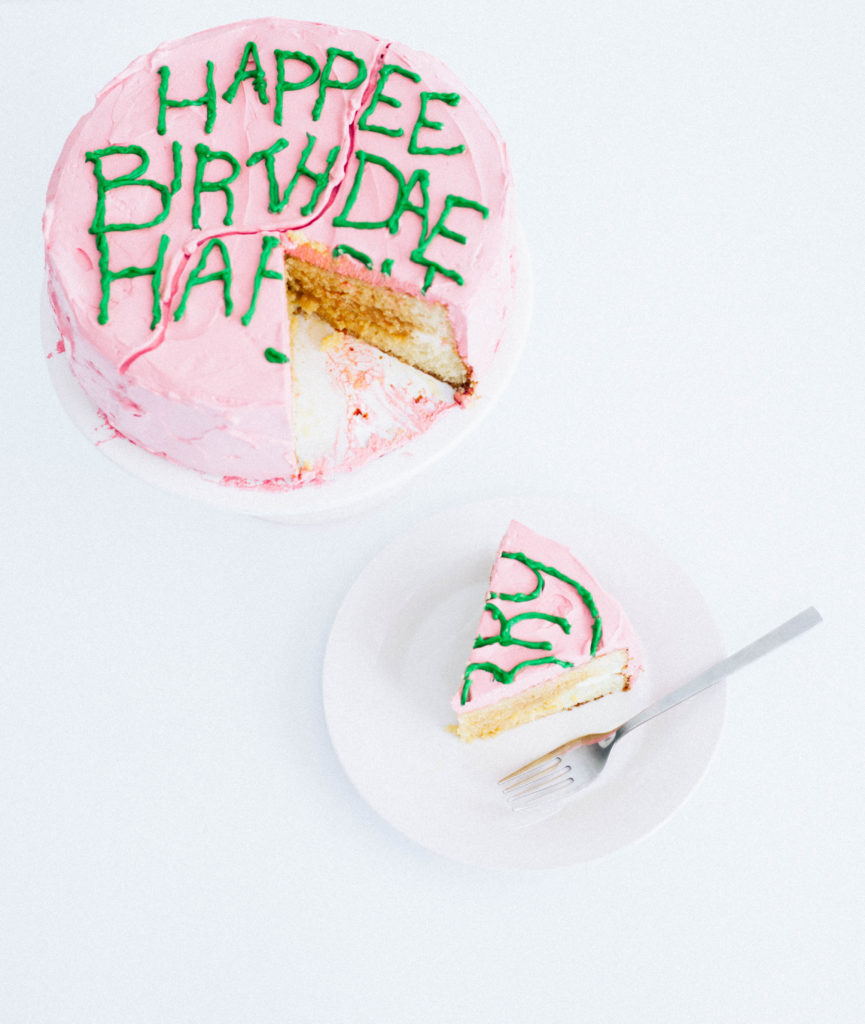 And, guys, this Harry Potter butterbeer birthday cake really is THAT good. But don't forget to share…the last thing you want to end up with is a pig tail!
Disclosure
Sponsored posts or gifted items will be fully disclosed, and any thoughts and opinions shared are always honest and my own. Some posts contain contextual affiliate links, from which I may receive a commission on sales should you use them to make a purchase. No matter what, everything you see on Let's Mingle is something I genuinely like and recommend.