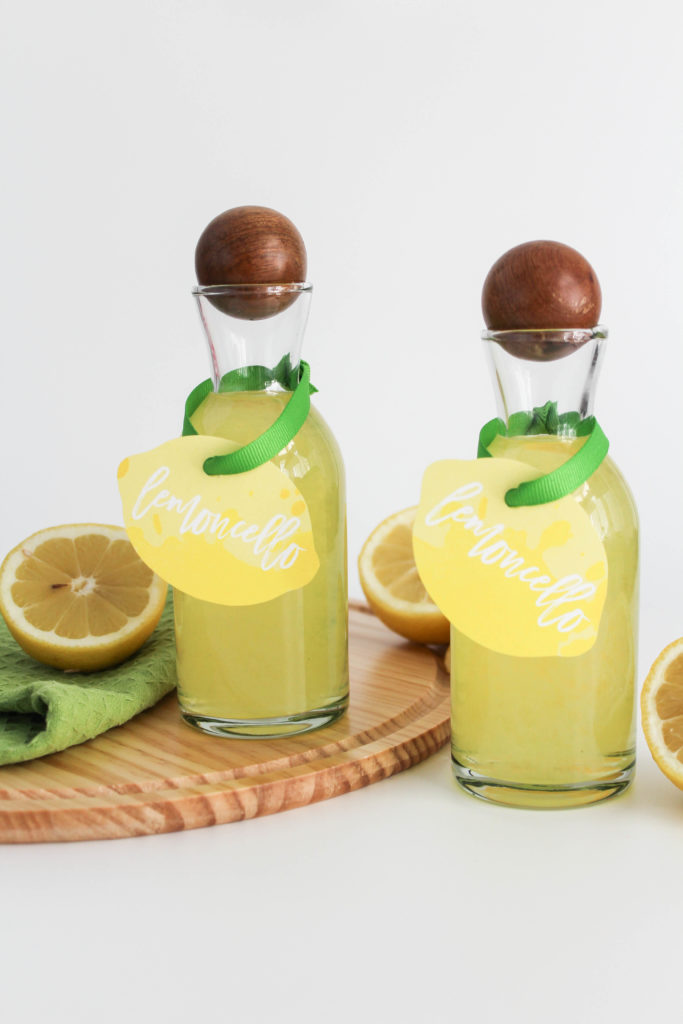 It's crazy to think that holiday season is right around the corner. I still can't even accept the fact that Summer passed in the blink of an eye. (It must be a tell-tale sign of getting old). As October hits and our schedules start getting busier and busier, we have less time to think about gift ideas. With endless events, parties, birthdays, and holidays, they can sneak up on us and leave us scrambling. But, with a little prep work, or a saved pin on your pinterest board for later, you can store ideas away and be prepared well in advance this year! Today's recipe works for just about any gift idea, and honestly, you can just keep it on hand at home, ready to pour when you have house guests stop by. This limoncello recipe is easier than pie, but it does take some patience and a little bit of time before it's ready to sip.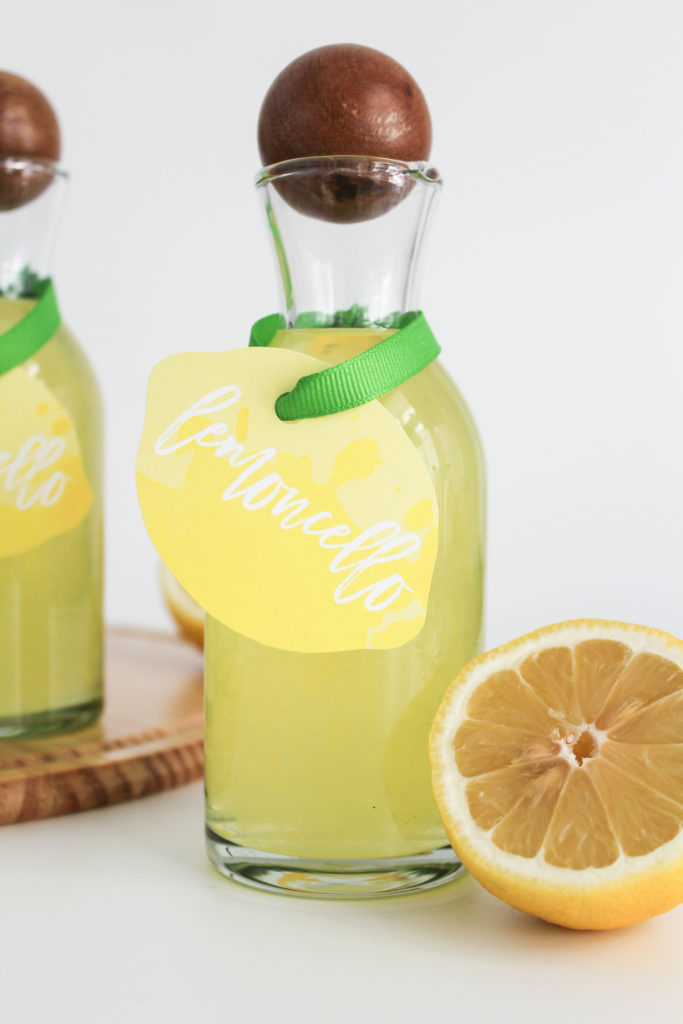 For those of you that may have never heard of limoncello before, it's an Italian lemon liquor that is mainly produced in southern Italy. (It's the second most popular liquor there!)
It's made using lemon peels, clear liquor, and simple syrup and is generally served chilled as an after dinner sip.
And guess what….? It's super easy to make your own!
It also bottles up perfectly for gifts and I'm even providing some adorable little gift tags for you guys too! Win/win!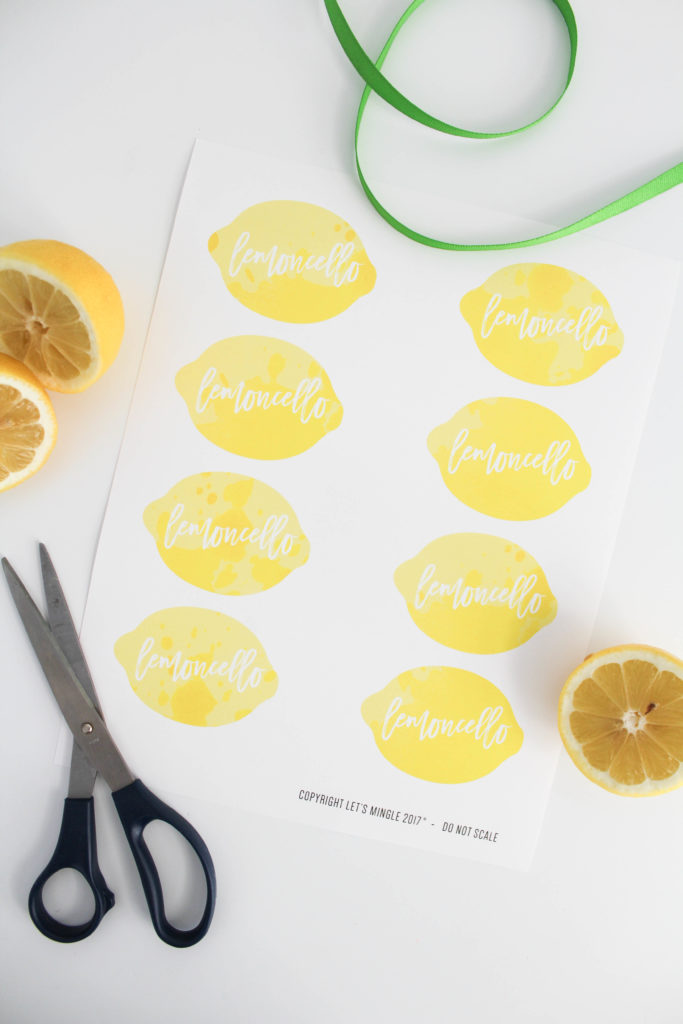 Here's what you'll need to make your own:
Mini Bottles or Jars
1 (750 ml) Bottle of Vodka
3 1/2 Cups Water
2 1/2 Cups Sugar
10 Lemons
Ribbon
Limoncello Printable Tags
Begin by removing the peel from the lemons in strips, with as little pith as possible. (The less pith you have on your peels, the less bitter your limoncello will end up!) I used a vegetable peeler first and then trimmed the extra pith away with a small knife.
Place all of your lemon peels into a large pitcher or container.
Pour the vodka in with your lemon peels and cover with plastic wrap or a lid. (I prefer to use a container that has a top that will seal, especially if you plan on having your peels steep for longer than one week.)
Steep the lemon peels in the vodka for at least one week, or up to 4 weeks, at room temperature, in a cooler, darker space, like a pantry or basement. The longer you choose to steep your peels, the more lemon flavor your alcohol will have).
Once your peels have steeped for as long as you prefer, it's time to make add some sweetness!
Add your water and sugar into a large saucepan and stir over medium heat until the sugar dissolves. Allow the mixture to cool completely. Once cooled, pour the sugar mixture into the vodka mixture. Cover the mixture again and allow it settle in the same cooler, darker space overnight, or for up to one week.
Once your limoncello has settled, strain the mixture and discard the peels. You can also strain the mixture a second time, through a coffee filter to eliminate more remnants.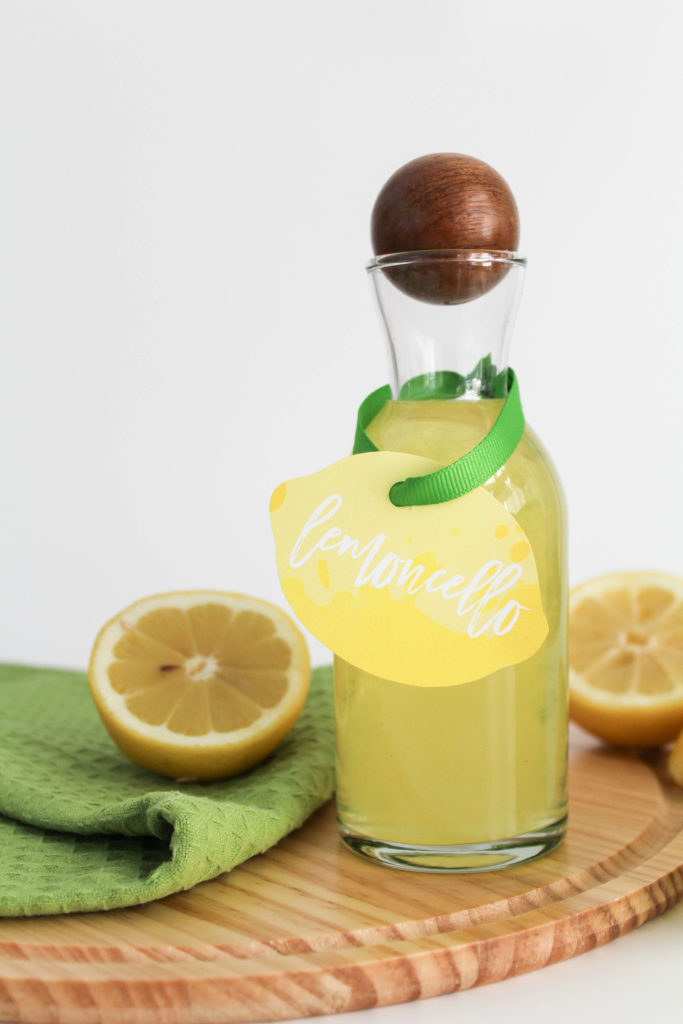 Pour the finished limoncello into small bottles or jars. Seal them and refrigerate them until cold.
It will last up to one month in the fridge and even longer in the freezer.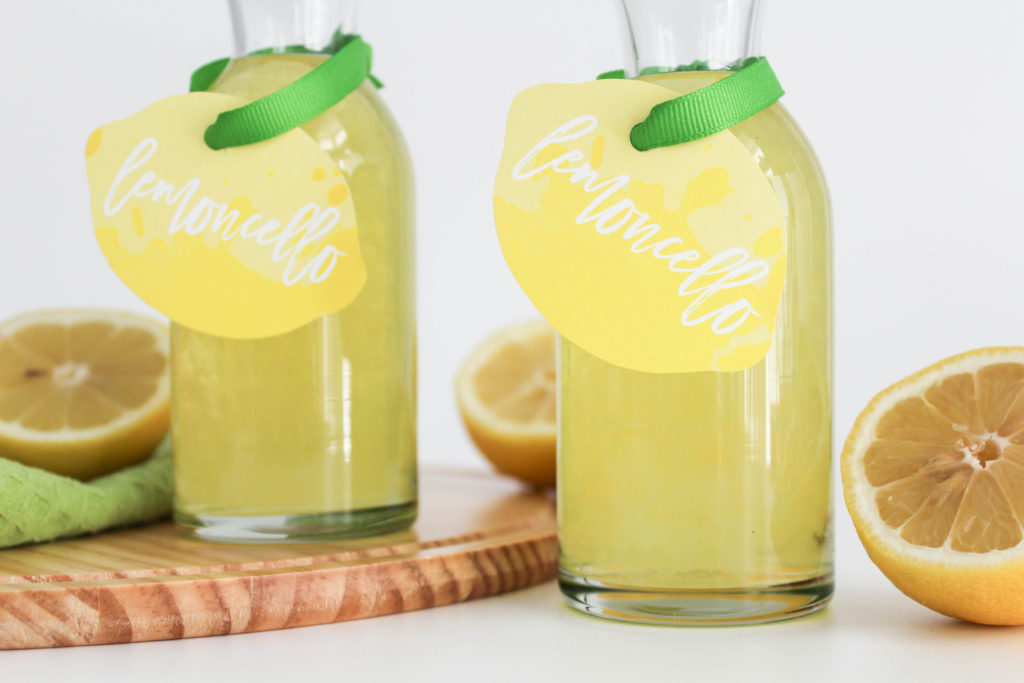 Add the lemon tags onto each bottle, using a hole punch and ribbon, and give them out as gifts or enjoy them all to yourself! They would make the perfect little addition to a gift basket!
Disclosure
Sponsored posts or gifted items will be fully disclosed, and any thoughts and opinions shared are always honest and my own. Some posts contain contextual affiliate links, from which I may receive a commission on sales should you use them to make a purchase. No matter what, everything you see on Let's Mingle is something I genuinely like and recommend.