Tailgating with Dr Pepper
Brought to you by Dr Pepper® and Albertsons Companies.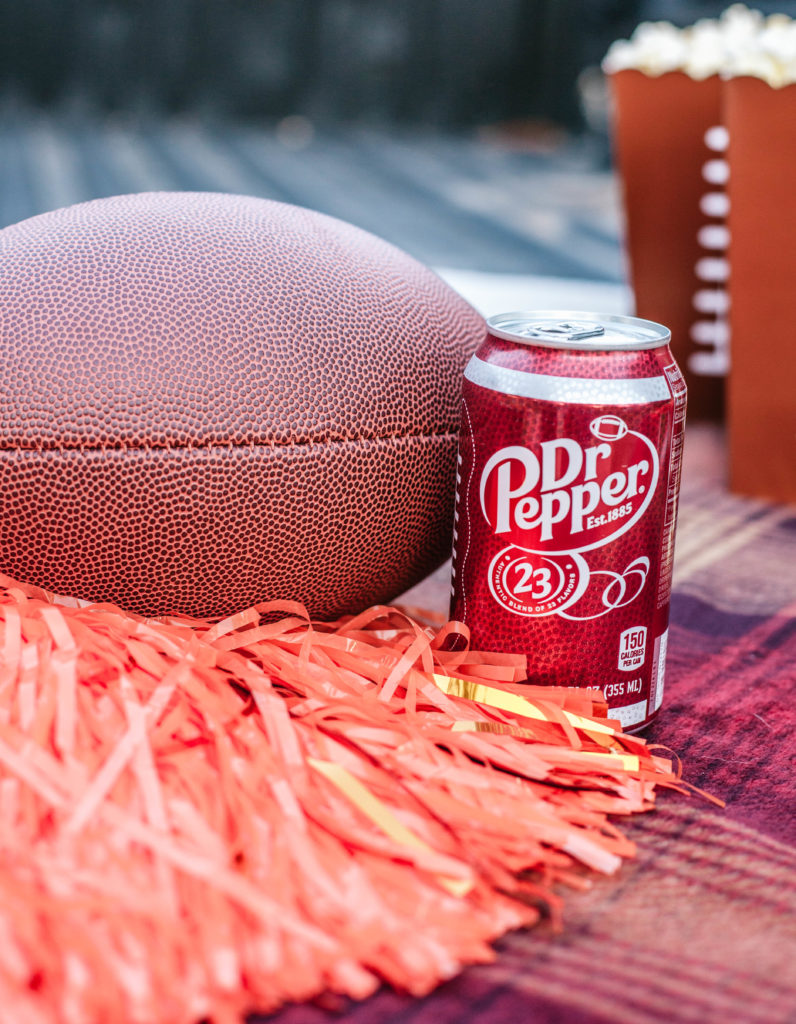 College football season is finally here and I couldn't be more excited! I'm a huge football fan and there's just something about hanging out with friends and family before a game, grilling, eating, catching up, and enjoying each other's company over some football!
I'm planning some epic gatherings this season and I'm planning all of my tailgating with Dr Pepper®! It's one of my favorite beverages, and it's easy for me to pack up and serve to all of those thirsty fans!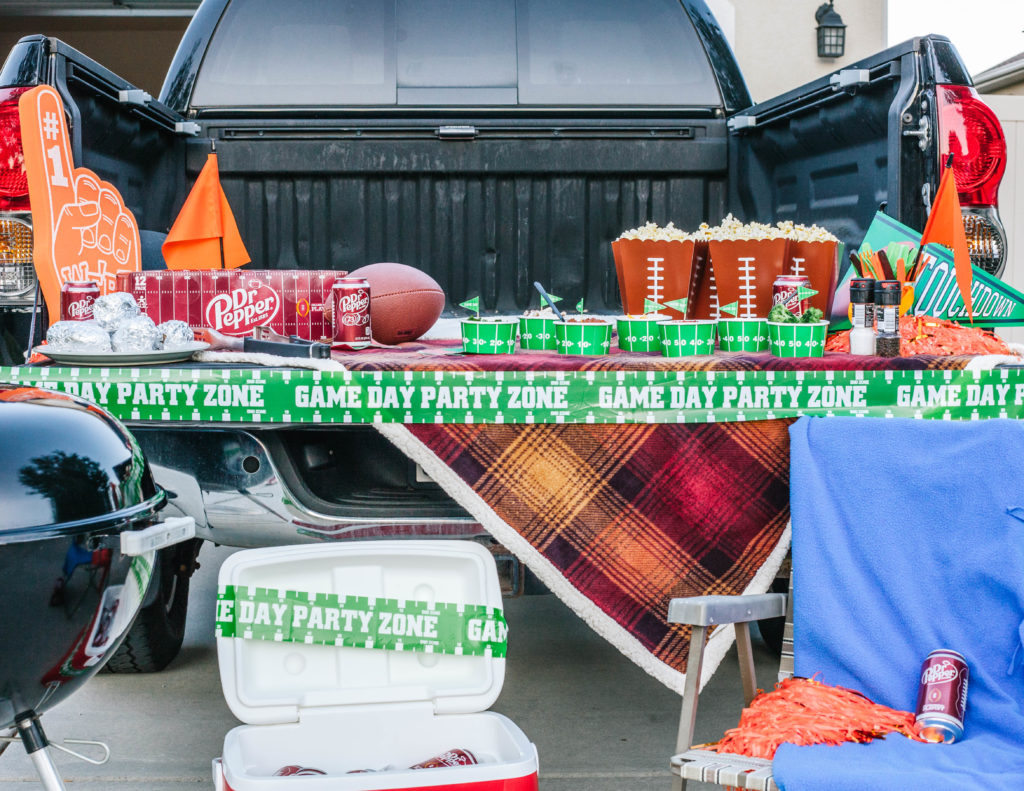 The thought of tailgating can seem a little overwhelming sometimes, especially when planning for a large crowd, but keeping things simple and easy is the way you'll score a touchdown this football season! You don't have to sacrifice on taste or fun just because everything has to be transported!
I picked up all of my tailgating supplies from my local Albertsons Super Saver store in Salt Lake City, and they have everything (and more!) that I need to keep my tailgate stocked and ready for a hungry crowd!
Folding tables are a quick way to add some additional surface space and don't take up a lot of room to pack either! Also, don't be afraid to use the back of your car or truck bed as more surface space to store items or use as prep or serving space.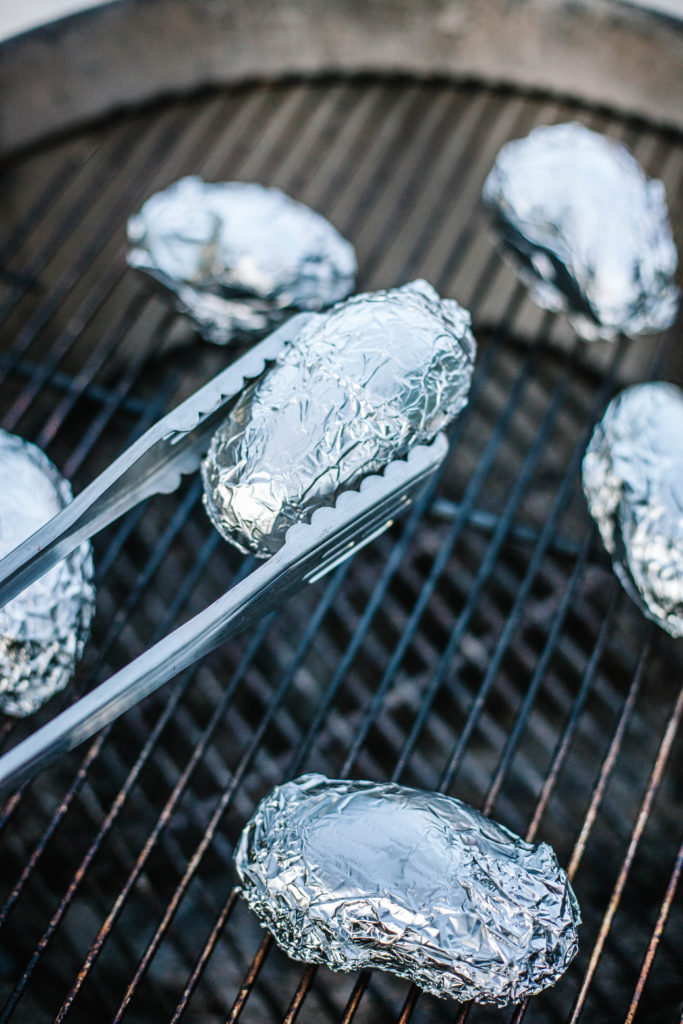 When it comes to planning out your menu, stick to foods that are easy to prepare and easy to eat on the go as well. (And easy to plan and pack for!) I try to stick to a menu that is simple, but at the same time offers tailgaters the opportunity to customize their plates without having to plan too many different menu items. DIY food bars are a great way to go. Think nachos, tacos, or even baked potatoes!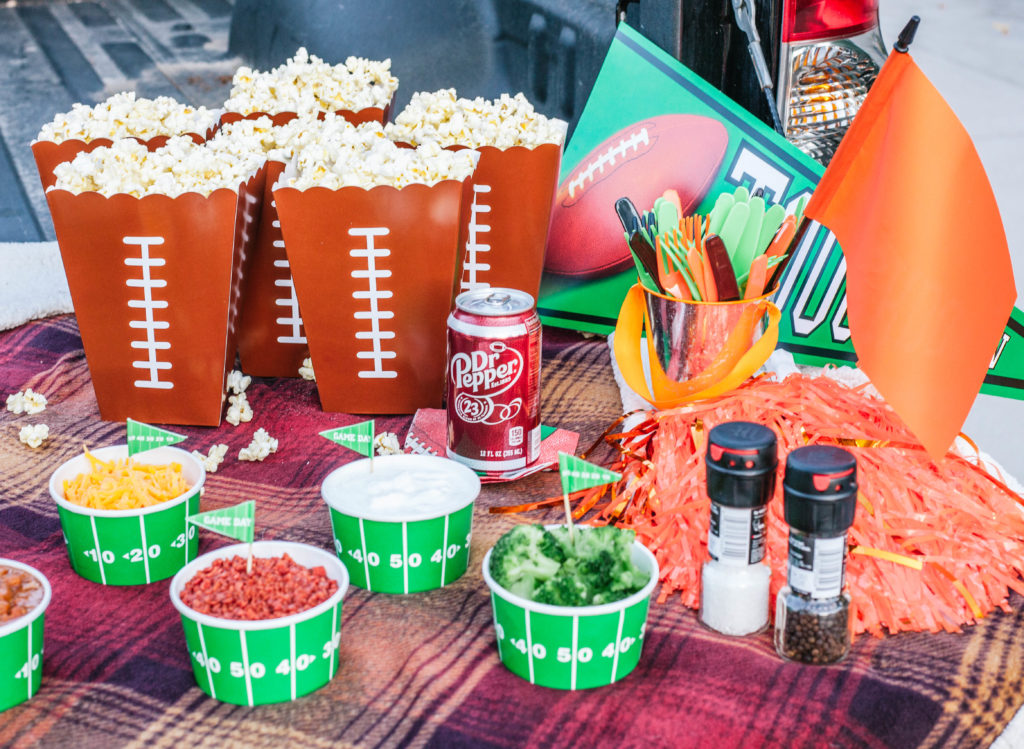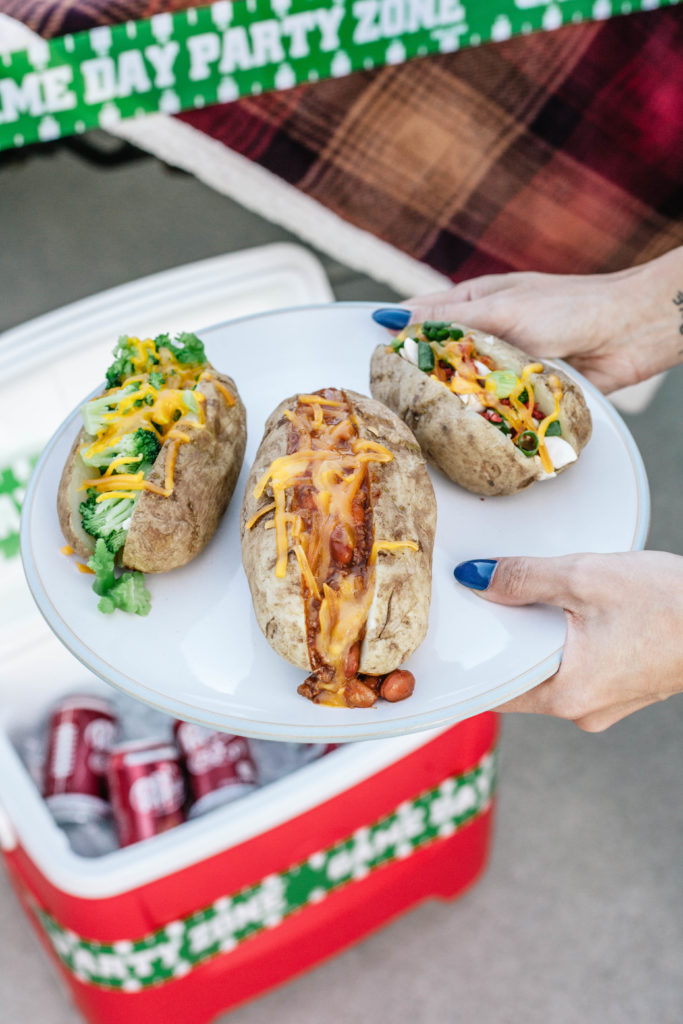 Baked potatoes are easy to cook on your charcoal grill and fans can top their potatoes with a variety of toppings for their own personalized meal. Broccoli, bacon, cheese, chili, sour cream, chives, and mushrooms are all great options. Plus, toppings are simple to pack, easy to transport to your tailgate, and are self-serve for your guests too, so even less that you have to worry about once you are there! And, who doesn't love a warm and cheesy baked potato on a cold fall day? I know I do!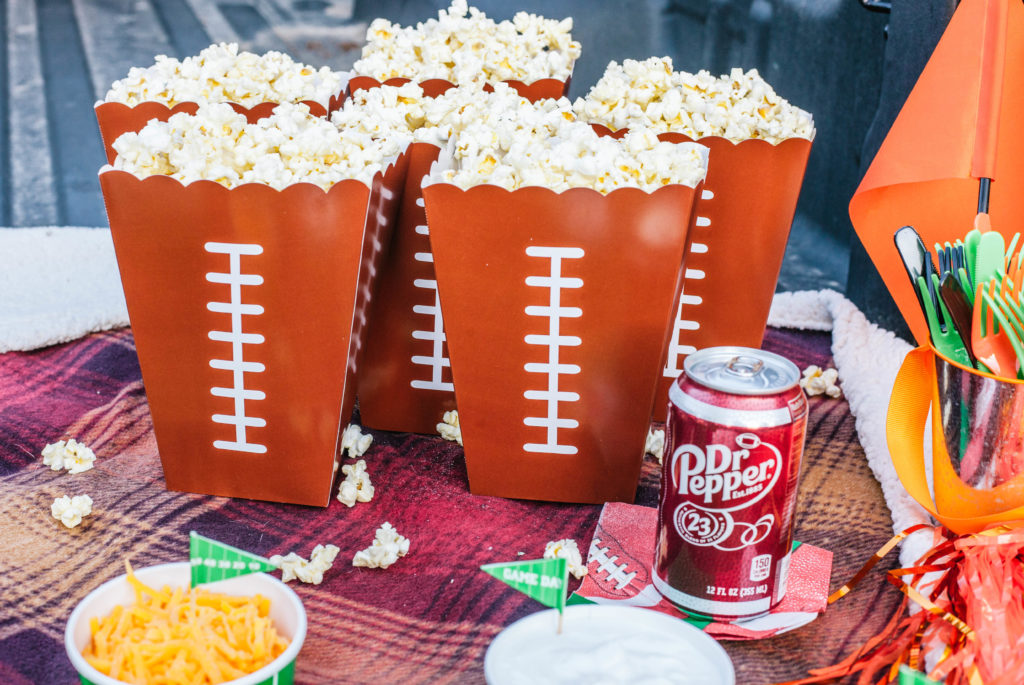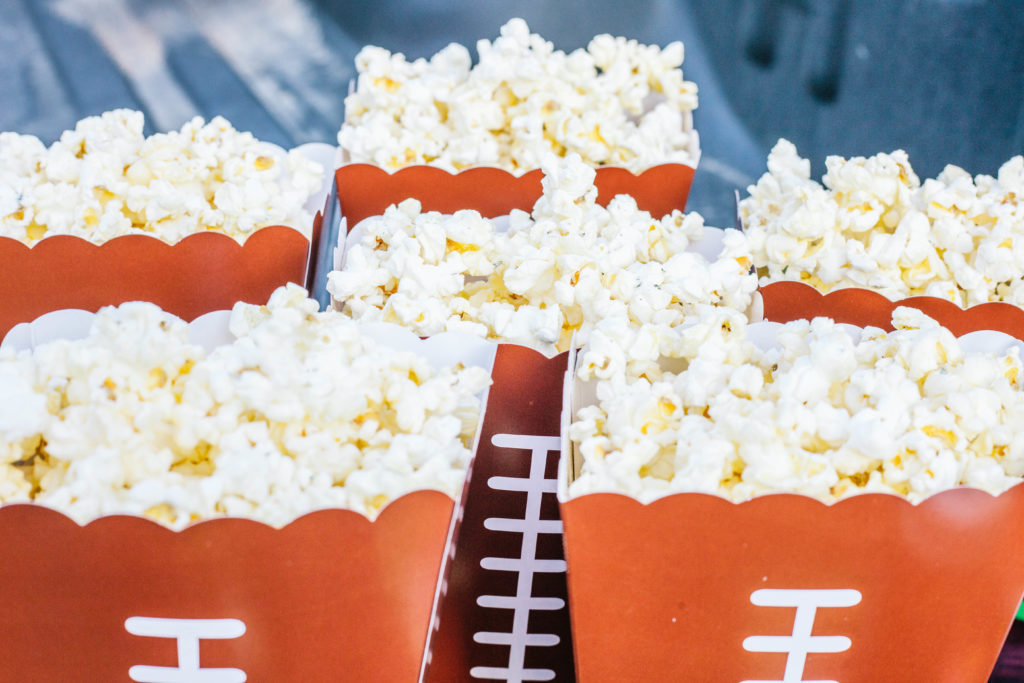 I also love serving something that is utensil free. Chips and popcorn are always great snack options, but can get a little boring sometimes. Switch up your regular popcorn by giving it a little flavor kick! Once popped, toss in a ranch dressing seasoning packet for added flavor and an unexpected snack!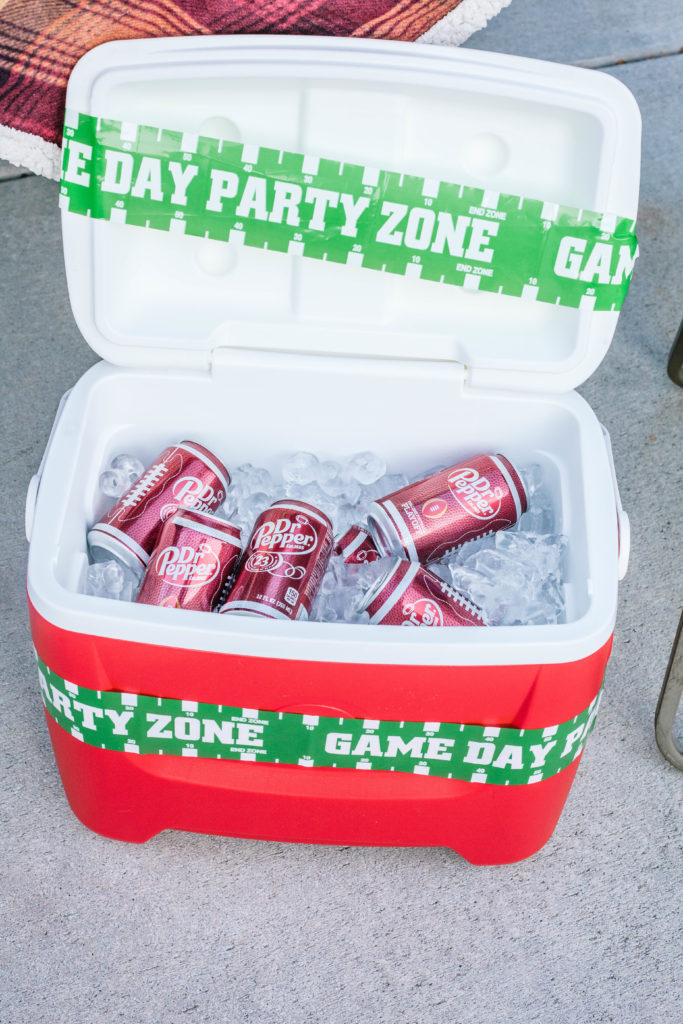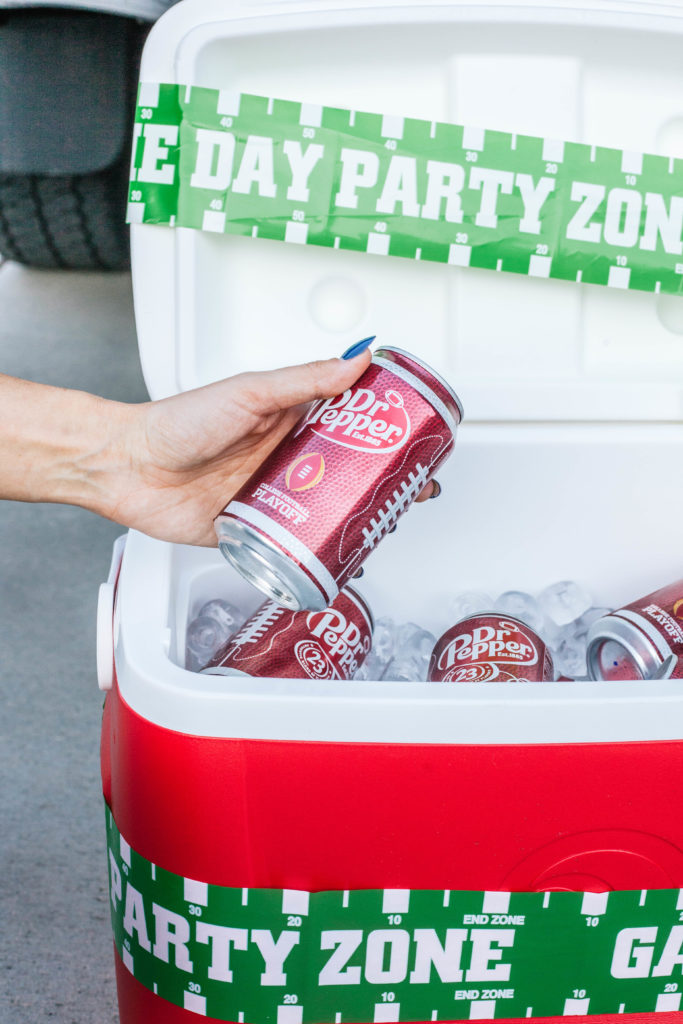 Keep a cooler filled with ice and stocked with your favorite beverages, like Dr Pepper! Your football fans can serve themselves, and there is always a cold can ready to go!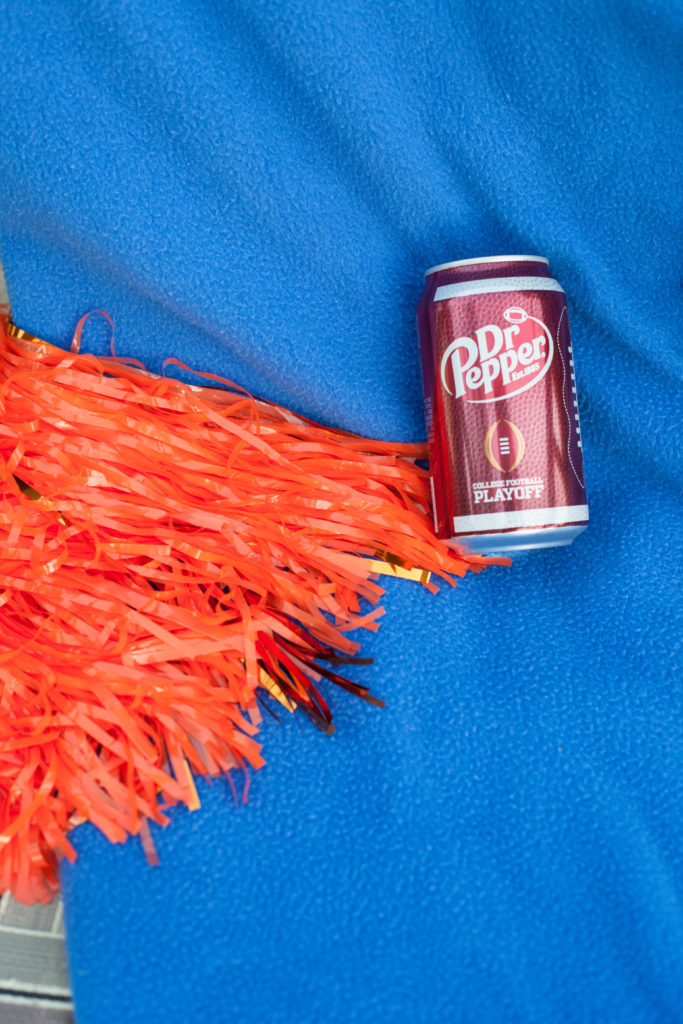 Pack some folding chairs for people to relax in and a few activities for others to keep themselves entertained while waiting for the game to start. Having a football to toss around is always a great plan and corn hole boards or outdoor games like Jenga are also fun for a crowd!
Stock up on some fan gear too! You don't want to show up to a tailgate without sporting your favorite team, and you can never have enough swag! If you are planning on tailgating with Dr Pepper like I am, there is an awesome way you can earn a $5 Fanatics promo code to use towards your team gear by purchasing your favorite packs of Dr Pepper!
BUY any 2 Dr Pepper 12-Pack 12oz Cans, 6-Pack 16.9oz Bottles, or 8-Pack 12oz Bottles and text "FANGEAR" to 811811. Follow the instructions to send a photo of your receipt to get a $5 Fanatics promo code! Head here for all of the details and for more information!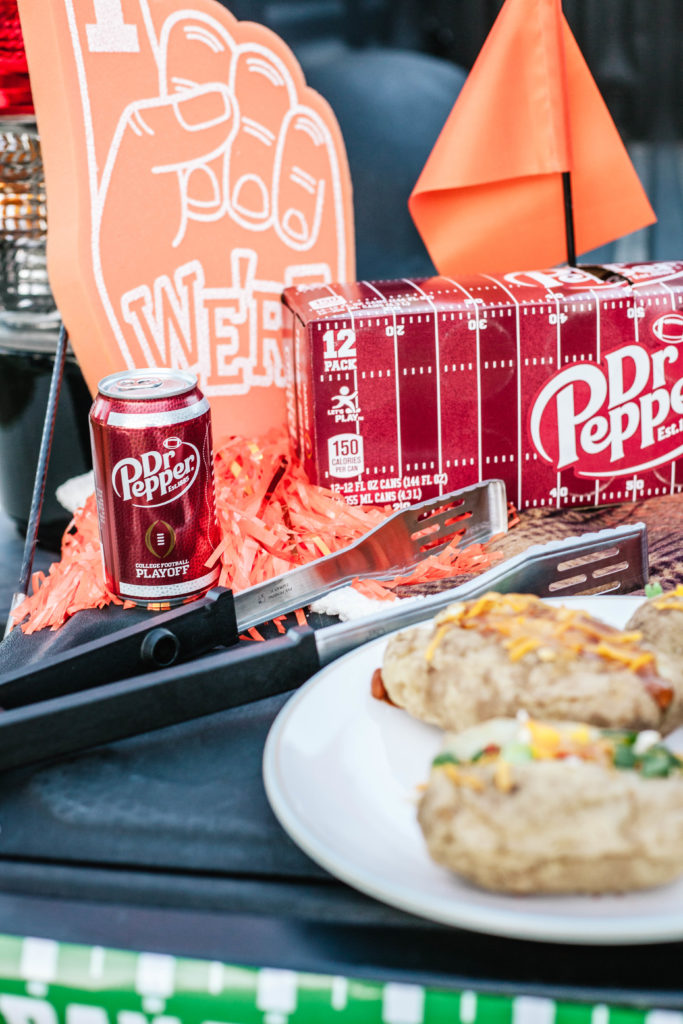 Whether you are tailgating with Dr Pepper at the stadium or home-gating in your backyard, keep your menu and decor simple. A little goes a long way and it comes down to good food, good company, and the game!
Photography by Taylor Grayson
Disclosure
Sponsored posts or gifted items will be fully disclosed, and any thoughts and opinions shared are always honest and my own. Some posts contain contextual affiliate links, from which I may receive a commission on sales should you use them to make a purchase. No matter what, everything you see on Let's Mingle is something I genuinely like and recommend.