Boozy Coconut Iced Coffee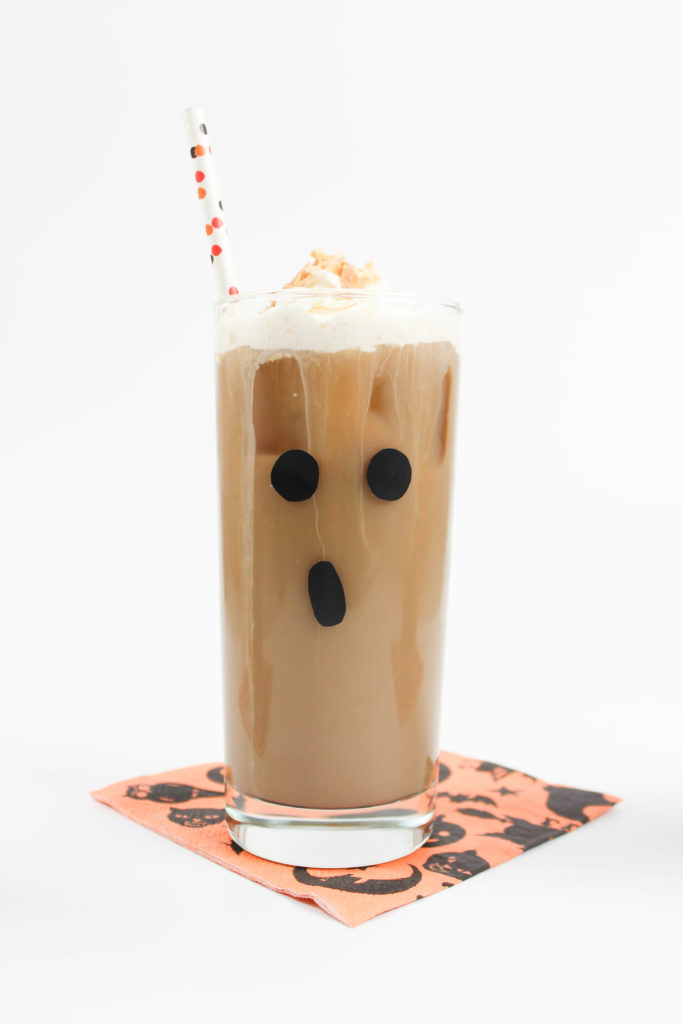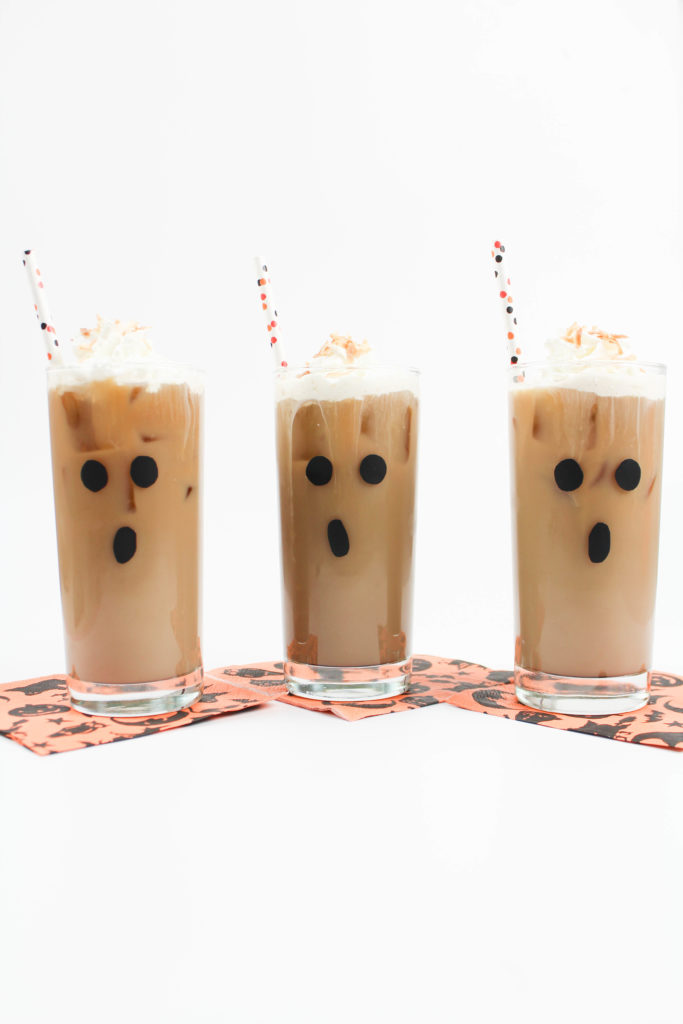 I know that the infamous Pumpkin Spice Latte (or PSL) tends to be the drink of choice during the Fall, but I'm an iced coffee girl through and through. No matter the season, the weather, or the temperature, you'll find me sipping on an iced coffee. But with Halloween right around the corner, you KNOW I had to up the iced coffee ante, right? I'm sharing an easy recipe for this "BOO"-zy coconut iced coffee, complete with whipped topping and toasted coconut. These ghost cups are perfect for Halloween, but this tasty coffee cocktail is perfect to serve all year long!
The addition of coconut vodka gives this boo-zy baby some tropical flavor and that toasted coconut on top….? So good! I've even posted the easy tutorial below, for making your own toasted coconut at home too!
Now let's get pouring!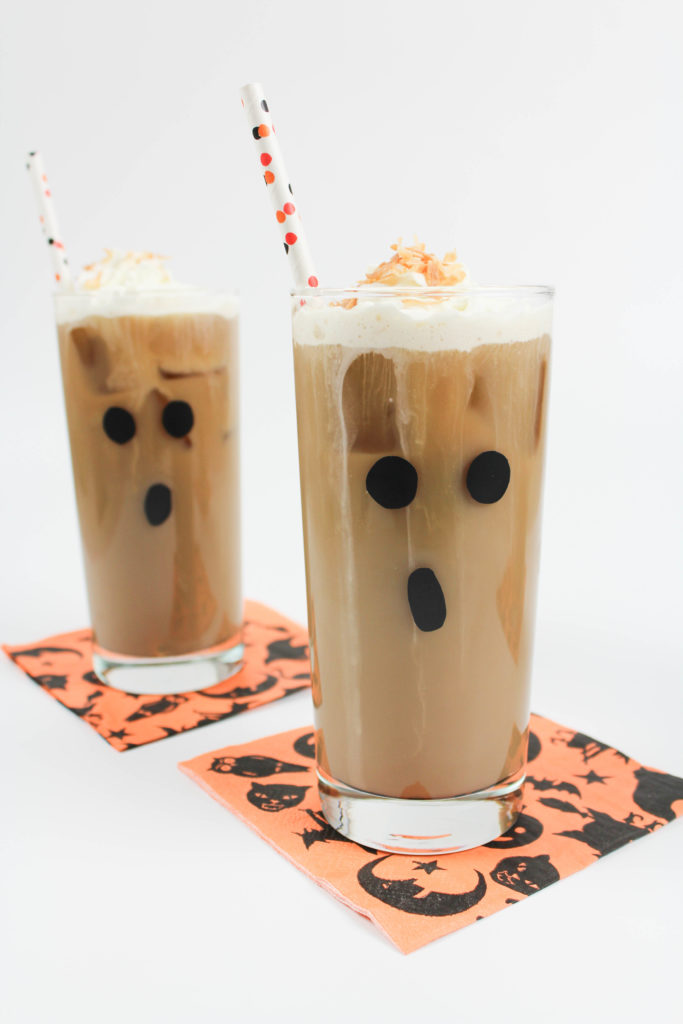 Here's what you'll need to make your own:
8 oz. Coffee, chilled
1 oz. Coconut Flavored Vodka
2 Tbsp. Cream
Ice Cubes
Whipped Cream
Toasted Coconut for Garnish
Black Vinyl (Optional)
In a tall glass, add the coffee, vodka, and cream. Stir well.
Add ice and top with whipped cream.
Sprinkle with toasted coconut.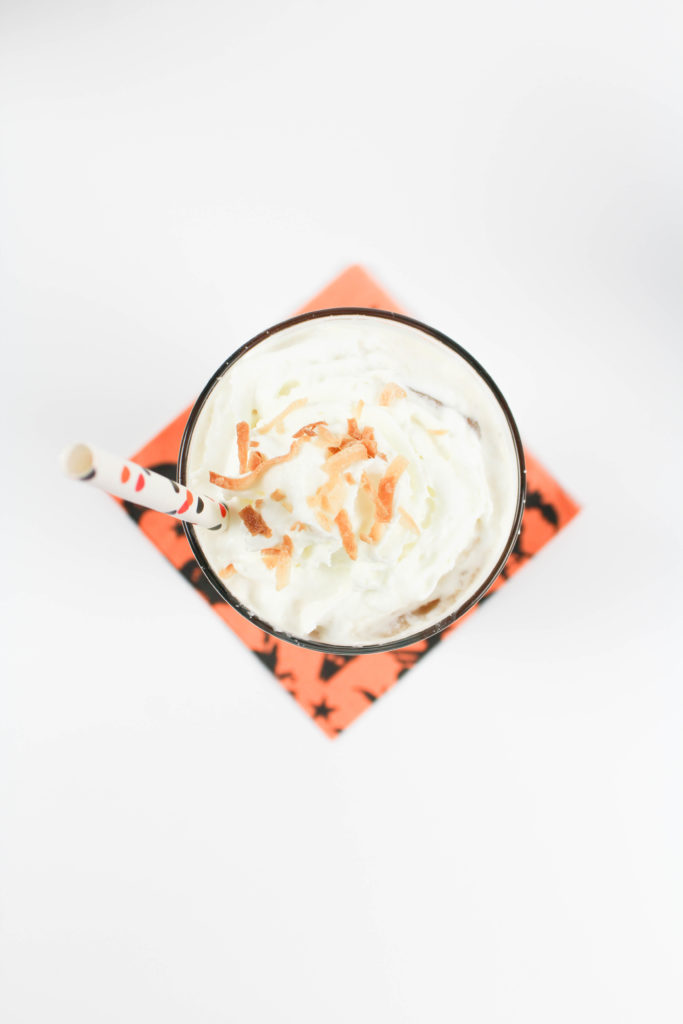 All that's left to do is enjoy the delicious "boo"-zy coconut iced coffee!
Optional: If you want to add some fun ghost faces onto the outside of your glass for Halloween, use black vinyl and a pair of scissors to cut out two shapes for the eyes, and a longer oval shape for the mouth. Peel off the vinyl backing and stick onto the outside of your glasses. Peel them off when done! This would work well for any white beverage, including milk for the kids!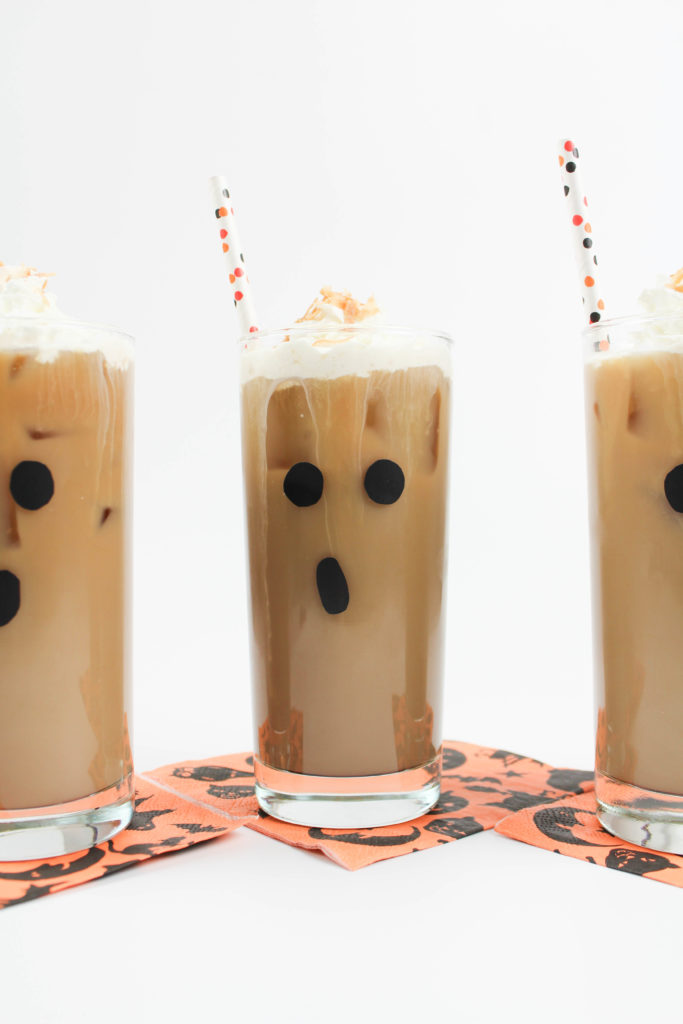 To make your own toasted coconut:
Preheat your oven to 350 degrees.
Spread your coconut out onto a baking sheet pan.
Place the sheet in the upper portion of your oven.
Bake for about 8 minutes, turning the coconut over halfway with a spatula to make sure it toasts on all sides and evenly.
Allow the coconut to cool completely. Store in an airtight container or a plastic bag for up to one month.
Disclosure
Sponsored posts or gifted items will be fully disclosed, and any thoughts and opinions shared are always honest and my own. Some posts contain contextual affiliate links, from which I may receive a commission on sales should you use them to make a purchase. No matter what, everything you see on Let's Mingle is something I genuinely like and recommend.