White Chocolate Pumpkin Cookies
This shop has been compensated by Collective Bias, Inc. and its advertiser. All opinions are mine alone. #LatteMadeEasy #CollectiveBias
There's nothing that I love more than winding down at the end of the night with my favorite warm coffee in hand and a sweet little snack to go with it. (Not sure if that's just a sign of me getting old or if I'm just embracing the colder weather and getting cozy over here, but I'm going with the latter). And I know I'm not alone! My family and friends are the same way. So, this year, I'm going to be prepped and ready for all of those upcoming holiday house guests with my barista skills! Ha, just kidding. I'm stocking my fridge with the International Delight® One Touch Latte'™! The can makes it so easy to whip up a barista style latte for your guests without having any fancy equipment or any coffee house knowledge, which I love! And who doesn't love pumpkin everything in the fall and cooler weather months? I'm sharing a recipe for these white chocolate pumpkin cookies that are a cinch to make, look much fancier than they actually are, pair perfectly with your lattes, and did I mention that they are delicious?!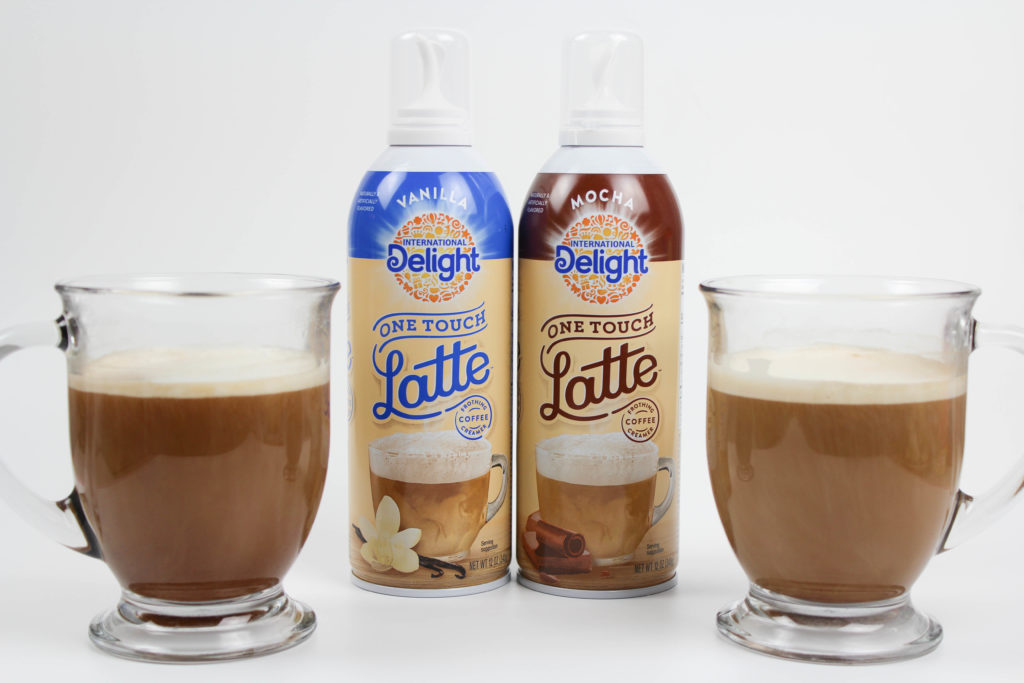 I'm sure you guys remember me talking about the One Touch Latte™ around here before. I'm definitely a big fan. It's so simple to use and having the ability to whip out a flavored latte for your guests at the drop of a hat elevates your hosting game, without any special coffee makers or espresso machines! You can create a latte in 3 easy steps. First, fill you cup 2/3 full with coffee to leave room for that fabulous froth. Next, shake the One Touch Latte™ can well. Press hard and hold the can above the coffee for 5-7 seconds, until you've added cream to your desired sweetness. Then all that's left to do is enjoy it! Check out the video below for the tutorial!
I picked mine up at my local Walmart store in the creamer section. Caramel, Vanilla, and Mocha options are all available. (How do you choose?!)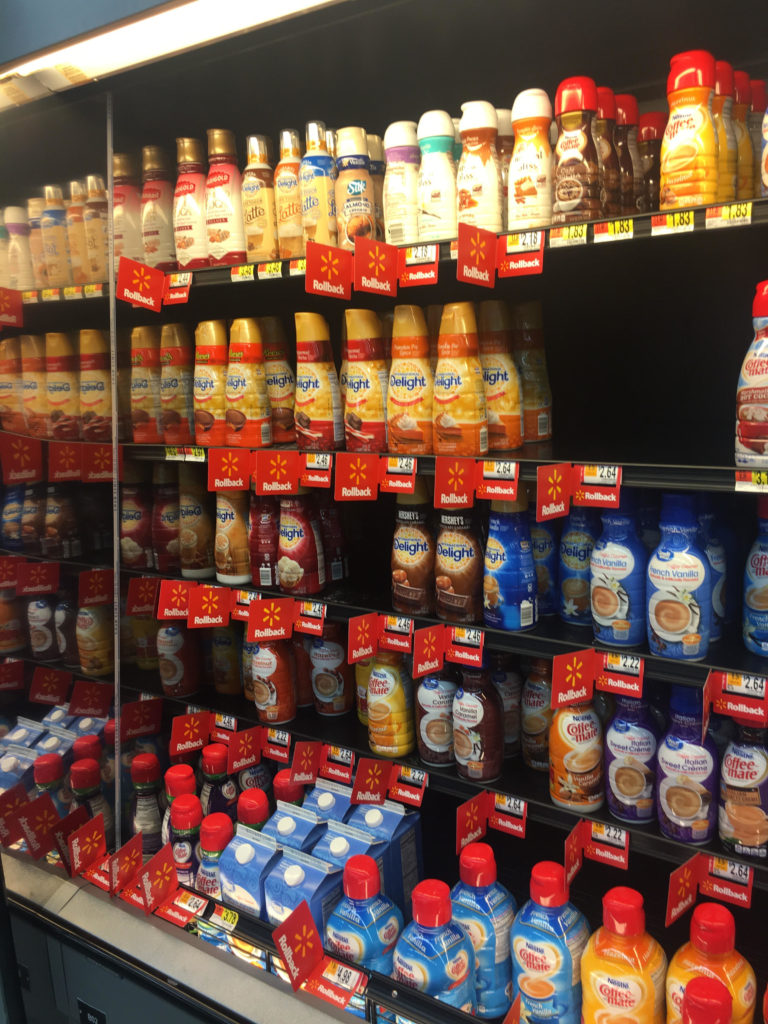 It's simple to use and you can catch them live at a demo event at a Walmart store, near you, from November 11-12!
I'm definitely keeping a few cans on hand in my fridge so that I'm fully prepped and ready for family and friends during the holidays! And one other thing I'm planning to have ready to serve with my One Touch Latte™? These white chocolate pumpkin cookies! They have just the right hint of pumpkin flavor and the sweet white chocolate dipped side gives it an added sweet little boost. It's the perfect fall treat to serve while getting cozy and cuddling up around the fire! (Or in bed, in pj's, at 6 pm on a Friday watching Netflix. No judgement).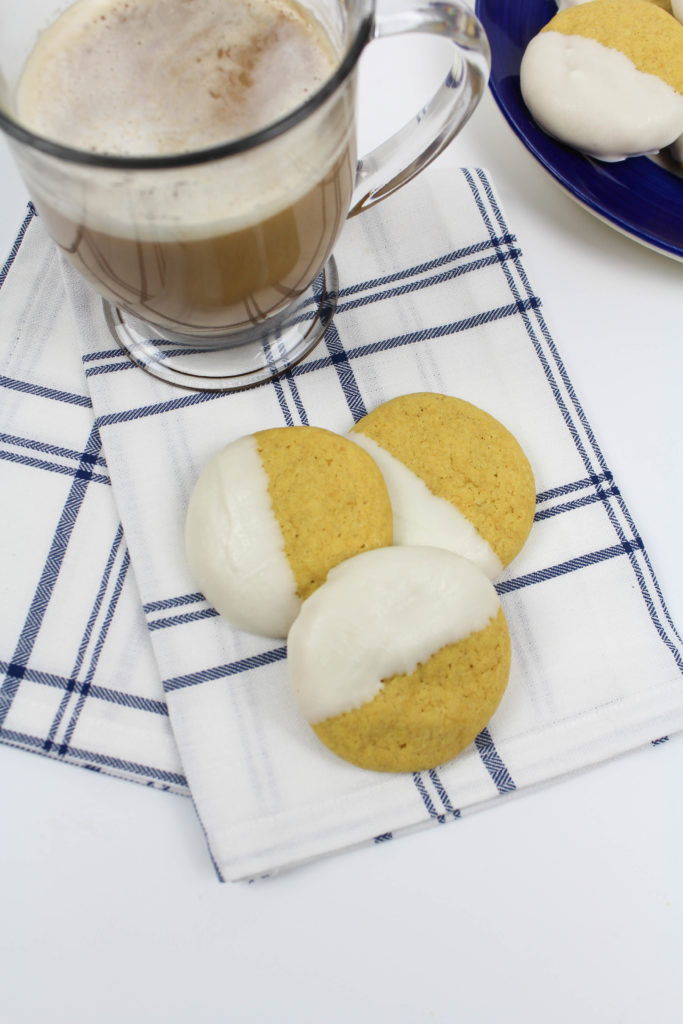 These white chocolate pumpkin cookies are the perfect pairing with your delicious flavored latte, and I'm guessing you won't be able to just eat one either! 😉
Here's what you'll need to make your own:
1 1/2 Cups Sugar
2 1/2 Cups Flour
1/3 Tsp. Baking Powder
1/2 Tsp. Salt
1/2 Tsp. Cinnamon
14 Tbsp. Butter (Room Temperature)
2 Tsp. Vanilla
1 Egg Yolk
1/2 Cup Pumpkin Puree
White Chocolate Chips
Parchment Paper
In a bowl, combine the flour, baking powder, salt, and cinnamon. Stir well and set aside.
Using a hand or stand mixer, combine the butter and sugar together until light and fluffy.
Add the egg yolk, vanilla, and pumpkin to the butter and sugar and mix well.
Add the flour mixture, slowly, until it's been incorporated well and a sticky dough has formed.
Wrap the dough in plastic wrap and chill in the fridge for 20-30 minutes.
Once chilled, preheat your oven to 350 degrees.
Line baking sheets with parchment paper.
Remove the dough from the fridge and roll it into one inch balls.
Place the balls onto the parchment paper, about 2 inches apart, and press them down a little bit to flatten them out.
Bake them for 15 minutes.
Remove from the oven and transfer to a wire rack to cool completely.
Once cooled, melt your white chocolate chips in the microwave or over a double boiler.
Dip one half of each cookie into the melted white chocolate.
Allow the excess white chocolate to drip off of the cookie, before placing the dipped cookies on parchment paper to set.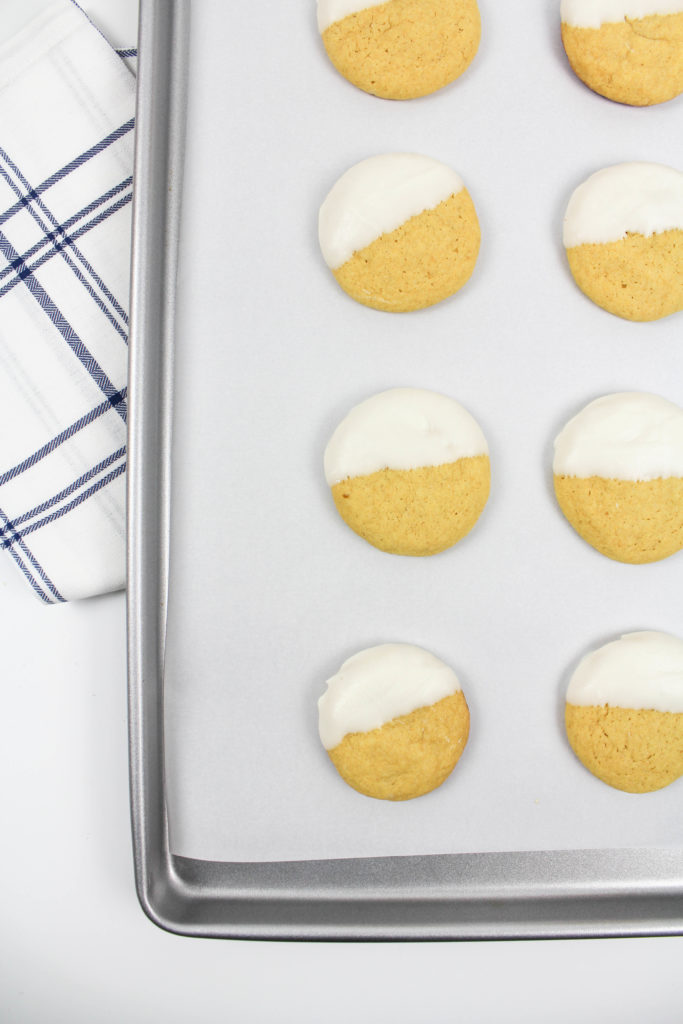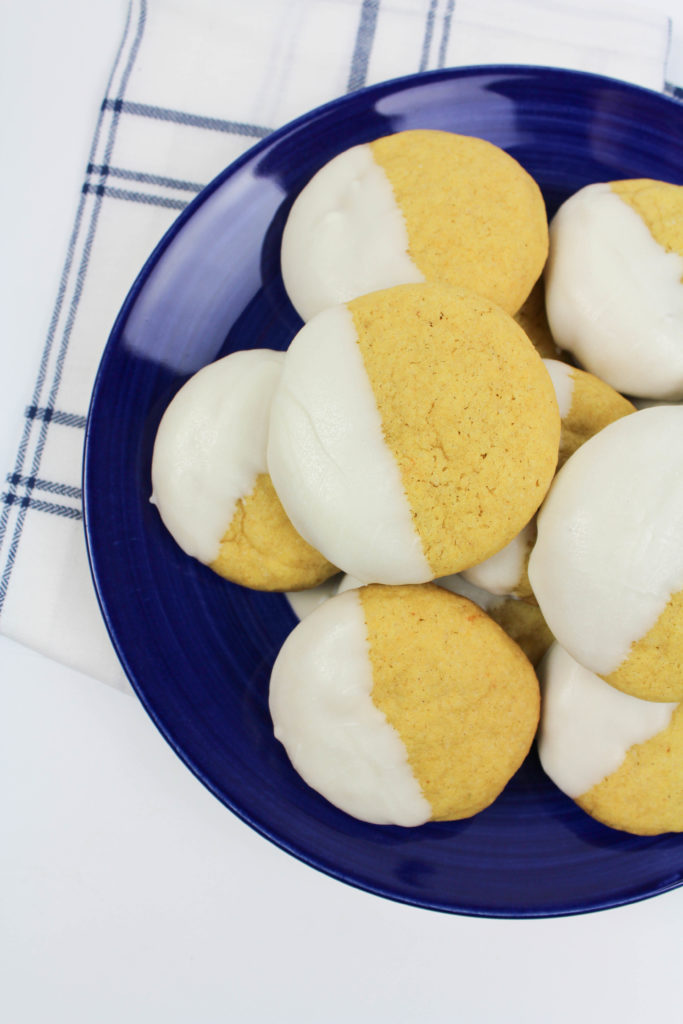 Serve these white chocolate pumpkin cookies on a plate with your favorite flavor of One Touch Latte™!
And if you're looking for other great latte recipes or delicious bites to serve with your favorite cup, check out more ideas here!
Disclosure
Sponsored posts or gifted items will be fully disclosed, and any thoughts and opinions shared are always honest and my own. Some posts contain contextual affiliate links, from which I may receive a commission on sales should you use them to make a purchase. No matter what, everything you see on Let's Mingle is something I genuinely like and recommend.