DIY Halloween Poison Apple Pumpkin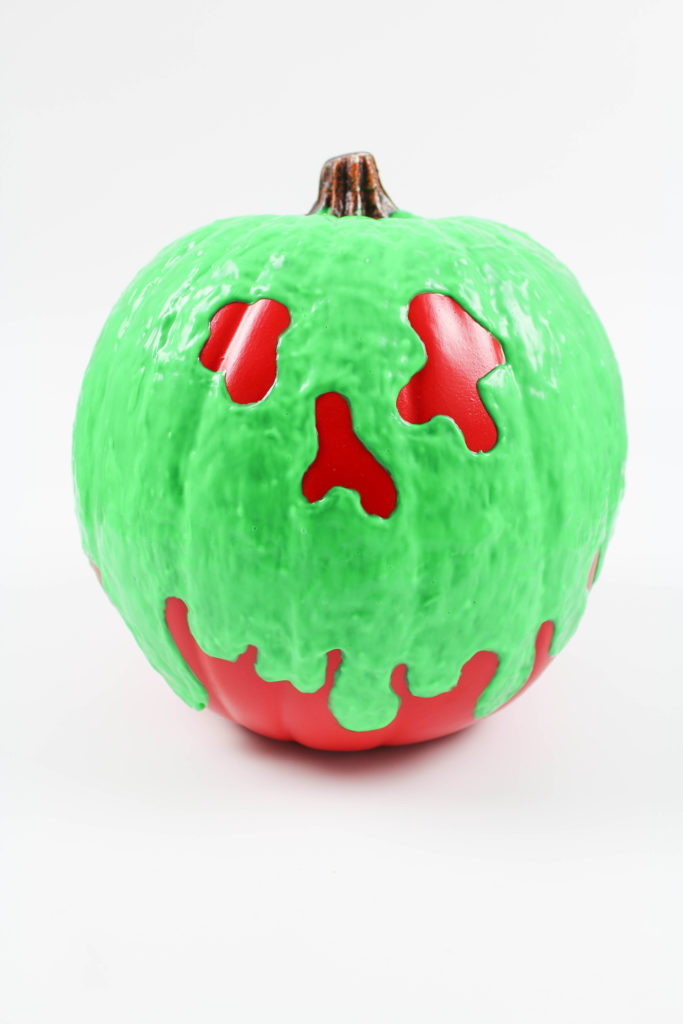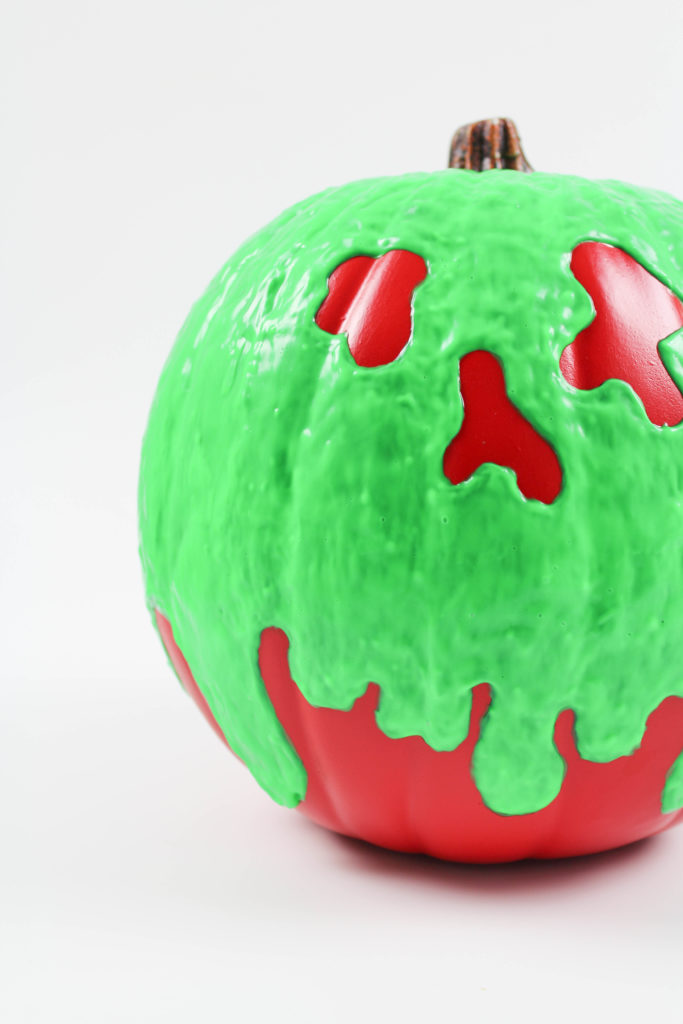 I've always been a Disney fan, but throw Halloween into the mix and I'm a HUGE fan. The last few years I've turned attending Mickey's Not So Scary Halloween party, at either Disneyland or Disney World, into a new tradition. I love all things Halloween already, but Disney Halloweens do not disappoint! This year, I wasn't able to go so I wanted to incorporate my own Disney touches into my home Halloween decor. This DIY Halloween poison apple pumpkin is a nod to all of the Disney villains that deserve a little recognition this time of year, and when celebrating the bad is actually very, very good!
With Halloween being tomorrow, this DIY Halloween poison apple pumpkin project might be better off being pinned now and made next year. It's a super easy DIY, but it does require a good amount of drying time in between coats of paint, so keep that in mind when you start!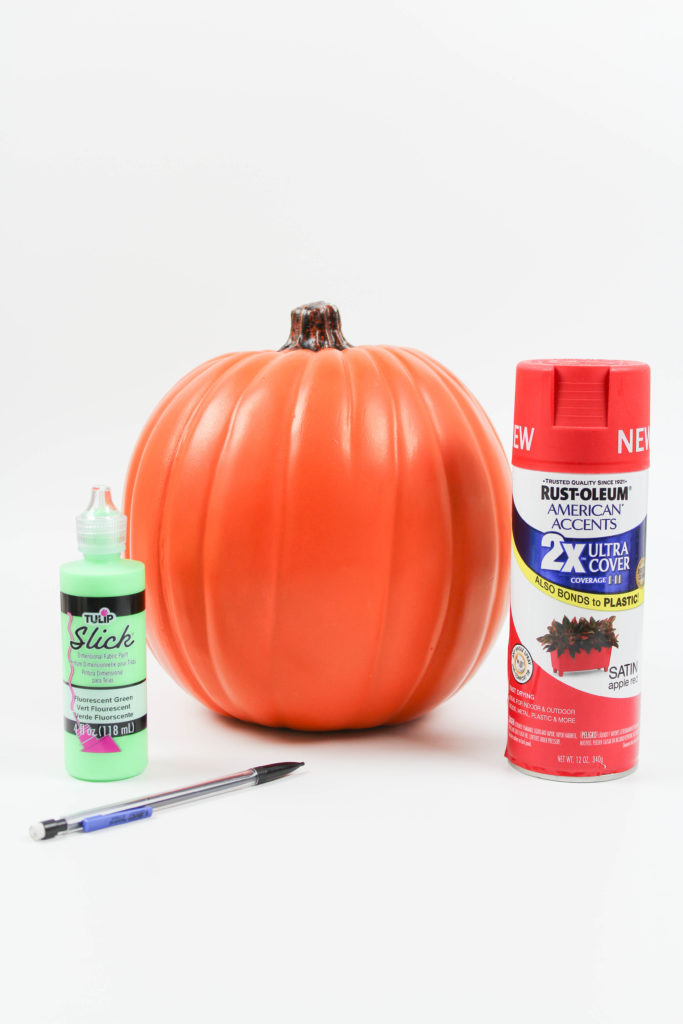 Here's what you'll need to make your own:
Pumpkin (Real or Fake)
Red Spray Paint
Pencil or Sharpie
Fluorescent Green Dimensional Fabric Paint (Puff Paint)
First, spray your pumpkin using the red spray paint. You want it to end up looking like an apple! I chose to tape off my stem so it would remain brown, but you can choose to cover it in the fluorescent paint in a few steps, or keep it brown.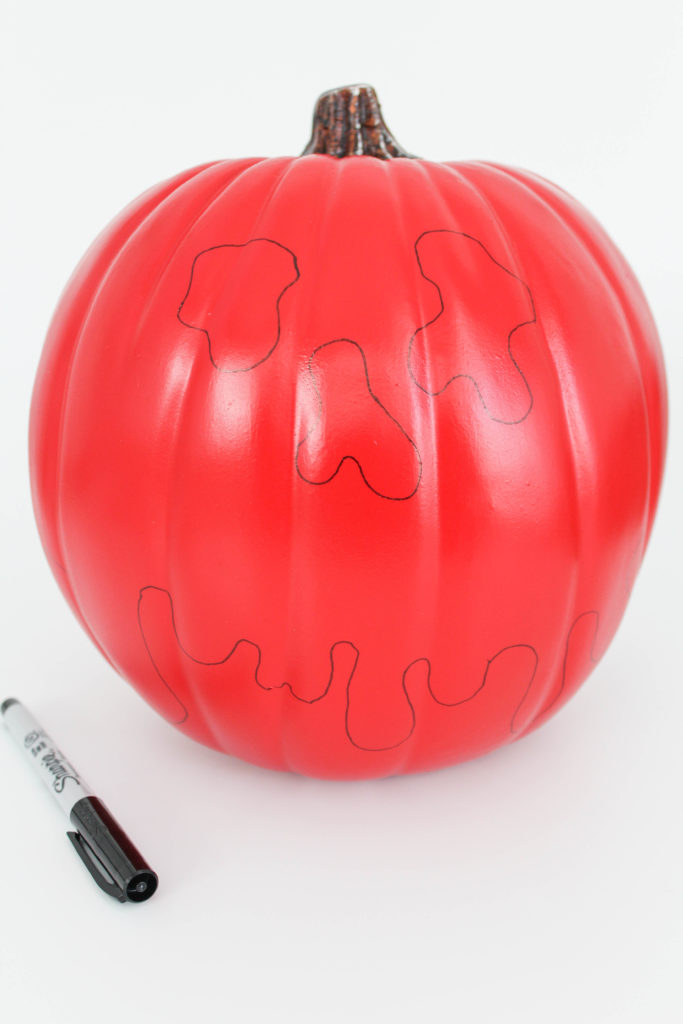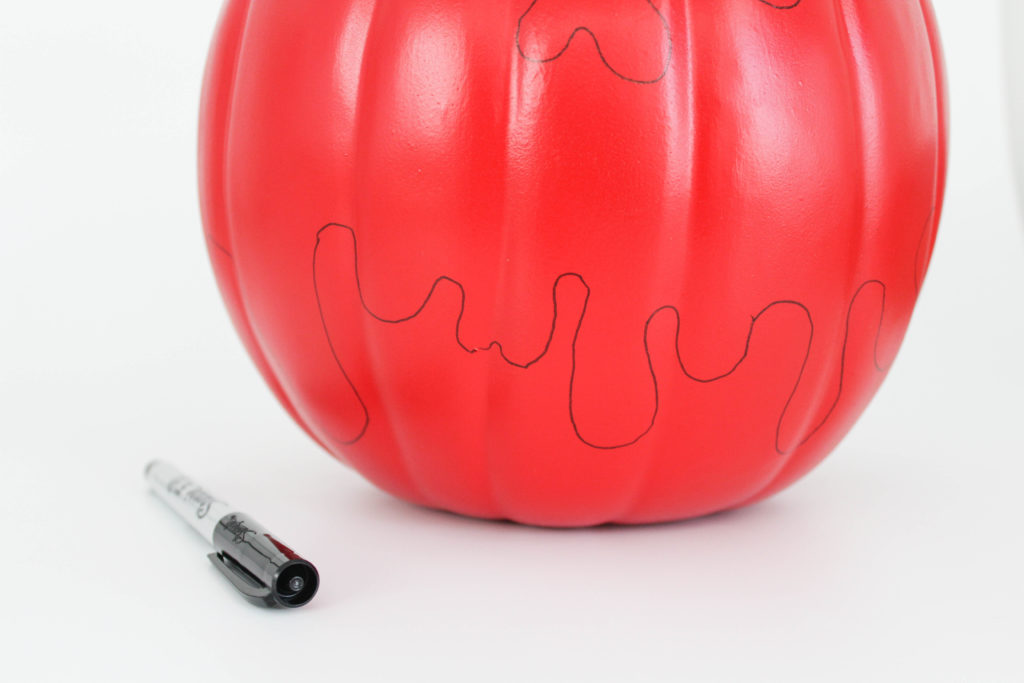 Using a pencil or thin sharpie marker, draw in the outline of the eyes, nose, and the drip marks along the bottom of the pumpkin. It's easier if you have a line to follow when you starting filling in the paint, and the line will be completely covered with the paint, so don't worry about it being seen later on.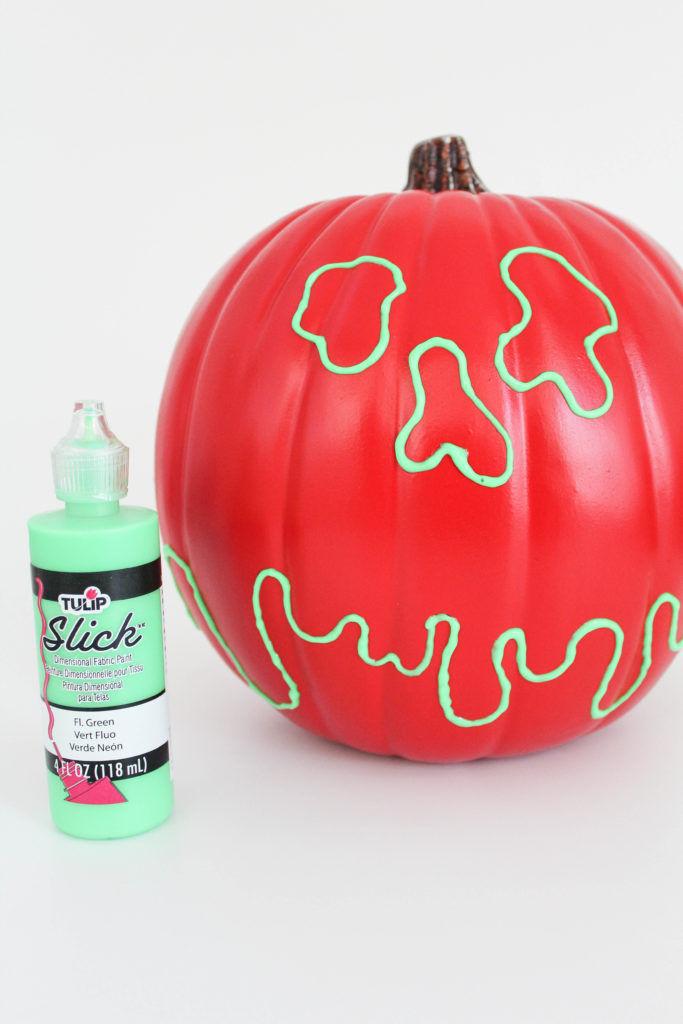 Using the florescent green dimensional fabric paint, trace the drawn on lines with the paint.
Allow it to dry completely before moving on to the next step.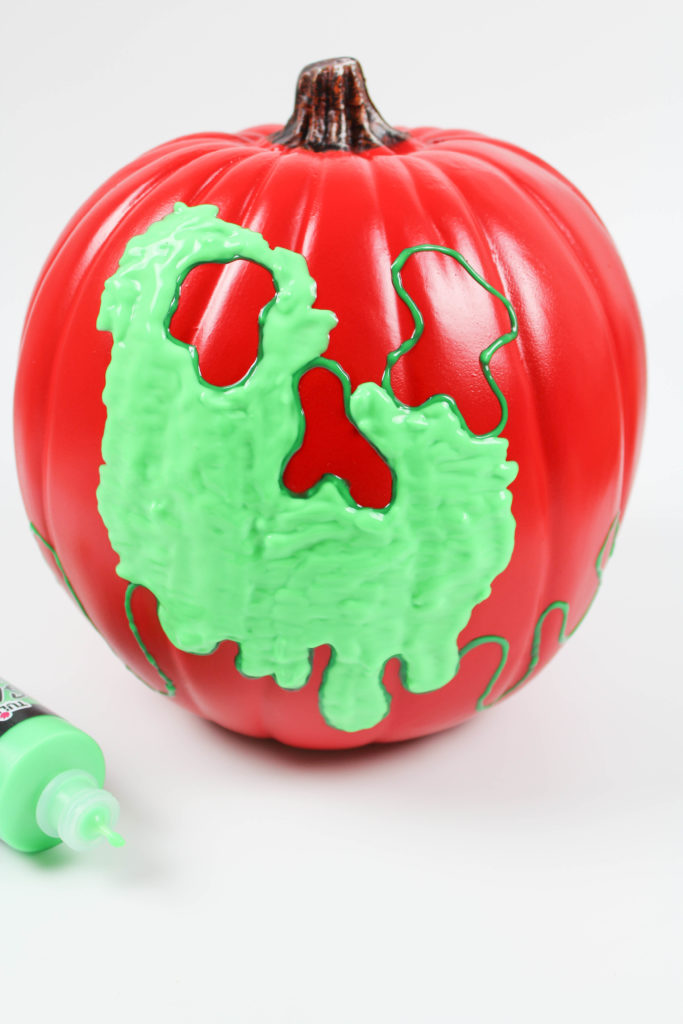 Once the outline has dried, begin filling in the rest of the pumpkin with the fabric paint.
I found it was easier to use an up and down motion when filling the pumpkin in, just to give it more or a "dipped" effect.
Once you have filled in the entire outline, allow it to dry completely.
Once dry, repeat the process again one-two times, depending on how your paint dries. (I used a total of almost three bottles of dimensional paint for this guy).
Allow the final coat to dry overnight and then display this little guy with pride!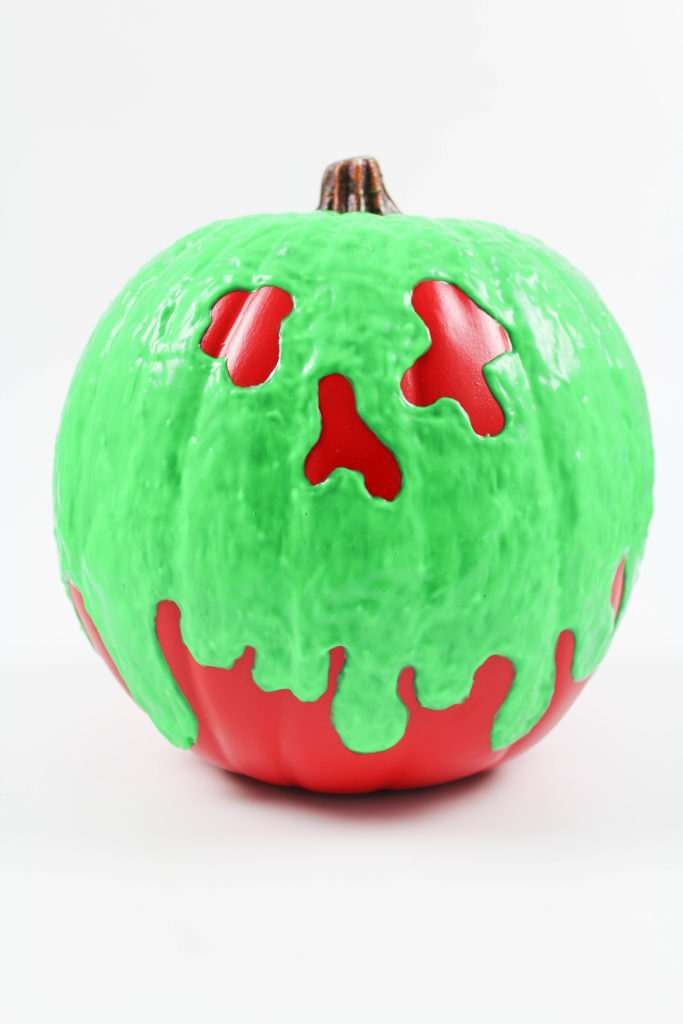 Any Disney loving fan will know EXACTLY what this DIY Halloween poison apple pumpkin represents and if you're using a fake pumpkin for this DIY, it's a great one to keep for your Halloween collection for years to come!
Disclosure
Sponsored posts or gifted items will be fully disclosed, and any thoughts and opinions shared are always honest and my own. Some posts contain contextual affiliate links, from which I may receive a commission on sales should you use them to make a purchase. No matter what, everything you see on Let's Mingle is something I genuinely like and recommend.