Holiday Houseguest Bathroom Tips
This shop has been compensated by Collective Bias, Inc. and its advertiser. All opinions are mine alone. #MerrySpritzmas #CollectiveBias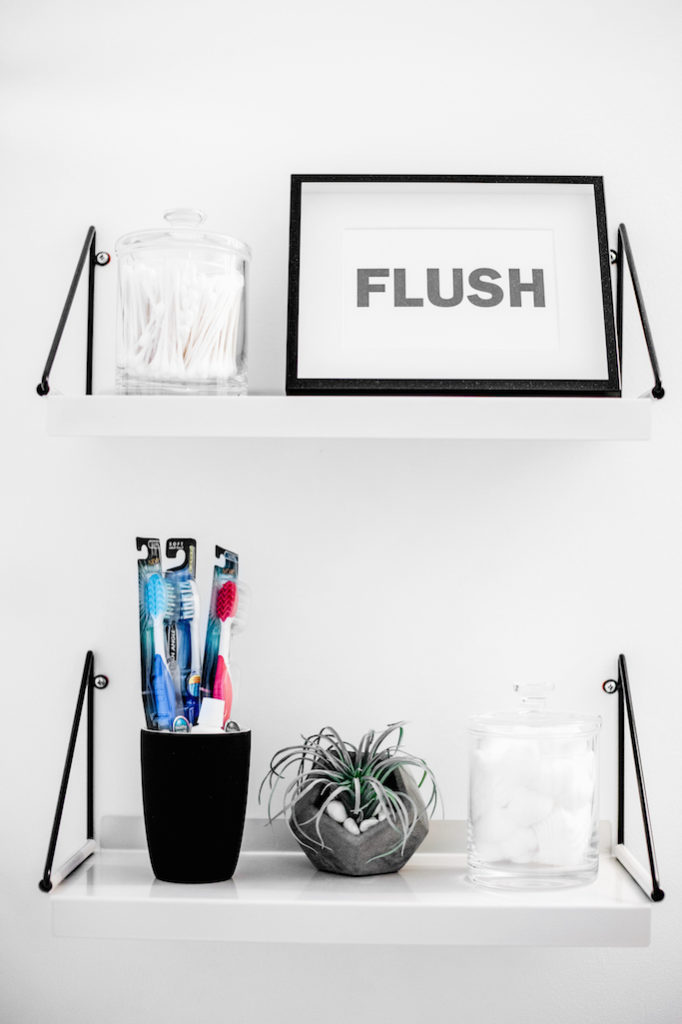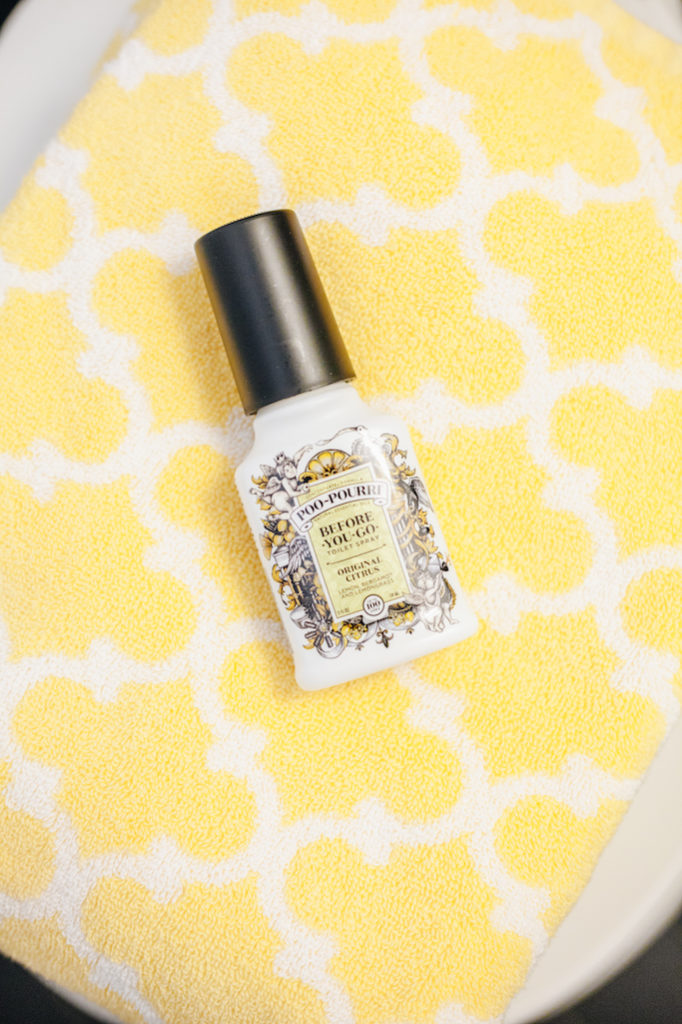 We're smack dab in the middle of holiday houseguest season and I thought I would share some simple and easy tips with you guys today, to get your bathroom house guest ready! These holiday houseguest bathroom tips are great ways to help your guests feel more comfortable, prepared, and less embarrassed when certain situations pop up. (And we've all been there!)
First up, let's chat about one thing we'd all like to pretend that we don't do (and usually try to avoid at all costs!)…stinking up the bathroom at someone else's house. It's kind of my worst nightmare and you can bet that your house guests will be feeling the same way too. I remember first seeing the advertisements for Poo~Pourri Before-You-Go® Toilet Spray. They were hilarious, but I was also intrigued. Did this stuff actually work? So, I stepped out and purchased a bottle. And I wasn't the only one either. A few people stopped by the display, while I was checking out the different scents, and picked up a few of their own!
I tried it, I loved it, and I'm totally sold now. It's an added comfort that is easy to use, is all natural, and something your guests are really going to appreciate in case nature calls.  There's a reason that Poo~Pourri has received over 5,000 5 star reviews! It's really easy to use too. Spray three-five sprays into the toilet bowl onto the water's surface before using. Poo~Pourri's pure blend of NATURAL ESSENTIAL OILS creates a film on the surface of the water. The protective barrier traps the odor under the surface before it ever begins, so all you smell are the refreshing natural essentials oils! Cool, right?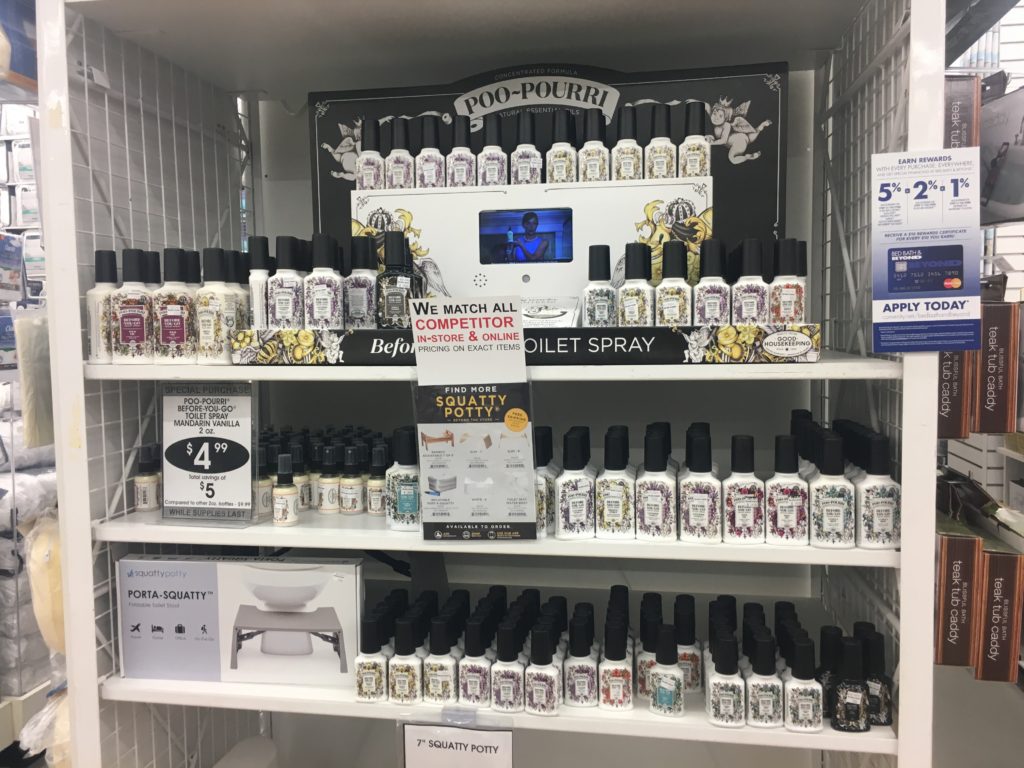 I picked up a few different scents for my bathroom, at Bed, Bath, and Beyond, but right now they also have some really cool holiday themed gift packs that are great for gift giving too! I love the holiday pull-apart gift set, that includes two holiday themed scents; Merry Spritzmas®, a blend of peppermint, vanilla and citrus, and Secret Santa, a blend of cinnamon, vanilla and citrus. Both are great! (Also, don't forget to look out for special coupons, on one item, on the Bed Bath and Beyond website, before heading out to shop or shopping online!)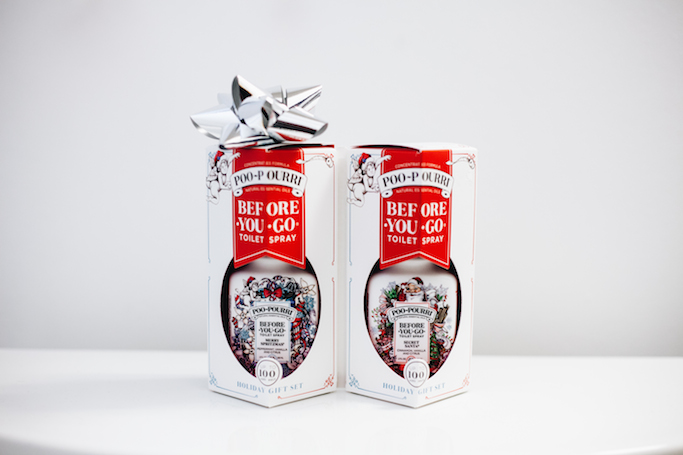 If you want to stick to some traditional scents, a few of my favorites include Lavender Vanilla, a comforting blend of lavender, vanilla and citrus and Original Citrus (their most popular scent!), an uplifting blend of lemon, bergamot and lemongrass.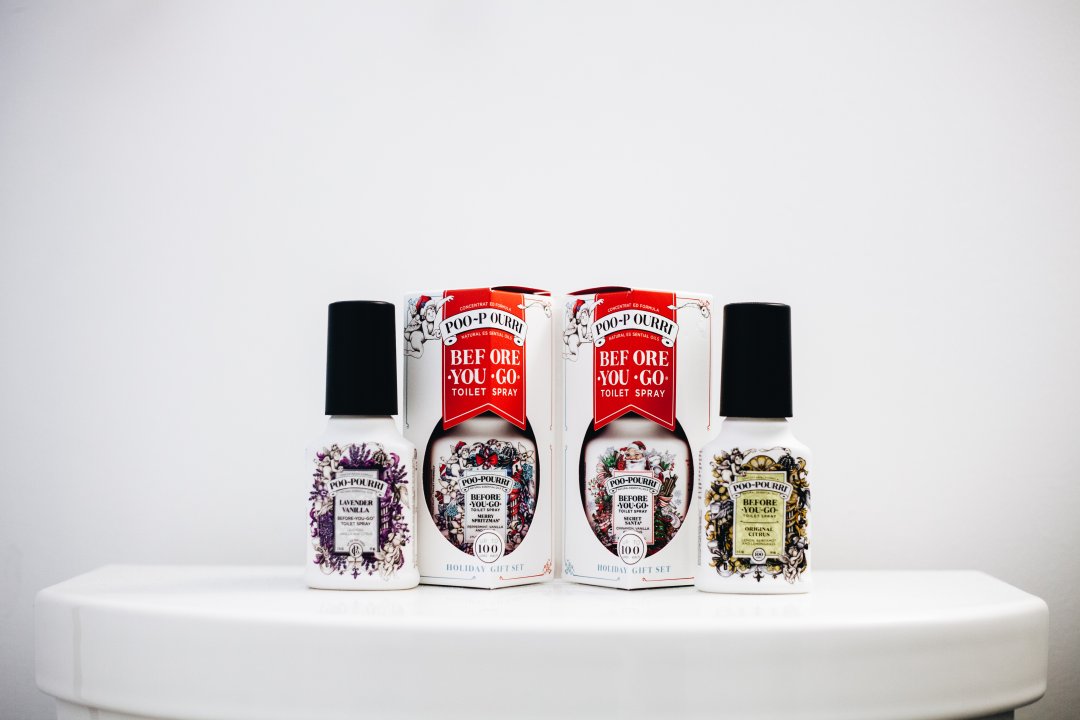 You can also shop for the exact same items that I purchased online! Hover over the photo above to purchase them at Bath, Bath, and Beyond.com!
Buy it because it's funny, use it because it works!
Find out more about Poo~Pourri Before-You-Go® Toilet Spray, and other creative ways to use it, for the holidays here!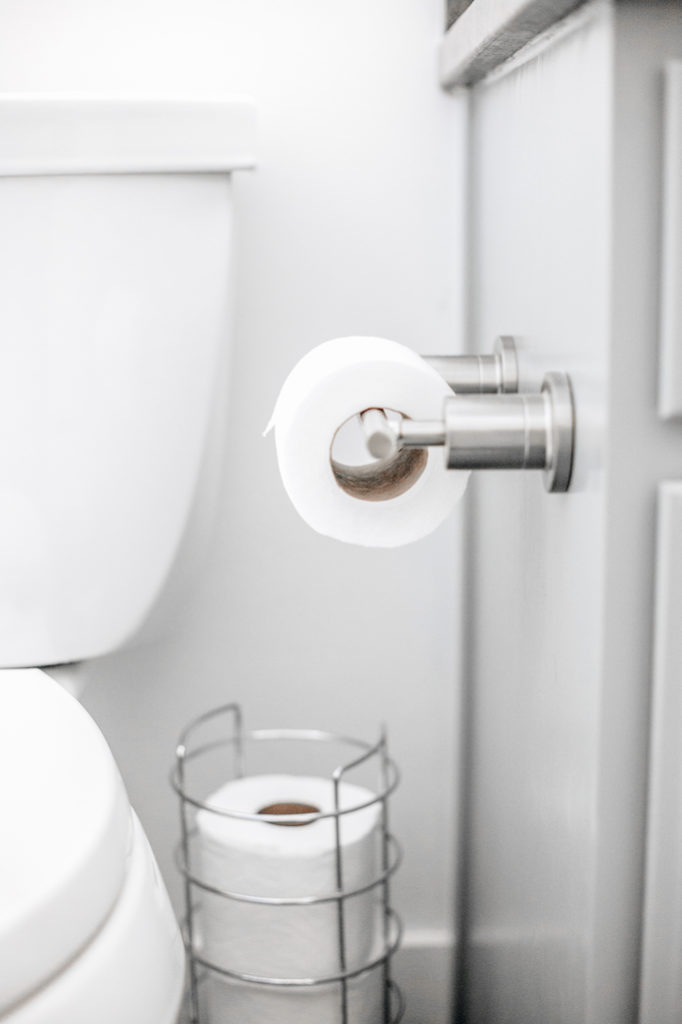 Since we're already talking about the toilet, let's hit a few other holiday houseguest bathroom tips that relate…like toilet paper! Make sure to have at least two extra rolls on hand and easily accessible for guests. There's nothing worse than realizing you're out and not knowing where to find extras! Place them in an area that's easy to access or somewhere most people would check, like under the sink! I also like to keep some feminine care products under there too, just in case a female guest has an unexpected visitor!
Another item to keep handy? A plunger! You never know what might happen and having to ask the host of the party for one is definitely a worst nightmare type of situation for a guest!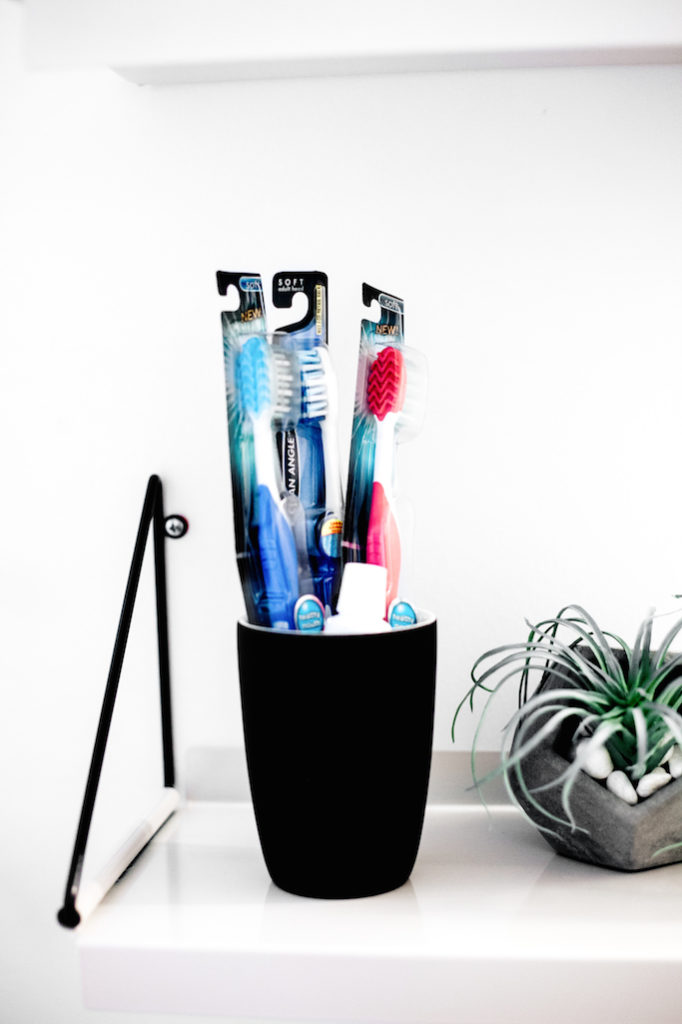 I also like to keep some daily essentials on hand too, just in case an overnight guest may have forgotten to pack something. Extra toothbrushes, travel sized toothpaste, floss, cotton balls, and cotton swabs are all great items to have one hand and make the list for more of my holiday houseguest bathroom tips. Display them in glass storage containers for a pretty addition to the bathroom that doesn't distract from your other decor!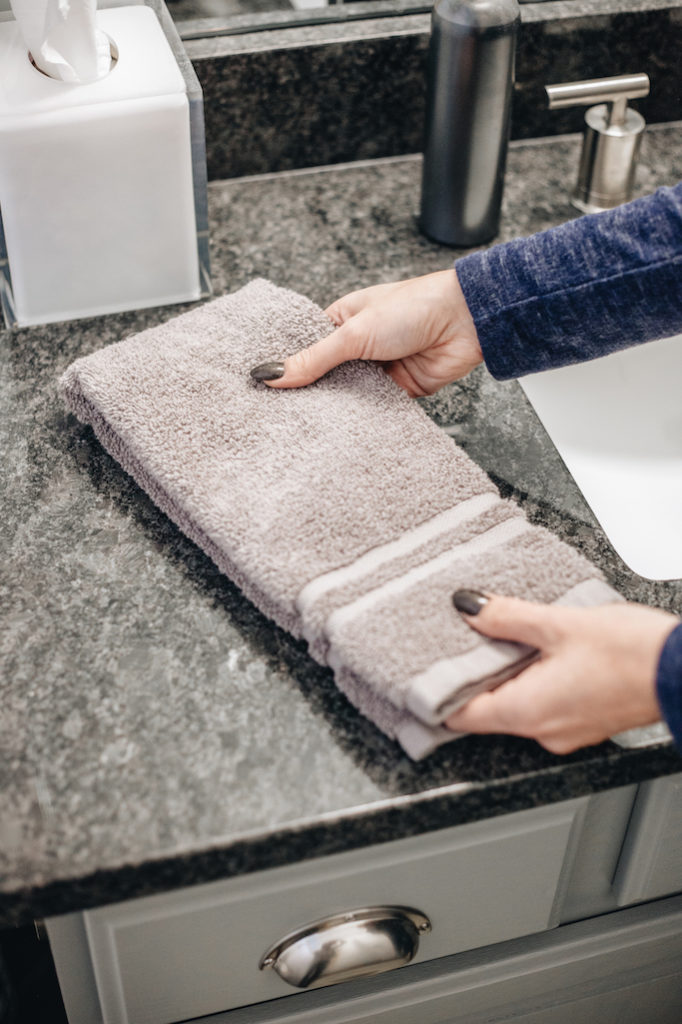 And, last but not least, always have fresh bath, face, and hand towels available for guests! Place them in an area that is easy to find and have multiples available too. (Some people use more than others!)
These holiday houseguest bathroom tips are super easy, but will make all the difference for your guests! And trust me, I've definitely been in a lot of those uncomfortable situations myself! 😉
Photos by Taylor Grayson
Disclosure
Sponsored posts or gifted items will be fully disclosed, and any thoughts and opinions shared are always honest and my own. Some posts contain contextual affiliate links, from which I may receive a commission on sales should you use them to make a purchase. No matter what, everything you see on Let's Mingle is something I genuinely like and recommend.