Mint Chocolate Marshmallows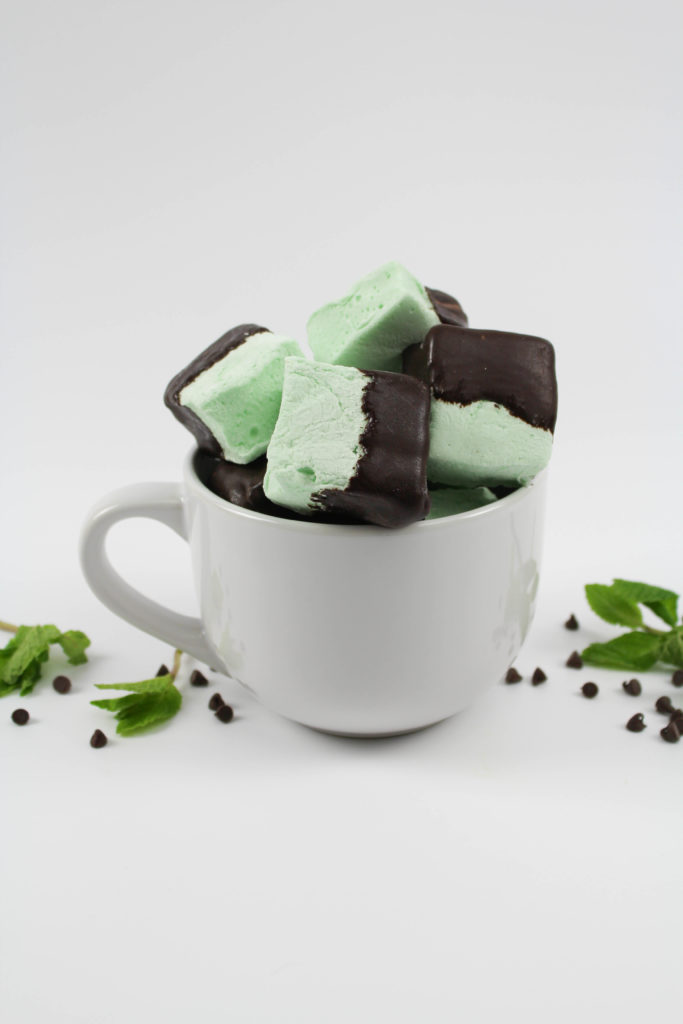 From what I've read around the web, I'm not the only one intimidated by the thought of making my own marshmallows. I don't know what it is about those pillowey little clouds of sugar, but they are intimidating AF. (Don't you guys agree?!) I've attempted them once before, only to throw the whole batch in the trash, but my stubbornness won out and I gave them another shot. And, boooooy, am I glad that I did! Not only are they actually really easy to make when you get the concept down, but they are sooooo much better than store bought mallows. I'm not even a marshmallow girl, but I'd definitely snack on a few of these mint chocolate marshmallows!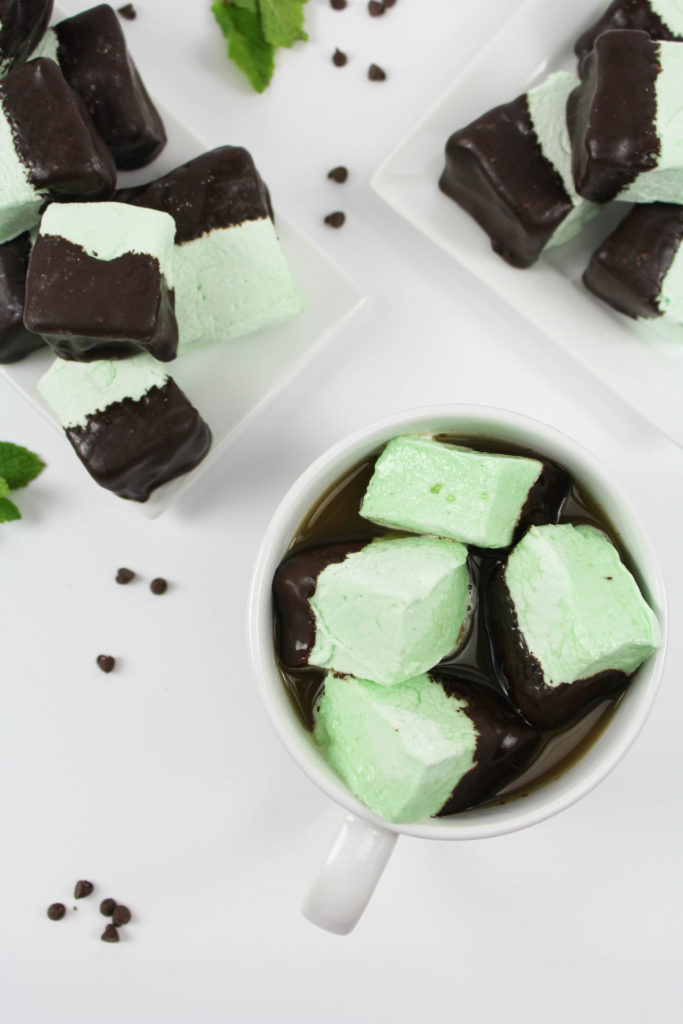 This recipe is an adaptation of the Alton Brown homemade marshmallow recipe, but I added my own little twist. A mint chocolate twist, that is! These soft minty marshmallows pair perfectly with a dark chocolate dip. They make the best hot chocolate addition or are delish enough to eat on their own as a sweet snack. These mint chocolate marshmallows would also make a great gift…if you can stand to part with them 😉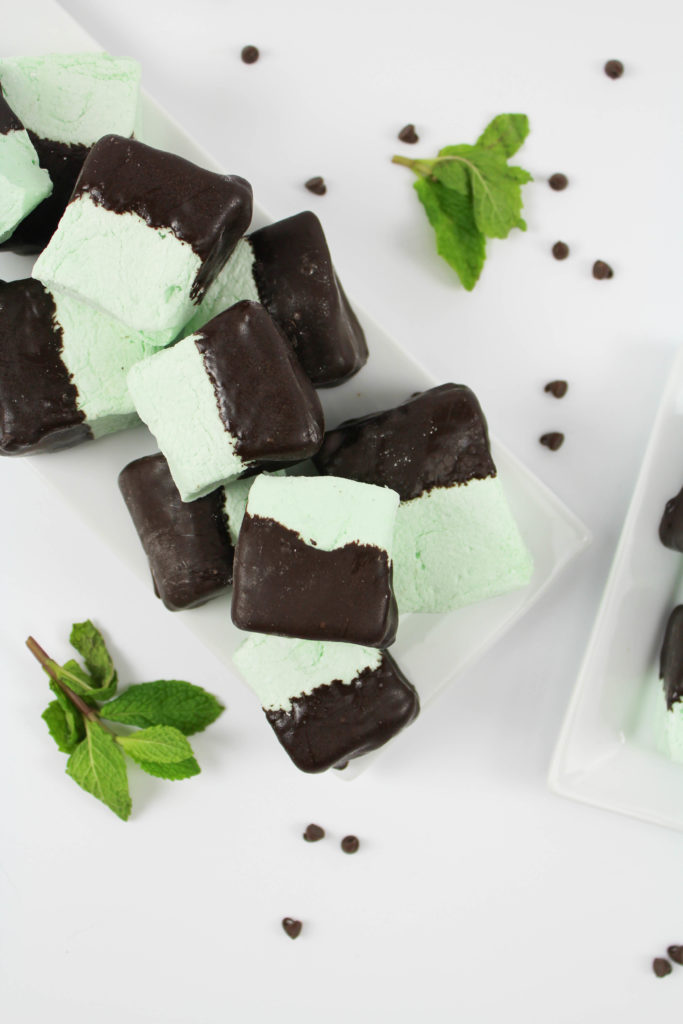 Here's what you'll need to make your own:
3 Packages Unflavored Gelatin
1 Cup Ice Cold Water, Divided
1 1/2 Cups Granulated Sugar
1 Cup Light Corn Syrup
1/4 Teaspoon Kosher Salt
Green Food Coloring
1 Teaspoon Peppermint Extract
1/4 Cup Confectioners Sugar
1/4 Cup Cornstarch
Nonstick Spray
Dark Chocolate Candy Melts or Dark Chocolate Chips
Parchment Paper
Add your gelatin and 1/2 cup of the ice cold water to the bowl of a stand mixer. Let it sit while you work on the next step.
In a small saucepan, combine the remaining 1/2 cup of the ice cold water, the granulated sugar, corn syrup, and salt. Cover and cook over medium high heat for 3-4 minutes.
Uncover and clip a candy thermometer onto the side of the saucepan. Continue to cook until the mixture reaches 240 degrees F. (This is an important step and a candy thermometer is absolutely necessary in ensuring your mixture reaches the right consistency for the mallows! Trust me on this one and don't try to guess, or you'll probably end up tossing batch #1 in the trash like I did).
Once the mixture reaches the correct temperature, immediately remove from the heat.
Next, attach a whisk attachment to your stand mixer. Turn the mixer on low speed, and while mixing your gelatin, slowly pour the sugar syrup mixture down the side of the bowl, adding it into the gelatin mixture. Once all of the syrup is added, increase the mixer speed to high.
Continue to mix until the mixture becomes super thick and lukewarm. (It takes anywhere from 10-15 minutes. Yes, that's a lot of whipping!)
During the last 2 minutes of whipping, add green food coloring drops until you've achieved a minty green color that you're happy with. During the last minute of whipping, add the peppermint flavoring.
While the mixture is whipping, it's time to prepare the pan!
In a small bowl, combine the confectioners sugar and cornstarch. Set aside.
Lightly spray a 13×9 inch pan with nonstick cooking spray. Add the sugar/cornstarch mixture to the pan, coating the bottom and sides. Return the unused mixture back to the small bowl to use again later.
When your marshmallow mixture is done being mixed, pour the mixture into the prepared pan. Use a lightly oiled spatula to spread the mixture evenly and smooth out the top.
Sprinkle the top of the marshmallow mixture with enough of the sugar/cornstarch mixture to cover evenly. (Reserve the rest for later).
Let the marshmallows sit, uncovered, for at least 4 hours, and up to overnight.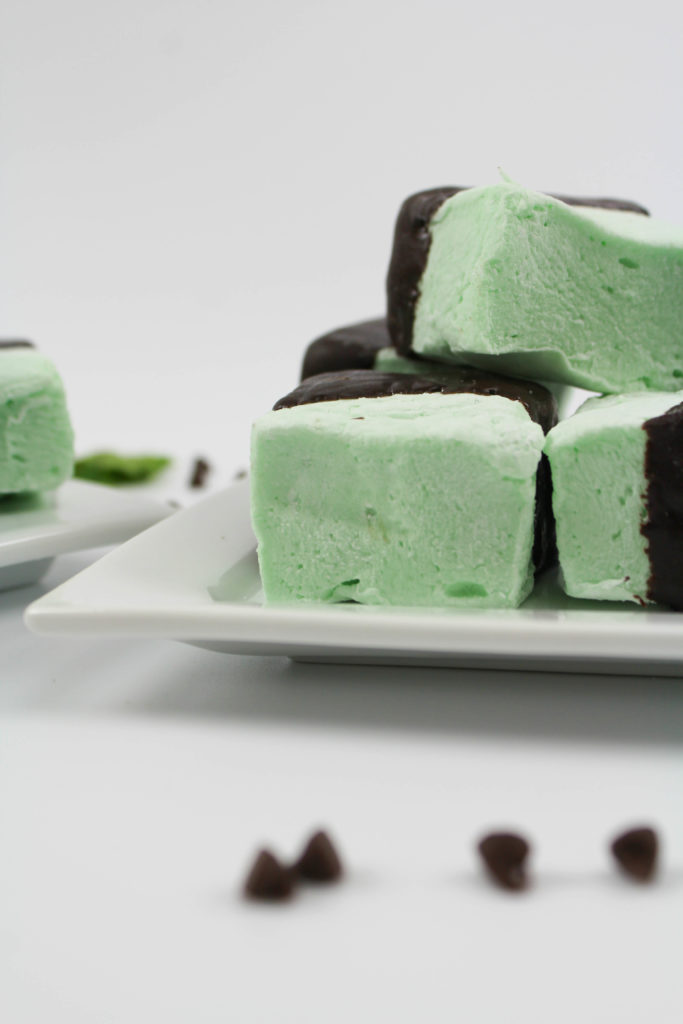 Once set, turn the marshmallows over onto a cutting board and cut them into 1-inch squares. The easiest way to do this is to use a pizza cutting wheel, dusted in that same sugar/cornstarch powder. As you cut, continue adding more powder to the wheel to prevent sticking.
Once all of your marshmallows are cut, dust each edge with more of the sugar/cornstarch powder.
Now it's time for these little mint chocolate marshmallows to take a dark chocolate dip!
Melt your dark chocolate candy melts according to the package directions or melt your chocolate chips using the double boiler method.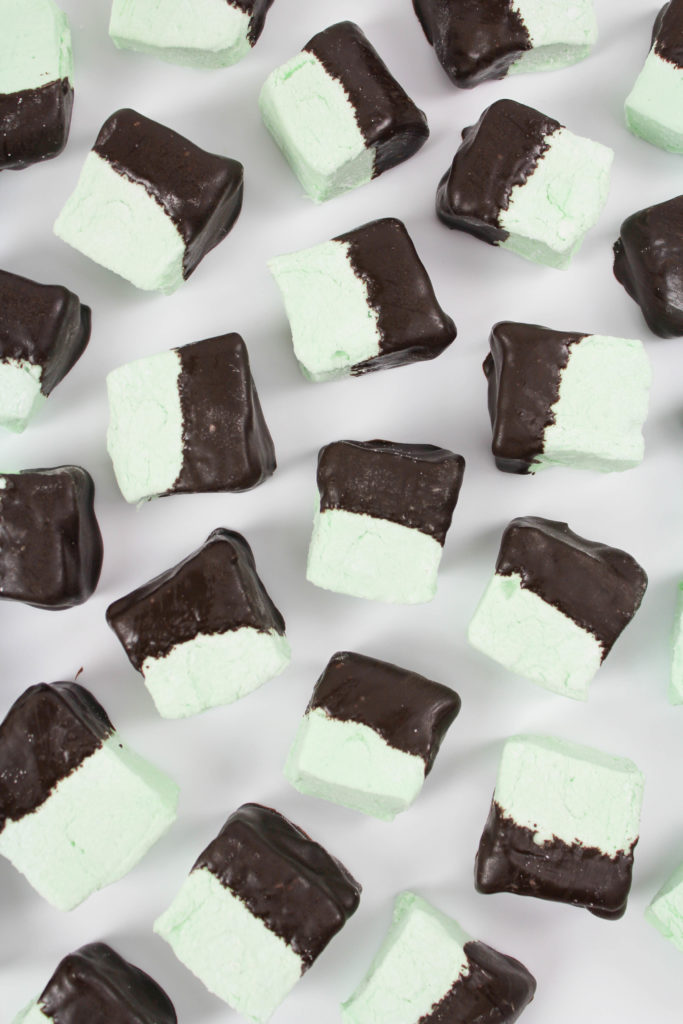 Once the chocolate is melted, dip one end of each of the marshmallows into the chocolate and tap off the excess. Place the dipped marshmallows on a sheet of parchment paper to dry completely.
These mint chocolate marshmallows will last for 3-4 weeks in an airtight container, so you can enjoy a few here and there without feeling too guilty. 😉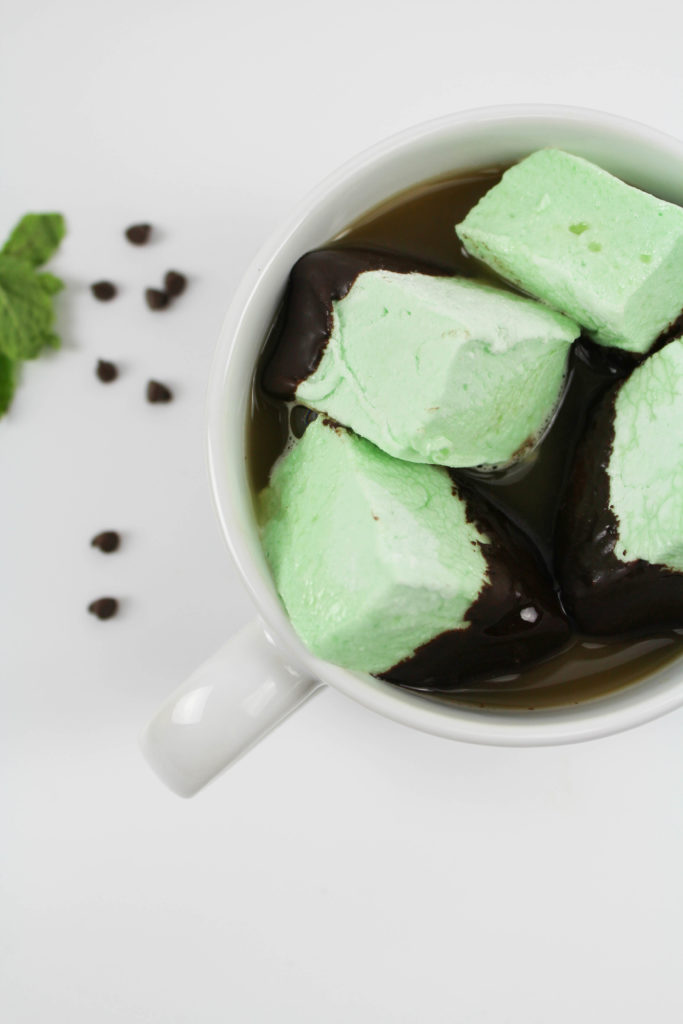 Disclosure
Sponsored posts or gifted items will be fully disclosed, and any thoughts and opinions shared are always honest and my own. Some posts contain contextual affiliate links, from which I may receive a commission on sales should you use them to make a purchase. No matter what, everything you see on Let's Mingle is something I genuinely like and recommend.