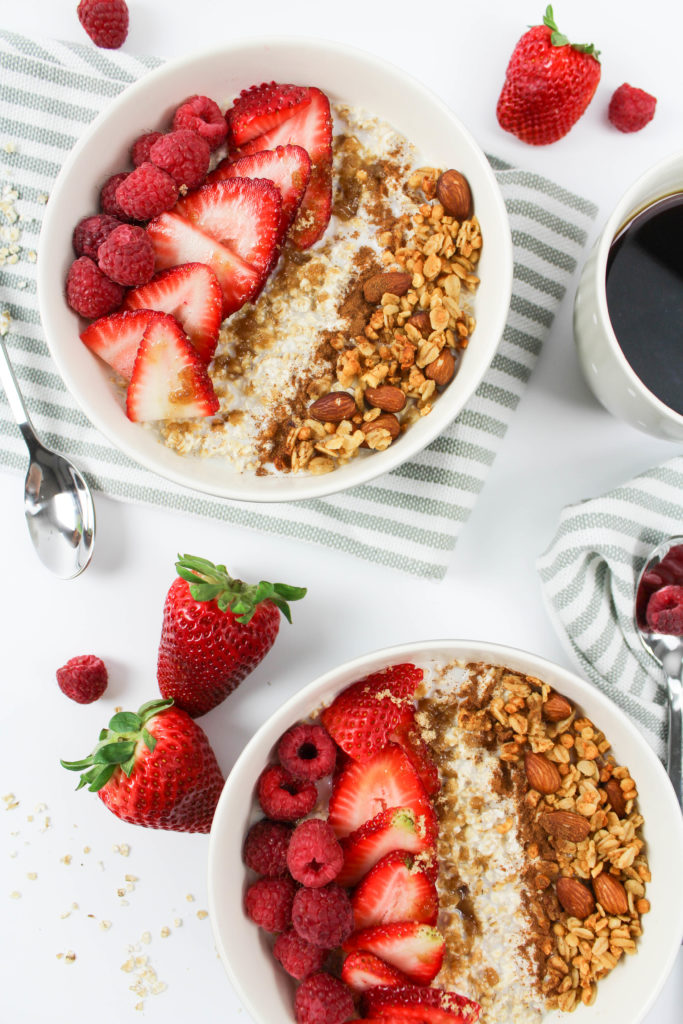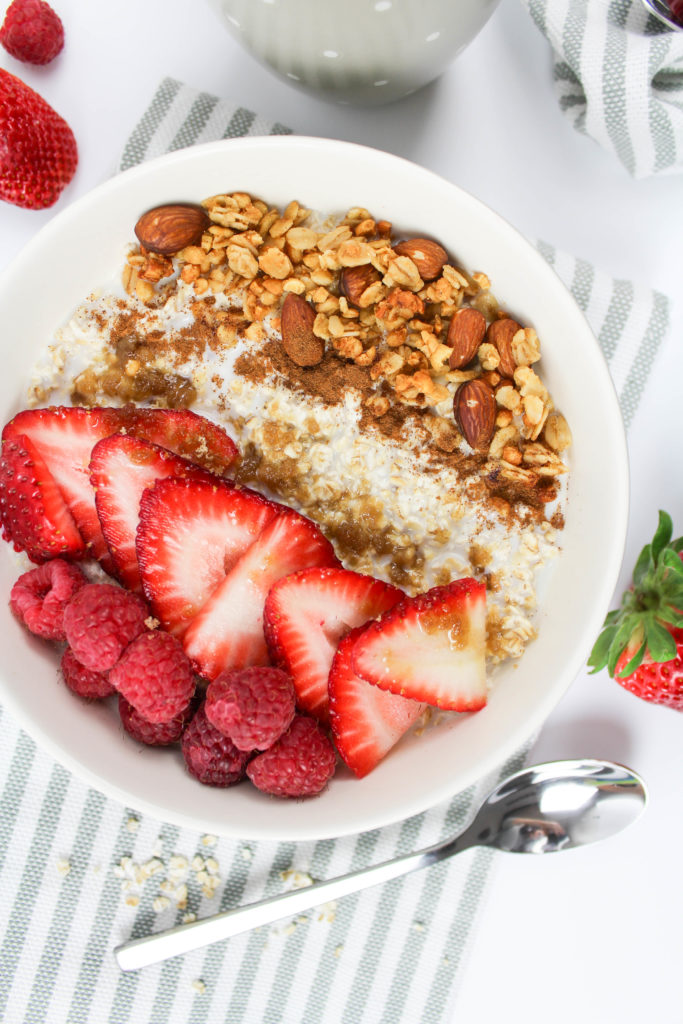 I am the QUEEN of procrastination. You'd think by now, I would have learned that this is not the way to live life, but, alas, I still seem to find excuses to wait until the very last minute to do things. Work, deadlines, projects, appointments…you name it. I procrastinate it. Breakfast? Ha. Despite how much I looooove food, I also love sleep. I sleep until the very last second I can without being late to work. (Yes, I am well aware that this is a terrible idea). Because of that, breakfast is definitely almost always an after thought. But, fellow procrastinators, rejoice! There is something we can do to not only sleep as long as possible, but wake up to a delish breakfast without having to do hardly any work in advance! What is this magical breakfast I speak of…? Overnight oats! Heard of em'? If not, I'm about to blow your mind and change your morning game with today's recipe for these berry overnight oats.
Healthy? Check.
Delicious? Check.
Easy? Check.
And it doesn't hurt that this bowl of berry goodness is totally instagram worthy either. 😉
With hardly any effort on your part before bed, you can get alllll your beauty sleep (and then some), wake up, add some yummy toppings to your oatmeal and go!
Have I sold you yet? If not, the berry overnight oats recipe will. Easy, easy, easy!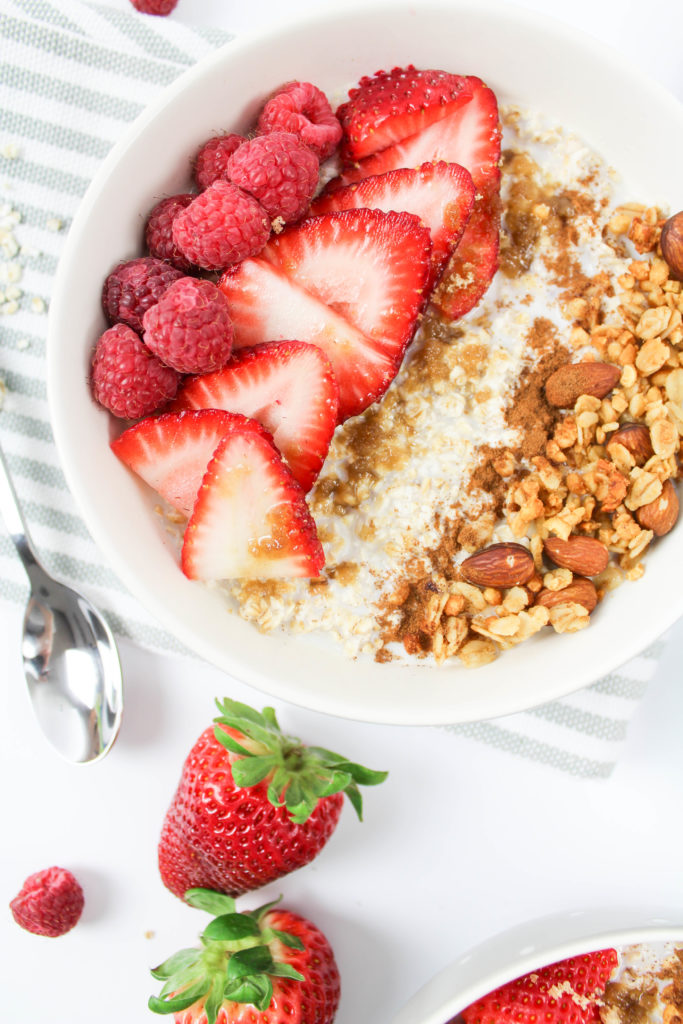 Here's what you'll need to make your own:
1 Cup Old-Fashioned Oats
1 Cup Milk
1/2 Tsp. Cinnamon
2 Tbsp. Granola
1 Tsp. Brown Sugar
Sliced Strawberries
Raspberries
(This recipe will make one bowl, so if you need to make one for your spouse, partner, or kids, double, triple, or quadruple the recipe!)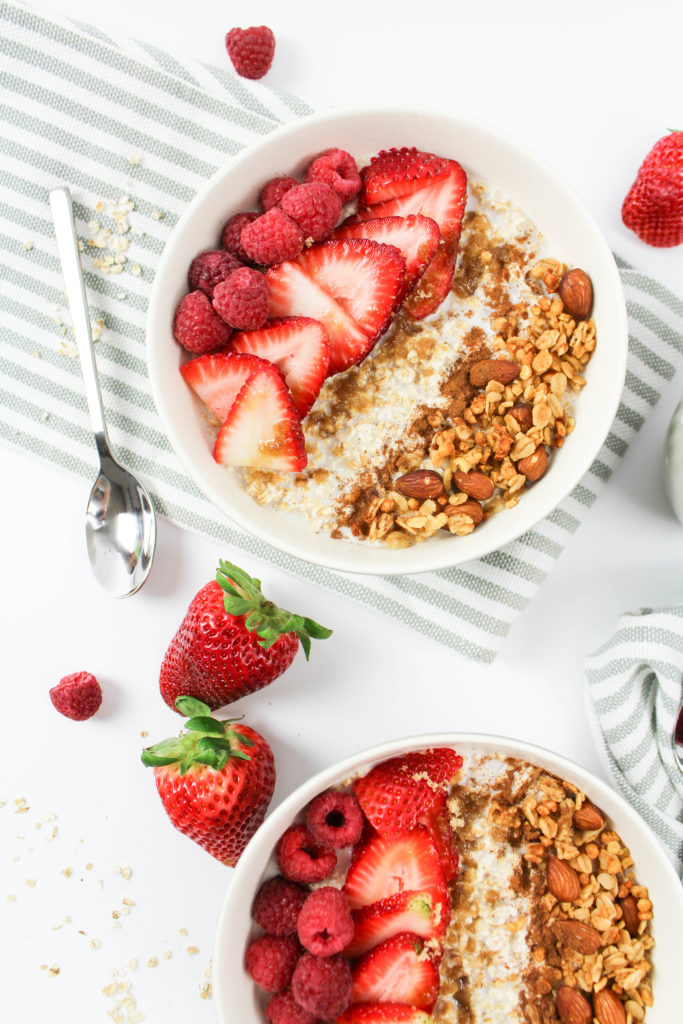 Add the dry oats to a bowl.
Add the milk and stir to coat all of the oats.
Cover the bowl and stick it in the fridge. Allow the oat and milk mixture to sit overnight.
The next morning, pull your bowl of oats out of the fridge and top them with the cinnamon, granola, brown sugar, and the berries.
Sit back, relax, and enjoy all of that hard work 😉 (And you can thank me for those extra few minutes of sleep too).
Disclosure
Sponsored posts or gifted items will be fully disclosed, and any thoughts and opinions shared are always honest and my own. Some posts contain contextual affiliate links, from which I may receive a commission on sales should you use them to make a purchase. No matter what, everything you see on Let's Mingle is something I genuinely like and recommend.