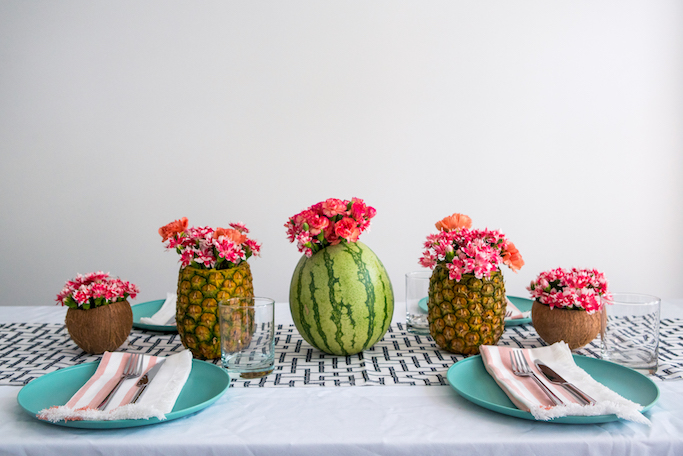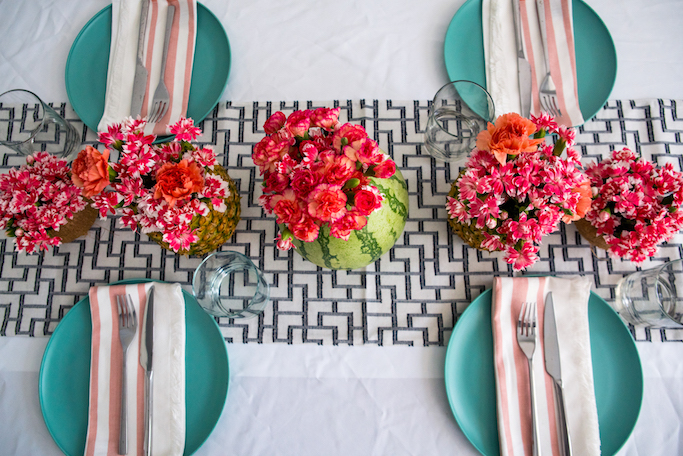 I'm flying out to sunny LA today to celebrate my little sister's birthday. She's turning the big 3-0 and we're celebrating with surf, sand, sips, and some fun adventures along the way (like a wine safari…who knew?!) Bring on the palm trees! Because I'm feeling a little tropical lately, I wanted to share an easy way to bring a little tropical flair to your next event. These DIY fruit vases make the prettiest little table centerpiece when lined up together, or a fun statement when displayed apart. However you choose to display them, they're so much fun!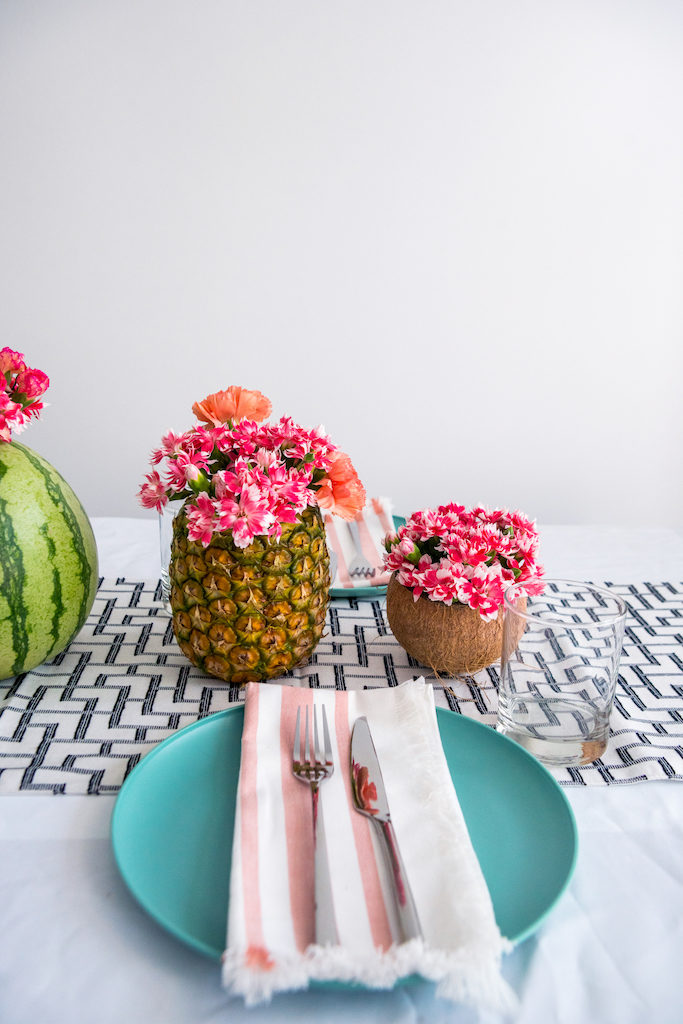 Here's what you'll need to make your own:
Whole Fruit (Melons, Coconuts, Pineapple, etc.)
Flowers
Water
Sharp Knives
Spoon
One of the most important elements of this tutorial is picking out the right fruit. I definitely wanted to have a bit of a tropical feel for this centerpiece, so I picked fruits that evoked that. I used fresh coconuts, pineapple, and a Sugar Baby watermelon. When selecting your fruit, try to pick varieties that will sit flat. Don't be embarrassed in the grocery store! Test out every single variety that you buy first! (If you can't find any flat options, you can cut a small piece off of the bottom of the fruit to create a flat base for it to stand on).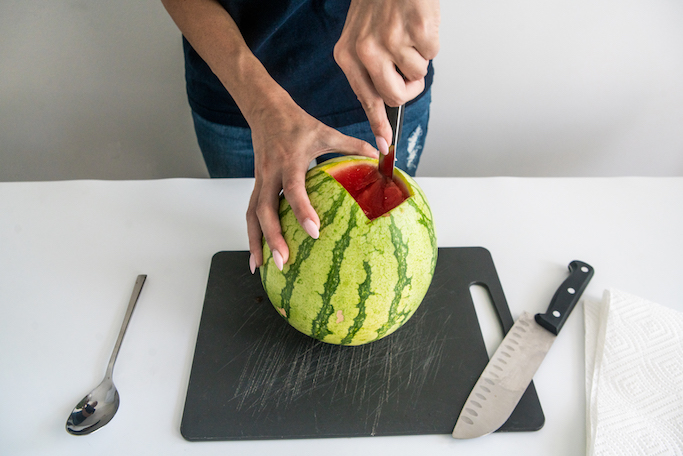 Begin by cutting open the top of your fruit, kind of like a jack-o-lantern. Be careful not to cut in to close to the sides. You want to keep the walls in tact!
If you are using a coconut, this process can be a bit more complicated. Wrap the coconut in a kitchen towel. Holding it with one hand, tap it with the back of a large knife, or hit it with a hammer, in the same place several times, then pry it open.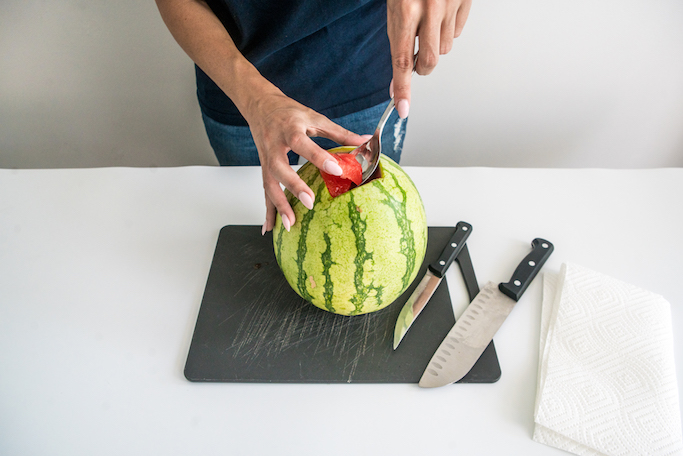 Once you have the top off, discard it and begin scooping away the insides using a spoon. You can cut away any excess that's hard to remove using a small knife. You want to create a deep enough hollow for your blooms to sit in well and a solid barrier to hold water.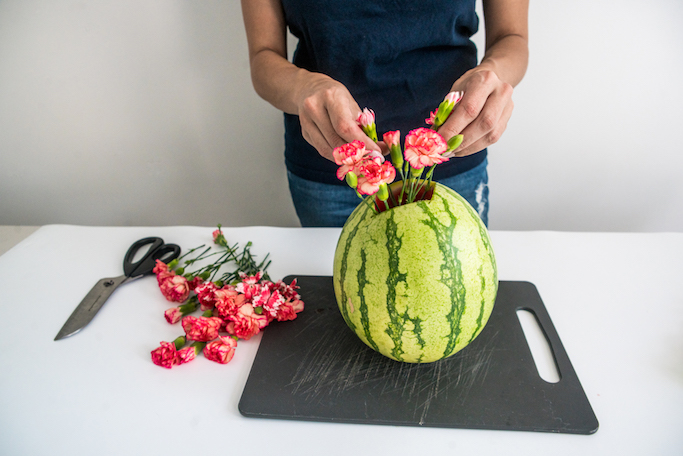 Once you have hollowed out a large enough cavity, clean up any excess flesh and add water to your fruit.
Trim your flowers to fit into the fruit "vase" and arrange them to create a full cluster.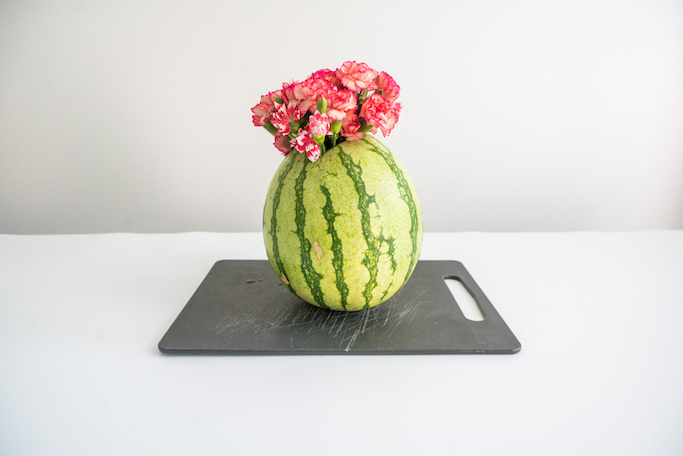 I love adding an additional bright pop of color that stands out against the fruit!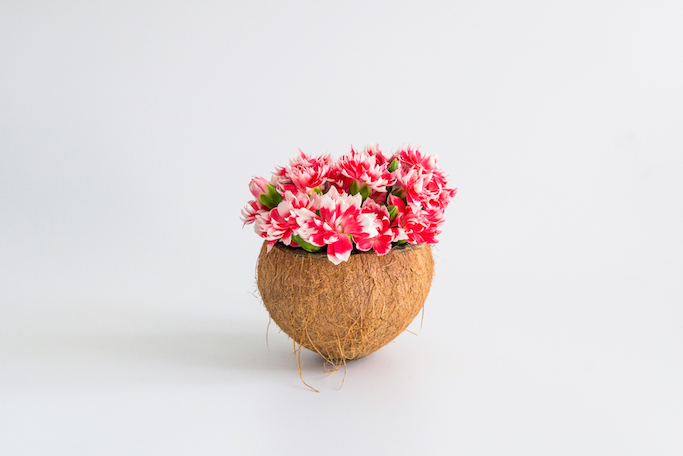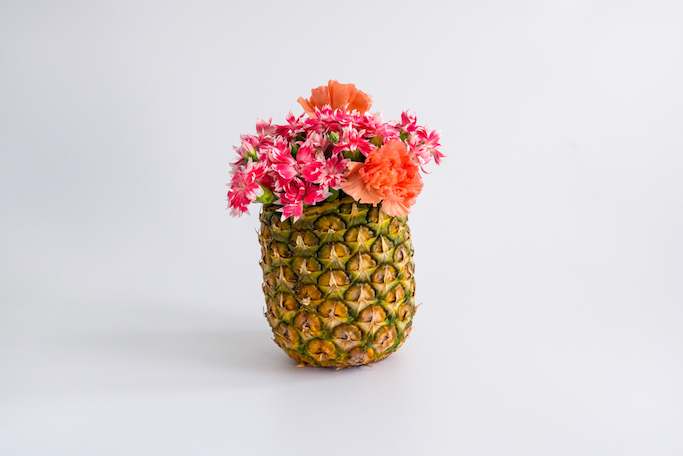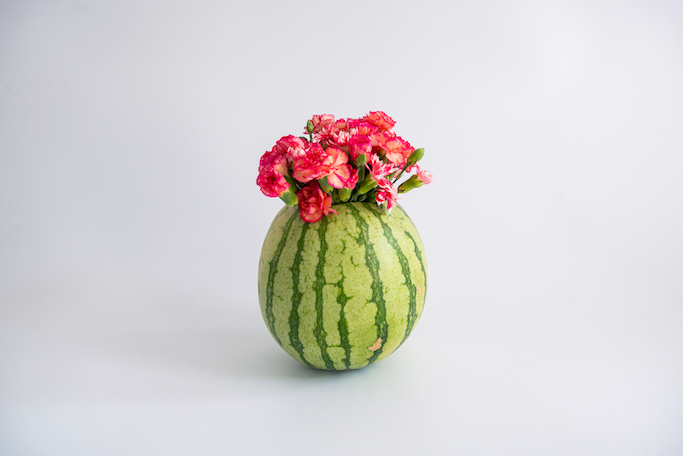 Place the DIY fruit vases together or arrange them separately.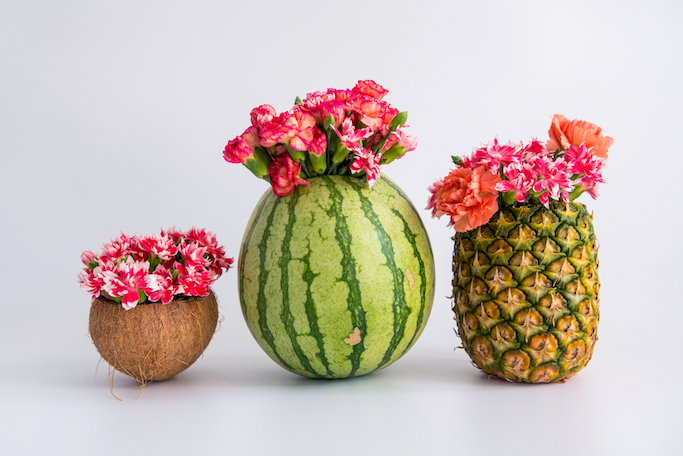 These DIY fruit vases are easy to make, super cute, and add the perfect tropical touch to your next event or gathering.
Follow along with me on my tropical LA adventures this weekend on Instagram stories and let me know what you guys plan to use these DIY fruit vases for!
Disclosure
Sponsored posts or gifted items will be fully disclosed, and any thoughts and opinions shared are always honest and my own. Some posts contain contextual affiliate links, from which I may receive a commission on sales should you use them to make a purchase. No matter what, everything you see on Let's Mingle is something I genuinely like and recommend.