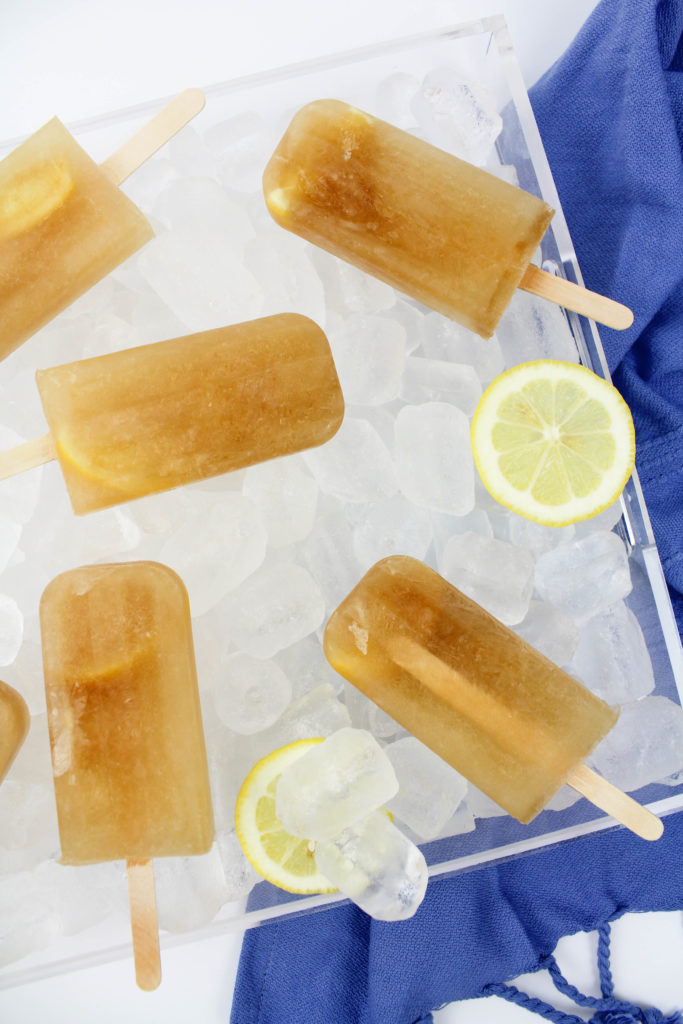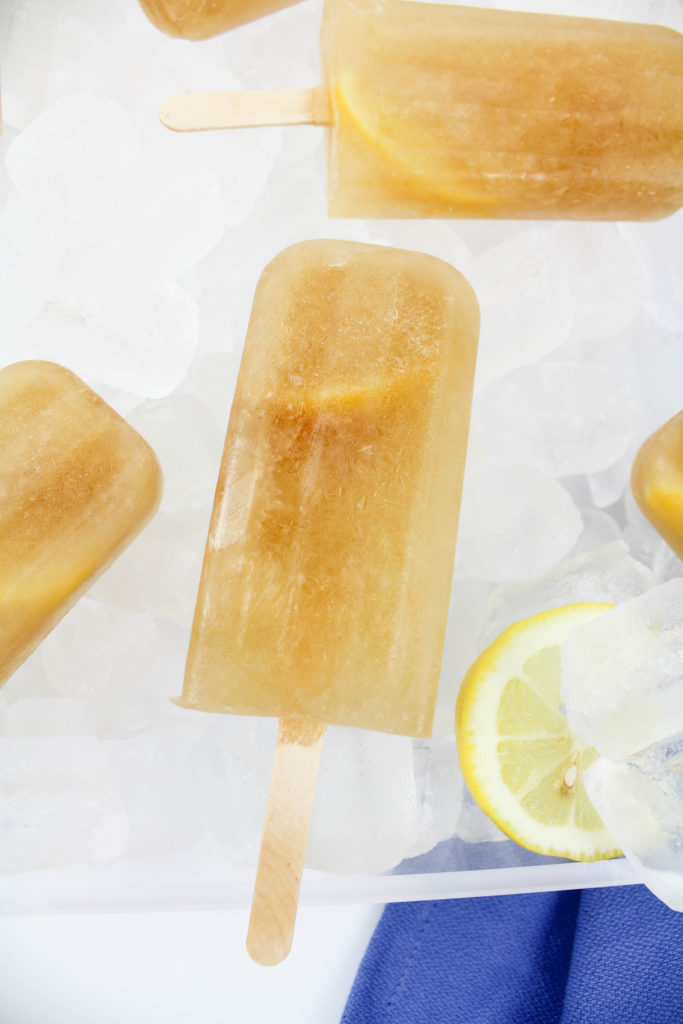 We're heading into the last long weekend of Summer, and as much as I love Halloween and colder days, I'm still hanging onto as much Summer goodness as I can. 100 degree temps can get old after awhile, but they are a whole lot easier to bear with one of these Arnold Palmer popsicles in hand! These boozy adult popsicles are the perfect treat for this Labor day weekend (or, let's be honest…any day that ends in "Y").
For those of you that might not know, an Arnold Palmer is a drink that combines both iced tea and lemonade. It was created and made famous by the American golfer named Arnold Palmer (go figure). I remember the first time I ever tried one, I was in heaven! It's the perfect summer drink to sip outside on the patio with friends (or alone!). As good as the classic is, I thought I'd change things up a bit and make them even more Summer appropriate by freezing this delicious pairing into a popsicle mold! But…that's not all…I'm also adding an adult twist to make these pops Summer party perfection. Alcohol! Boozy Arnold Palmer popsicles! Lemonade, iced tea, and booze?! YES!
The recipe is simple and only requires a little bit of patience while you're waiting for these guys to freeze.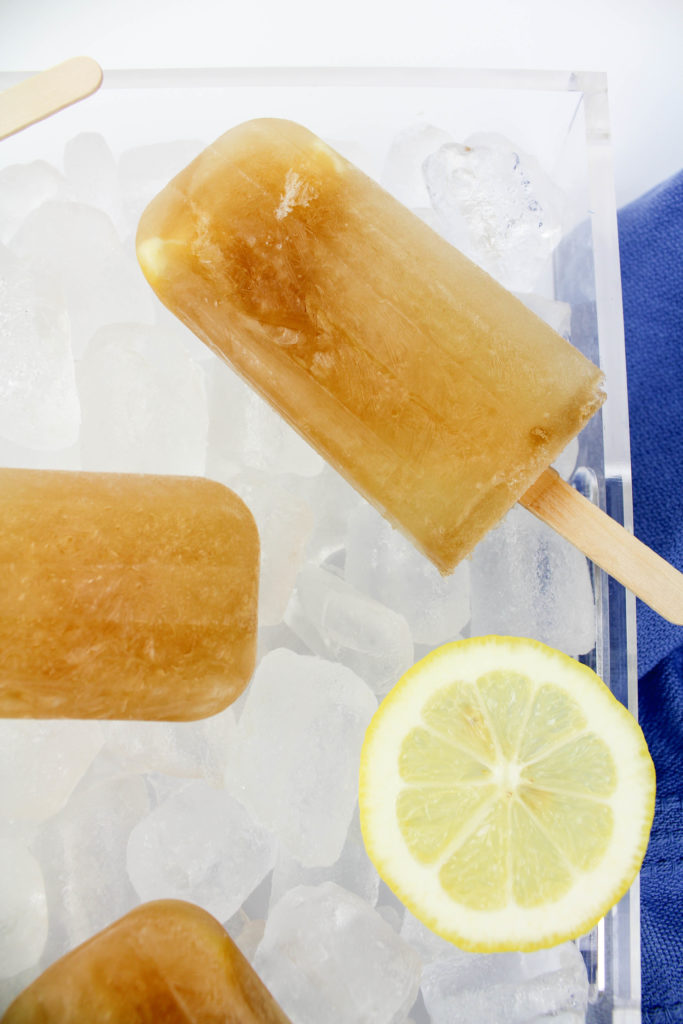 Here's what you'll need to make your own:
3 1/2 Cups Iced Tea/Lemonade
1/3 Cup Citrus Vodka
Juice of Half of a Lemon (Optional)
Lemon Wedges, Sliced Thinly (Optional)
Popsicles Sticks
Popsicle Mold (I used this silicone mold)
(I purchased a pre-made iced tea and lemonade juice, that was already combined, at my local grocery store, but you can also easily make your own. It's equal parts iced tea and lemonade).
In a pitcher, combine the Iced Tea/Lemonade juice and the citrus vodka. If you want to add a bit more lemon flavor, squeeze in the juice of half of a fresh lemon. Stir well.
Pour the mixture into your popsicle molds. For a little extra pizzazz, pop a lemon wedge into each mold.
Put the popsicle mold into your freezer and allow to freeze for at least 4 hours. (I let mine freeze overnight).
Carefully remove each popsicle from the mold and serve!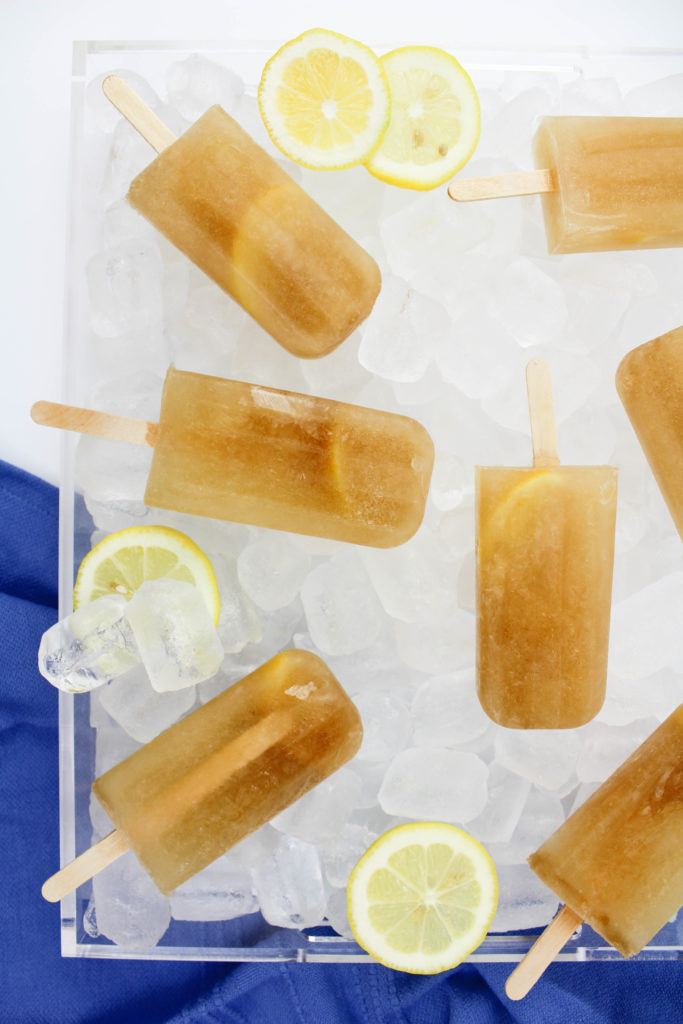 These boozy Arnold Palmer popsicles are an easy way to kick off this long weekend and enjoy the last few days of Summer that we have left!
Disclosure
Sponsored posts or gifted items will be fully disclosed, and any thoughts and opinions shared are always honest and my own. Some posts contain contextual affiliate links, from which I may receive a commission on sales should you use them to make a purchase. No matter what, everything you see on Let's Mingle is something I genuinely like and recommend.