Brewing the Perfect Cup of Tea
This shop has been compensated by Collective Bias, Inc. and its advertiser. All opinions are mine alone. #LiptonNewLook #CollectiveBias
I've been drinking tea for as long as I can remember. I was 5 or 6 years old and would sit in the kitchen with my Portuguese grandma, brewing the perfect cup of tea and heating up a slice of warm Portuguese sweet bread with melted butter. Granted, in those days, my tea cup was full of sugar and milk too, but she's definitely the person who cultivated my love of tea (and sweet bread).
Now that I'm older, my love of tea has expanded a bit more. I've tried a variety of flavors, both iced and hot, and even dipped into the Chai realm a bit too, but I always seem to revert back to the classic black tea that my grandma would always make with me in her kitchen. There's just something about a warm cup of black tea that feels like home to me.
And, luckily for me, unlike a fancy espresso beverage, brewing the perfect cup of tea is actually really easy to do and a perfect way to start off my morning! The first step is boiling the water, which you can do while you're getting ready for work, getting the kids ready for school, or just enjoying the weekend sun in your pjs. I love my electric kettle, because it's so simple and easy to use, but a stove top kettle works just fine too!
Begin by boiling your water. Black tea needs hotter water, so let it reach a rolling boil. (For other types of tea, like green tea, your water only needs little bubbles). I pick up my favorite Lipton 100% Natural Tea Black Tea Bags at Walmart. You can shop in store or online at walmart.com. Or you can even click the image below to shop!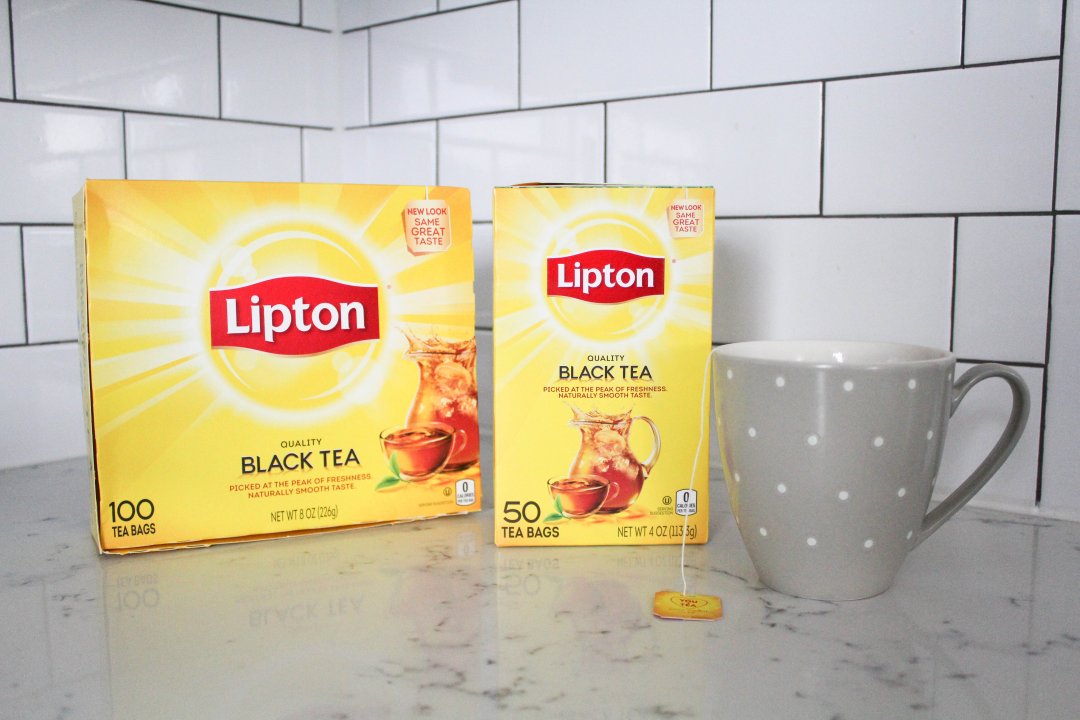 The tea bags come ready to use in either 50 or 100 count packages. (I love the new cute little sleeves that the tea bags come in now too!) If you've picked up Lipton tea before, you may notice that they have a new look, but still the same great taste and they are still America's favorite tea!
Add your Lipton tea bag to your favorite tea cup and pour in the water. Pour your water directly onto the tea bag to help 'agitate' the leaves. This helps the infusion!
Many people don't actually allow their tea to "brew" for the right amount of time, which all depends on the type of tea you are brewing. For black tea, allow the teabag to steep for 3-5 minutes, before removing the teabag with a teaspoon. Brewing the perfect cup of tea for a gathering is really easy too! Use one tea bag per cup, so, for example, if you have 3 guests and 3 cups of water in your teapot, you'll want to use 3 tea bags. For the best flavor, prior to using, preheat your teapot with a little hot water. Once your water is boiling, add the tea bags to the teapot and pour the water over the tea bags. Cover your teapot with a cozy to help retain the heat during the brewing process. Allow the tea to "brew" for 3 to 5 minutes and serve! So simple!
You can choose to drink the black tea plain or add milk or sugar to your cup. Adding milk in black tea is a classic British staple, and, whether you add the milk to your cup first or second, is completely up to you!
I definitely have my grandma to thank for teaching me the art of brewing the perfect cup of tea and hope that these simple tips help you guys to perfect your morning tea routine too!
Disclosure
Sponsored posts or gifted items will be fully disclosed, and any thoughts and opinions shared are always honest and my own. Some posts contain contextual affiliate links, from which I may receive a commission on sales should you use them to make a purchase. No matter what, everything you see on Let's Mingle is something I genuinely like and recommend.