Funfetti Marshmallow Ice Cream Sandwiches
This shop has been compensated by Collective Bias, Inc. and its advertiser. All opinions are mine alone. #addcolortoyourcup #CollectiveBias
You may be thinking that it's a little too early to be posting about funfetti marshmallow ice cream sandwiches already, but spring is right around the corner and I'm allllll about doing as much as I can to start celebrating warmer weather a little early! And what better way to do that, than with ice cream? And not just any ice cream….marshmallow PEEPS® ice cream!
I got my hands on this fun new and seasonal flavored International Delight® PEEPS® Sweet Marshmallow Coffee Creamer and knew that I had to use it in a dessert! (Did you know that you can actually use coffee creamer in a lot of things besides just coffee?)
This delicious marshmallow flavored ice cream has actual PEEPS® melted right into it and is sandwiched between my go-to sugar cookies. They are easy to make and so much more fun when you add brightly colored sprinkles! Plus, I even added a little bit of International Delight® PEEPS® Sweet Marshmallow Coffee Creamer into the dough too!
You can order it online for grocery pick-up or you can even shop directly for it by hovering over the photo below to click through and order directly at Walmart!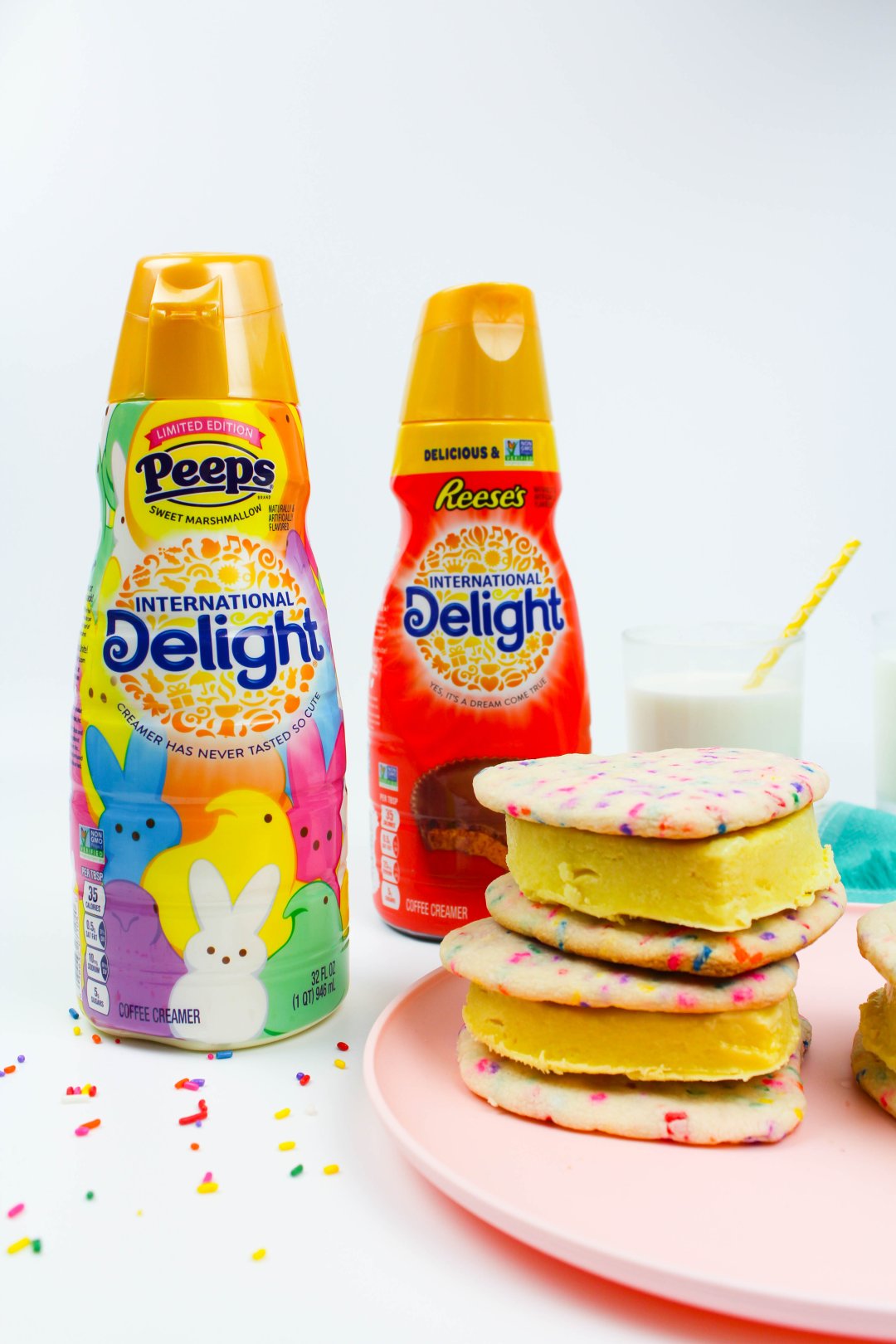 The creamer is also available at your local Walmart store, in the refrigerated aisle.
You can even earn cash back on International Delight® Coffee Creamers starting on 3/22 by using Ibotta.
These funfetti marshmallow ice cream sandwiches are fun for kids or adults alike and are the perfect way to enjoy all the PEEPS® that are hitting the stores right now!
*The recipe does require some setting time overnight before assembling the sandwiches, so plan ahead based on when you want to serve them!
Here's what you'll need to make your own:
Ice Cream –

2 Tbsp. International Delight® PEEPS® Sweet Marshmallow Coffee Creamer
2 1/4 Cups Whole Milk
1 Tbsp. + 1 Tsp. Cornstarch
3 Tbsp. Cream Cheese, Softened
1/4 Tsp. Salt
1 1/2 Cups Heavy Cream
1/4 Cup Sugar
2 Tbsp. Light Corn Syrup
2 Tsp. Vanilla
9 Marshmallow PEEPS®
Food Coloring (Optional)
Cookies – 
2 1/2 Cups Flour
2 Tsp. Baking Powder
1 Tsp. Salt
1 Cup (2 Sticks) Unsalted Butter, Room Temperature
1 3/4 Cups Powdered Sugar
1 Large Egg, Room Temperature
1 1/2 Tsp. Almond Extract
1/2 Tsp. Vanilla Extract
2 Tsp. International Delight® PEEPS® Sweet Marshmallow Coffee Creamer
2/3 Cup Sprinkles
To Make the Ice Cream –
In a small bowl, combine the creamer and the cornstarch and mix well. Set aside.
In another small bowl, combine the cream cheese and the salt. Mix well and set aside.
In a large saucepan, combine the milk, cream, sugar, corn syrup, and vanilla. Cook over medium-high heat until a rolling boil develops. Boil for about 4 minutes, then remove from the heat. Mix in the cornstarch mixture and return to the heat. Add in the PEEPS® and stir until they have melted completely and the mixture is smooth. If using food coloring, add a few drops in the color of your choice and stir well.
Bring the mixture back to a boil and continue to stir until the mixture has thickened a bit (about 1-2 minutes). Gradually whisk the marshmallow mixture into the cream cheese until smooth. Pour the ice cream mixture into a freezer-safe glass or metal baking pan, cover, and place into the freezer to chill until cold (about 1 hour).
Remove from the freezer and stir the mixture to break up any ice crystals or film on top. Recover your tray and return it to the freezer. Allow the mixture to freeze completely (about 4 hours) or overnight.
To Make the Cookies – 
In a medium-sized bowl, mix the flour, baking powder, and salt. Set aside.
In the bowl of a stand mixer, cream together the butter and powdered sugar until it reaches a light and fluffy consistency.
In a small bowl, beat the egg, creamer, and almond extract. Add the egg mixture to creamed butter and sugar and beat on high until mixed completely. On low speed, add the flour mixture to the bowl, in small increments, allowing the dough to come together after each addition. Once all of the flour is added and the dough has formed, add the sprinkles and mix again on low until evenly dispersed. Once mixed, form the dough into a ball and allow it to rest for 15 minutes in the bowl. (The dough should be similar to the consistency of play-doh).
Preheat the oven to 400 degrees and line two large baking sheets with parchment paper. Set aside.
Prepare your rolling surface by dusting it lightly with flour. Roll out the dough with a floured rolling pin, until it reaches about 1/4″ in thickness. Cut into fun shapes using cookie cutters and then transfer the cut dough onto the parchment lined baking sheets, allowing room between each cookie. (They will spread a tiny bit).
Bake the cookies for about 7 minutes, or until the cookies are slightly puffed and are no longer shiny on top. Allow the cookies to rest on the baking sheets for 4 minutes before transferring them to a wire rack to cool completely.
Store in an airtight container until you're ready to assemble the sandwiches!
To Assemble the Funfetti Marshmallow Ice Cream Sandwiches – 
Remove your ice cream from the freezer to allow it to thaw out just a little bit.
Using the same cookie cutter that you used to cut out your cookies, firmly press the shapes into your frozen ice cream, and gently lift them out of the pan. (Mine stuck right to the cookie cutters when I lifted them out).
Gently place two cookies around the ice cream (top and bottom) and press together delicately.
Return the funfetti marshmallow ice cream sandwiches to the freezer to firm up again slightly, before serving.
These funfetti marshmallow ice cream sandwiches are so much fun to make and even more fun to eat! Who's ready for spring?!
Disclosure
Sponsored posts or gifted items will be fully disclosed, and any thoughts and opinions shared are always honest and my own. Some posts contain contextual affiliate links, from which I may receive a commission on sales should you use them to make a purchase. No matter what, everything you see on Let's Mingle is something I genuinely like and recommend.