This shop has been compensated by Collective Bias, Inc. and its advertiser. All opinions are mine alone. #MinionsMovieNight #CollectiveBias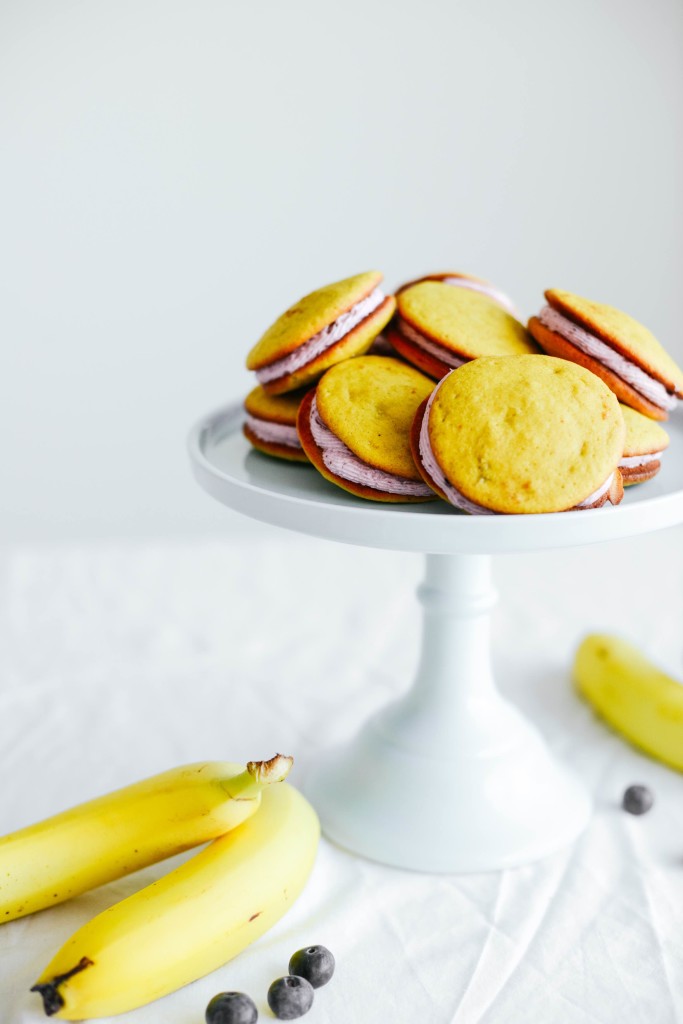 I don't know what it is about the minions, but they have stolen my little heart. Ever since the first Despicable Me movie was released, I was hooked. So I was thrilled when I heard that a movie, completely dedicated to the minions was going to be released!
As you guys already know, we don't have any kids (other than our 3 little fur balls), so trying to convince my husband to go and see a cartoon is a serious struggle. There are definitely times that I force him to go with me, but this time around, I figured I'd watch it at home with my sister and some fun snacks. (She loves them just as much as me!) Minions © 2015 Universal Studios. All rights reserved, was just released on December 8th, and I've been saving up some time to sit down, relax, and watch the movie!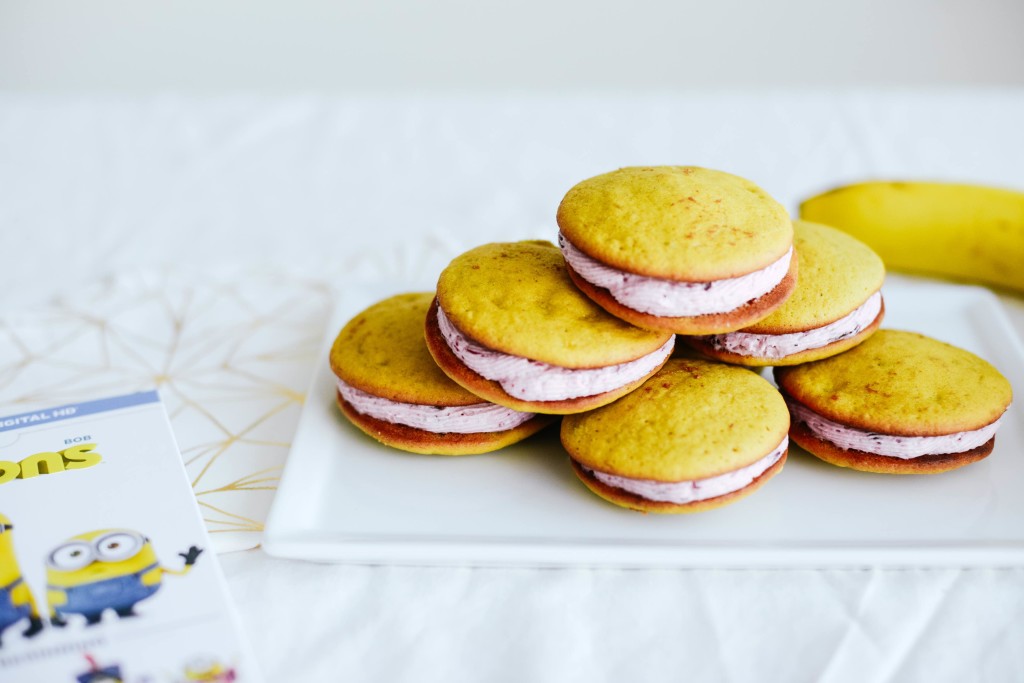 I wanted to create something yummy to eat while watching it, and something that was inspired by the film, which had to include something banana flavored, of course!
I'm sharing a recipe for banana whoopie pies with blueberry filling today and it's the perfect treat to enjoy while watching the movie with friends or family. It also happens to be a great snack for adults to enjoy with a cup of coffee or tea, or the kids to enjoy with a glass of milk. Either way you choose to eat them, they are DELISH!
I picked up the movie, produced by Illumination Entertainment, at a local retailer near me, but you can find out where to pick up your own copy here.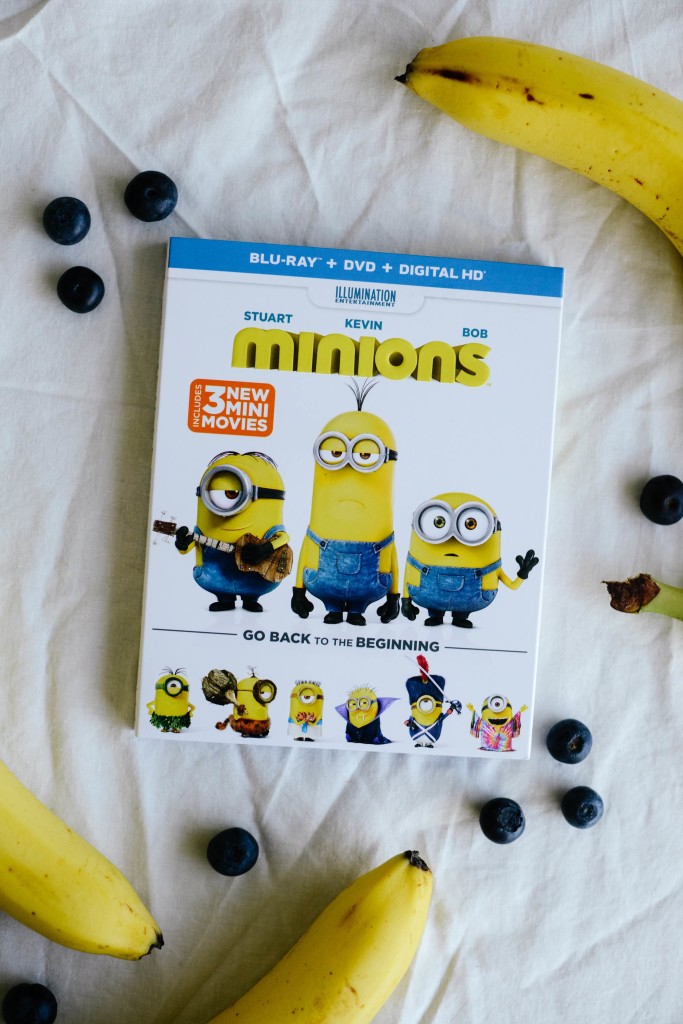 Here's what you'll need to make your own:
Banana Whoopie Pies:
2 Cups Flour
3/4 Tsp. Baking Powder
1/2 Tsp. Baking Soda
1/2 Tsp. Salt
1/4 Tsp. Cinnamon
1 Stick Unsalted Butter, softened
1/2 Cup Sugar
1/2 Cup Light Brown Sugar
1 Egg
2 Bananas, Mashed
1/4 Cup Sour Cream
1 1/2 Tsp.Vanilla Extract
Blueberry Filling:
1 Cup Butter
1 Tsp. Vanilla Extract
1/4 Tsp. Salt
4 Cups Confectioners Sugar
1/2 Cup Blueberry Jam
Preheat oven to 350 degrees. Line baking sheets with parchment paper.
Mix together your flour, baking powder, baking soda, salt, and cinnamon in a bowl and set aside.
(For this next step, I used my standing mixer and paddle attachment, to make things easier on me, but you could use a hand mixer too). Beat butter and both types of sugar on medium-high speed until light and fluffy. (About 3 minutes). Once done, add in your egg and mix until combined. Add banana, sour cream, and vanilla. Mix well. Reduce the speed of your mixer and slowly add in your flour mixture in small batches until well combined.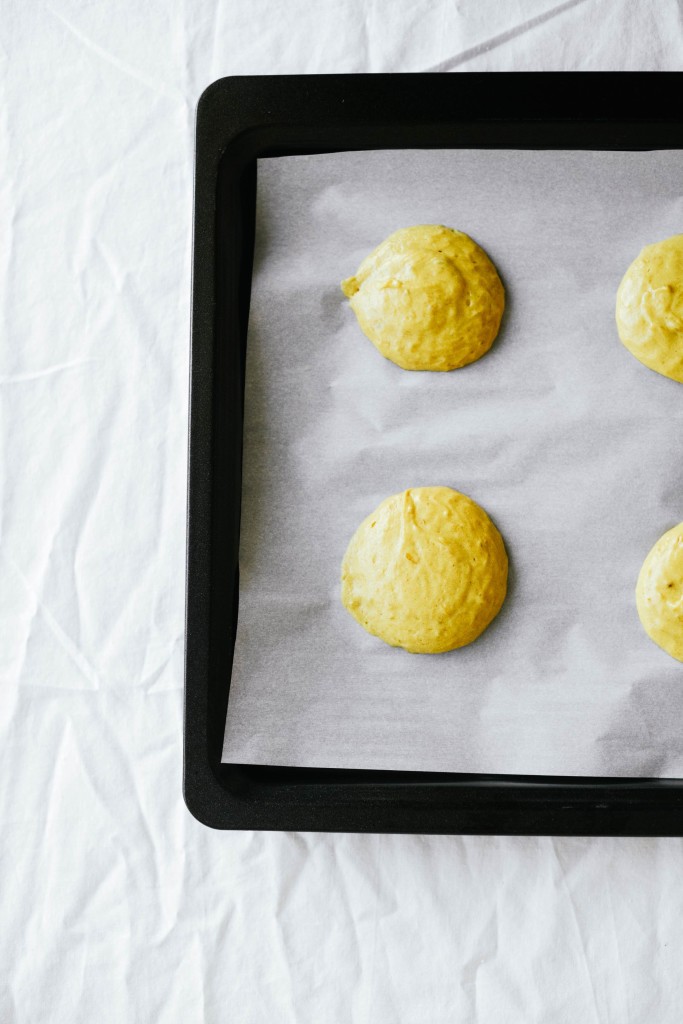 Next, it's time to bake! Transfer your batter to a pastry bag or a resealable plastic bag fitted with a round pastry tip. I used a tip with a large opening. (Also, I couldn't find my perfectly round tip, so I used my star tip, that had just as large of an opening, and it worked perfectly too. You won't notice the indents on your baked whoopie pies, so don't stress about having the perfect pastry tip!)
Pipe round mounds, about 1 1/2 inches, onto each pan, placing them just about 2 inches apart. This will prevent them from touching when they start to bake.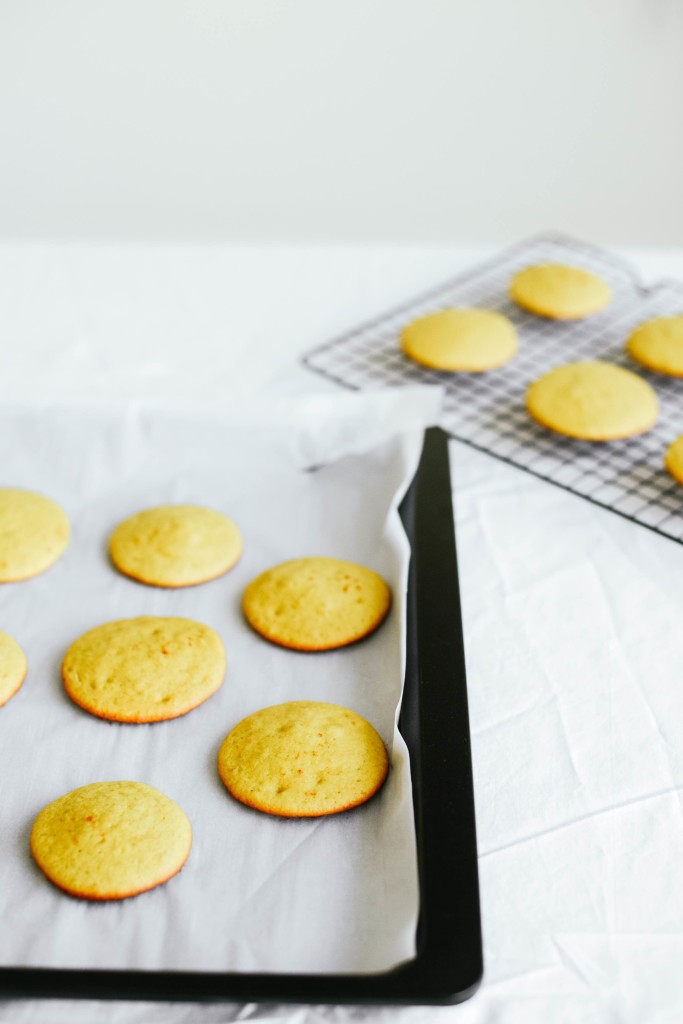 Bake until they are slightly golden brown, about 12 minutes. During the baking process, rotate your baking sheets from top to bottom and from front to back on your racks, halfway through. This will ensure they bake evenly.
Remove your baking sheets from oven and slide the cake pieces and parchment paper onto a wire rack to cool.
Repeat the process with any remaining batter that you have left. Also, we'll be sandwiching these babies together, so try to get an even amount of cake pieces with your batter!
Once your cake pieces have cooled, it's time to make our delicious filling.
Beat your butter, vanilla extract and salt until mixed well and creamy. Add in 1 cup of confectioners sugar at a time, until mixed well, to achieve a creamy consistency. Add in your blueberry jam and mix well.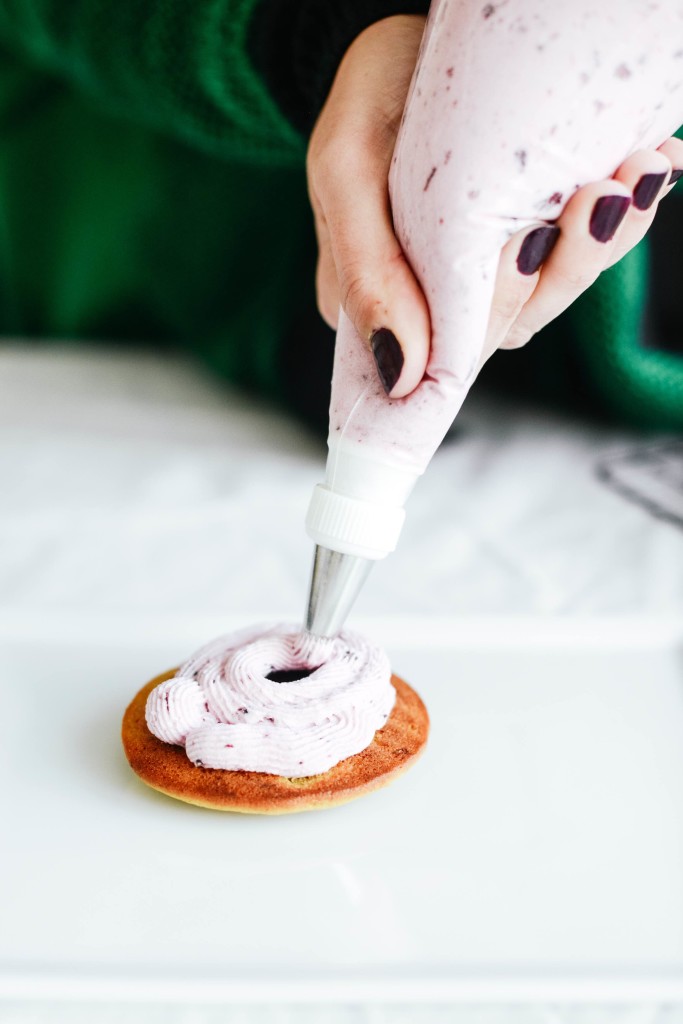 Using your piping or ziplock bag again, pipe your finished blueberry filling onto one of the banana cake pieces. If you don't have another pastry bag, you can also spread the frosting onto the cake top with a knife, just be careful not to break it while spreading!
Sandwich two cake pieces together and press until the filling is visible between the two cake pieces.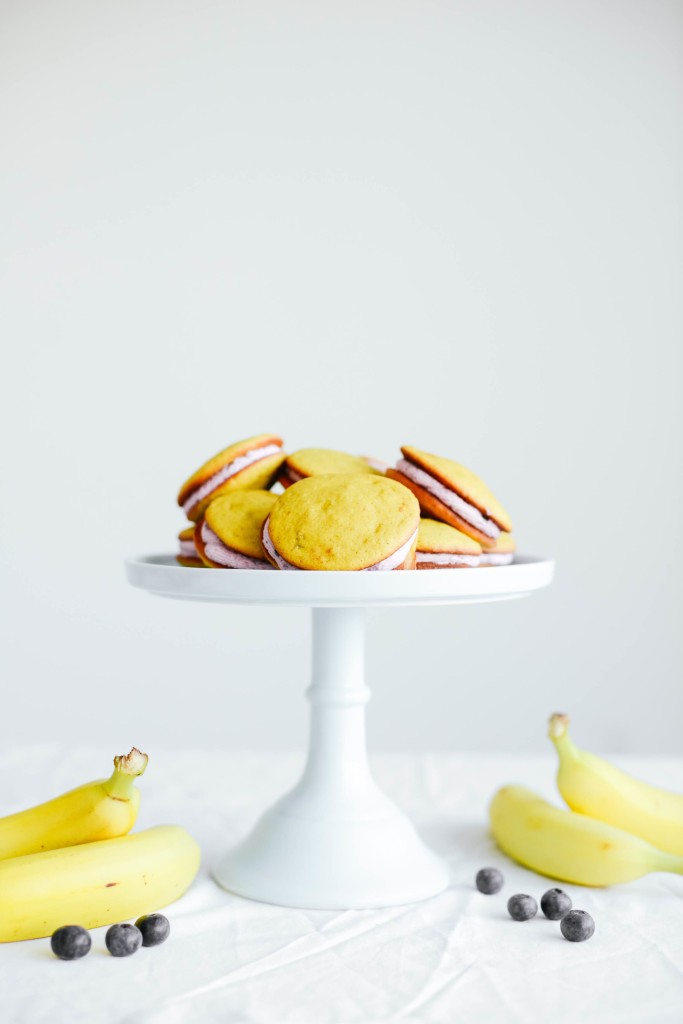 These whoopie pies are sweet, decadent, and taste just like yummy banana bread with a sweet blueberry filling! They are the perfect treat to eat while sitting down with the family (or alone, let's be honest) to watch the new Minions movie. I'm sure you'll be yelling out "BANANA!" every time you eat these little guys too. And, I'm warning you now…good luck trying to only eat one! 😉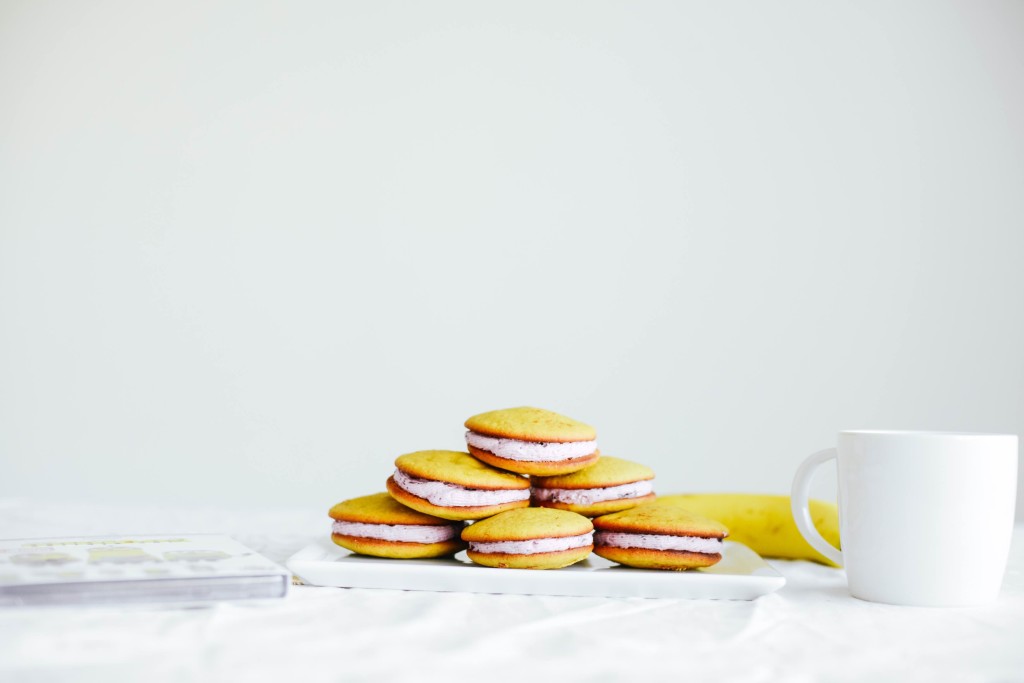 You can find more fun minions-inspired recipes here to take your Minions movie night to the top!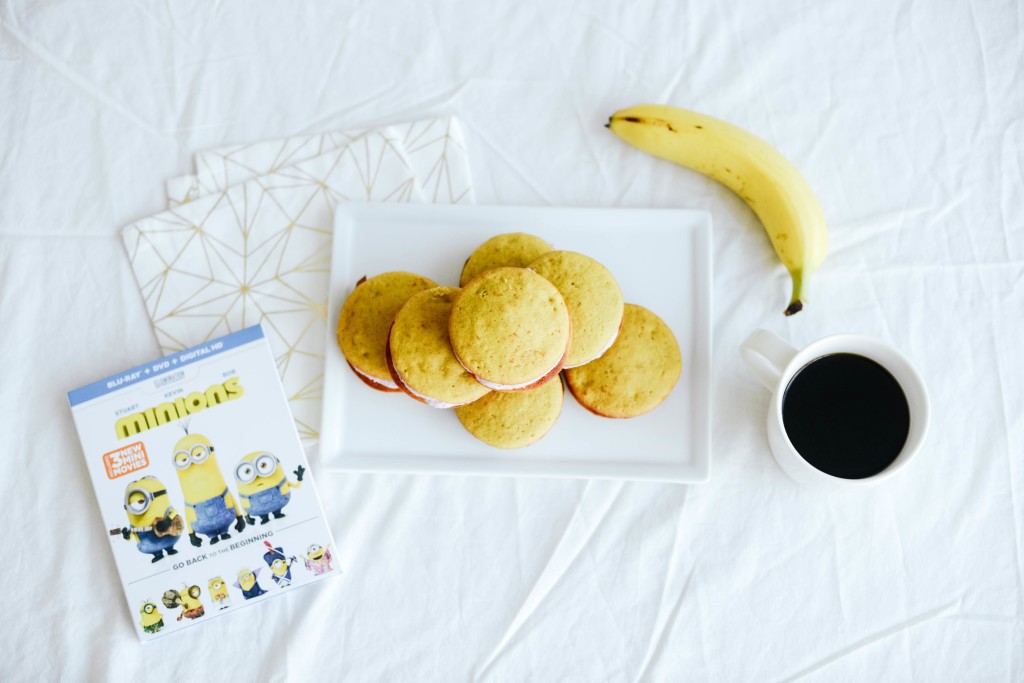 Photography by Haley Nord Photography