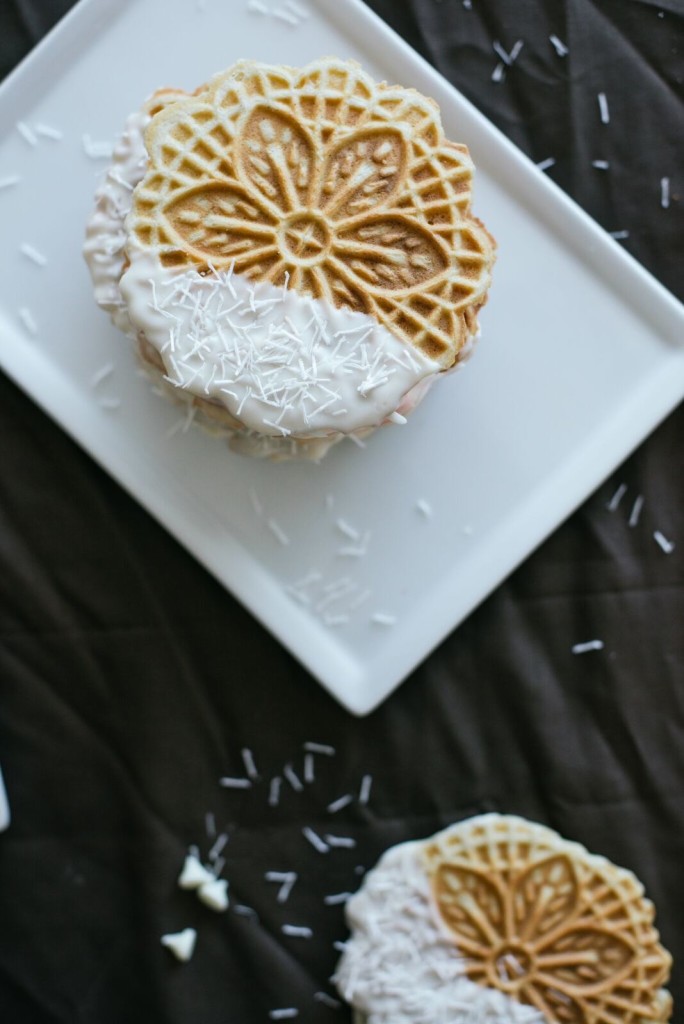 Today is national cookie day! I hope you guys have already started celebrating with cookies for breakfast.
I definitely think December is a fitting month for this foodie holiday, with all of the cookie exchange parties and hot cocoa filling mugs this time of year.
I'm not sure if you guys are like me, but I pine away over gorgeous and pristinely decorated cookies on pinterest and have high hopes and big plans of doing the same, but it never seems to work out for me. First off, I always give myself way too much cookie decorating credit, which I learn pretty quickly each time I try. Plus, holiday cookies can take a ton of time and sometimes, depending on my schedule and my memory, I have to stop and pick up store bought (gasp!) cookies on the way to a get together if I forget. Don't act like you haven't either.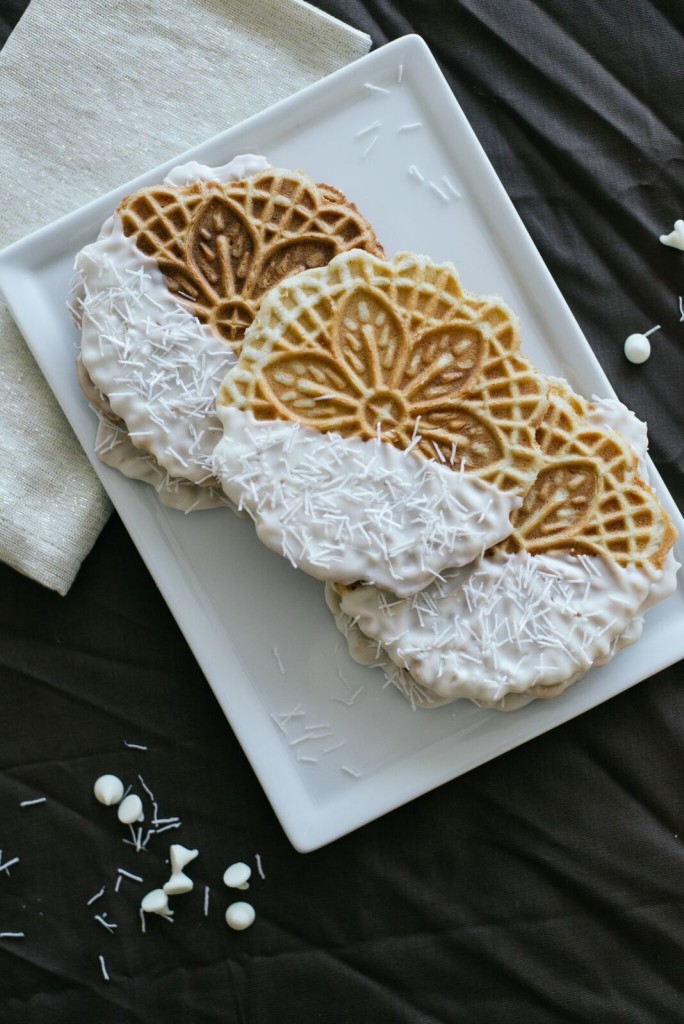 If you guys are the same way, today's post is going to solve all of your cookie konundrums! I'm sharing a recipe for chocolate dipped pizzelle cookies that are uber delish and a cinch to make! Plus, they are gorgeous!!!
You'll definitely impress the other cookie guests in attendance when you show up with a batch of these beauties!
To make these pizzelle cookies, you'll need to have a pizzelle maker. It looks like a waffle iron (and works in the same way) and is what gives these cookies the really pretty imprint!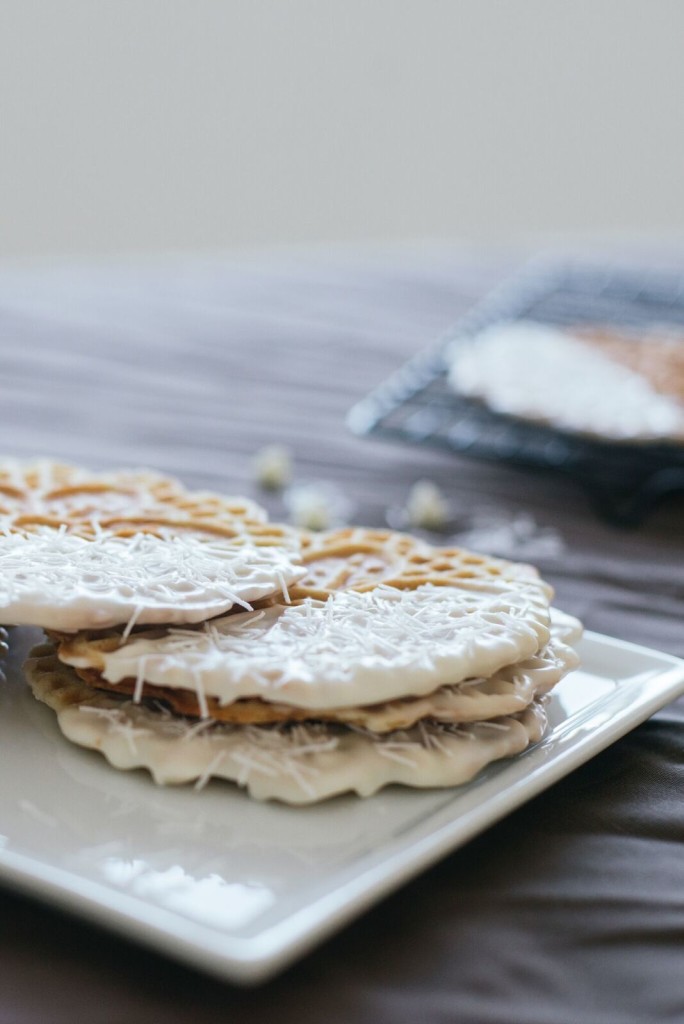 They aren't too expensive either. I picked mine up from Crate and Barrel, but you can get them on Amazon and other stores too!
And did I mention that they are a cinch to make?! They are a bit tricky at first to figure out, in regards to batter placement and ratio, but after a few tries, you'll be a pizzelle pro. Plus, you get to eat all of the mistakes as you go!
Here's what you'll need to make your own:
2 Tsp. Baking Powder
1 3/4 cups flour
1 Tsp. Vanilla
1/2 Cup Salted Butter, Melted and Cooled
1/2 Tsp. Pumpkin Pie Spice
3 Eggs, at Room Temperature
3/4 Cup Sugar
White, Milk, or Dark Chocolate Baking Chips
Coconut, Sprinkles, or Other Toppings
In a bowl, beat together your eggs and sugar until the sugar has mostly disolved, then add your butter and vanilla. Stir well.
Next add the flour, pumpkin pie spice, and baking powder. Stir well. You'll know you are ready to go when your batter is stiff and thick.
Plug in your pizzelle maker and wait until it's really hot before adding your batter.
Place about 1 tablespoon of batter into each pizzelle section, slightly behind the center point of your design. It may seems strange not to put the batter right in the center, but when you close the top, the batter will be pushed forward and around the design to fill it in.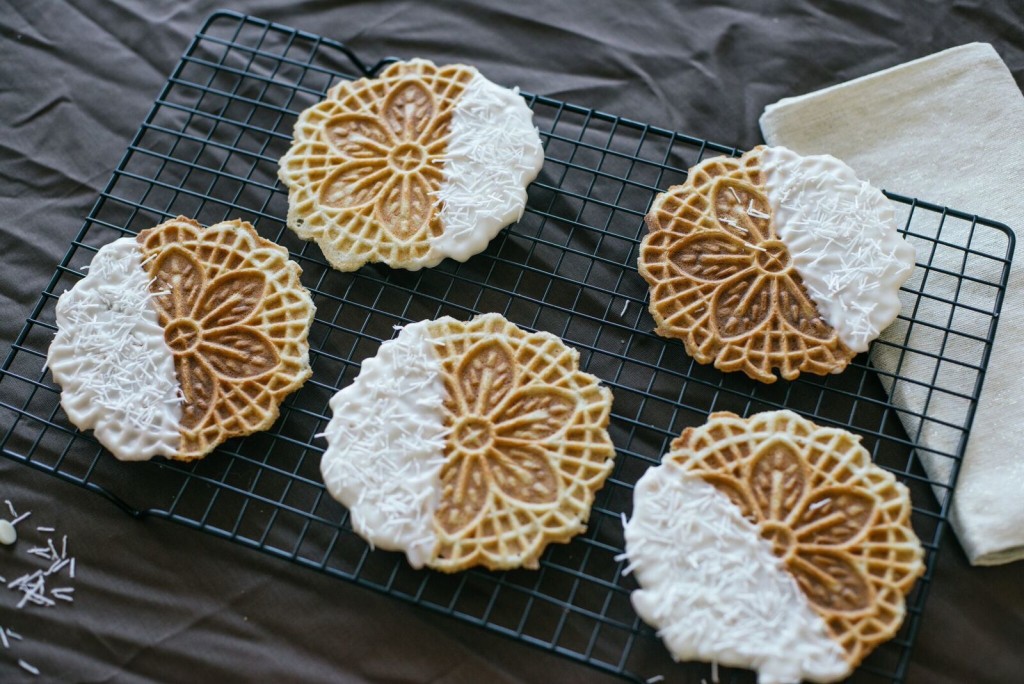 Close your lid and wait until done. (My machine has a little light in the front that turns green when they are ready to remove).
When you remove the cooked pizzelle's place them onto a cooling rack immediately. They come out of the machine soft and pliable, but start to harden as soon as they are removed.
Allow to cool completely.
Next up, melt your chocolate in a bowl and according to the directions on the package.
Begin to dip your pizzelle cookies into the melted chocolate, being very careful not to break them. They are super delicate!
Once dipped, place them back onto the cooling racks to harden and sprinkle with your toppings.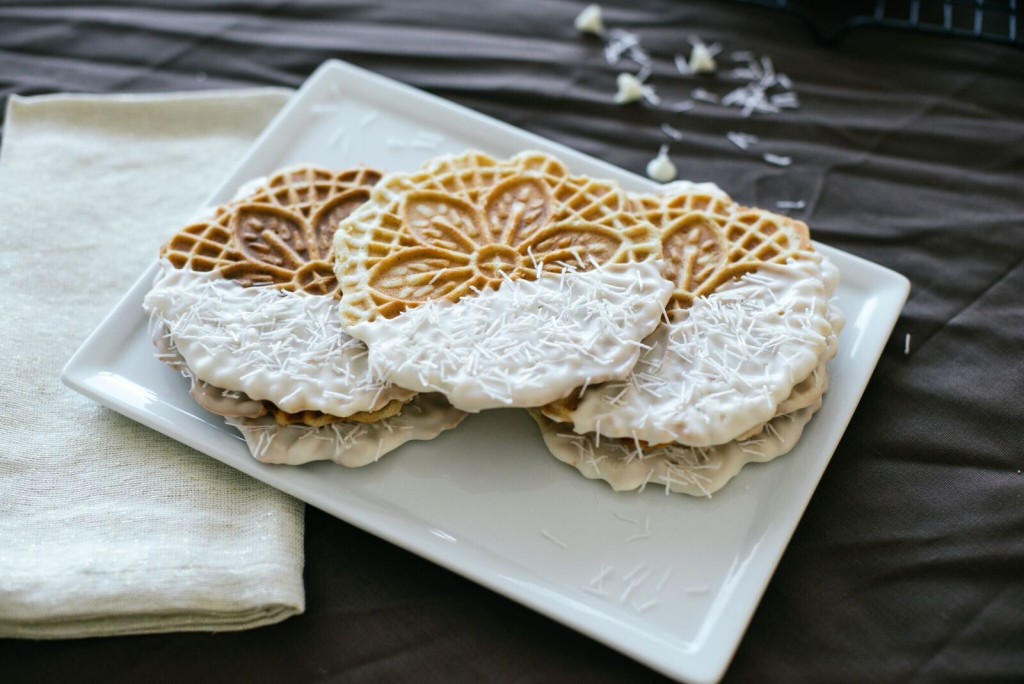 These chocolate dipped pizzelle cookies are amazingly delicious, especially for how simple they are, and make a really cute gift wrapped up with bakers twine or placed in a pretty box.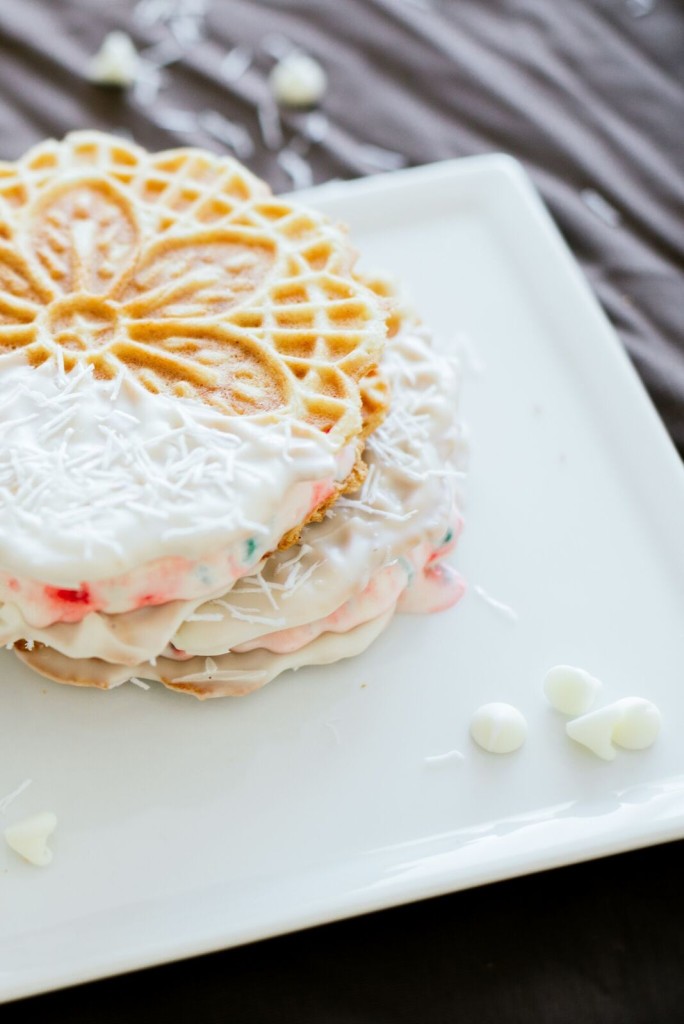 Buuuut, if you feel like keeping them all to yourself, you can get a little crazy like me and make them into pizzelle ice cream sandwiches! I added some peppermint ice cream in between two of my dipped pizzelle cookies and magic was made! I'm warning you guys…do not underestimate the power of the pizzelle ice cream sandwich. You will lose.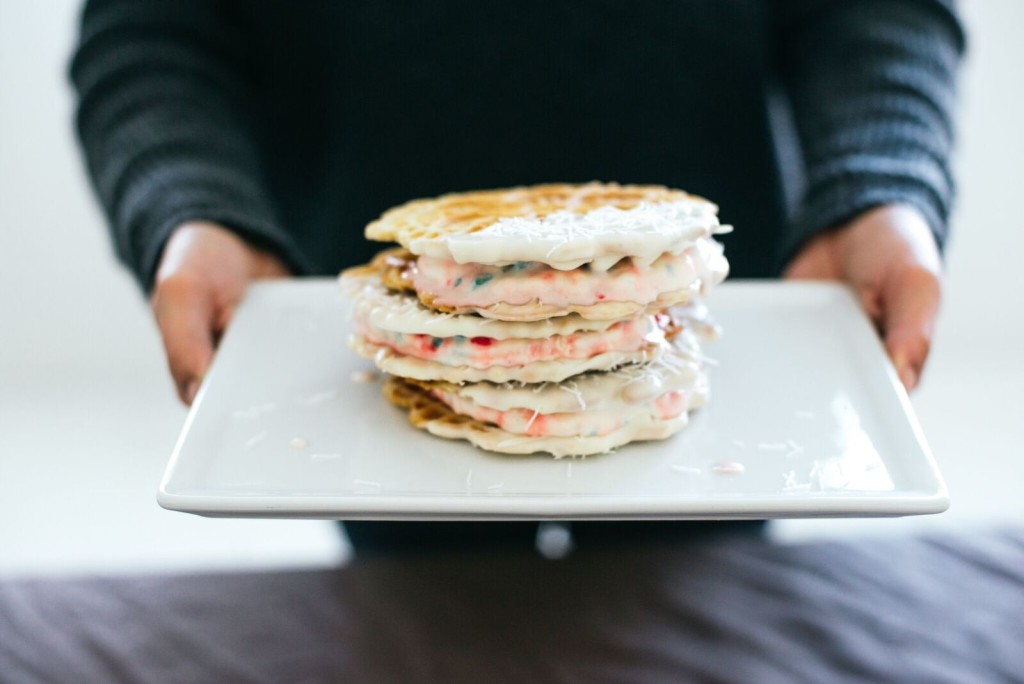 I already have a few family members addicted to these little cookies and I see them becoming a staple around here.
Enjoy!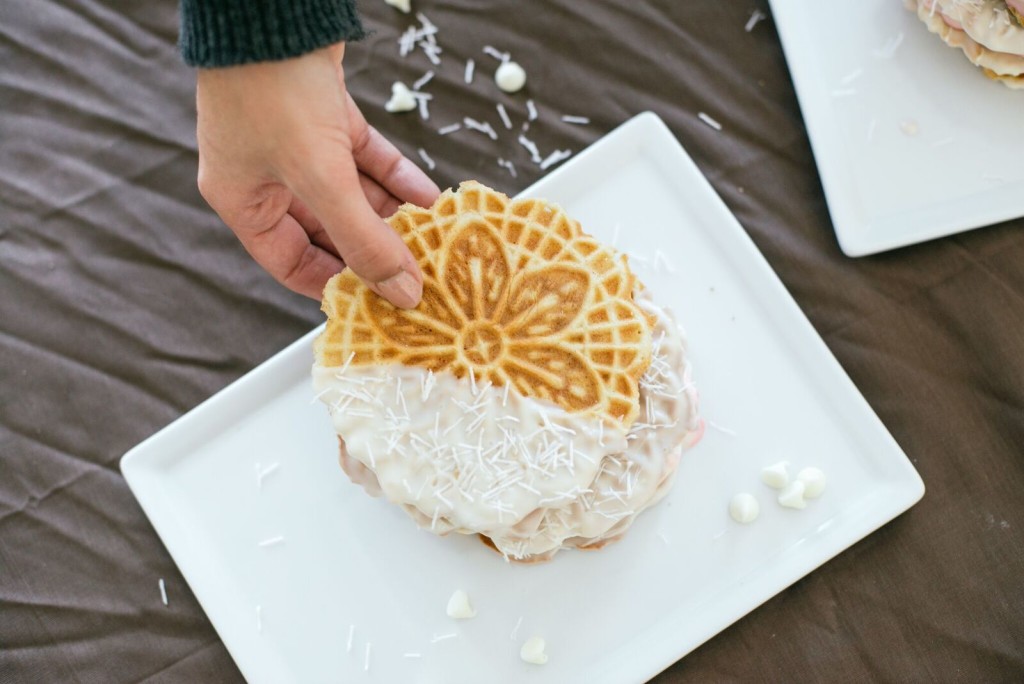 Photography by Haley Nord Photography