It's officially the beginning of another work week.
I'm never going to complain about a long holiday weekend, but this one seemed unusually short. It felt like any other regular old two day weekend to me. The older I get, the faster time passes by, and it doesn't make any difference if it's a two or three day weekend. Go figure. Hopefully your weekend passed by a lot more slowly than mine did!
In other news….Yay! It's Taco Tuesday!
With fall weather breathing down my neck, I figured the best thing to do was embrace it with open arms and surround myself with pumpkin everything. And tacos are no exception.
And I couldn't just make any old batch of tacos. Absolutely not. I had to throw a little bit of fun in there.
So what did I make…? Fried chicken and pumpkin waffle tacos!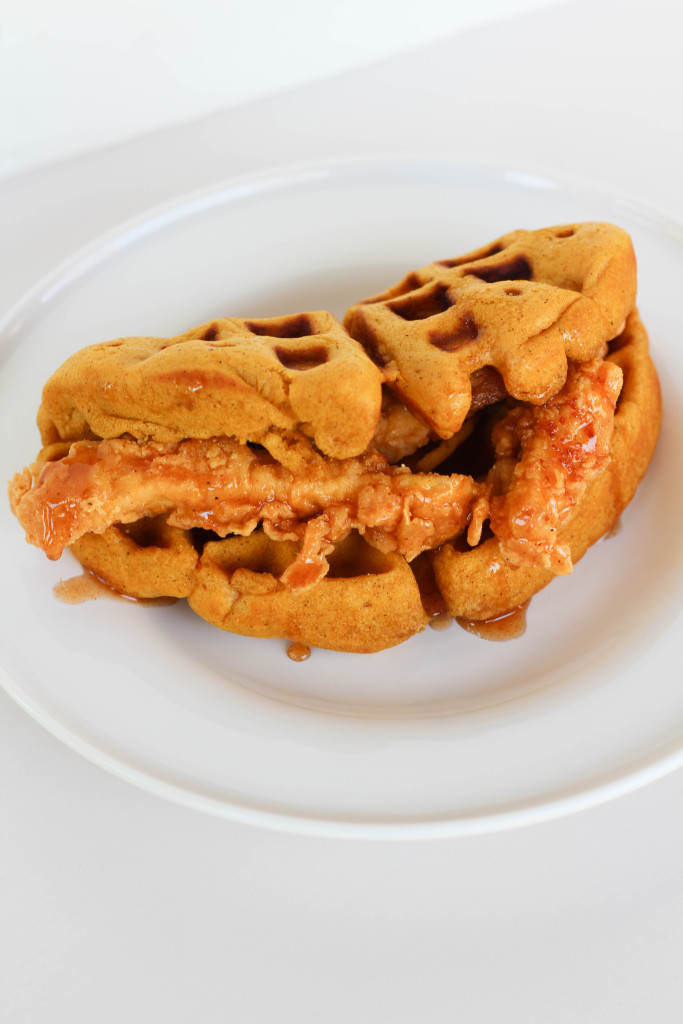 Chicken and waffles are already a majorly delicious breakfast (lunch or dinner) staple, but I wanted to step them up a notch by turning them into a taco. Because, why not? (They just seem like so much more fun that way, don't they?)
And you might think that adding pumpkin to a normal chicken and waffles combination might be a little weird, but the flavors are so complimentary to each other and perfect for Fall too.
The recipe is really easy to make and so tasty too!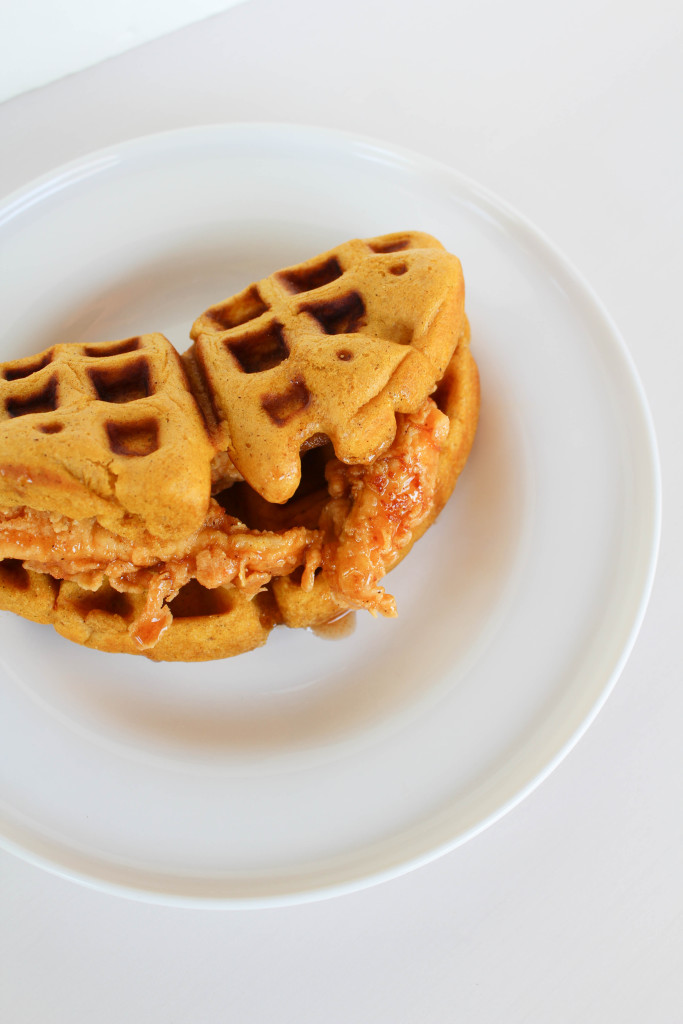 Here's what you'll need to make your own:
Fried Chicken Strips
Waffle Batter
1 cup Pumpkin Puree
1 Tsp. Pumpkin Pie Spice
Maple Syrup
Hot Sauce (Optional)
I chose to make my own chicken strips, using a pouch of the seasoned crispy chicken fry chicken batter mix from Louisiana Fish Fry products (available at the local grocery store), but you can use any homemade recipe or store bought strips that you prefer.
Prepare your chicken strips, if needed, and set aside.
For waffles, I go the really easy route and use boxed mix. It's so easy and they know what they're doing, so why mess with perfection?
To make the waffles a little more seasonally appropriate, add in one cup of pumpkin puree and 1 tsp. of pumpkin pie spice to your batter. Mix well, before pouring onto your waffle iron.
As soon as your waffles are done, fold them into a "taco" shape as soon as they come off of the hot iron.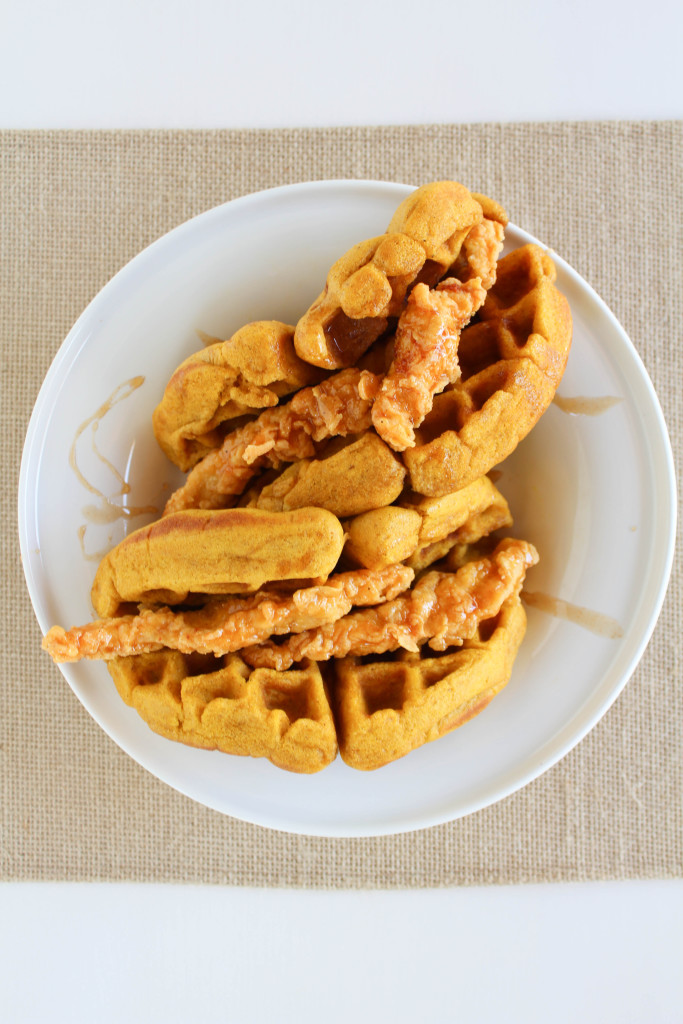 Place your chicken strips inside your waffle shell and then top the chicken with warm maple syrup. (If you want to kick your syrup up a notch, add 1/4 cup of your favorite hot sauce to 1 cup of maple syrup).
The best part? You can eat them with your hands! No silverware needed!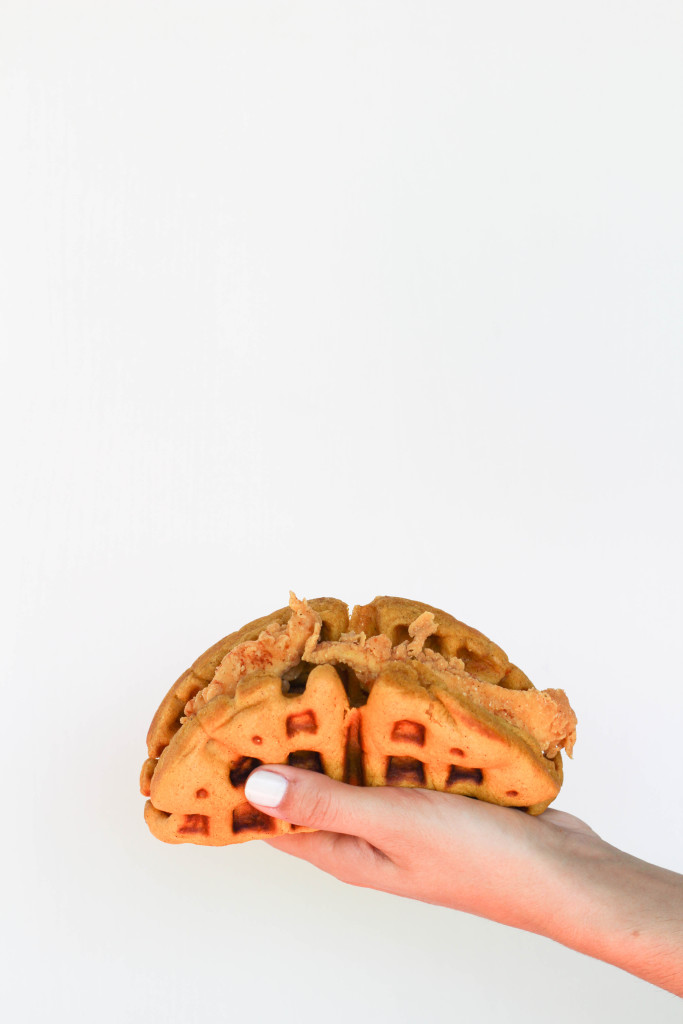 I don't know about you, but fried chicken and pumpkin waffle tacos are going to be a trend on the breakfast plates in my house this season!