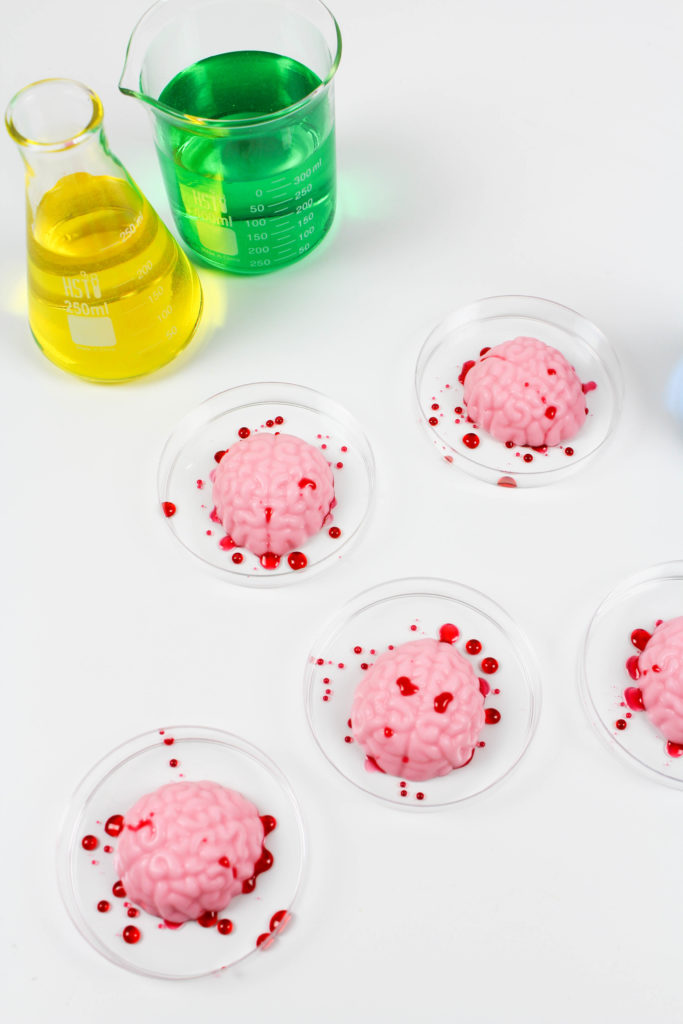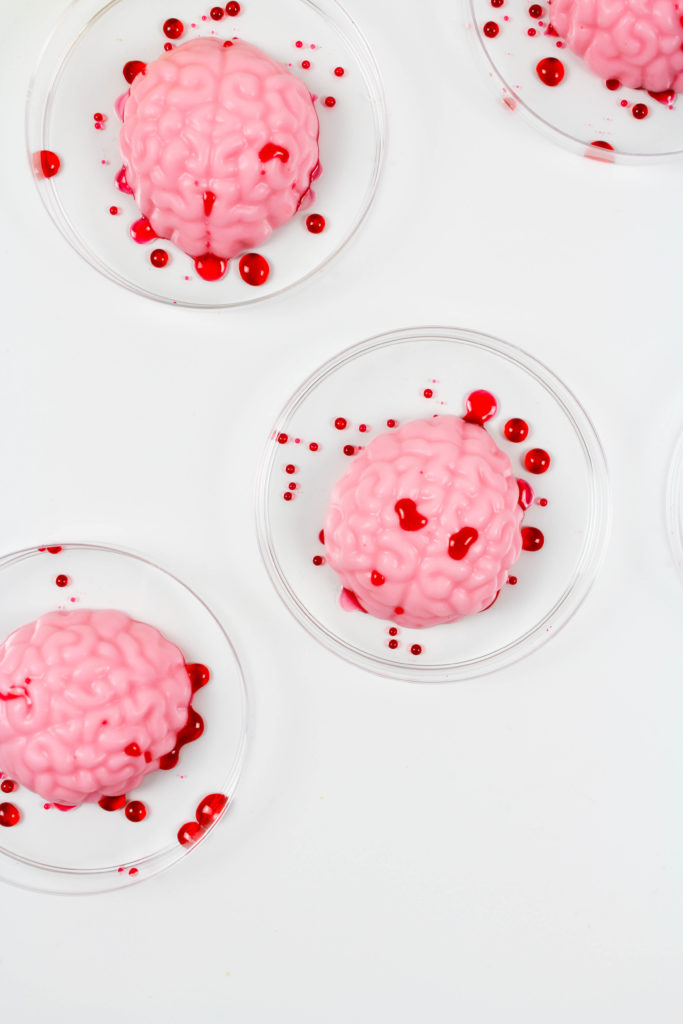 Today's delicious project definitely borders on the line of gross and cute. I can't decide where I'm at on this one. BUT, given that it's a Halloween project and I'm all about upping the gruesome factor, I'm going to consider it a win either way. These edible halloween brain raspberry truffles are easy to make and will gross out all of your party guests! They would make the perfect mad scientist themed treat, or will excite even the hungriest group of zombies. So head into the lab, grab a scalpel, and let's harvest some braaains!
The truffles are filled with a raspberry flavored cream center, so when an unsuspecting snacker bites into the chocolate exterior, they'll be surprised with delicious fruity flavor! Who said brains don't taste like raspberry…? I'm making an educated guess.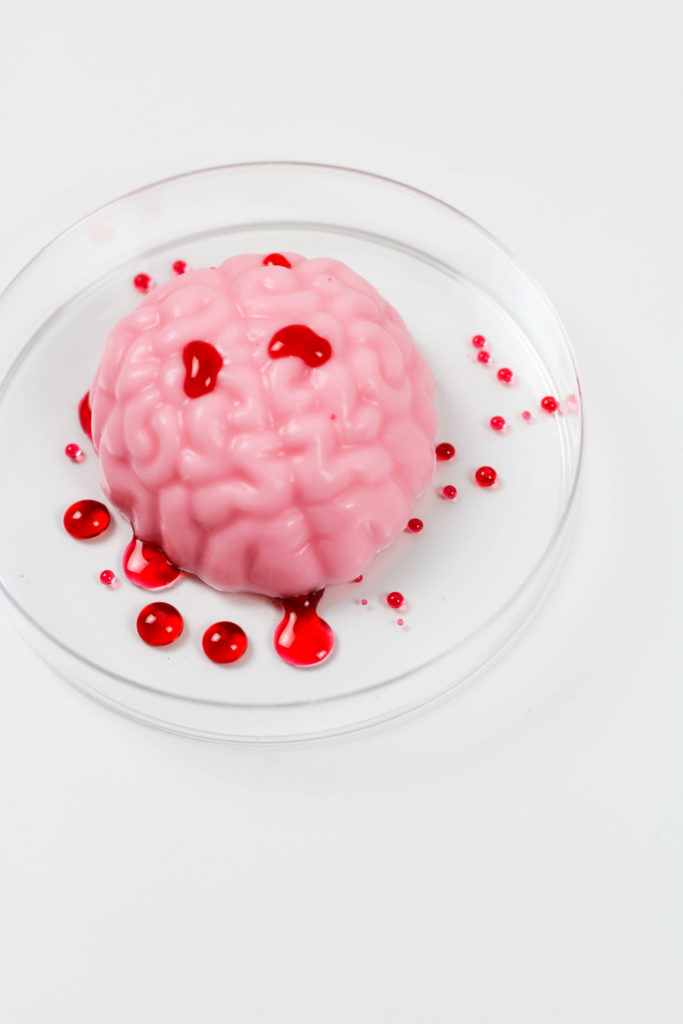 Here's what you'll need to make your own:
2 1/2 Cups Confectioners Sugar
1 1/2 Tbsp. Corn Syrup
1 1/2 Tbsp. Water
1 1/2 Tbsp. Butter, Cubed
1 Tsp. Raspberry Extract
1/2 Tsp. Vanilla Extract
1 Bag Pink Candy Melts
Red Food Coloring
Petri Dishes (Optional)
First, prepare the yummy brain filling, by combining the confectioners sugar, corn syrup, water, butter, and both the vanilla and raspberry extracts.
Mix until it is well combined and has a sticky consistency. Wrap the filling in plastic wrap and place it into the freezer to chill for 30 minutes.
While the filling is setting, melt the candy melts in a microwave safe container, following the instructions on the back of the package.
Once melted, fill each of the brain molds a little less than halfway full with the melted pink candy melts. Tap the mold gently onto a counter top to remove any air bubbles.
Place the mold into the freezer for about 10 minutes, until the bottom layer of the candy melts has set.
Remove the filling from the freezer. Section off small segments of the filling and shape the pieces to fit inside the brain molds, making sure to leave space around the filling and above the filling so that the  second layer of candy melts will cover it completely. Place the filling into each of the brain sections, on top of the existing candy layer.
Using the same melted candy melts, spoon another layer over the top of the filling, into each brain mold, filling the mold completely, but not spilling over the tops. Make sure that the fillings in each mold are completely covered.
Again, carefully tap the mold gently onto a counter top to remove any air bubbles.
Place the brain mold back into the freezer for 15 minutes to allow the halloween brain raspberry truffles to set completely.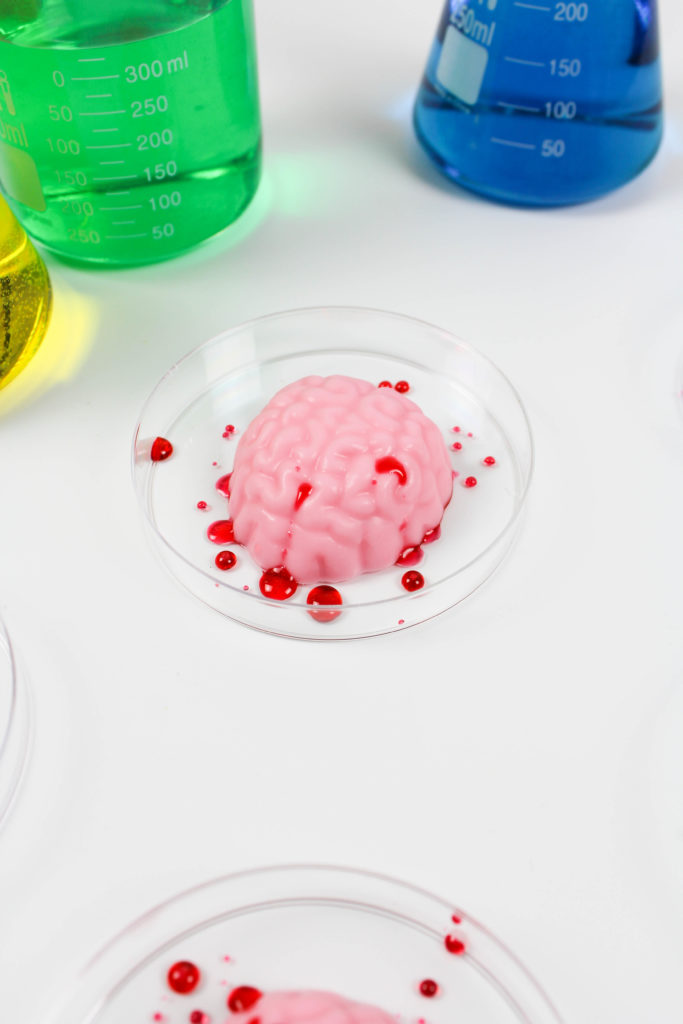 For an added gruesome effect, serve these Halloween brain raspberry truffles in petri dishes, complete with edible candy "blood" spray.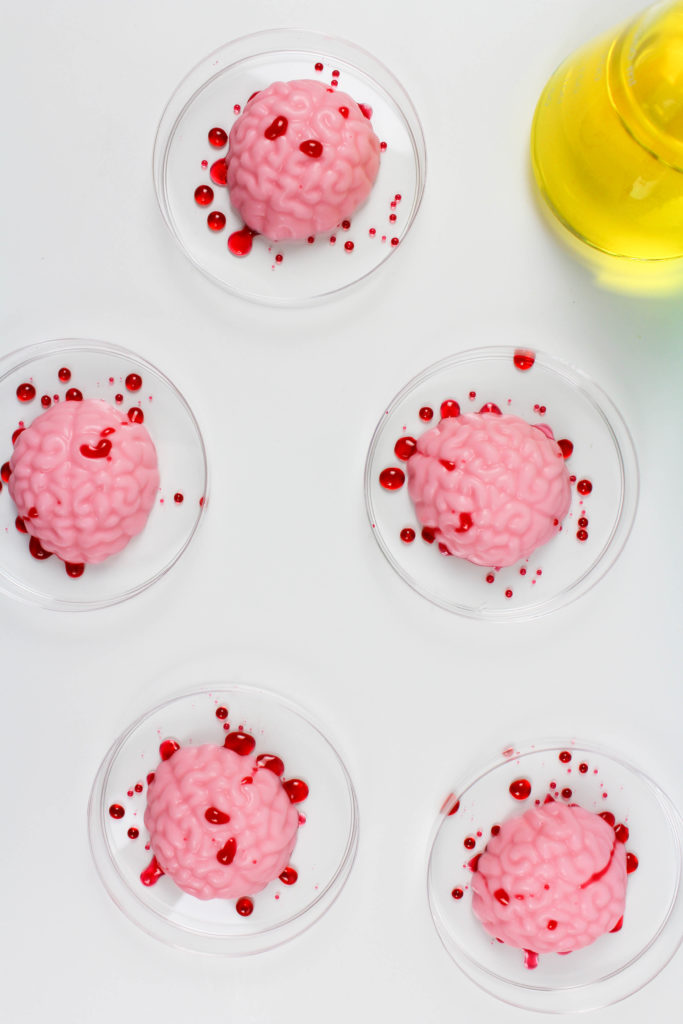 Looking for another gruesome Halloween project? Check this one out!