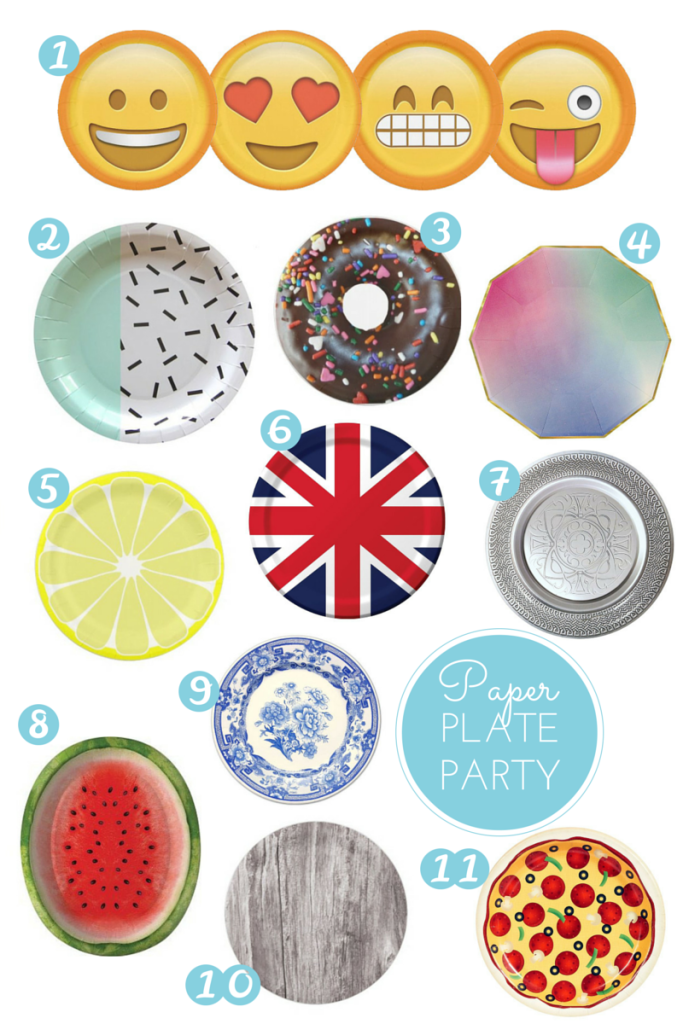 1). Emoji | 2). Mint | 3). Donut
4). Ombre | 5). Lemon | 6). Jack
7). Metal | 8). Melon | 9). Toile
It wasn't long ago when paper plates came in a variety of basic (and plain) colors and that was about all you could find. If you found a color to match your party theme, that was already a win! But the typical paper party plates have definitely gotten an upgrade as of late and I'm sharing a few of my favorite finds today!
Square, oval, round, and even custom shapes and sizes, there are so many options on the market now and I'd be lying if I didn't say I was a little obsessed with some of them!
I love how realistic some of the designs are lately. Those faux wood grain plates are perfection and how can I resist a sprinkle donut?! Yep, definitely can't. Those metallic party plates look like they belong at a place setting for the knights of the round table! (I still can't get over the fact that they are paper!) And not to mention those guys, but can we talk about that toile pattern?! So realistic looking and super pretty too.
Of course, fun plates are always in fashion. You can't go wrong with anything emoji lately and these plates have you covered. Pick the best emotion to fit your theme or switch them up for an emoji themed party! (Can I have one of those?!) The mint and black sprinkle plate has me dreaming of mint chocolate chip ice cream, which is a win in my book. And who doesn't like pizza?! Super cute and perfect for a pizza party too!
I'm loving anything fruity right now and those lemon plates and the oval watermelons don't disappoint!
The rainbow ombre plates are just too pretty not to share and a classic union jack is always a fun addition too!
There were SO many other pretty, fun, interesting, and all around awesome plates that I didn't have room to include, but next time you have an event to throw, step outside of your typical paper partyware and have a little fun with your place settings!
Paper party plates aren't what they used to be! 😉