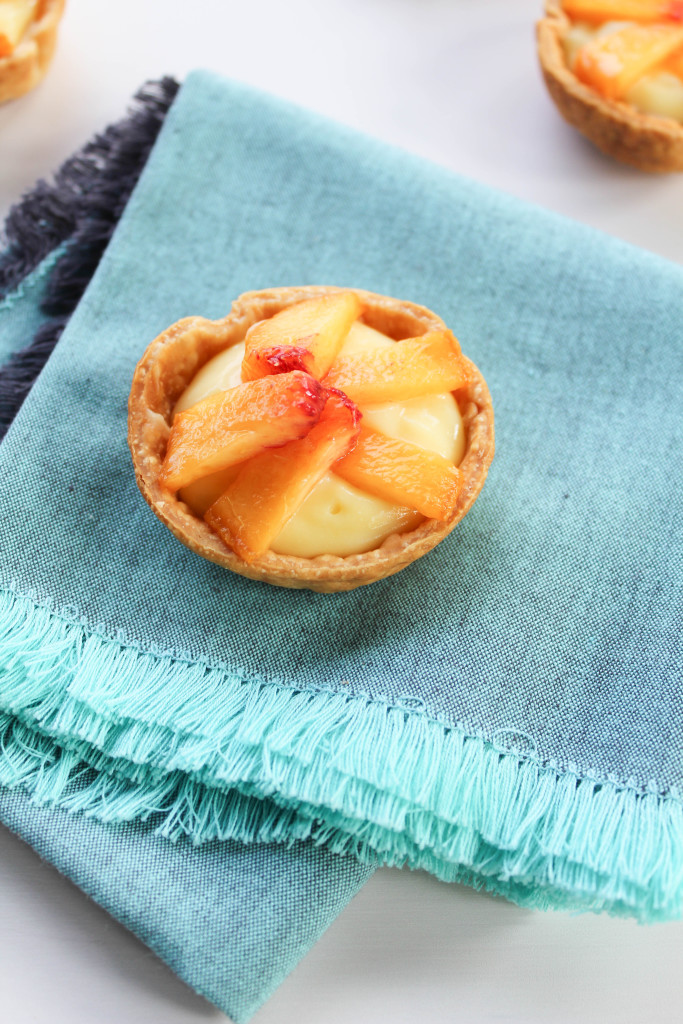 After my farmers market visit (and the whole bag of peaches that I bought!) I wanted to find another use for the yummy peaches other than just for ice cream!
I decided on some fresh fruit tarts because they are delicious but also really pretty on a plate. If you have guests over or are planning a summer soiree, these tarts are perfectly bite-sized for mingling and oh-so yummy too!
But I couldn't just make any regular fruit tarts, I had to highlight peach season! So these peaches and cream tarts were born!
The recipe is easy to make and you can even save a little bit of time using a pre-made pie crust dough too!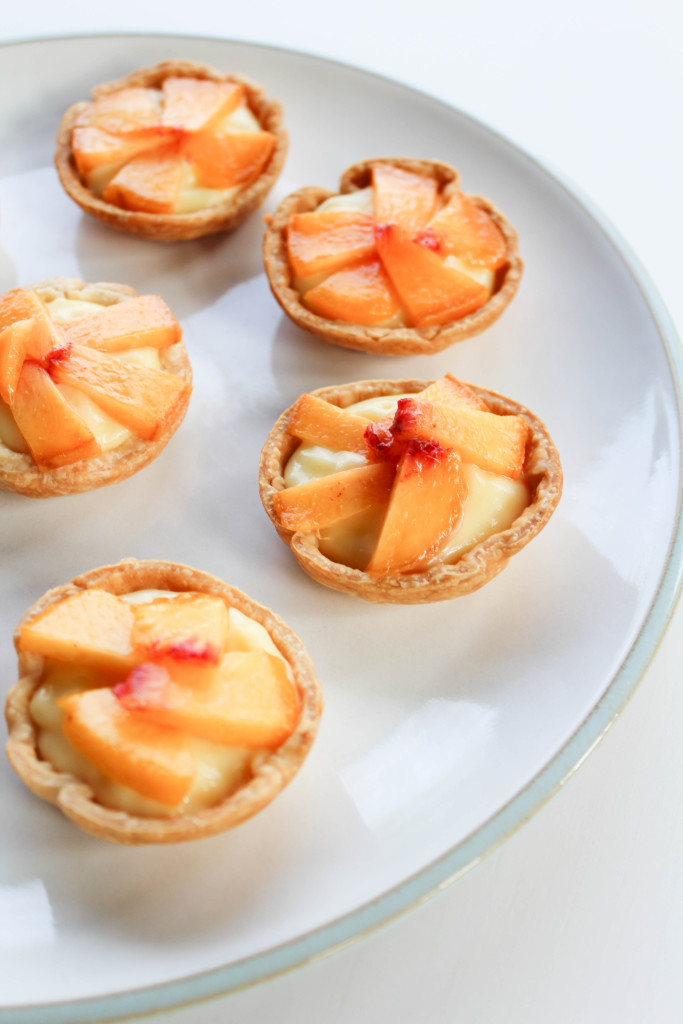 The cream does requires some time to chill before using, so plan ahead if you need them made by a certain time.
Here's what you'll need to make your own:
Pre-Made Pie Crust (I used Pillsbury) or your favorite pie crust recipe
2 Large Peaches
Cream
4 egg yolks
1/2 cup sugar
1/4 cup cornstarch
1/4 teaspoon kosher salt
1 1/2 cups whole milk
1 teaspoon vanilla extract
4 tablespoons unsalted butter, cut into small pieces
In a medium saucepan, whisk the egg yolks, sugar, salt, and cornstarch. Next whisk in the milk.
Cook over medium-high heat and whisk constantly, until the mixture has thickened into a pudding consistency. (It only takes a few minutes).
Remove the pan from the heat and add the vanilla and the pieces of butter, a bit at a time, until all have been mixed well. Pour into a container and cover with parchment paper, placing it directly onto the surface of the cream. Chill for at least 2 hours before moving onto the next step.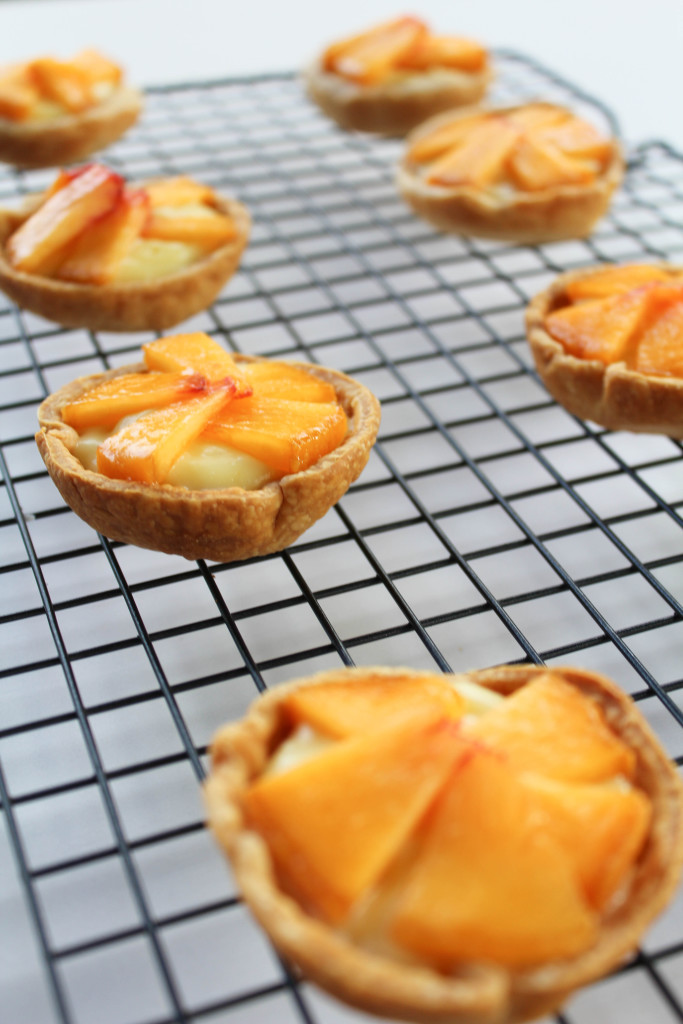 I chose to use pre-made pie crust to save time, but you can easily make a batch of your favorite pie crust to use instead! Also, if you don't have a tart pan, which I didn't, you can use a jumbo muffin pan instead. (Or use a regular sized muffin pan to make bite-sized tarts!)
Preheat your over to 350.
Roll out your pie dough until it is 1/4″ thick. Using a cookie cutter, biscuit cutter, (or even just a drinking glass) that is a bit larger than the wells in your muffin tin, cut out the circles of dough. Press into the bottom of your muffin wells , pressing the dough up a bit around the edges. Piece the bottoms of the dough with a fork, once in the pan. Bake for 12-18 minutes, depending on your dough.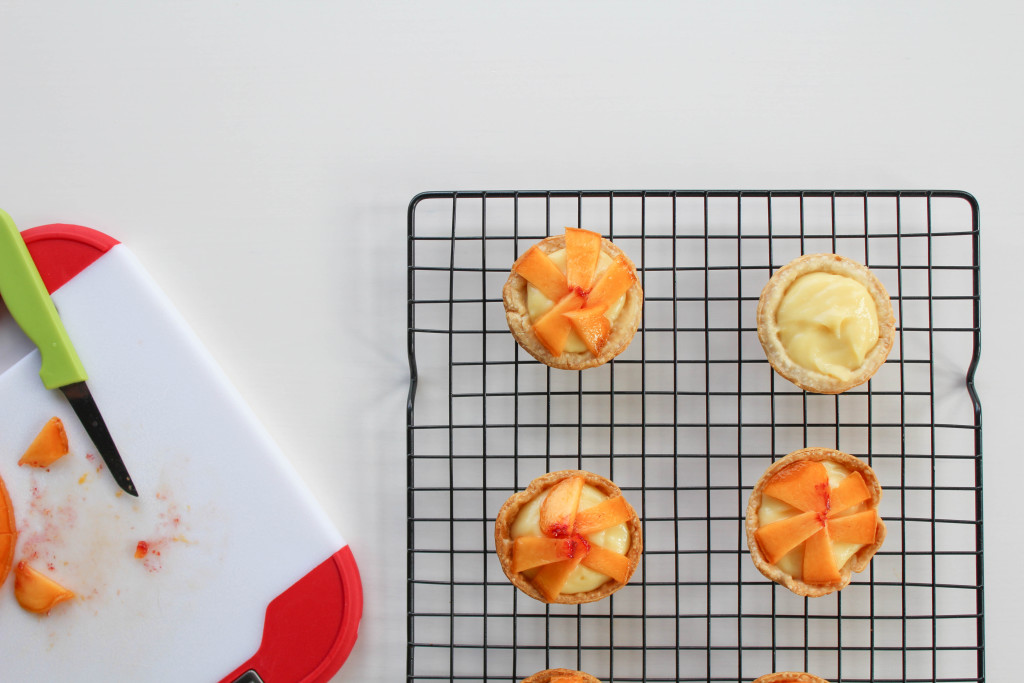 Allow to cool completely.
Next, peel and cut up your peaches.
Once your crusts and cream have cooled completely, scoop the pastry cream into the crusts and top with the fresh peaches.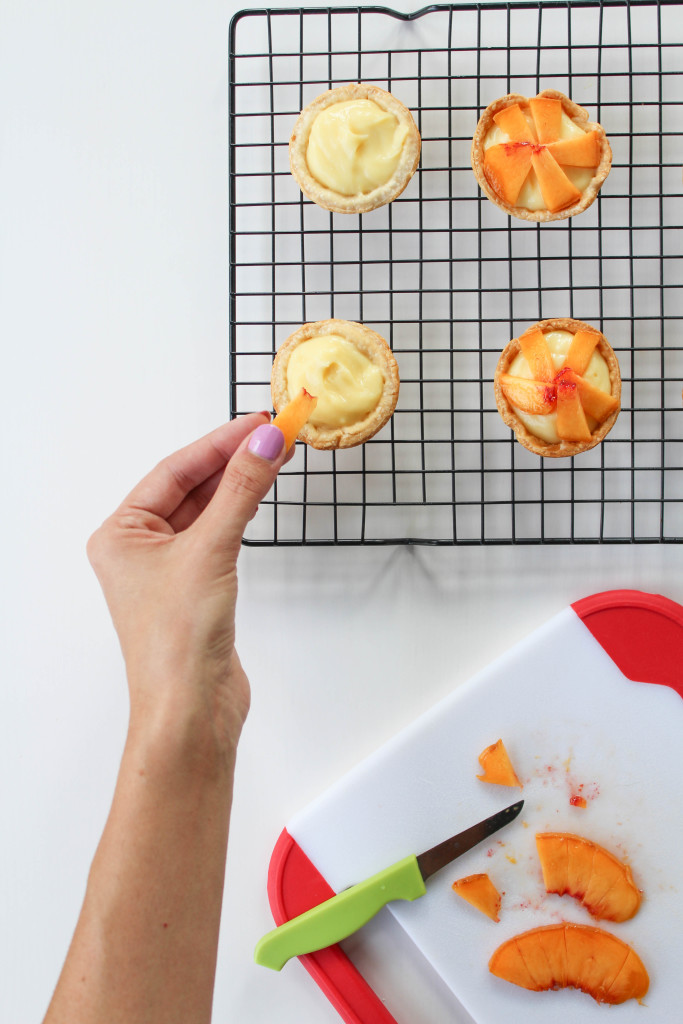 You could add a dollop of whipped cream to the tops of these tarts, or even a small dab of vanilla ice cream if you are eating them immediately!