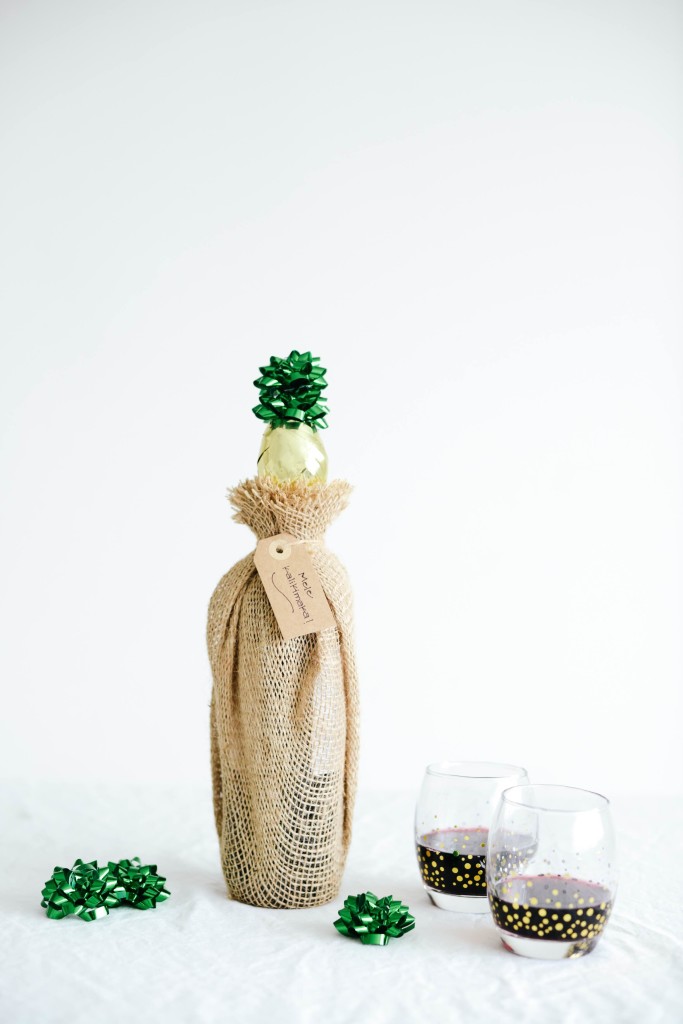 I don't see pineapples going out of style anytime soon. They've been in the limelight for the last few years and I'm still just as much in love with them as I was when they first hit the scene. (I even have an entire pinterest board dedicated to them!)
Around this time of year, when my yard is covered in snow and I freeze just running out to get the mail, I always wonder why I didn't book a vacation over the winter months. Sand, sun, and surf sure would be lovely to break up this below freezing weather. But, alas, I didn't. And I'm still here. But, I can dream, right?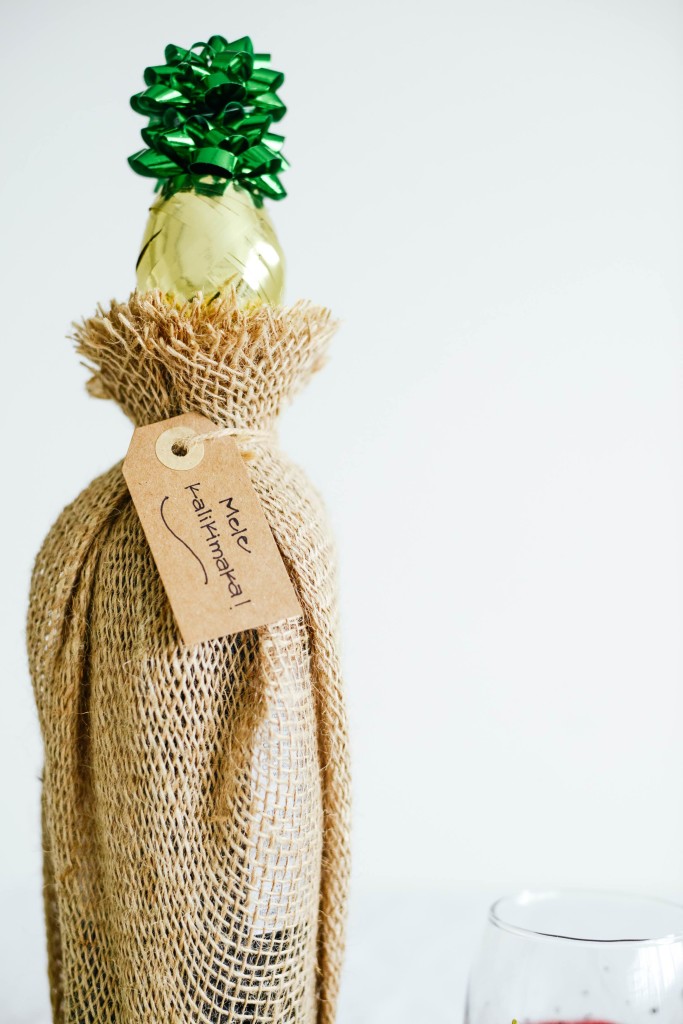 I'm sure other people feel the same way, so I thought I'd give a little bit of tropical vibes out as part of my Christmas gifts this year, with the easiest DIY pineapple wine bottle topper!
Wine, or even a bottle of liquor, is always an easy gift that is usually appreciated, and finding a new and cute way to package it is always fun. With a few simple wrapping supplies (that are really inexpensive or things you probably already have on hand) you can create this cute and really fun topper with minimal effort!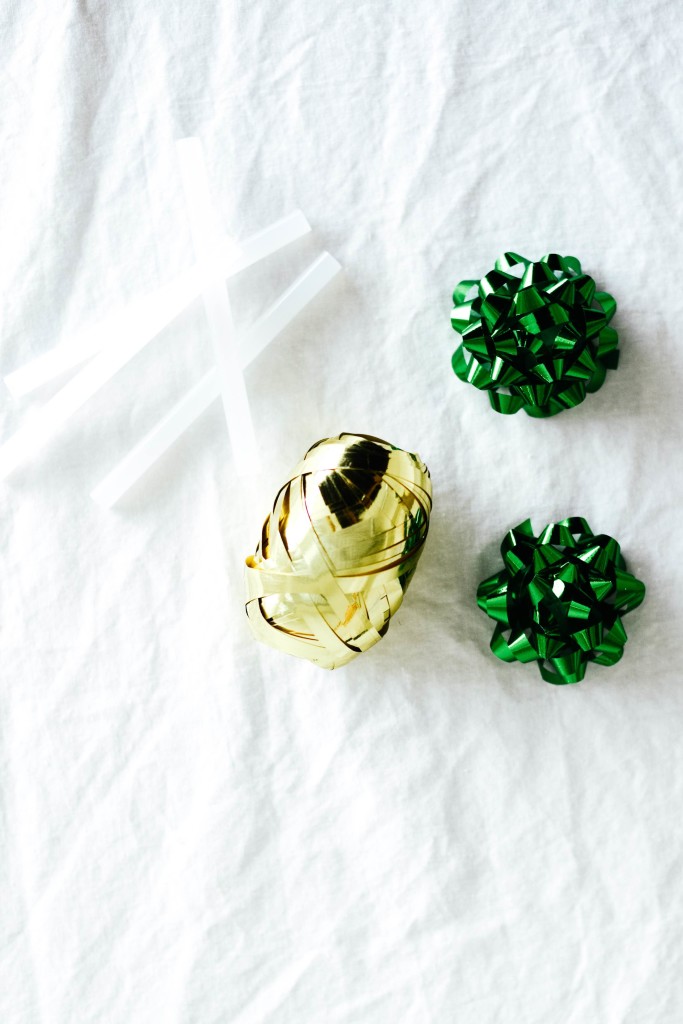 Here's what you'll need to make your own:
Gold or Yellow Curling Ribbon (I bought a mini size)
2 Green Bows
Burlap Wine Bag or Loose Burlap
Twine
Gift Tag
Hot Glue Gun
For this topper, I found some mini spools of curling ribbon at Target in the wrapping section, along with mini green bows. You could definitely make the same wine bottle topper with regular size ribbon and bows, but the ones I used are mini.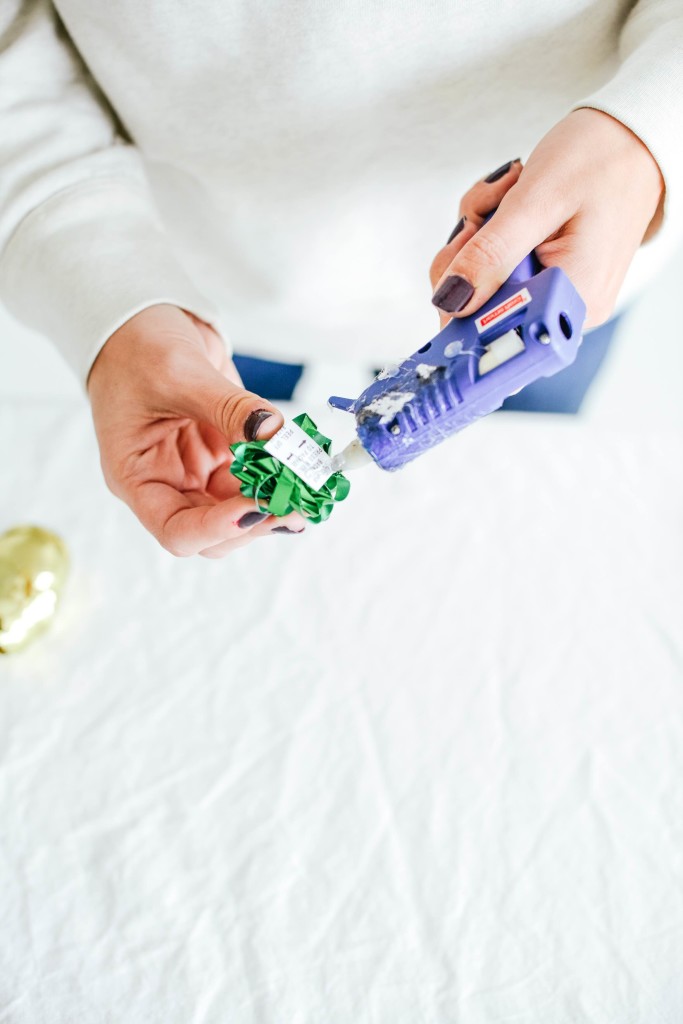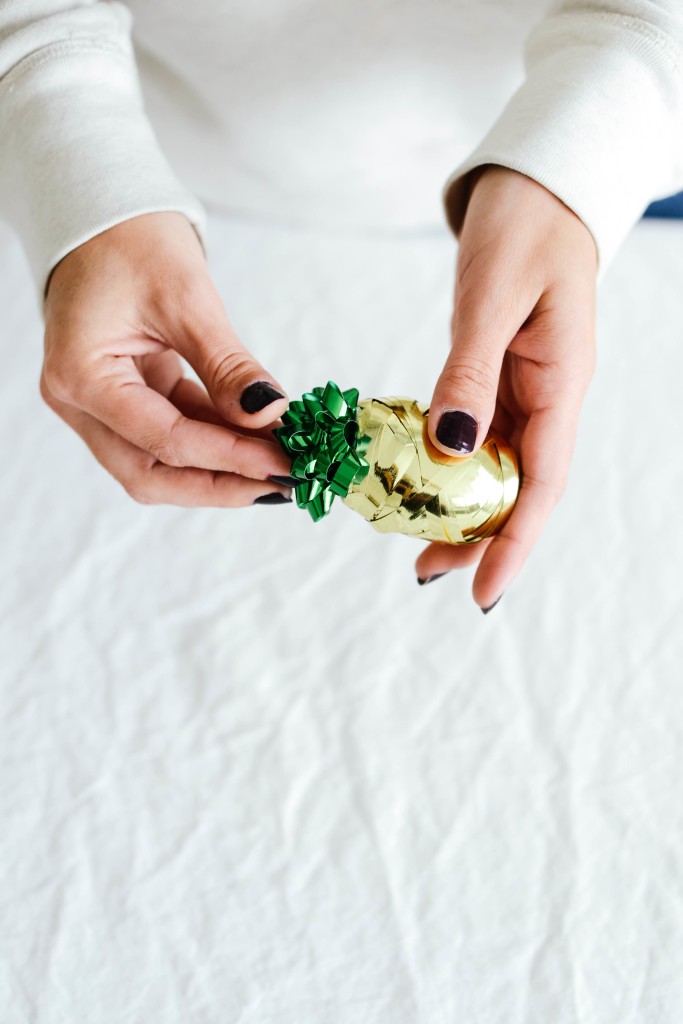 First, using your glue gun, glue one of the green bows directly onto the top opening of your gold or yellow curling ribbon. (You don't even need to take the paper off of the sticky part). Push down really well and wait a minute or so to ensure the bow sticks really well onto the ribbon. You might need to use a little extra glue to make sure it really sticks well.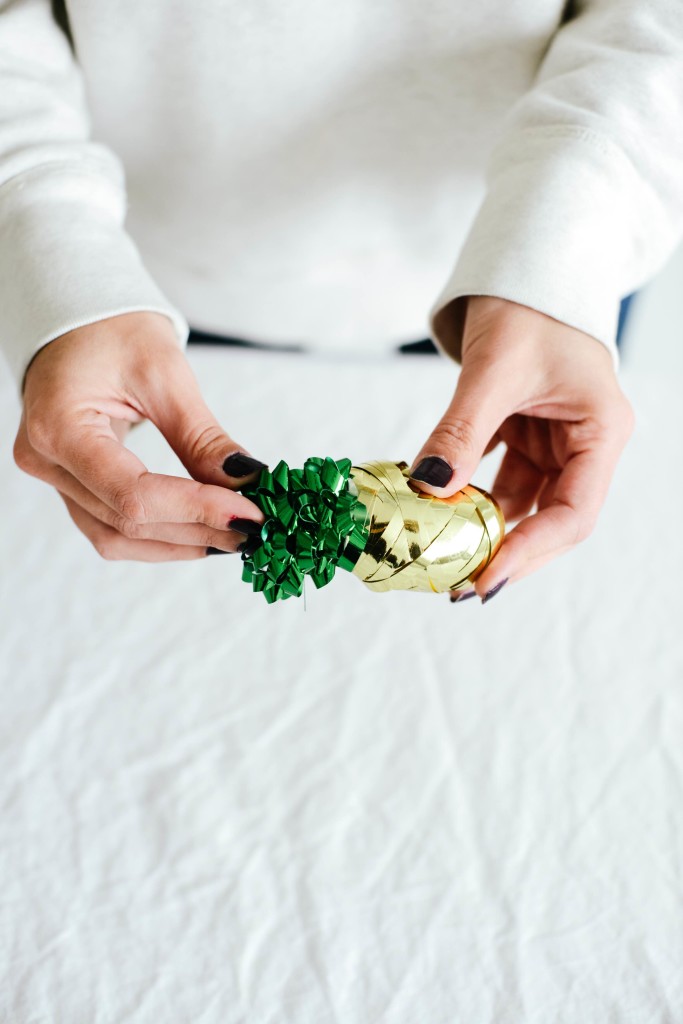 Once the first bow is secure, add more hot glue to the bottom of your second bow and place directly on top of the first one you've already stuck onto the curling ribbon. Secure well.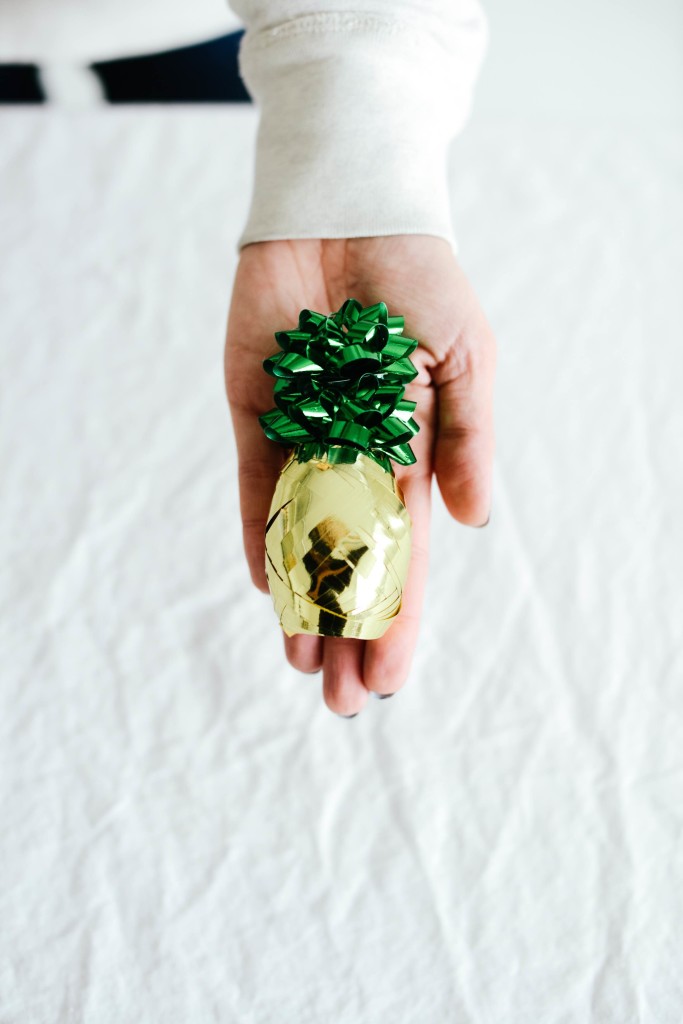 And there you have it…a super cute pineapple wine bottle topper, fit for the holidays! And the easiest wine bottle topper I've ever made too!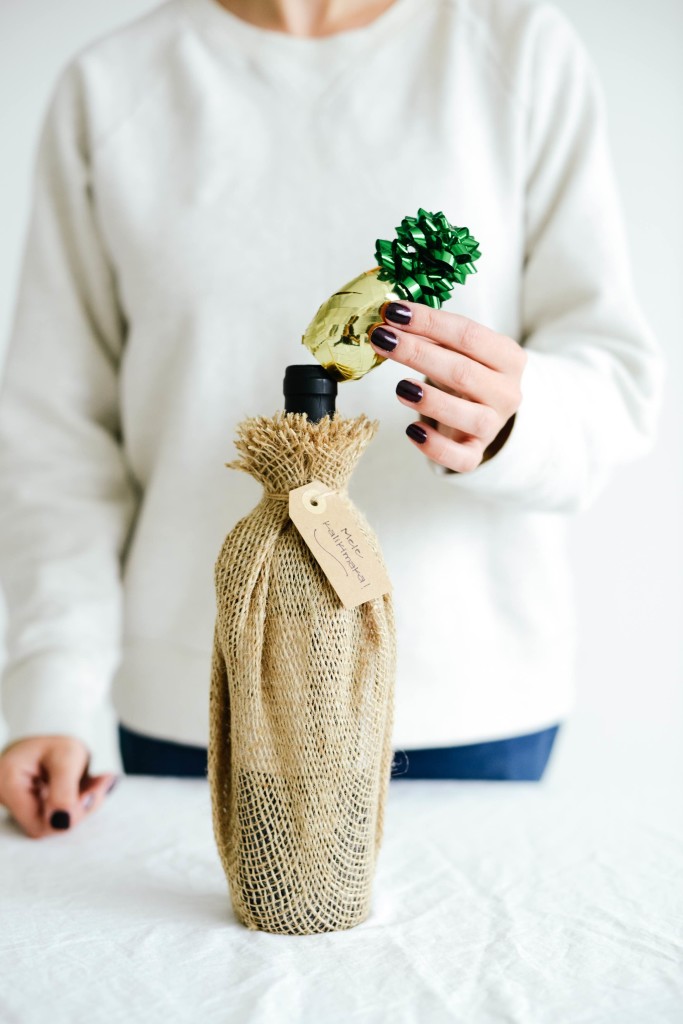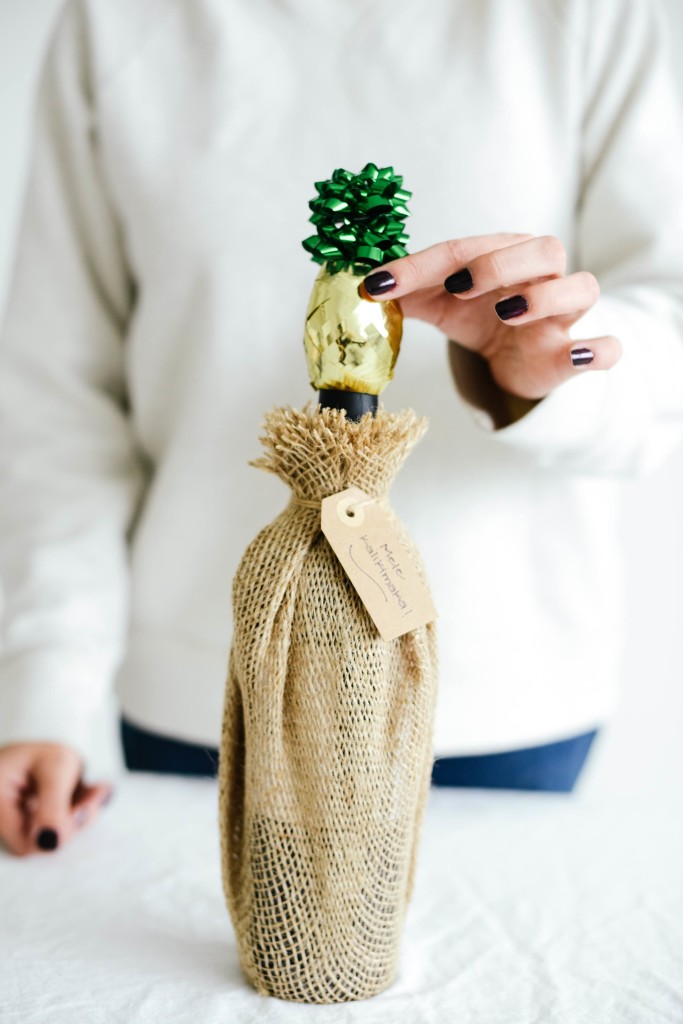 I really like the look of the burlap covering the wine bottle. It definitely add an "island" touch to this holiday gift and makes the pineapple fit really well. If you can't find a burlap wine bag, just cut a circle in loose burlap, a little bigger than your bottle, and gather towards the neck of the bottle. Tie with twine and add a gift tag that says, of course, Mele Kalikimaka! (And i apologize in advance if that song gets stuck in your head for the rest of the day!)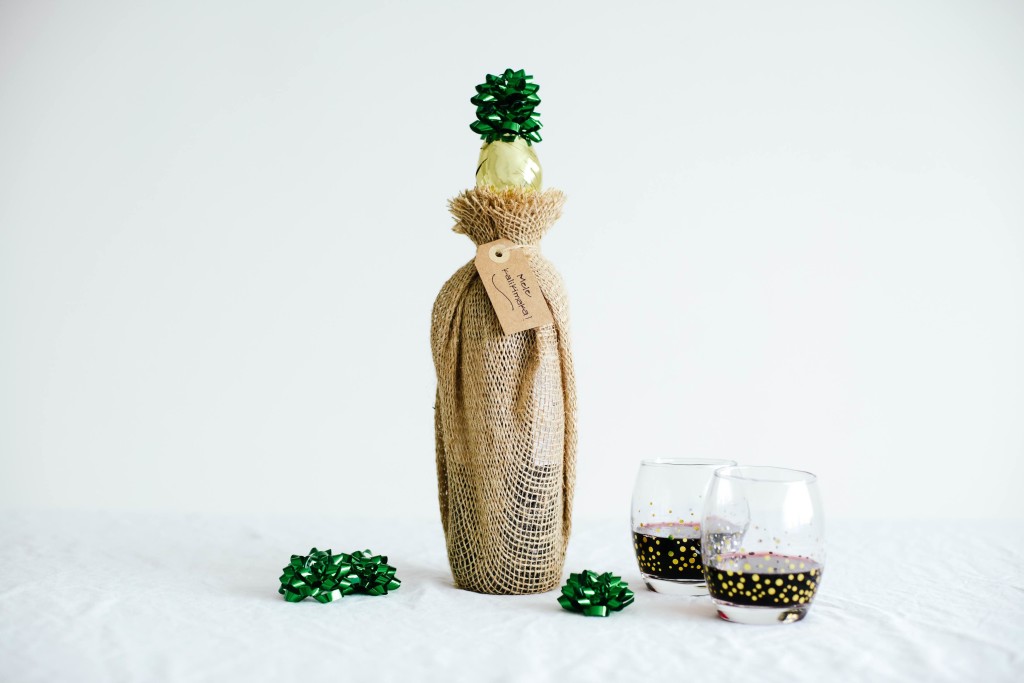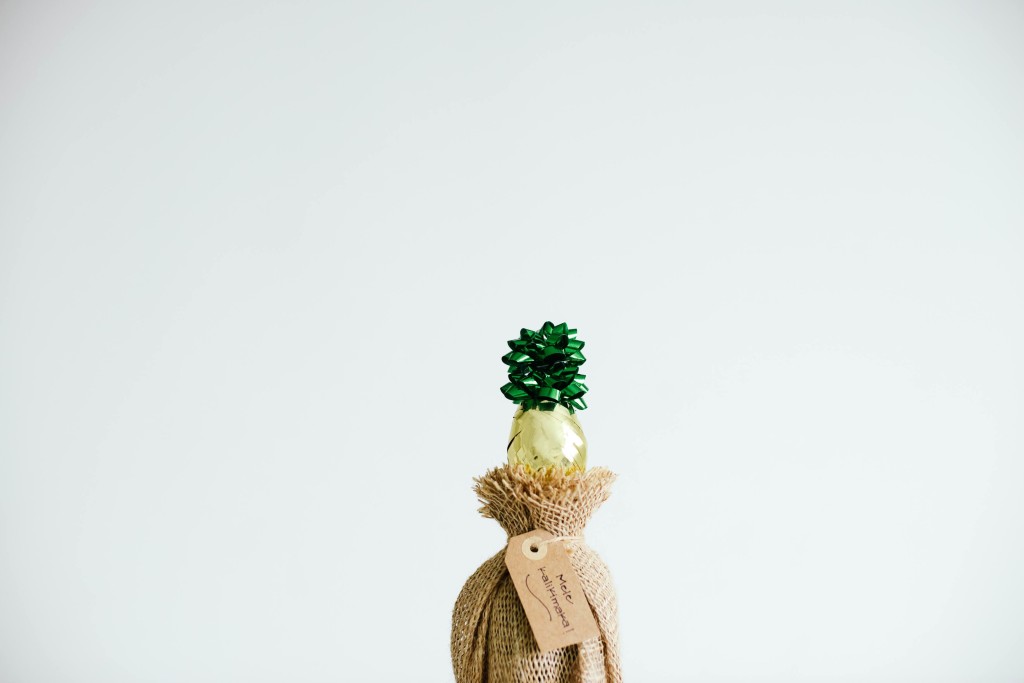 Photography by Haley Nord Photography