This post has been compensated by Maille and its advertiser. All opinions are mine alone.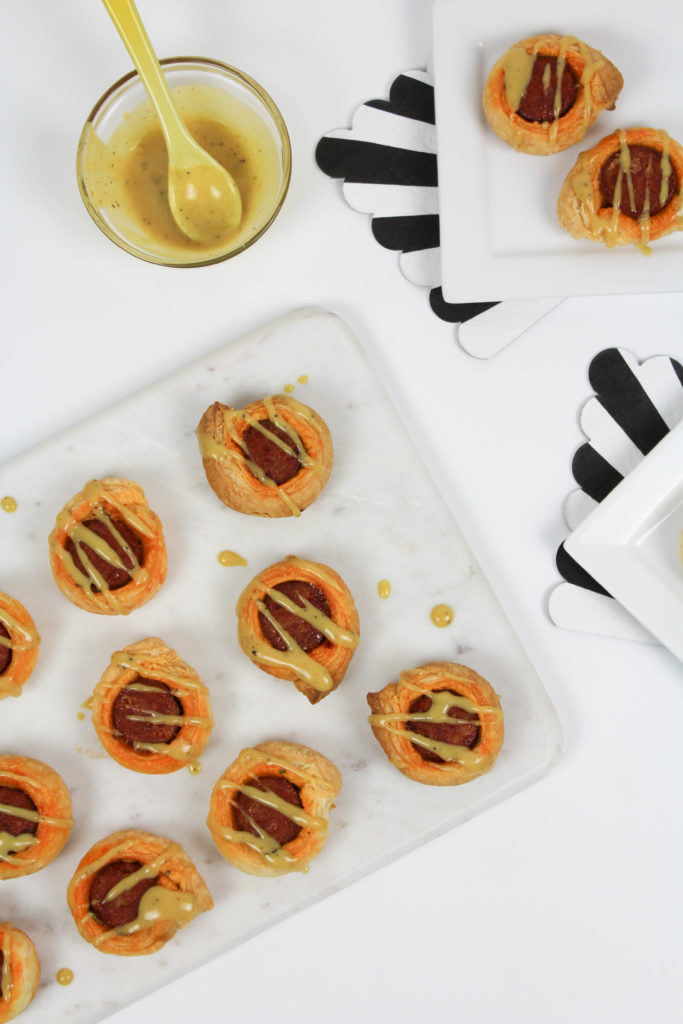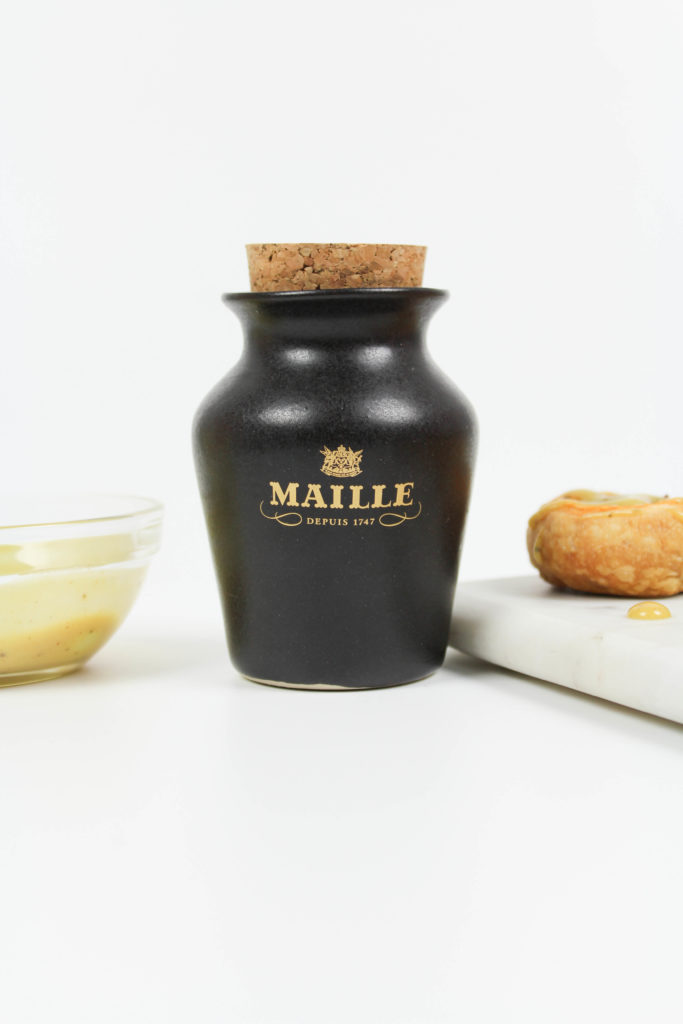 With a lot of holiday events on the calendar, trying to plan out new and exciting menu ideas can be daunting and a little tricky too. Especially recipes that are not only easy to make, but also delicious and sure to impress your guests! Because, let's be honest for a second, we all LOVE hearing people rave about the food we serve at our parties…right? Today I'm sharing an appetizer recipe that checks off all of the boxes and will easily become a party food favorite! These sausage puff pastry appetizers are topped with a black truffle dijon mustard sauce that will have everyone going back for seconds, and thirds. 😉
When I select appetizers for my own events, I like to pick items that are easy to eat in one bite, and allow guests to use their hands, instead of having to worry about silverware. (This also eliminates more dishes for you. Win/win!) This allows guests to have a drink in one hand, and appetizers in the other! It makes clean up a breeze too!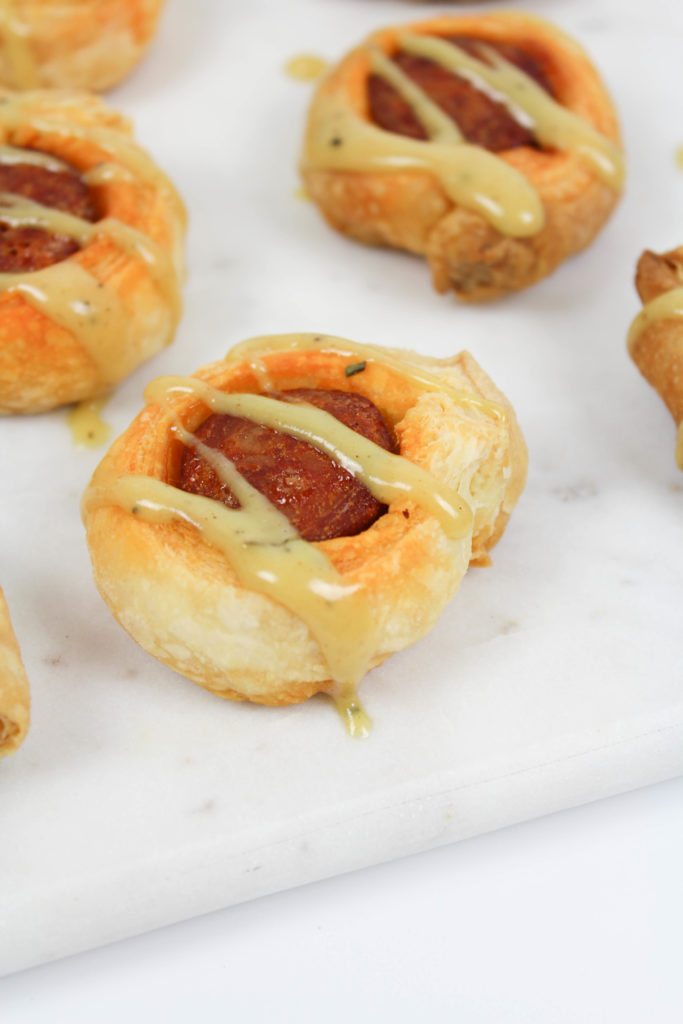 For this recipe, I used a Portuguese sausage, but you could easily substitute a spicy andouille sausage or a smoked sausage too, based on your own flavor preferences.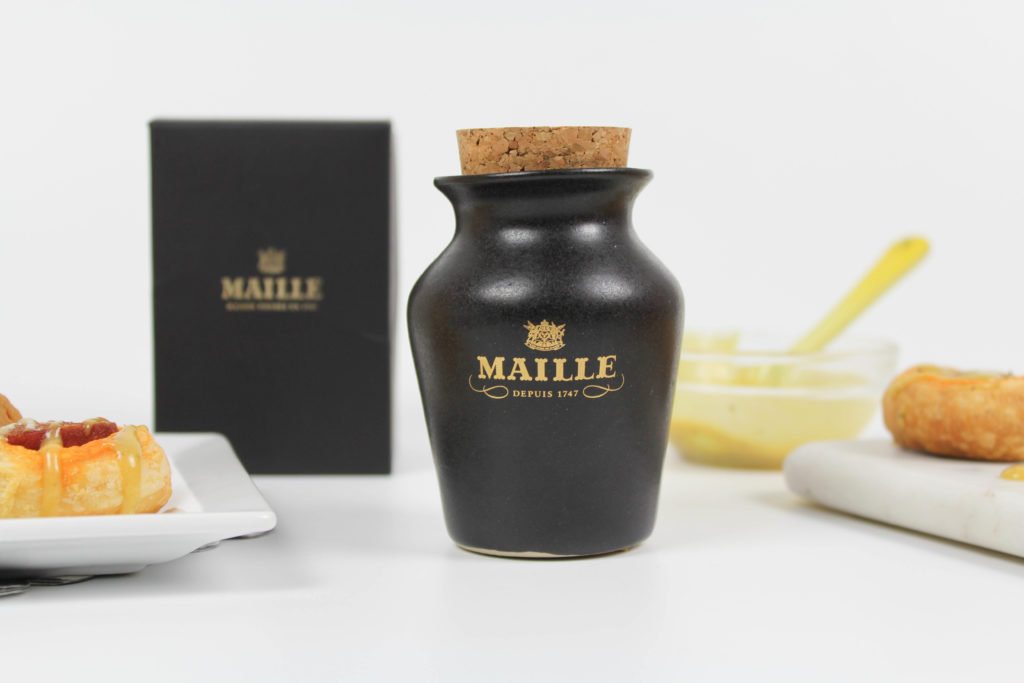 Also, let's talk about the mustard that I'm using for these sausage puff pastry appetizers for a second guys. It is a black truffle mustard with Chablis white wine. BLACK TRUFFLE! It's a French Dijon mustard that is infused with Chablis white wine from Burgundy and black truffle from Provence. And it is deeee-licious!
It comes packaged in this GORGEOUS stoneware jar, which makes it the perfect gift for the foodie or home chef on your holiday gift list this year. (Or buy a couple so that you can keep one for yourself too!)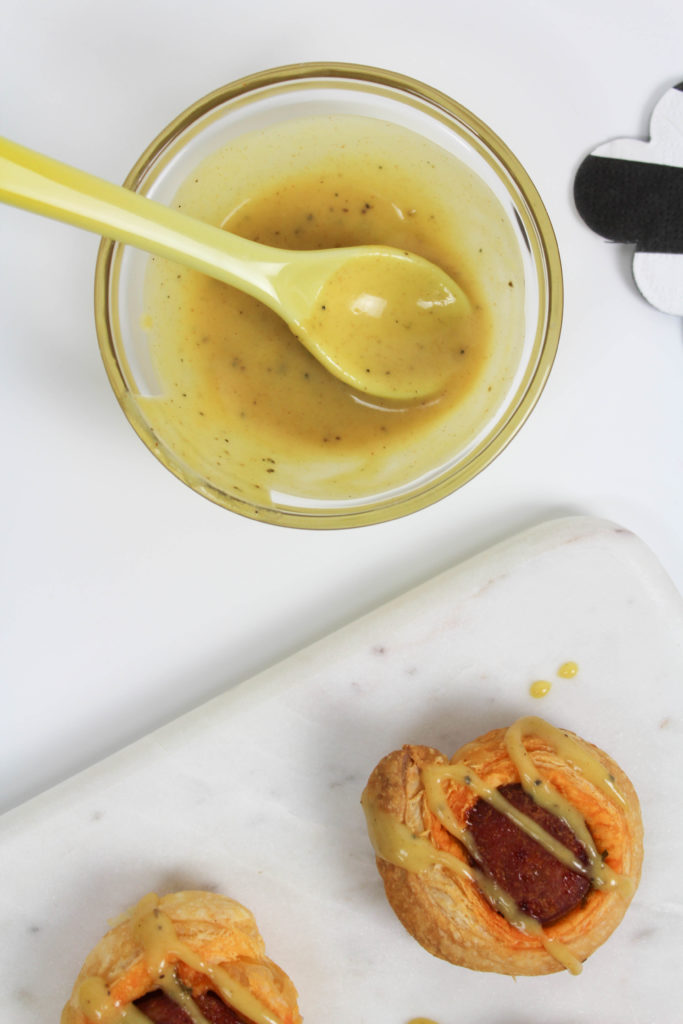 I might be slightly obsessed, and I'm already planning out a million other recipes that I can make using this mustard because it is that good. You can check out other Maille products here!
If you're hosting a festive holiday gathering this year, and serve these delicious sausage puff pastry appetizers, I have a feeling this mustard (and the jar!) will become a topic of conversation with your guests!
But let's get back to the yummy recipe, shall we?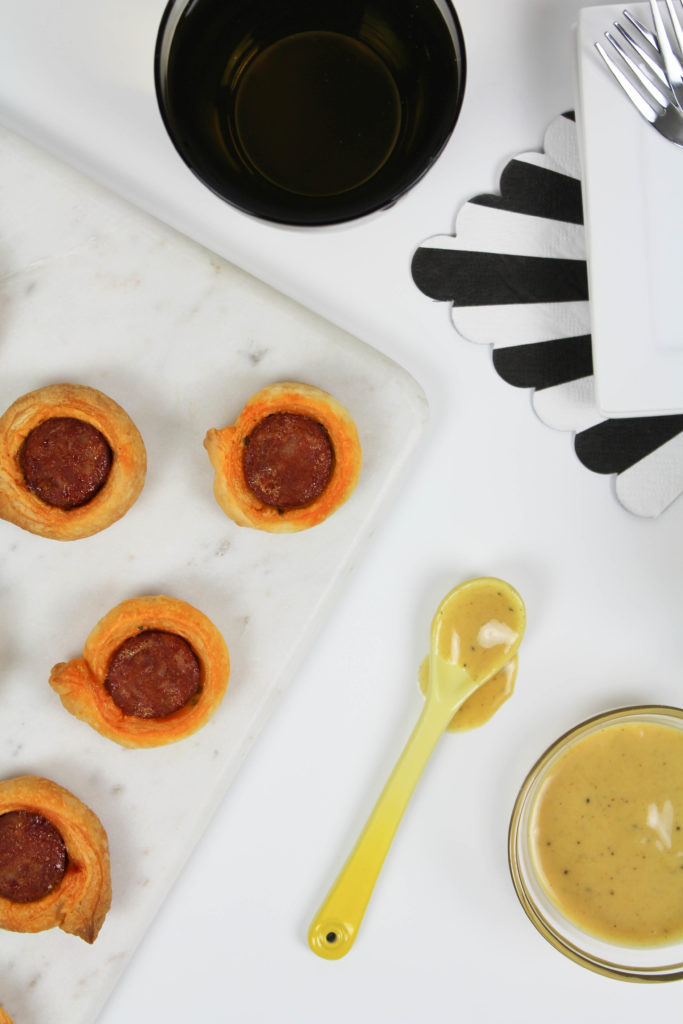 Here's what you'll need to make your own:
4 Portuguese Sausage Links, Pre-Cooked
1 Box Puff Pastry (2 sheets), Thawed
Flour (for rolling)
2 Tbsp. Honey
1 Tbsp. Mayonnaise
8 Chive Stalks, Diced
Pinch of Salt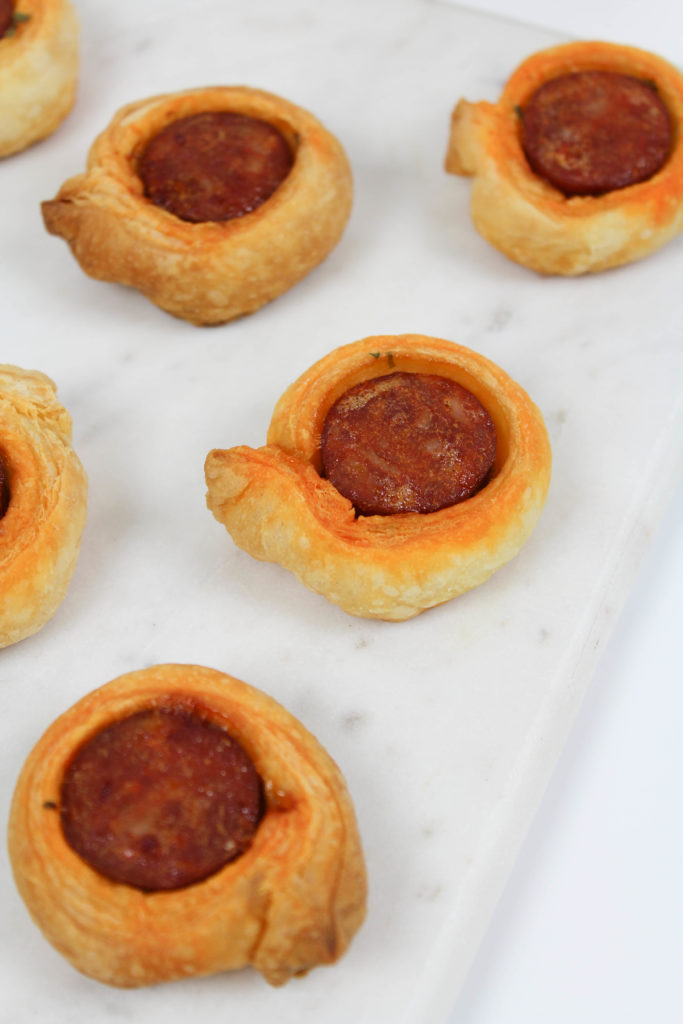 To make the sausage bites – 
Preheat your oven to 400°F.
Lightly flour your counter top or a flat surface.
Lay each of the puff pastry sheets down onto the floured surface and gently roll them out with a rolling pin to eliminate the seams from where the sheets were folded.
Cut each of the puff pastry sheets in half, across the seams, to make two separate pieces.
Sprinkle the diced chives across the surface of each of the puff pastry sheets.
Roll up each sausage link in one of the puff pastry sheets. Seal the edges of the puff pastry around the sausage with a bit of water, using your finger, to help seal the edge.
Place the sausage roll seam down onto a flat surface and cut the roll into 1 inch pieces.
Arrange the pieces onto a parchment paper-lined baking sheet.
Bake for about 20-25 minutes until the pieces are puffed up and slightly golden.
Remove from the oven and allow to cool for a few minutes before serving.
To make the black truffle mustard dipping sauce – 
Combine the black truffle mustard, honey, mayonnaise and pinch of salt in a bowl.
Stir with a fork until well combined and creamy.
Refrigerate until ready to use.
You can drizzle the sauce over the tops of each of the sausage puff pastry appetizers, or you can choose to serve them on a platter with a bowl of the sauce so that guests can dip!
These appetizers are so easy to make and really delicious too. You can't go wrong with these guys on the menu this year!
Make sure to check out other recipes to make using this and other Maille mustard varieties on their website too!