This shop has been compensated by Collective Bias, Inc. and its advertiser. All opinions are mine alone. #HolidayHens #CollectiveBias  (Messaging below is intended for ages 21+ and is intended to be enjoyed responsibly, in moderation).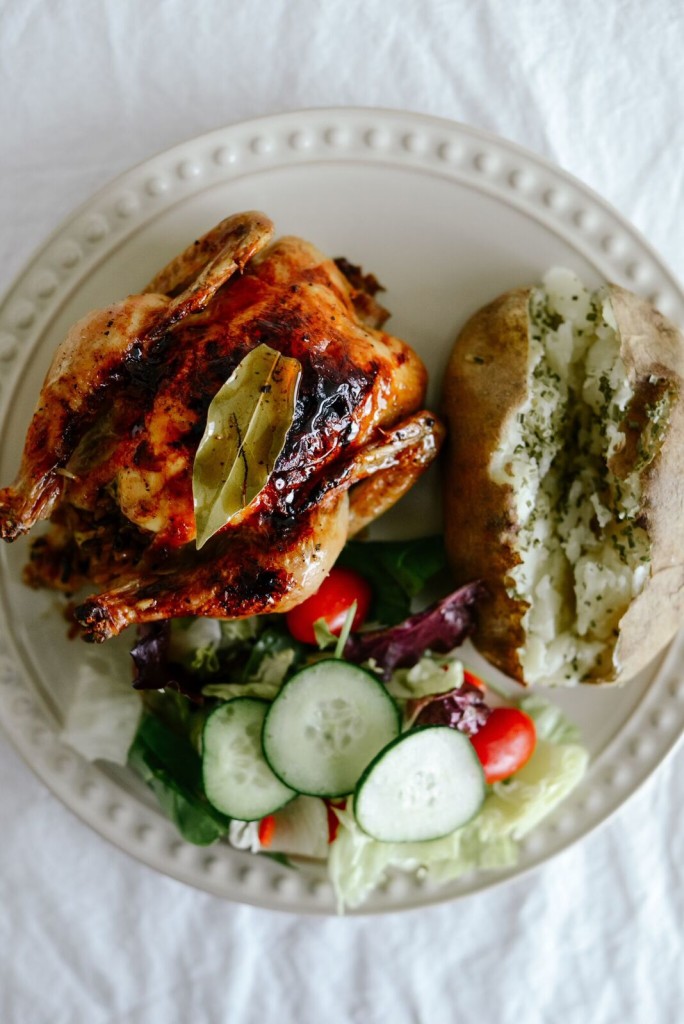 Cooking dinner for two is hard. For some reason, it doesn't seem any easier than cooking for an entire family. It still takes a lot of time to prep, but I usually end up spending more time figuring out what to do with all of the leftovers, or spend more time trying to figure out how to not end up with 2 weeks worth of leftovers in the first place. And throw in the fact that the hubs hates leftovers, and I'm even worse off.
Around the holidays, it seems to be even harder to find a festive meal to make, because an entire turkey dinner just doesn't make sense for two people.
Today, I'm sharing a recipe for wild rice and bacon stuffed cornish game hens that will make cooking dinner for two a whole lot easier. Not to mention that you'll look like you definitely know your way around the kitchen and spent a lot more time whipping up this dish than you actually did. No need to pick up take out and put it into your own dishes, claiming it as your own anymore! 😉
Cornish game hens are definitely not as well known (or often used) but they should be! They may seem intimidating, but are actually really easy to cook and definitely look a lot more fancy than they actually are. They are perfect for a festive holiday meal, a romantic dinner for two, or even just for a weekend meal around the tv. They are also 100% natural and contain no artifical ingredients or preservatives, which is great in this day and age!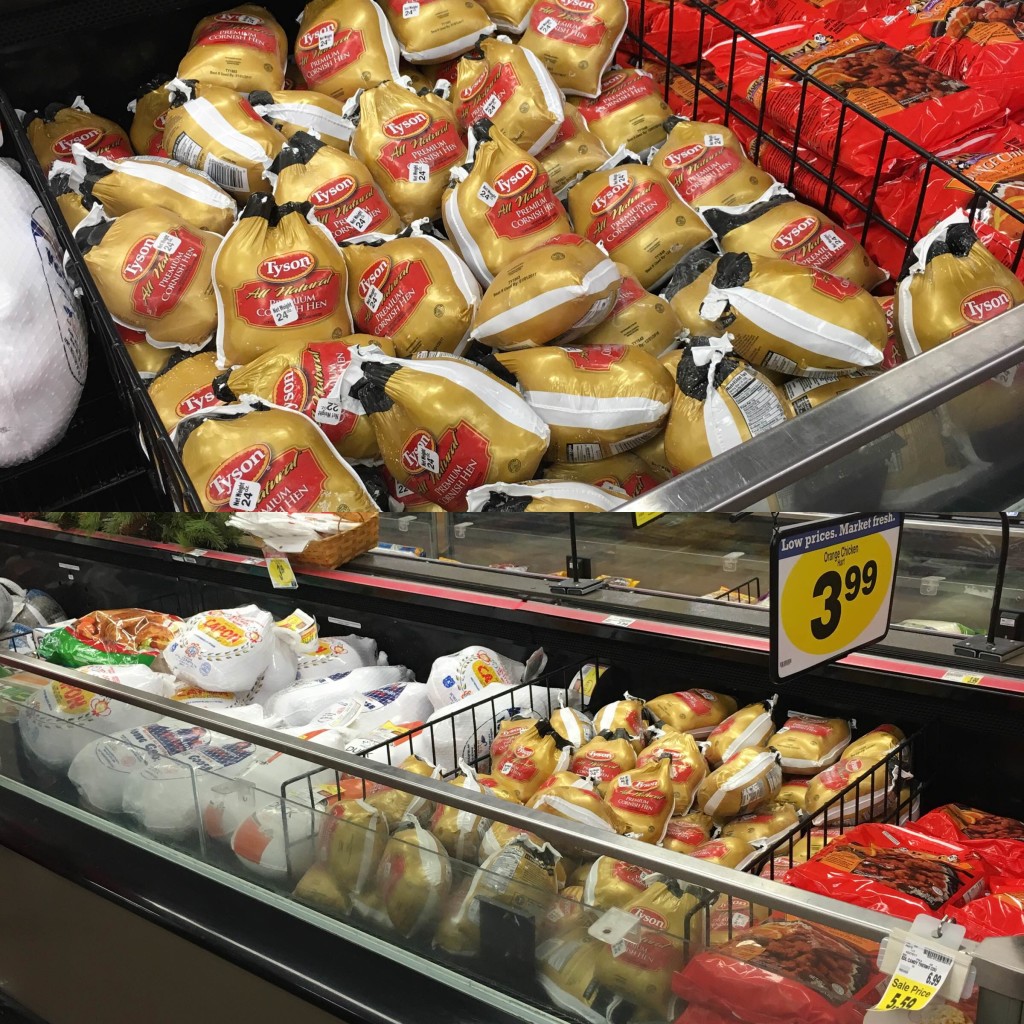 I stopped over at my local Smith's store to pick up two of the Tyson® Premium Cornish Hens, which either come packaged singly or in a twin-pack, and the rest of the ingredients I needed.
For these hens, I also chose to make an easy maple bourbon glaze to keep them super moist and add a ton of flavor too. And don't worry…it's really easy to make too!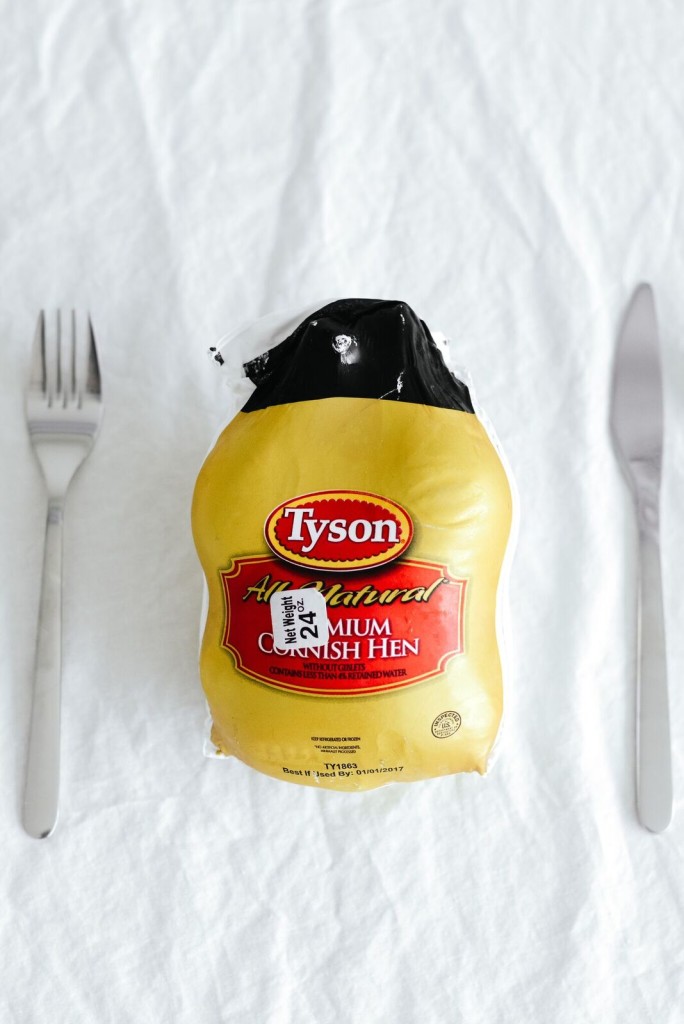 Here's what you'll need to make your own:
2 Tyson® Premium Cornish Hens
2 Tablespoons Unsalted Butter
Salt
Pepper
1 1/2 Cups Cooked Wild Rice
2-3 Strips of Cooked Bacon
3/4 cup Kentucky bourbon
1/4 cup apple juice
2 tablespoons maple syrup
2 Bay Leaves
Pre-heat your oven to 375 degrees.
Cut your sliced bacon into small pieces and add to a bowl. Mix with the cooked wild rice. Set aside. 
Remove your conish game hens from the package and rinse. (Another reason why I love the Tyson® Premium Cornish Hens is because there is little to no clean up! No yucky insides to remove like your traditional turkey!)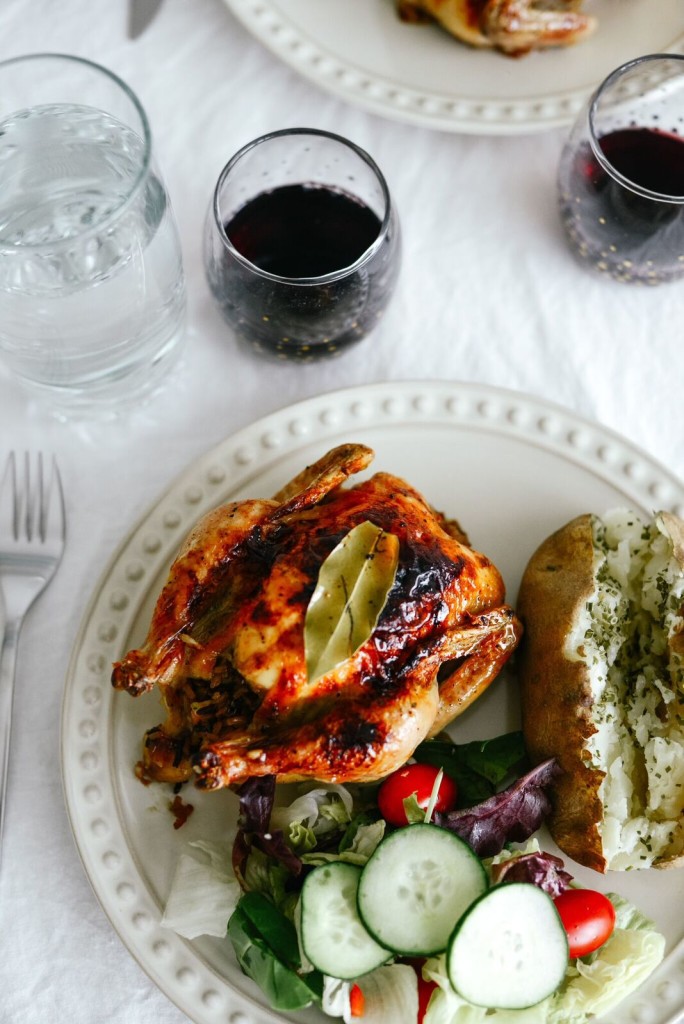 Rub butter over the outside skins of each hen and stuff with your rice and bacon mixture. Using baking twine, tie the two legs together and place breast side up on a rack in a baking dish. Cover loosely with foil and bake for 45 minutes.
After your hens have been cooking for about 10 minutes, it's time to make the glaze.
In a saucepan over high heat, add your bourbon, apple juice, maple syrup, fresh black pepper, and bay leaves to a boil. Reduce the heat to medium and continue to simmer for about 15-20 minutes. The glaze will begin to reduce to a slightly thicker consistency.
After the hens have cooked for 45 minutes, remove foil and brush with your glaze. Return to over, without the foil covering, and cook for another 20-30 minutes longer, or until a meat thermometer reads 180 degrees.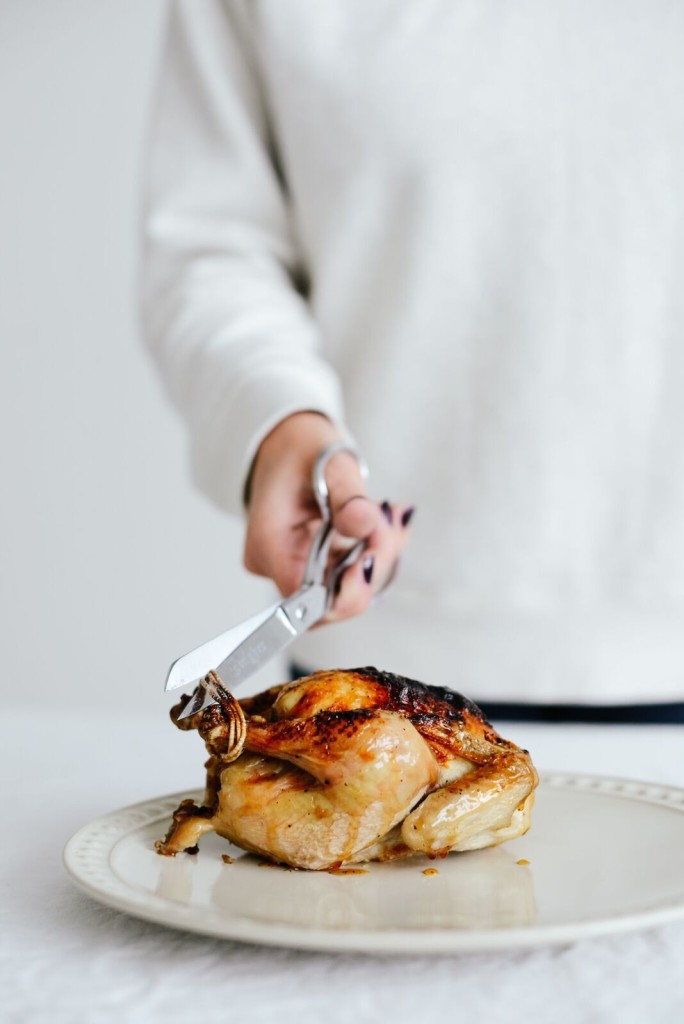 Remove from oven, cut twine, and brush with additional glaze before serving.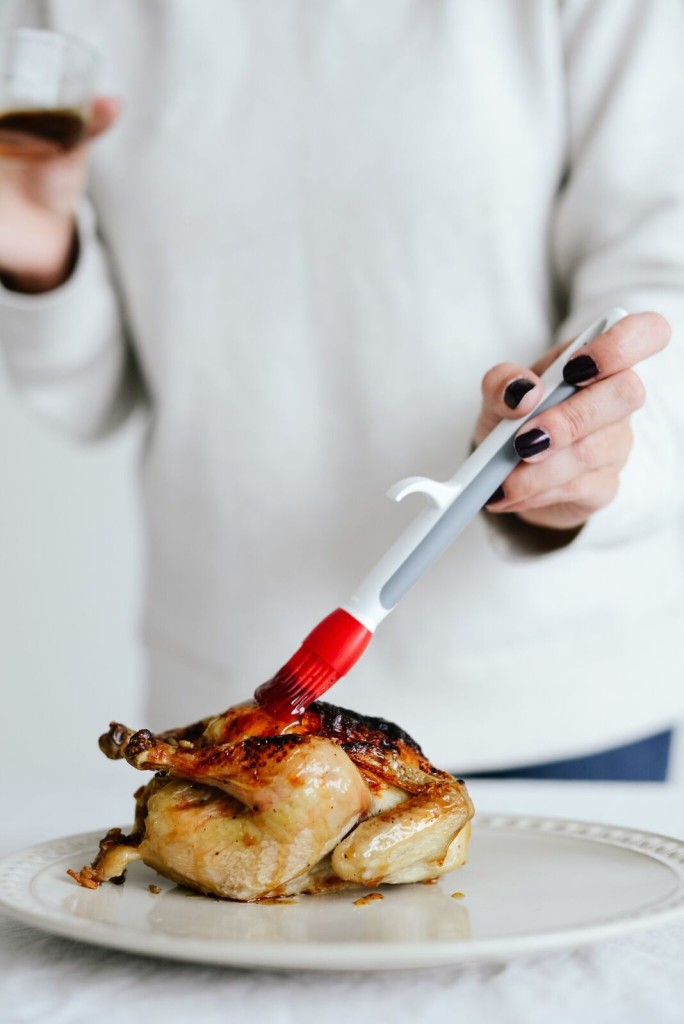 Serve with your favorite side dishes and enjoy!
A simple recipe for wild rice and bacon stuffed cornish game hens that is easy to make, but one that makes you look like you spent hours in the kitchen putting it together. And just the right size for two!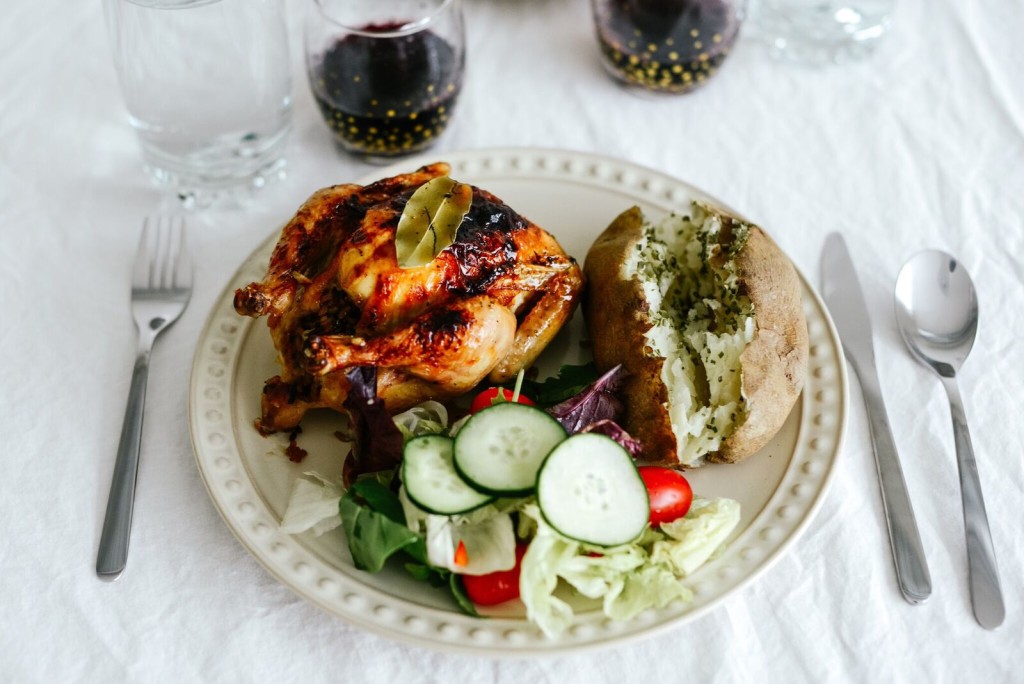 Make sure to check out other Tyson® products and recipe ideas on their site!
Photography by Haley Nord Photography