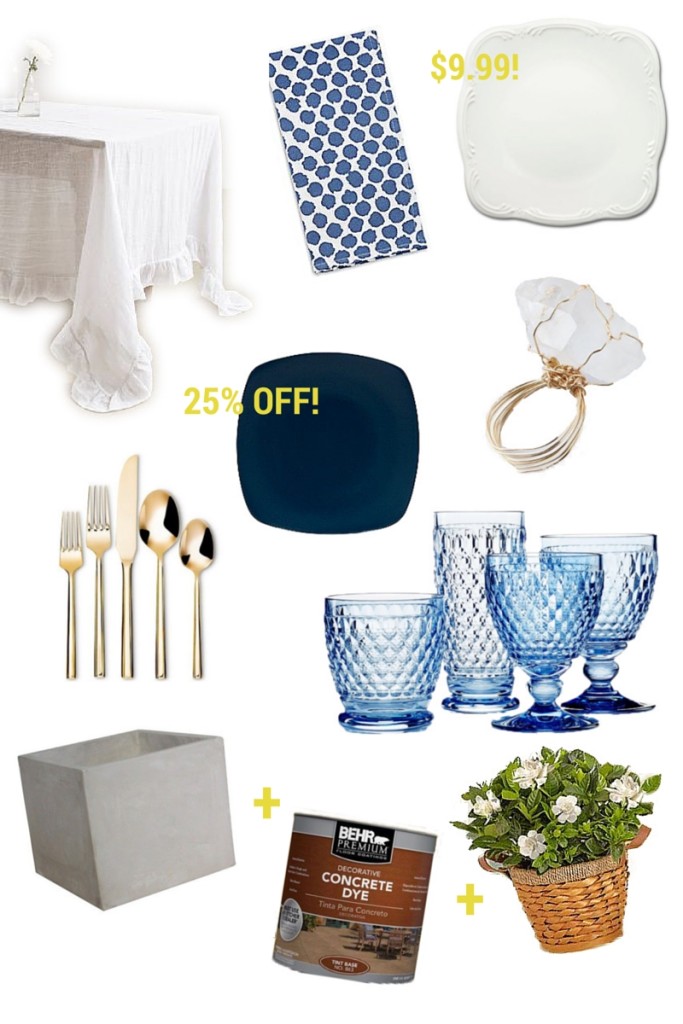 Tablecloth / Napkin / Dinner Plate / Napkin Ring / Salad Plate / Flatware / Drinkware / Planter / Concrete Dye / Gardenia
I can't believe that today is the first day of May!
And you know what that's means…
Summer is right around the corner but Mother's Day is only 10 days away!! Are you ready yet?
I tend to be a procrastinator when it comes to picking out gifts, but if a party or an event is involved, I am a super planner.
I love getting lost in the fun details and putting together a pretty little table. And that's exactly what I'm doing today!
Just in case you guys haven't thought of anything yet and plan to have mom over for lunch, brunch, or even dinner, I put together a fun table design that is perfect for all of the mom's in your life (including yourself, if you just want an excuse to put this table together everyday)!
I love the color palette of white and blue. It's fresh, crisp, clean, and perfect for both Spring and Summer events. Even without a nautical theme, it still has a nautical element, which I love in warm weather!
The table linen is a bit of a stretch in the cost department, but it's so versatile and simple. Those little bottom pleats add the perfect touch of whimsy and elegance, without being too stuffy! I would use this linen again and again, so the hefty price tag could be worth it, if you entertain a lot!
Can we talk about those geode napkin rings?! I'm obsessed. Are they a little pricey….yes. But they're gorg. I can't help myself. You have to be able to splurge once in awhile for a piece you really love. These rings are that for me. Ob-sessed!
Target always seems to win in the entertaining department and that gold flatware set is stunning. Plus, they are only $24.99! Such a deal.
The white dinner plates are my fave. The delicate edges tie into the pleats on the table linen and add just the perfect element of femininity. Top them with the dark blue salad plates to balance out all of the white details!
You know that I had to throw a little DIY into the mix for this tablescape too!
Concrete planters are all the rage at the moment. Actually, concrete anything is.
If you want to tackle making your own concrete planters, I would definitely recommend it (easy, peasy), but if you want to take the even easier route, those little mini planters are only $6.99 each! Pick up 3 of them, grab some gold concrete stain, those stunning gardenia's, and you'll have the perfect centerpiece to place down the center of this table.
Not only does this mother's day tablescape work for May 10th, it would work for any Spring or Summer event!
Mix and match the different pieces for all of your upcoming hosting duties and you'll have a tablescape that does double duty for years to come!